CLARK'S GATE TIMING SYSTEM
  FOR: 30 AUGUST 2010
- MONDAY
- PART TWO
C.  STOCK PICTURES (CONTINUED)
I will post remaining charts in a second edition later tonight.
CGW, Global Water ETF: Expect more selling.  M5 3 is -75.  It needs to rise up through zero to trigger a bottom reading.  OR M4 Sum Plus (Pane 2, black line), will need to have 2 consecutive days of Buy Rating (+1 and 0).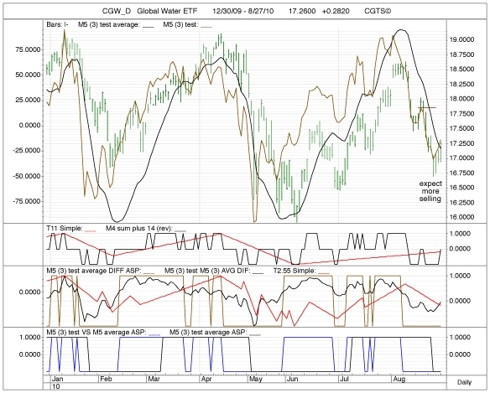 CEW, Emerging Currencies ETF.  Top Reading; Shortsale: confirmed.  This one should go lower.  This should have a negative effect also on Emerging Nation ETFs.  It looks like the investor play in non-first tier currencies might be coming to an end.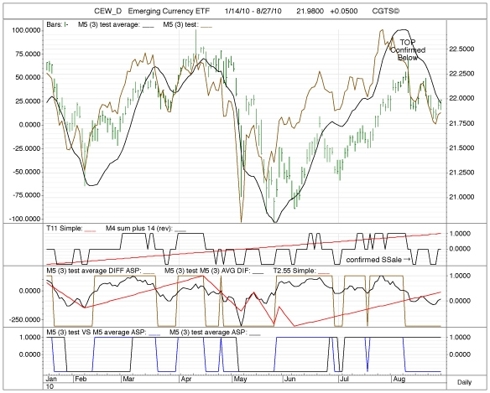 CLWR, Clearwire: Bottoming; cover shortsale position.  M5 3 just broke up back through zero; and M4 Sum Plus is very close to confirming (one day in the buy zone instead of two, as we require).  Trend is still down.  But we think we is very near its bottom.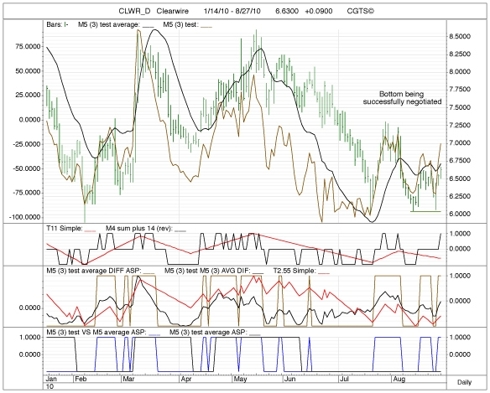 COW, Livestock ETF.  Here's an example of an issue that gave a confirmed top reading in August, rallied back against that top, and is now giving another top reading, which it has yet to confirm.  This shows why you have to be light on your feet, no matter which system you use.  Patterns are made to be broken.  There may be some moral support in seeing that it gave a double top reading in March and April of this year.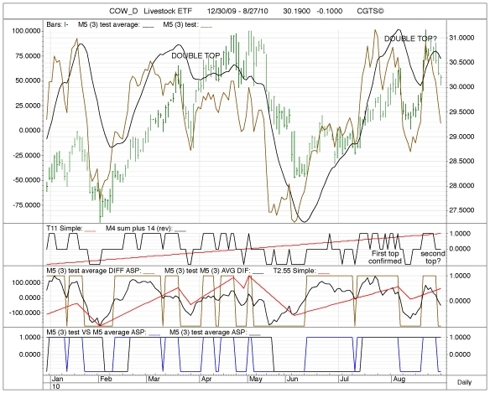 CSCO, Cisco Systems.  Bear Market Picture (lower lows and lower highs).  M5 3 indicator at -112 and turning down again.  This seems to be going even lower.  Support is at 17.77.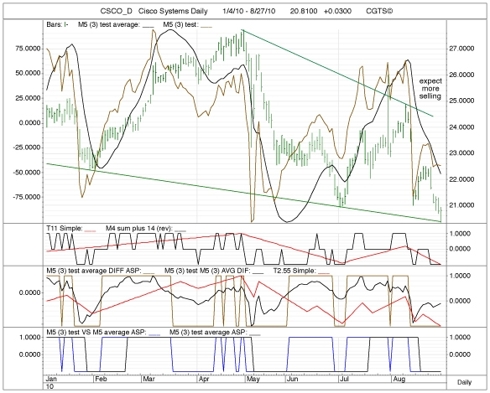 DE, John Deer, like CAT, is supposed to be almost recession-proof.  But it's not.  Nice rally on Friday.  But that did not change the formation of the down-step staircase of M5 3 that happens during a ritual decline.  Support at 53.69 might ultimamtely be tested.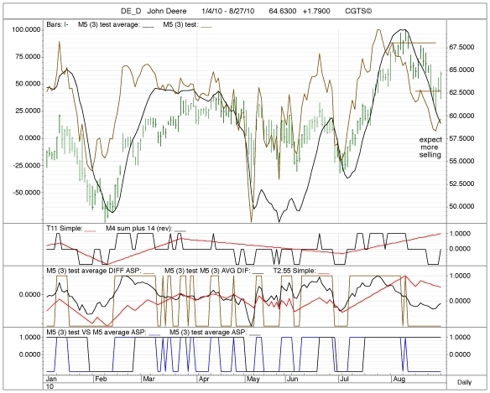 DOG, Inverse Short Dow 30 ETF.  This chart shows the up-and-down staircase that M5 3 builds during market moves.  When this staircase gets ruptured, then a change is getting near.  The DOG staircase is still intact.  DOG appreciates when Dow 30 stocks decline -- so we are assuming from this more selling in the Dow, and more buying in DOG.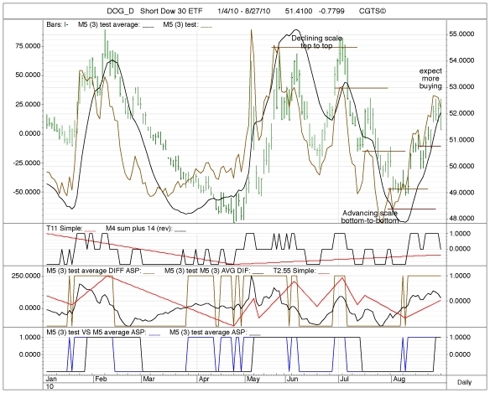 DTO, Double Short Oil ETF.  Is DTO topping?  This top reading is UNCONFIRMED by the secondary indicators; but it is looking a bit toppy here.  What does that mean for Oil; and what does a rally in Oil mean for the commodities and stocks?  Not clear.  We'd take profits in DTO is we had them.  We would not short DTO without confirmation of either M5 3 below zero and/or M4 Sum Plus sliding into Sell Zone for two consecutive days.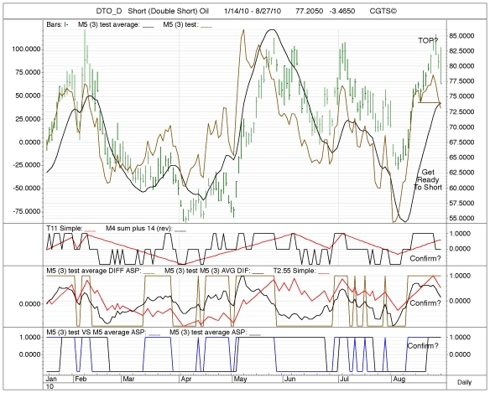 ERTS, Electronic Arts: setting itself up for an attack on 14.06 again.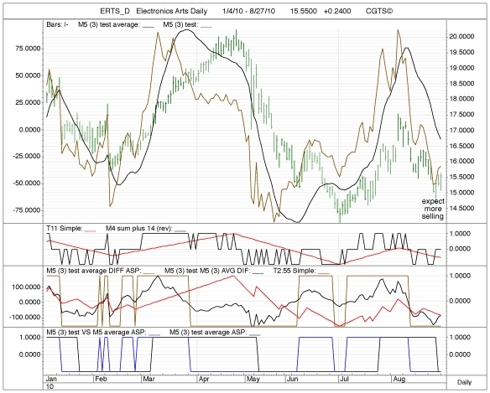 ETFC, ETrade: more selling on the way.  Next target: 11.72.  Then: 6.10.  If the support at 11.72 fails, then we have a real Bear Market picture here.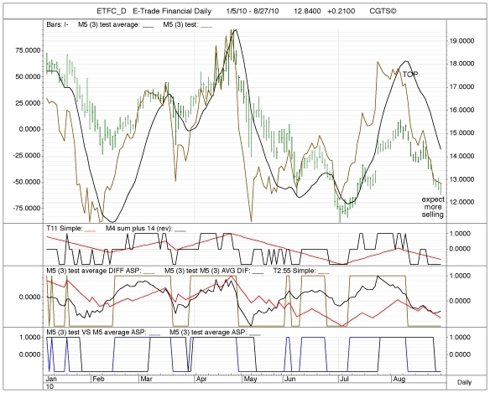 EUM, Inverse Short Emerging Markets.  A pullback begun on Friday.  But it is a normal pullback during a rally.  Expect higher prices.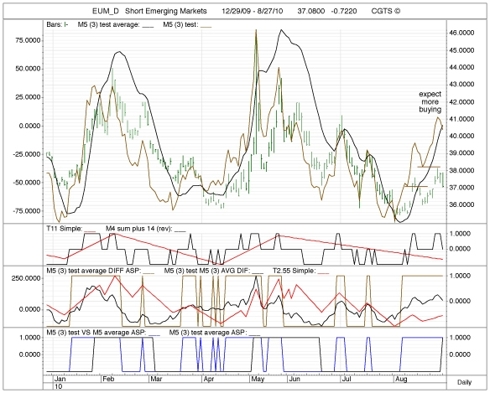 EUO, Inverse Short Euro ETF.  Looks like the US Dollar short.  Pulling back on Friday; otherwise a normal rally with higher prices coming.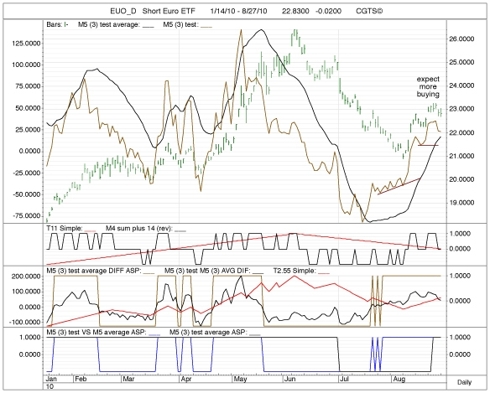 FSLR, First Solar: Bottoming?  Probably so.  M5 3 just broke up through zero.  M4 Sum Plus on the verge of confirming bottom.  Clearly cover any short position you may have.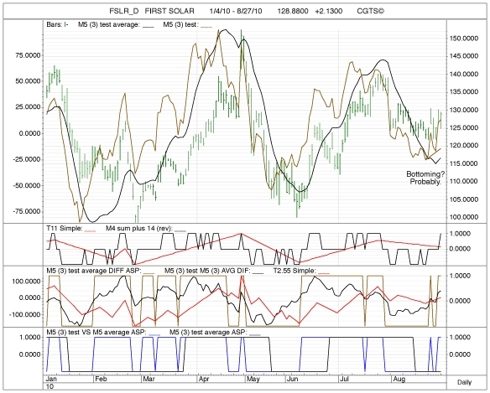 FXA, Australian Dollar.  Showed strength on Friday; bumped up above M5 3 old high, which quite often indicates a bottoming process.  Is this a real bottom?  Time will tell.  We're expecting more selling judging from M4 Sum Plus and M5 3 Average.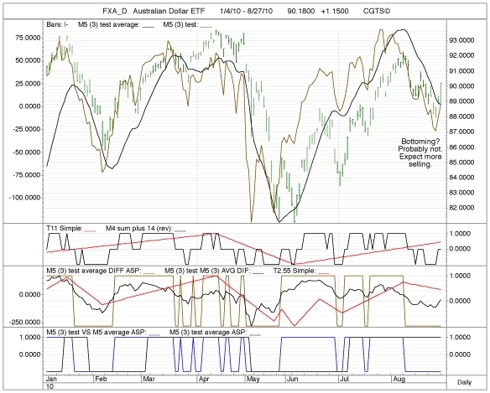 GE, General Electric, Mother-Station of CNBC.  Any bottoming?  No.  M5 3 turning back down at -87.  Needs to rally up past zero to put in a bottom.  Next stop 13.75.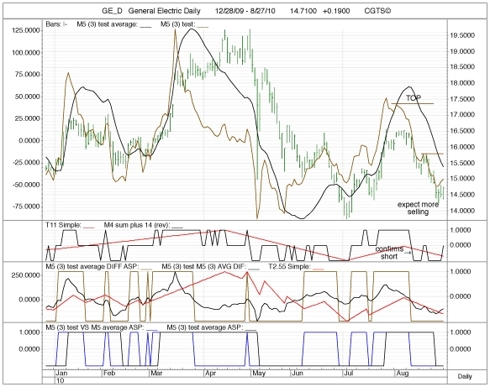 GES, Guess? Inc: Still a long way to fall.  30.73; then 27.19.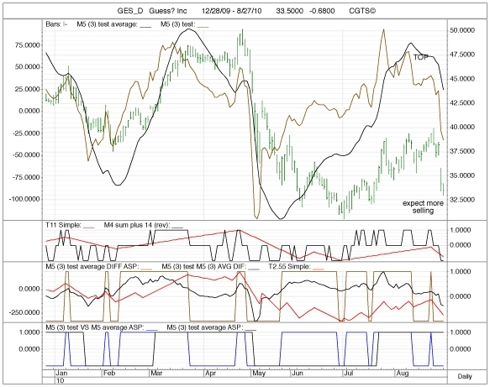 GS, Goldman Sachs.  Only about half the decline is over.  Will test 129.50; then 113.38.  Arrogance does not pay.  Doing 'God's Work' for obscene bonuses is a questionable sort of service to humanity -- especially after you helped to sink the ship we were all living in.  Sincere modesty and generosity will help right your ship, Mr. Blankfein.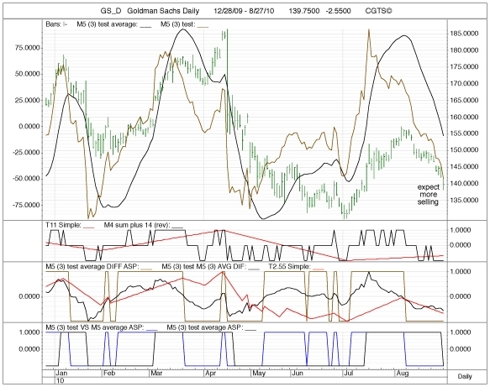 MOO, Agribusiness ETF: unconfirmed Top.  Take profits if you wish; it might be a good time.  No shortsell signal confirmation yet.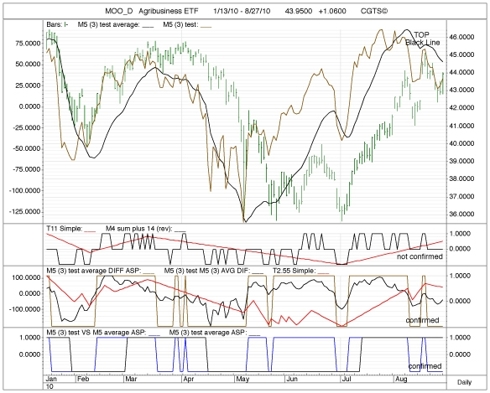 NANO, Nanometrics Inc: Good time to take profits probably.  Top not confirmed but highly likely.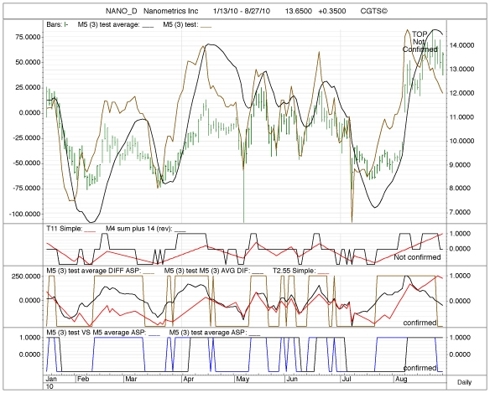 NFLX, Netflix: Unconfirmed Top.  Profits might be taken here.  Short-term trend breaking down (Pane Two, red line).  This has been a red hot momentum stock.  Is this really a top.  Those owning NFLX long-term might want to protect themselves with put options and keep the stock.  That is an option at least.  All you risk with that is the option premium if the stock turns back up.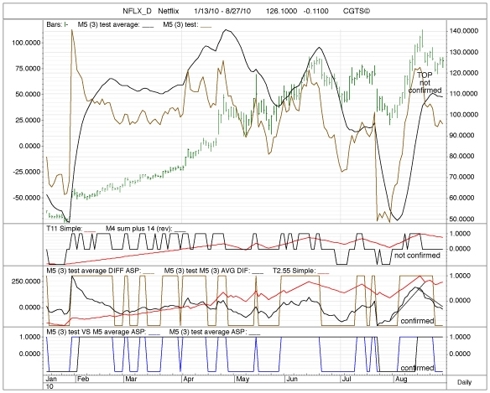 QCOM, Qualcom.  We said this would be a good stock to short.  We still think it will be.  Although buyers are contending with sellers on pretty much equal footing so far.  We expect it to drop down like it has the last two times this year that it has topped.  Time will tells.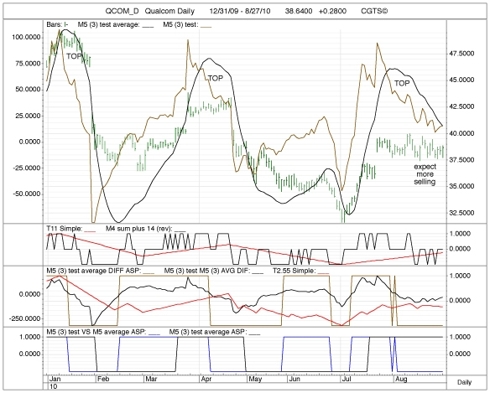 SSL, Sassol LTD, South Africa: Stepping stone decline continues.  Is approaching support at 36.31; next support at 34.88; then 34.29.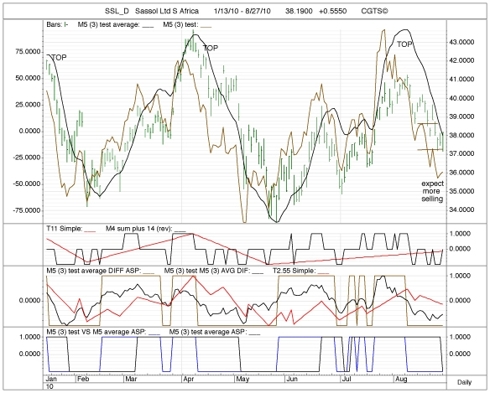 TMX, Telmex: More selling should be coming.  A pretty impressive sheer-cliff collapse to bring it down to support (M5 3 showing the sheer-cliff) at 13.425.  A test of 13.02 is likely.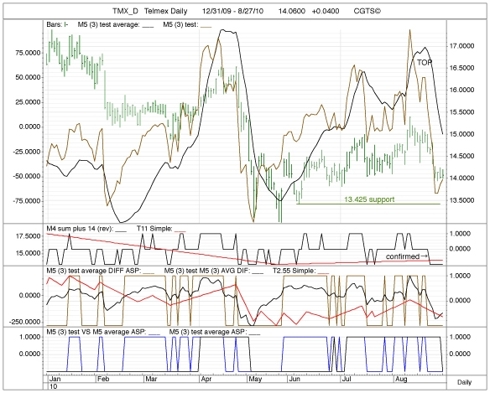 UPS, United Parcel Service.  Orderly stair-step decline continues.  Friday's rally is another step up, building another step.  Stock has held up rather well in fact.  It should begin to sell-off a bit more earnestly I think.  It should test 59.23 next.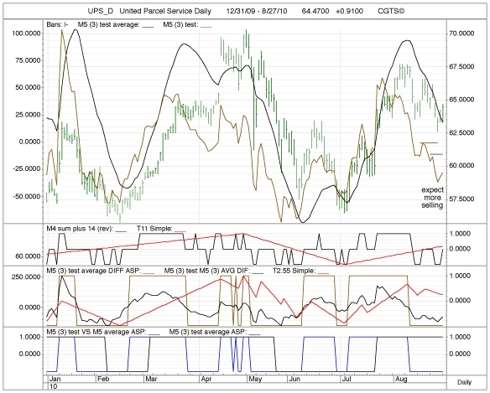 Another leg down for Vale brings it down to support at 24.31.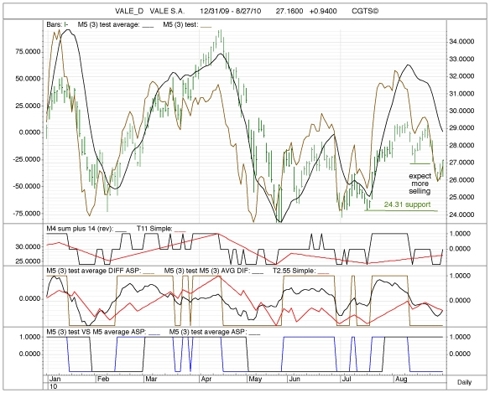 More information on the CGTS systems can be found at:
http://home.mindspring.com/~mclark7/CGTS09.htm
MICHAEL J CLARK
Clark's Gate Timing System
Hanoi, Vietnam
84 4 221 92210
Disclosure:
No positions to disclose.
Disclosure:
No positions to disclose