Today we got a lot of cover short position signals. What we did not get a lot of is actual buy signals. We got a few Buy Signals we like:SNDK, FLIR, YNDX.
Ordinarily, we would expect to see a lot more buy signals in a real rally. But we are in a transitory market, a market that isn't sure where to go. Last week I published an instablog that, I think, helps to explain why this is so: with the help of Ed Easterling's charts and discussion -- this is the kind of market he, Mr. Easterling, calls a 'Bear in Hibernation Market'. The Bear isn't loose; but neither is the Bull.
In terms of our internal indicators, our most short-term indicator has already topped out, indicating a good chance of a pull-back from here. (See first momentum chart.) Our longer term indicator has not really participated in the rally yet. But it sometimes takes longer to bottom.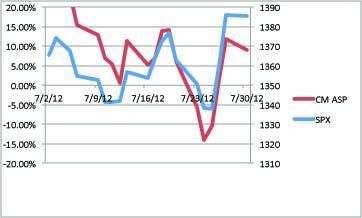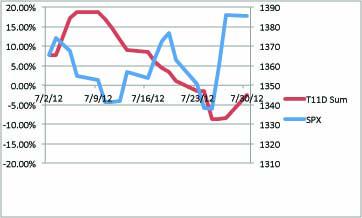 The indicators above are for a group of 512 stocks and indexes we follow. The SPX itself looks like this, first in terms of our short-term momentum indicators; then in terms of the indicators we use to determine internal strength of the markets.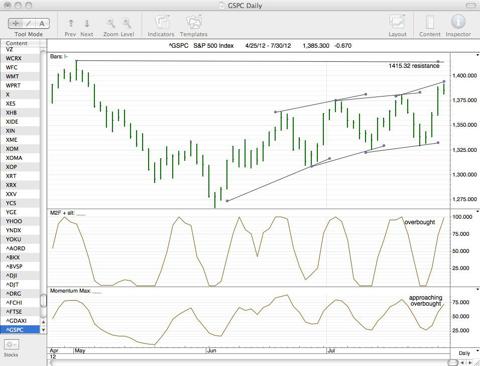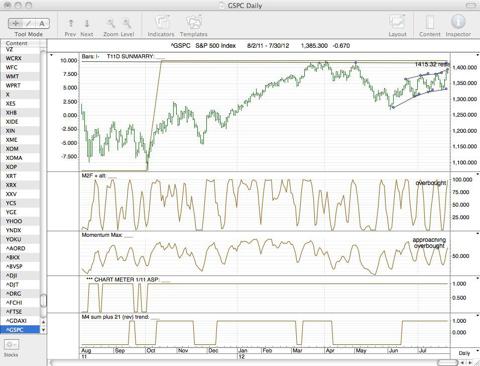 Nothing much negative in this view of the SPX. It is short-term overbought; that is about all. But look at the NDX (Nasdaq), SOX (Semiconductors) and Shanghai, China.
NDX, Nasdaq Index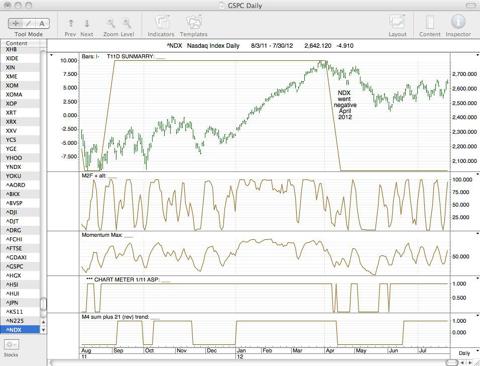 SOX, Semiconductor Index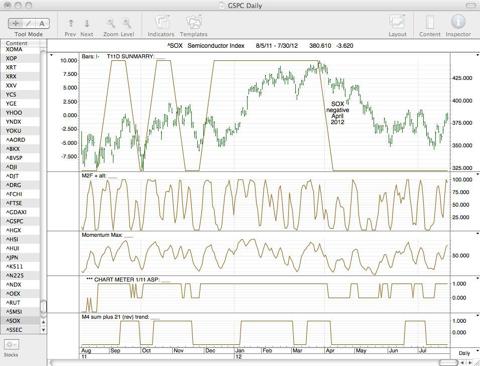 SHANGHAI INDEX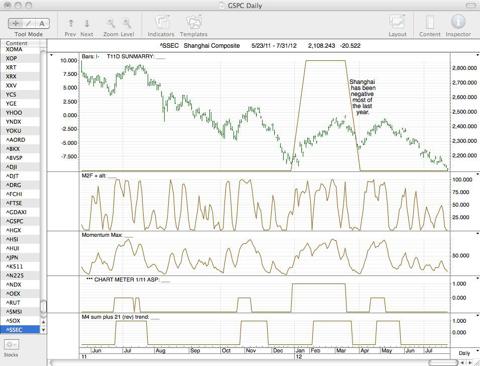 About 80% of the indexes we follow DO NOT look like the SPX. 80% look like the SOX, the NDX, and SSEC. The SPX is holding up quite remarkably, seeing that the global economy -- and the American economy -- are heading back in to the Underworld at a very fast pace. What is holding the SPX up? That will be something for the historians to figure out.
Today's momentum readings.
Momentum Entire Portfolio
 
 
 
Date
SPX
CM ASP
T11D Sum
M4 21 Sm
7/2/12
1365.51
20.90%
7.62%
 
7/3/12
1374.02
23.44%
7.62%
 
7/5/12
1367.58
23.24%
17.19%
 
7/6/12
1354.68
15.43%
18.75%
 
7/9/12
1352.46
12.89%
18.75%
 
7/10/12
1341.47
6.84%
16.99%
30.86%
7/11/12
1341.45
5.47%
14.65%
26.56%
7/12/12
1341.76
0.59%
11.52%
16.80%
7/13/12
1356.78
11.33%
8.98%
17.58%
7/16/12
1353.64
5.27%
8.40%
13.28%
7/17/12
1363.67
7.03%
6.05%
10.55%
7/18/12
1372.78
13.87%
4.30%
10.94%
7/19/12
1376.51
14.06%
3.32%
12.50%
7/20/12
1362.66
6.25%
1.17%
7.42%
7/23/12
1350.52
-5.66%
-1.37%
-2.35%
7/24/12
1338.31
-14.06%
-1.37%
-2.35%
7/25/12
1337.89
-10.55%
-8.59%
-16.02%
7/26/12
1360.02
1.37%
-8.66%
43.55%
7/27/12
1385.97
11.72%
-8.40%
47.46%
7/30/12
1385.3
8.98%
-2.54%
48.24%
 
 
 
 
 
Date
SPX
M2F ALT
Mom Max
25-Jul
1337.89
0
26.819
 
26-Jul
1360.02
26.005
35.05
 
27-Jul
1385.97
73.921
58.241
 
30-Jul
1385.3
99.434
72.463
 
 
 
 
 
 
 
M2F Alt: overbought>90 and oversold<10
 
 
 
MOM Max: overbought>80 and oversold<20
 
Today's New Trading Signals:
The themes of our charts today feels quite scattered:
•My increasing bearishness on Australia and China shows up in two shortsale signals today: SNP and VALE. China Petro and Chemical Co (NYSE:SNP) has fallen from 125 to 89. It is now give a second rapid-fire shortsell signal. What does VALE, a South American, industrial company have to do with Australia? The whole industrial mining and metals buying that China has been doing to keep Canada and Australia out of recession is faltering. Canada and Australia have huge housing bubbles in progress also; and they are about to pop.
•Shortsell NDX. That says enough by itself.
• Sell Lululemon, STJ (medical) and SCCO (copper) aren't really connected thematically except to say look how well this trading system has called tops in these stocks, suggesting more selling coming into the markets.
• Short Canadian Dollar vs Japanese Yen. Is this more of the Canadian story, or more of the chronic JYen strength story (Yen's role in the global carry-trade).
•TYX (10-Year TBond Yield) Shortsale: more strength in TBonds, US Dollar, means more weakness in EU and more trouble in Europe? This is a question. Dollar strength means stock weakness? Another question.
•Three stocks that look like pretty good buys years technically: FLIR, SNDK, YNDX.
 
 
Trades for
Trades for
 
 
 
Tuesday
Monday
 
 
 
31-Jul
30-Jul
 
 
 
 
 
 
TRADING SYSTEM T11D Sunmarry 10/Zero
 
(Intermediate-Term)
 
 
 
SYMBOL
CLOSE
Today
Yesterday
Company
 
 
 
 
 
CDXS
3.11
Enter Short
 
Codexis Inc
COV.L
238.75
 
Enter Short
Cove Energy
CTIC
0.511
 
Enter Short
Cell Therapeutics
EZCH
36.57
 
Enter Long
EZChip Semiconductor
FLIR *
20.48
Enter Long
 
Flir Systems
GRPN
6.9
 
Exit Short
Groupon INc
JBLU
5.41
Enter Short
 
Jet Blue
NSM
22.3
 
Enter Short
Nationstar Mortgage
OREX
5.13
Enter Short
 
Orexigen Pharmaceuticals
RAVN
33.91
 
Enter Short
Raven Industries
SNDK *
41.17
Enter Long
 
SanDisk Corp
TSLA *
27.35
Enter Short
 
Tesla Motors Daily
YNDX *
20.83
Enter Long
 
Yandex NV
 
 
 
 
 
* See chart
 
 
 
 
 
 
 
 
 
TRADING SYSTEM M2F ALT
 
 
(Short-Term)
 
 
 
SYMBOL
CLOSE
Today
Yesterday
Company
 
 
 
 
 
^DJT
5,112.37
Exit Long
 
Dow Jones Transport Index
^FTSE
5,693.63
Enter Short
 
FTSE Daily Index
^NDX *
2,642.12
Enter Short
 
Nasdaq Index Daily
^RUT
791.58
Exit Long
 
Russell SMall Cap Index Daily
^SMSI
686.64
 
Enter Short
Madrid General Index Daily
^TNX *
1.504
 
Enter Short
10-Year CBOE Interest Rate
^TYX
2.579
Enter Short
 
30 YEAR TREASURY YIELD
^XCI
1,100.30
Enter Short
 
Amex Computer Index Daily
ACN
60.38
 
Enter Short
Accenture PLC
ADBE
31.01
 
Enter Short
Adobe Daily
AIG
31.72
Exit Long
 
American Intl Group Daily
BK
21.45
 
Exit Long
Bank of NY Mellon
BZF
18.65
 
Enter Short
Brazilian Real long currency
CADJPY=X
78.178
Enter Short
 
Canadian Dollar/Japanese Yen
CBI
34.94
 
Exit Long
Chicago Bridge and iron
CSC
24.29
 
Enter Short
Computer Sciences
CTSH
57.31
 
Enter Short
Cognizant Tech Solutions
DRYS
2.32
 
Enter Short
Dry Ships Daily
DSX
6.75
 
Enter Short
Diana Shipping
EEV
28.3
 
Enter Long
Short MSCI Emerging Markets ETF Daily
EFZ
48.13
 
Enter Long
Short MSCI EAPE Index ETF Daily
EIRL
20.28
 
Enter Short
Ireland ETF
EL
53.83
 
Enter Short
Estee Lauder
EPI
16.75
Exit Long
 
India ETF
EUFN
15.24
 
Enter Short
Euorpean Financial Index
EUM
30.72
 
Enter Long
Short Emerging Markets
EURARS=X
5.62
Exit Long
 
Euro/Argentine Peso
EURBRL=X
2.502
Exit Long
 
Euro/Brazilian Real
EURINR=X
68.251
Exit Long
 
Euro/Indian Rupee
EWC
26.6
 
Enter Short
Canada ETF
EWG
20.2
 
Enter Short
Germany ETF
EWQ
19.65
 
Enter Short
France ETF
FDS
93.05
Enter Short
 
Factset Research
FISV
72.25
Exit Long
 
Fiserve Inc
FTS.TO
33.4
Exit Long
 
Fortis
FXB
155.59
Exit Long
 
British Pound ETF
FXI
34.06
 
Enter Short
FTSE/XINHUA China 25 Index ETF
GBPCNY=X
10.036
Enter Short
 
British Pound/Chinese Yuan
HAP
34.246
 
Enter Short
Hard Asset Producers ETF
ICN
20.25
 
Enter Short
Indian Ruppee ETF
INTC
25.76
 
Enter Short
Intel Daily
IYJ
68.43
 
Enter Short
Dow Jones Industrial ETF
JCI
24.71
Enter Short
 
Johnson Controls
JOSB
42.65
Enter Short
 
JOS A. Bank Clothiers
KOL
23.35
Enter Short
 
Coal ETF
LD
47.27
Enter Short
 
Lead ETF
LLL *
70.35
Exit Long
 
L3 Communications
MAKO
13.37
 
Enter Short
Mako Surgical Corp
MWA
3.54
Exit Long
 
Mueller Water Products
MYY
27.79
 
Enter Long
Short Midcap Index Short
NANO
15.06
 
Enter Short
Nanometrics Inc
NKE
95.85
 
Enter Short
Nike Daily
NZDJPY=X
63.423
Enter Short
 
New Zealand Dollar/Japanese Yen
PDLI
6.85
 
Exit Long
Protein Design Labs
PG
65.1
Enter Short
 
Proctor and Gamble Daily
PPA
19.06
 
Enter Short
Aerospace and Defense ETF
PSQ
26.25
Enter Long
 
Short QQQ Index ETF
QQQ
64.82
Enter Short
 
Powershares QQQ
RHT
53.76
 
Enter Short
Red Hat
SCCO *
32.09
Exit Long
 
Southern Copper
SCHN
28.43
Enter Short
 
Schnitzer Steel Indust
SDD
31.22
 
Enter Long
Short Small Cap Index ETF Daily
SHLD
49.96
Enter Short
 
Sears Holdings
SLG
79.18
Exit Long
 
SL Green Realty
SLX
42.78
Enter Short
 
Steel ETF
SMN
16.97
Enter Long
 
Short Basic Materials
SNP *
89.76
Enter Short
 
China Petrol & Chemical Co
SRS
25.23
Exit Short
 
Short Real Estate ETF Daily
STJ *
37.54
Exit Long
 
St. Jude Medical
SYK
52.34
 
Exit Long
Stryker Corp
TD
78.83
Enter Short
 
Toronto Dominion Bank
THC
4.65
Enter Short
 
Tenet Healthcare
THD
68.97
 
Enter Short
Thailand ETF
THLD
7.21
 
Enter Short
Threshold Pharma
TNA
52.4
Enter Short
 
Direxion Daily Small Cap Bull
TTI
7.12
Enter Short
 
Tetra Technologies
TTM
20.23
Enter Short
 
Tata Motors
TWM
30.63
Enter Long
 
Short Russell 2000 Index ETF Daily
TZA
18.18
Enter Long
 
Direxion Daily Small Cap Bear
USDTHB=X
31.555
Exit Short
 
USDollar-Thai Baht
UUP
22.77
 
Exit Short
US DOLLAR INDEX BULLISH ETF
VALE *
18.27
Enter Short
 
VALE S.A.
XME
39.8
Enter Short
 
Spider Mining Metals ETF
XRT
59.49
Exit Long
 
Retailers ETF
 
 
 
 
 
 
 
 
 
 
* See chart
 
 
 
 
 
 
 
 
 
TRADING SYSTEM ChartMeter
 
 
(Intermediate-Term)
 
 
 
SYMBOL
CLOSE
Today
Yesterday
Company
 
 
 
 
 
^HUI
417.488
Exit Short
 
Gold Stock Index Daily
^SMSI
686.64
 
Exit Short
Madrid General Index Daily
^XAU
153.82
 
Exit Short
Philadelphia Gold and Silver Index Daily
BBVA
6.56
 
Exit Short
Banco Bilbao Argent SA
CLWR
1.16
 
Exit Short
Clearwire
COW
28.754
 
Exit Short
Livestock ETF
CYTX
2.64
Enter Long
 
Cytori Therapeutics
EWP
23.11
 
Exit Short
Spain Index
FRO
3.81
Exit Short
 
Frontline Limited Shipping
FST
7.06
Exit Short
Enter Short
FOREST OIL
GRPN
6.9
Exit Short
 
Groupon INc
HLCS
0.072
 
Exit Long
Helicos Biosciences
ICN
20.25
 
Exit Short
Indian Ruppee ETF
IES.DE
1.028
Exit Short
 
Intesa San Paolo SA
LD
47.27
 
Exit Short
Lead ETF
MT
16.13
Exit Short
 
Arcelor-Mittal Steel
MTL
6.12
 
Exit Short
Mechel Open Joint Stock Company
QRM
1.27
 
Exit Short
Quest Rare Metals
RBS
6.96
 
Exit Short
Royal Bank of Scotland Daily
SAN
6.08
 
Exit Short
Banco Santander
SNP
89.76
 
Exit Short
China Petrol & Chemical Co
TSU
22.33
Exit Short
 
TIM Part (Tele Cellular)
URS
34.78
 
Exit Short
URS Corp
YOKU
16.9
Exit Short
 
YouKu China
 
 
 
 
 
* See chart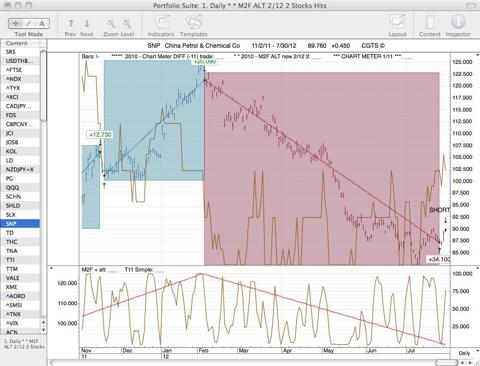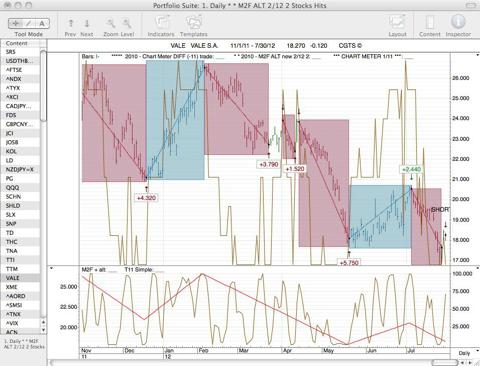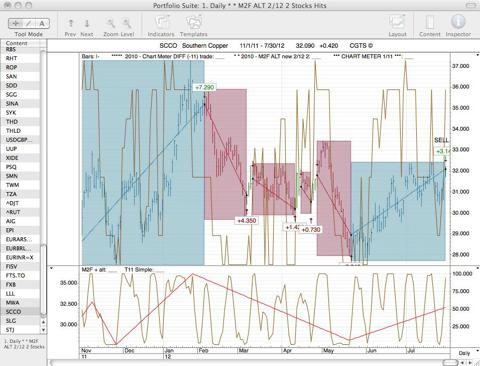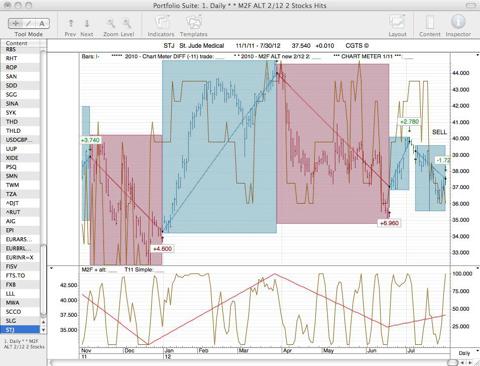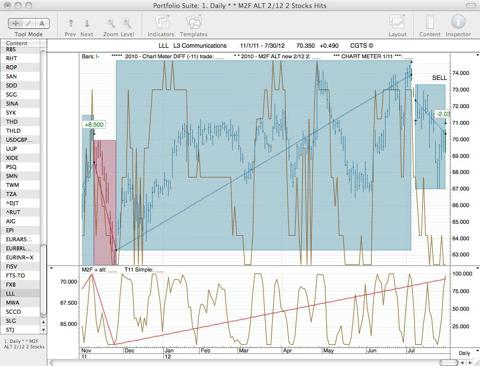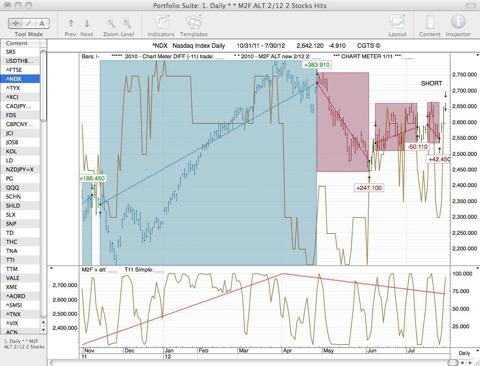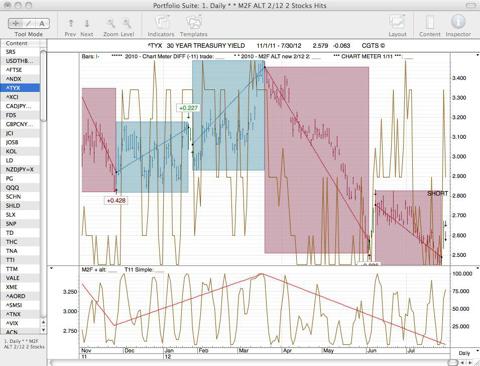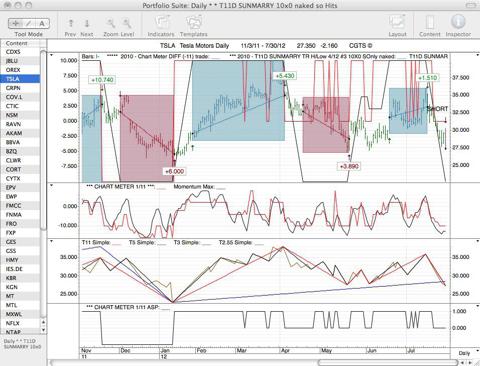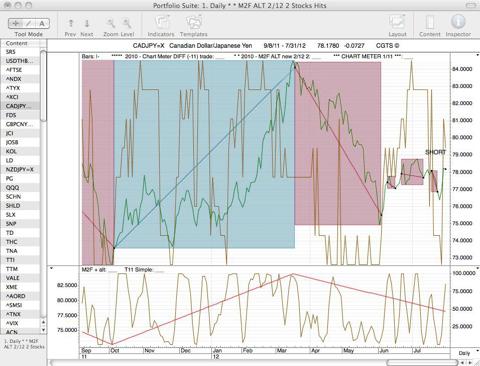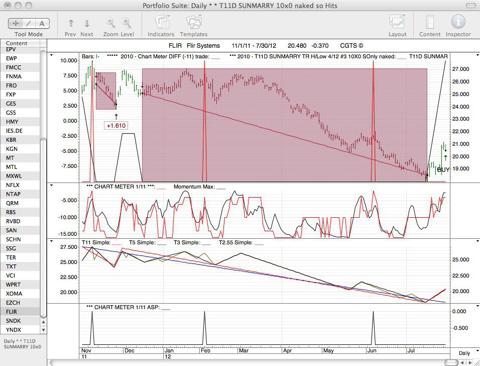 Michael J. Clark, Hanoi, Vietnam