Note 8/22/2012: I have added some charts art the bottom of this story since some readers have scoffed at the notion of 'Shadow Inventory".
A couple of articles have appeared in the wires in the last two weeks that demonstrate why the housing recovery in the US maybe an illusion (I believe IS an illusion). These articles all speak to the same problem: shadow housing overhang. Houses that essentially should be foreclosed and should be included in the official housing overhang inventory and should be for sale are not foreclosed, for a variety of reasons, and simply don't show up in the housing inventory.
In some cases banks simply haven't foreclosed on houses, allowing people to live in the houses without making payments. This is happened for a number of reasons, one of which is that many state legislatures enacted strong anti-foreclosure procedures to attempt protect American homeowners from foreclosure by banks. Here's what Barry Ritzholt says about the shadow housing overhang:
www.ritholtz.com/blog/2012/04/debunking-.../
This morning, let's discuss Shadow Inventory. This is important, as we have heard from Housing Bulls as part of their recovery thesis that the decrease in inventory of homes for sale is a net positive.

I would argue that the massive supply of homes in the Shadow Inventory make this judgment premature. There are numerous definitions floating around, but I prefer to start with the following: Ordinary Inventory are homes that are listed for sale with either MLS or privately (FSBO) or are in some public way known to potential buyers as for sale. These are what are counted in the official inventory.

Shadow Inventory includes: Bank owned Real Estate (REOs), distressed homes not yet for sale, including short sales and delinquencies not yet defaulted. Various properties in different stages of Foreclosure are also in the shadow inventory.

This definition still yields a broad range of potential shadow homes that will eventually become part of the total supply. Michael Olenick (at naked capitalism) puts the range of potential shadow inventory from 1.6 million homes(CoreLogic) 8.2-10.3 million (Laurie Goodman, Amherst Securities).

But even those numbers do not represent the complete picture. I include in my definition of shadow inventory the enormous overhang of underwater homes - these are the houses that don't qualify for a mortgage mod, but whose owners are still making most of their payments. They have minor delinquencies, but are not in default. The owners are frozen - economically immobile - since they cannot move to a different area to take a job.

The problem is the homes are worth anywhere from 5-25% less than their mortgage. A sale will not be possible without lender permission or a large check to make up the shortfall.

About a third of homes (30-40%) in the US have no mortgage - cash purchases or paid off mortgages mean they are owned outright. Of the remaining homes, estimates range from 21% to 29% are worth less than their mortgages. That's between 12 - 18 million houses as potential supply at higher prices.

The key question for the Housing Recovery case: What happens if and when prices begin to rise? Do these underwater owners relax, feeling better about their positions? Or, do they finally hit the bid when the opportunity presents itself?

The truth is that we simply do not know. But is is reasonable to assume that many of these homes would be put up for sale and become inventory. If only a third do, that is another 4 million homes for sale.
Josh Shapiro, chief US Economist at MFR also had a bleak view of the so-called housing recovery:
"There are millions of homes either still tied up in the legal process surrounding foreclosure or which at some stage will be in foreclosure (mortgage delinquencies, while declining, are still very high), and these units are not yet recorded as available for sale," said Josh Shapiro, chief U.S. economist at MFR. "The huge supply overhang of existing homes promises to keep pressure on prices and to weigh on demand for new homes and hence on housing starts."

The sale of distressed homes accounted for 25% of all transactions, foreclosures represented 13% of all transactions, and short sales represented 12%.
Gary Schilling feels the same when discussing shadow inventory overhang, which he discusses with Yahoo.com.
finance.yahoo.com/blogs/daily-ticker/flo...
There is a consensus forming that the U.S. housing market may finally be on the rebound. Home prices are up 4-straight months, according to the latest S&P Case-Shiller index and Zillow's U.S. home value index increased for the first time since 2007 in the second quarter.

But Gary Shilling of A. Gary Shilling is not convinced home prices have turned to the upside for good.

"The fundamental reason is there is a huge excess of inventory out there," he tells The Daily Ticker's Henry Blodget. "Some of it is listed but a lot of it is a so-called shadow inventory."

Shadow inventory refers to homes in foreclosure and waiting to be sold or properties that homeowners have delayed selling, likely to get a better price.

In his latest Insights investment note, Shilling writes "excess housing inventories, the mortal enemy of prices, measure about 2 million over and above normal working levels. That's huge considering that housing completions averaged about 1.5 million in earlier balmy years."

He also cites the backlog of delinquencies and foreclosures that were put on hold during the robo-signing investigation and settlement process.

A CoreLogic report in June showed shadow inventory fell almost 15 percent from 2011 levels to 1.5 million properties. More than half of those 2.8 million homes were "seriously delinquent, in foreclosure or REO."

"Since peaking at 2.1 million units in January 2010, the shadow inventory has fallen by 28 percent. The decline in the shadow inventory is a positive development because it removes some of the downward pressure on house prices," said CoreLogic chief economist Mark Fleming. "This is one of the reasons why some markets that were formerly identified as deeply distressed, like Arizona, California and Nevada, are now experiencing price increases."

As Shilling sees it, the banks have three options to get the bad mortgages off their books:

Flood them onto the market
Institute a mortgage modification plan
Try to convert the properties into rentals

He says the second and third options are a lot less likely because mortgage modifications rarely work and rental properties are very difficult to maintain on a large scale, which may detract institutional inventors.

As a result, he believes the more likely scenario could very well end up being option number one, which would have a negative impact on home prices. The latest National Association of Realtors survey shows foreclosed properties tend to sell at a 19 percent discount to the market.

Too many foreclosures flooding the market at the same time could drive down prices of the surrounding homes.

"It would take a 22% house price drop to return to the long-run trend going back to 1890," he writes in his research note. "Since corrections of bubbles often overshoot on the downside, our forecast of a further 20% decline may be conservative."
Earlier I read the following piece written by John Carney for CNBC:
NEW YORK HOUSING MARKET COULD STILL COLLAPSE: ANALYST

Published: Wednesday, 8 Feb 2012 | 10:44 AM ET

John Carney, Senior Editor, CNBC

There's been a lot of talk recently about home prices reaching a bottom. Most notably, Bill McBride at Calculated Risk - perhaps the most respected housing market analysts in the blogosphere - says housing starts already bottomed and housing prices are likely to bottom in March.

But not everyone is convinced. Keith Jurow argues that home prices are nowhere near the bottom. In fact, he thinks that one particular market - New York City - is close to collapsing.

From Jurow:

Let's look at the most misunderstood housing market in the country - the NYC metro. The published median sale price for both NYC and Long Island has seemingly held up better than other major metros - not much less than $400,000 for Queens or Suffolk counties. This has fooled people into thinking that the worst is over in the NYC area. On the contrary, the real collapse in prices is imminent.

In November 2011, Minyanville.com posted my 30-page New York City Housing Market Report. The report included never-seen-before charts, graphs and data that revealed what has been going on there. The banks have not been foreclosing for the past three years. This started well before the robo-signing mess. On February 7, 2012 there were a total of only 242 repossessed properties on the active MLS in Queens according to foreclosure.com. This is a borough with a population of 2.2 million.

Because of this, the number of seriously delinquent properties throughout NYC has been soaring. Based on individual charts for each borough from the NY Federal Reserve Bank which I included in my report, there were roughly 80,000 properties where the mortgage had not been paid in more than 90 days as of June 2011.

That number is considerably higher now. How about this statistic? I received updated numbers from the N.Y. State Department of Banking a few weeks ago. In 2009, the state legislature passed a law requiring all mortgage servicers to send a "pre-foreclosure notice" to all delinquent owner-occupants in danger of losing their home to foreclosure.

As of the end of December 2011, a total of 165,000 pre-foreclosure notices were sent to delinquent owner-occupants just in NYC. This does not include delinquent investors because the law requires that these notices be sent only to owner-occupants.

While not all of these borrowers were more than 90 days delinquent, the vast majority were 60+ days delinquent. What do you think will happen to home prices once the banks finally begin to foreclose on these properties? Prices will collapse in the four outer boroughs and will decline sharply in Manhattan. I am convinced that this will occur although we can't be sure when the banks will begin to move on this.

The situation is even worse in Long Island - Nassau and Suffolk counties. I wrote a 22-page report on the Long Island housing market which Minyanville posted in December 2011. Just for these two counties - with a total of less than three million people - more than 149,000 pre-foreclosure notices had been sent as of the end of 2011.

As in NYC, the banks have not been foreclosing in Long Island. But they cannot put it off indefinitely. When they begin, prices there will collapse.
The Fiscal Times Newsletter makes the same point:
June 30, 2012
State and federal laws enacted to protect homeowners from eviction in the wake of the 2008 housing crash may be extending the slump, according to a growing number of economists and industry experts.
Foreclosures have all but ground to a halt in Nevada, which passed one of the stiffest borrower-protection laws in the country last year. Yet the housing market is further than ever from recovery, local real estate agents say, with a lack of inventory feeding a "mini-bubble" in prices that few believe is sustainable. A recent U.S. Federal Reserve study found that in states requiring a judicial review for foreclosure, delays associated with the process had no measurable long-term benefits and often prolonged the problems with the housing market.
Data from housing market researchers points to similar conclusions. "Many state laws that stretch out the period for legitimate foreclosures result in no added benefit for the homeowner and produce harm to the housing finance system and to neighborhoods," said Alfred Pollard, general counsel to the Federal Housing Finance Agency, at a House of Representatives oversight hearing in March.
Some people who have been able to stay in their homes despite failing to pay their mortgages may disagree, but it may be a different matter for the neighborhoods where they live. An overhang of properties that the banks want to foreclose, but have not dared to, not only can hold back a sustainable recovery in prices but also might encourage blight as the defaulting borrower has less incentive to keep the property in good condition.
"Folks with negative equity can't sell their home and are less likely to invest in improvements or repairs, or pay their property taxes," said Sean O'Toole, chief executive officer of ForeclosureRadar.com, which tracks foreclosures.
Read more at
http://www.thefiscaltimes.com/Articles/2012/06/30/Housing-Crisis-Anti-Foreclosure-Laws-May-Backfire.aspx#2Yl8wBBL3scISmBb.99
The point of this article is to remind Housing Bulls that we may not be out of the Housing Woods just yet. My own cycle studies show that we have another major leg down in this housing deflation, that we will bottom around 2019. An excess of invisible foreclosures might cause such a collapse in housing prices -- this is especially true when one realizes the most serious part of the Deflation Cycle has just been entered.
The Deflation Cycle (in which inflationary monetary policies will not be effective in the least) will run from 2010-2019. This compares with 1938-1947 in the last major Debt Crisis deflation. The globe has a HUGE debt bubble to destroy over the next seven years -- and housing debt is going to be one of the main places where this debt destruction will occur.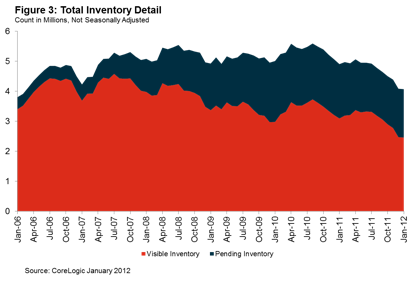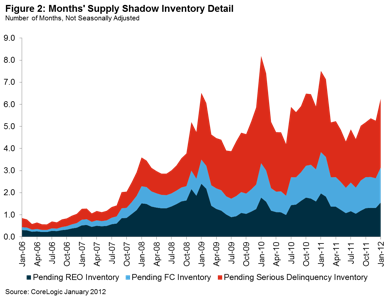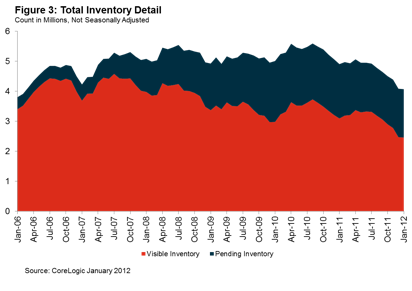 Current Asset Loans that were OVER 60 days delinquent.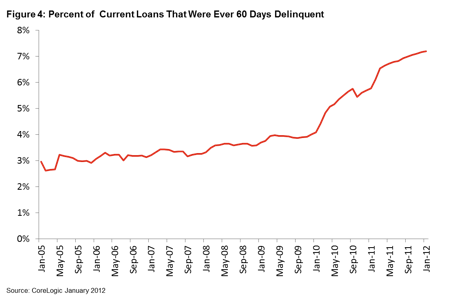 These charts are from the CoreLogic website.
Those who are arguing that because housing prices are advancing in certain areas, this does not mean the Bear Market in Housing is over. Housing prices go up and down, like stock prices.
Japanese stock prices today are down 75% from 1989 Housing Bubble highs. Tokyo real estate prices are down 80% from 1989 bubble top. There have been rallies in prices in Tokyo real estate during this time. It has not been a straight line down.
The Bank of Japan is warning that China seems to be very much today where Japan was in 1989. Since America and Europe and England and China are all trying to follow Japan through the Black Forest of Deflation by lowering interest rates to nurse bad debts back to health we should pay special attention to Japan, seeing how well this game-plan worked for them.
From this article:
Japanese stocks have fallen by 75pc and Tokyo land prices by 80pc since the economy first began to slide into a deflationary trap two decades ago, although real per capita income has held up well. Any such fate for China - a much poorer country today than Japan in 1990 - has shattering implications.
www.telegraph.co.uk/finance/financialcri...
Michael J. Clark, Hanoi, Vietnam