CLARK'S GATE TIMING SYSTEM
  FOR: 27 SEPTEMBER 2010, MONDAY
CGTS VIEW: FRIDAY RALLY IMPRESSIVE; SHADES OF PLUNGE-PROTECTION TEAM IN ACTION AGAIN?
We had a huge rally on Friday, triggered by heavy futures buying before the markets opened.  Where did all this buying suddenly come from?  I hate to ask; I know some people will shake their had and mutter: "Conspiracy nut."  You can't blame them.
I wish we could audit the Fed and see how much money has been spent since 1987's crash to backstop market attempted corrections.
Barry Ferguson, in his blog BMF investments, documents what he claims is visual evidence of Fed buying index futures at the opening of every trading day this week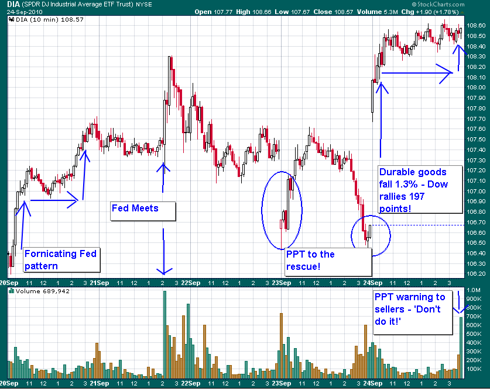 bmfinvest.blogspot.com/2010/09/behold-ne...
Who in their right mind would not be buyiing stocks right now -- the news has all been so good lately.
"Last month investors were positioned for what we thought would be a double-dip recession and massive inflation, but since it ended up being not nearly so bad, we've swung the other way," says Lawrence Glazer, managing partner at Mayflower Advisors in Boston.
Buying was broad across sectors, with about five stocks gaining for each one that declined on the NYSE; and 4-1 gainers on the NDX.  But volume was light again.  If one argues that the bulls just took back control, one might ask 'where is all the bullish volume"?  There hasn't been any volume to any of the recent rallies.
"The  (light) volume," Glazer added,  "suggests there's not broad retail participation, and to have conviction in the rally, you'd like to see that."

Of course there is NOT broad retail participation.  The Fed (or the Plunge Protection Team) is goosing the markets every morning to try to keep the rally going.  Will it work?  It's worked pretty well over the last few weeks.

WHAT IS THE PLUNGE-PROTECTION TEAM AND HOW DOES IT WORK?

Plunge Protection Team Logic, uttered by the Maestro, Alan Greenspan, the original creator of the team under Ronald Reagan after the 1987 stock market meltdown:

Greenspan interview with Reuters, September 30, 2007: "[U]nless stock prices resume their pace of increase of earlier this year, U.S. consumer spending and GDP will be under pressure from declining household wealth."

Again, Meet the Press, February 7, 2010, Greenspan said: "It's important to remember that equity values, stock prices, are not just paper profits. They actually have a profoundly important impact on economic activity. And if stock prices start continuing down, I would get very concerned."

Translating: The Fed cannot 'let' stocks go down. If stocks go down, the economy goes down.  The Fed MUST force stock prices higher, to keep real deflationary forces from setting in.  Stocks are the front-lines in the Fed's (and the Administration's) war against deflation

Is this PPT stuff just another Conspiracy Theory?  Perhaps.  Ambrose Evans-Pritchard wrote an interesting piece for the Telegraph back in 2006.  It is interesting to look back at what Pritchard was seeing then.


Paulson re-activates secretive support team to prevent markets meltdown

By Ambrose Evans-Pritchard
Published: 12:01AM GMT 30 Oct 2006

Monday view: Paulson re-activates secretive support team to prevent markets meltdown Judging by their body language, the US authorities believe the roaring bull market this autumn is just a suckers' rally before the inevitable storm hits.

Hank Paulson, the market-wise Treasury Secretary who built a $700m fortune at Goldman Sachs, is re-activating the 'plunge protection team' (NYSE:PPT), a shadowy body with powers to support stock index, currency, and credit futures in a crash.

Otherwise known as the working group on financial markets, it was created by Ronald Reagan to prevent a repeat of the Wall Street meltdown in October 1987.

Mr Paulson says the group had been allowed to languish over the boom years. Henceforth, it will have a command centre at the US Treasury that will track global markets and serve as an operations base in the next crisis.

The top brass will meet every six weeks, combining the heads of Treasury, Federal Reserve, Securities and Exchange Commission (SEC), and key exchanges.

Mr Paulson has asked the team to examine "systemic risk posed by hedge funds and derivatives, and the government's ability to respond to a financial crisis".

"We need to be vigilant and make sure we are thinking through all of the various risks and that we are being very careful here. Do we have enough liquidity in the system?" he said, fretting about the secrecy of the world's 8,000 unregulated hedge funds with $1.3trillion at their disposal.

The PPT was once the stuff of dark legends, its existence long denied. But ex-White House strategist George Stephanopoulos admits openly that it was used to support the markets in the Russia/LTCM crisis under Bill Clinton, and almost certainly again after the 9/11 terrorist attacks.

"They have an informal agreement among major banks to come in and start to buy stock if there appears to be a problem," he said.

"In 1998, there was the Long Term Capital crisis, a global currency crisis. At the guidance of the Fed, all of the banks got together and propped up the currency markets. And they have plans in place to consider that if the stock markets start to fall," he said.

The only question is whether it uses taxpayer money to bail out investors directly, or merely co-ordinates action by Wall Street banks as in 1929. The level of moral hazard is subtly different.

Mr Paulson is not the only one preparing for trouble. Days earlier, the SEC said it aims to slash margin requirements for institutions and hedge funds on stocks, options, and futures to as low as 15pc, down from a range of 25pc to 50pc.

The ostensible reason is to lure back hedge funds from London, but it is odd policy to license extra leverage just as the Dow hits an all-time high and the VIX 'fear' index nears an all-time low – signalling a worrying level of risk appetite. The normal practice across the world is to tighten margins to cool over-heated asset markets.

The move is so odd that conspiracy buffs are already accusing SEC chief Chris Cox of juicing the markets to help stop the implosion of the Bush presidency.

As it happens, I used to eat Mexican enchiladas with Mr Cox 20 years ago at a dining club in Washington, where California Reaganauts gathered to plot the defeat of Communism. Die-hard Republican he may be, but I can think of nobody less likely to betray the public trust in such a way.

So one is tempted to ask if Mr Paulson and Mr Cox know something that we do not: whether other hedge funds are in the same sinking boat as Amaranth Advisers and Vega Asset Management, keel-hauled by bets on natural gas and bonds.

Or whether currency traders with record short positions on the Japanese yen and the Swiss franc are about to learn the perils of the Carry Trade, a high-stakes game of chicken where you bet against fundamentals with high leverage to make a quick profit. Everybody knows it will blow up if the dollar goes into free fall.

They had a fright last week when US growth for the third quarter came in at just 1.6pc, and new house prices plummeted 9.7pc year-on-year in the sharpest drop since the property crash of 1981.

The dollar dived from 119.65 to 117.57 yen in a heartbeat. With $2.9trillion of derivatives now trading daily on the currency markets alone – according to the Bank for International Settlements – is this the start of the most vicious short squeeze ever seen?

The futures markets have priced in a 77pc chance of a flawless soft-landing for America's obese economy, now living 7pc of GDP beyond its means off foreign creditors. They are counting on moderating oil prices, and – a contradiction? – another year of torrid world growth. Nice if you can get it.

They have not begun to price in the risk of recession, typically entailing a drop in the S&P 500 stock index of 28pc from peak to trough. Evidently, the equity markets assume the Fed can and will rescue them by slashing rates in time, if necessary.

They should examine a recent report by the New York Fed warning that whenever the yield on 10-year Treasuries has fallen below 3-month yields for a stretch lasting over three months, it has led to each of the six recessions since 1968.

The full crunch hits 12 months later as the delayed effects of monetary tightening feed through, even if the Fed starts easing frantically in the meantime. By then it is too late. "There have been no false signals," it said.

As of last week, the yield curve was inverted by 29 basis points, was continuing to invert further, and had been negative for over three and a half months. If the Fed is right this time, the recession of 2007 is already baked into the pie. Those speculative positions may have to be unwound very fast.
How simple would it be for this PPT, this Economic Working Group, or the Fed, or any organization with bottomless pockets, to manipulate stock markets?
Former Federal Reserve Board member Robert Heller, in the Wall Street Journal, opined that such manipulation would be easy. "Instead of flooding the entire economy with liquidity, and thereby increasing the danger of inflation, the Fed could support the stock market directly by buying market averages in the futures market, thereby stabilizing the market as a whole."

Isn't that what we've been seeing for some time now?  Probably since 1987; but certainly since 2007 -- and the PPT's shadowy hand was also moving in the index futures markets on Friday.


MARKET MOMENTUM
Momentum had been deteriorating.  Some readers might find my focussing on the Plunge Protection Team to be sour grapes, as I had declared on Thursday that we were making a top.  I still think we are making a top -- but short-term numbers have been skewered a bit by the injection of rally-money into the markets on Friday.
Our shortest-term Momentum Indicator ("A" below) did hit almost oversold levels (23% bullish on Thursday -- under 20% is overbought) -- but Friday's action brough it bolting back up to 55%.
Our Advance-Decline Line ("C" below) gained back nearly all the momentum it lost last week on Friday: from 77% to 28%, Monday - Thursday; back up to 71% bullish on Friday.
83% of the issues we follow are in intermediate-term up trends ('E' below).  This edged up from 78% on Monday.
Our newest Indicator, which measures momentum top and bottoms and gives 'early warning signals' of changes in direction, ("G" below), did not advance on Friday: it declined all week, from 49% bullish on Tuesday to 30% bullish on Friday.  This indicator can be seen in the bottom panes of most of the charts we issue today.
MON

TUES

WED

TURS

FRI

 SUMMARY

GSPC - S&P 500 Index

 

 

 

 

 

 

A. Trading Mom +

Trading Mom -

Bull %

70%

52%

39%

23%

55%

B. Mom Trend +

Mom Trend -

Bull %

90%

89%

86%

79%

80%

C. Advance/Decline +

Advance/Decline -

Bull %

77%

59%

44%

28%

71%

D. Long Trade

Short Trade

Bull %

35%

35%

35%

35%

35%

E. IT Trend +

IT Trend -

Bull %

78%

82%

83%

83%

82%

F. M5 3 M5 Avg Dif +

M5 3 M5 avg Dif -

Bull %

83%

81%

74%

53%

72%

28

6

Bull %

82%

83%

76%

55%

73%

H. M5/M5 Avg Diff TB Asp+

 

 

Bull %

 

49%

40%

32%

30%

Avg of avgs

 

66%

60%

50%

66%

 

 

 

 

 

 

A. "Trading Momentum" = M4 ASP +1 vs -1; +1 bullish and -1 bearish.

 

 

 

B. "Momentum Trend" = M4 ASP (+1 - 0) vs (0 - (-)1); in BUY ZONE or SELL ZONE.

 

C. "Advance/Decline" = M4 ASP tick up vs tick down = mosr recent move up or down;

 

D. "Long Trade/Short Trade" = M4 ASP +1/ Int-Trend positive vs M4 ASP -1/Int-Trend negative;

 

E. "IT TREND" = Int-Trend positive vs negative. Slowest to turn. Most important long-term measure.

F. "M5 3 vs M5 3 Average Differential" = Above zero bullish; below zero bearish. Perhaps best indicator for intermediate term moves.

G. 'M5 3 vs M5 3 Average Diffential' = Those registering above +100 (top) vs those registering below -100 (bottom).

H. "M5/M5 Average Diffential ASP": Advancers vs Decliners in terms of the ASP indicator.

 
INDEX PICTURES
BKX, Banking Index.  What changed in this picture from Thursday to Friday is that the M5 3 Average (Top Pane, black line) developed a little wrinkle in it, dipping down and then back up.  M5 3 (Top Pane, brown line) is still in a downtrend.  In fact, the indicators below all remain in downtrends; and the bottom pane still exhibits the Top reading it was giving on Thursday.  Our view today is that the rally on Friday DID NOT substantially change anything.  More days like Friday will, of course, affect the indicators in a different way.  But this chart looks as top-heavy today as it did on Thursday.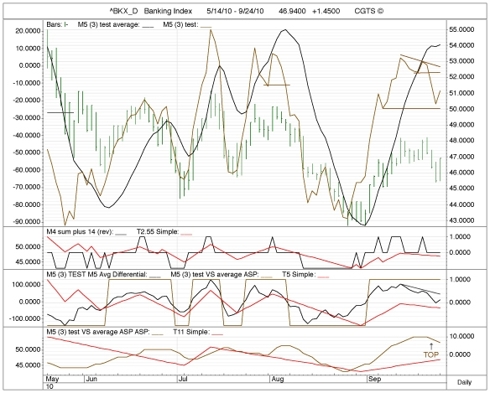 DJT, Dow Jones Transports have a similar story.  Momentum is breaking down.  M5/M5 Average (Bottom Pane) is also topping.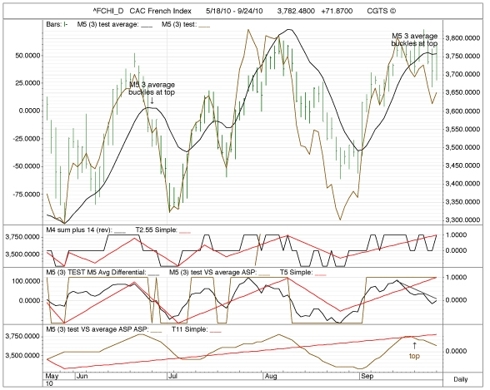 FCHI, Paris CAC Index.  Same story.  Obviously, Europe and Asia did not get the friendly bounce provided by PPT buying on Friday -- so today we'll focus on American Indexes.  FCHI is topping.  European indexes might get a friendly bounce on Monday -- historically, Asian bounces with America; and Europe is not friendly to American influences, and tries to get its identity from going a different direction from America.  So this one may not bounce up on Monday.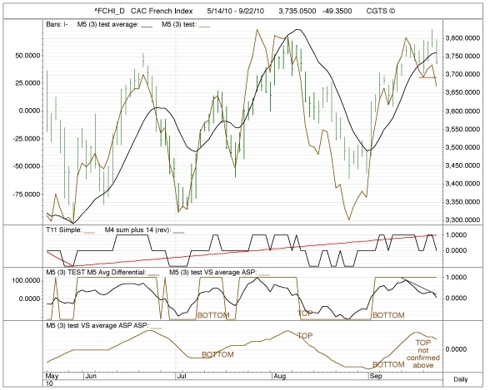 FTSE, London Index: pretty similar to FCHI.  Making a broad top, with momentum being lost (M5 3, brown line, Top Pane, for instance).  The third pane down shows a M5 3 Indicator that has fallen below its average (brown line) which almost always designates selling coming.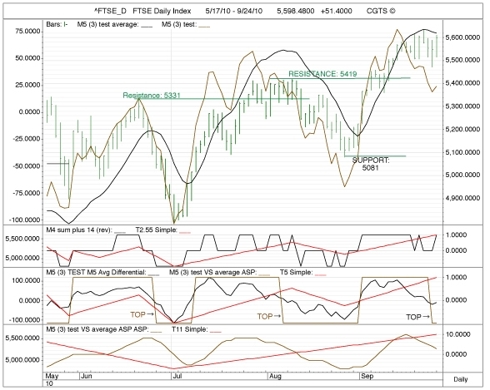 GSPC, S&P 500: again, M5 3 Average (black line, Top Pane) ticked up; M4 Sum Plus (black line, Second Pane) ticked up.  But M5 3 (Top Pane, brown line) is still presenting a topping picture, quite similar to the top formed in early August.  Still appears to be in a topping action.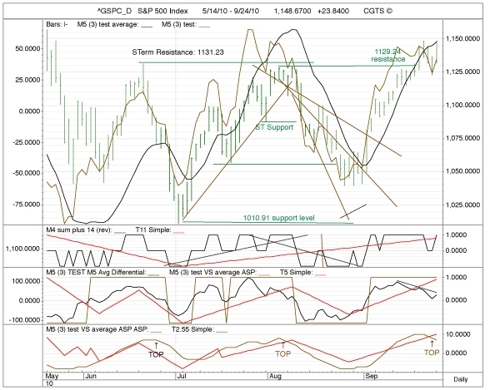 OEX, S & P 100 Index.  Looks very much like the top made in early August.  The bounce did not improve indicators very much.  M4 Sum Plus popped up.  But the OEX still appears to be topping.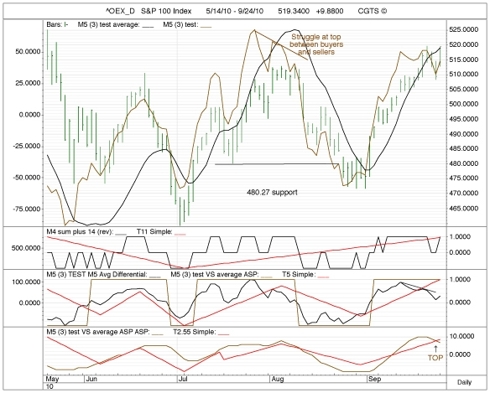 SH, Short S&P 500 ETF.  Did Friday's rally knock the stuffing out ot the inverse ETF issues?  Not exaclty.  SH still seems to be bottoming, preparing for a rally.  How much of a rally?  It's hard to tell.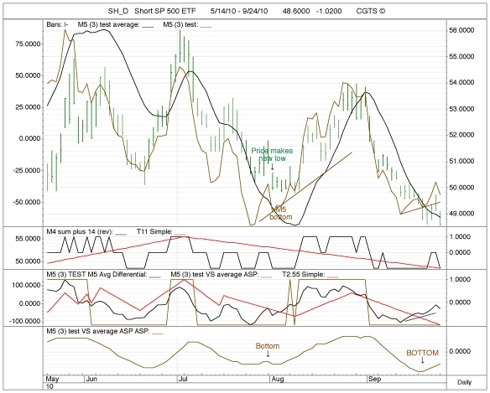 VIX, CBOE Volatility Index.  What did Friday's rally do to the VIX?  M5 3 has pulled back (Top Pane, brown line) -- but it is still in an uptrend.  It still looks like a bottom for the VIX.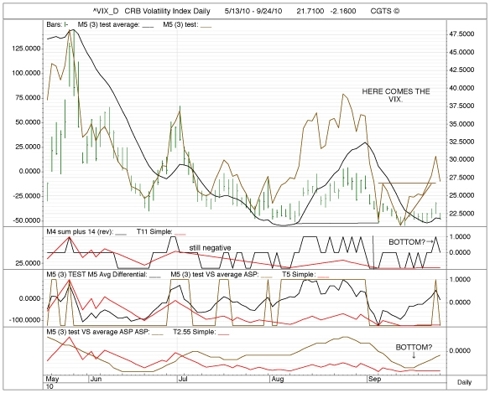 CGTS PORTFOLIO
We haven't shown our CGTS Portfolio for some time.  This shows the 9-10 Trading Systems we are working with, and how they have performed since 6/19/10.  ST = Short-Term Trading Systems (3 such systems).  The other trading systems are more intermediate- and long-term.  We invest $10,000 per trade.  We will update this once a week.
| | | | | | |
| --- | --- | --- | --- | --- | --- |
|   | DAILY PORTFOLIO |   |   | Active | Active |
| % Gain | 9/24/10 |   | Profit | Trades | Cost |
| 10.81% | | | | | |
| 49.33% | |   | | | |
| 7.49% | | | | | |
| 1.62% | |   | | | |
| 0.77% | |   | | | |
| 0.44% | | | | | |
| 4.47% | |   | | | |
| 3.52% | |   | | | |
| 13.35% | |   | | | |
| 8.46% | |   | | | |
| 19.02% | | • | | | |
| 6.18% | |   | | | |
| 5.24% | | | | | |
| 9.16% | | • | | | |
| 149.74% | M4 ASP REV TR * |   | | | |
| 3.36% | CURRENCY |   | | | |
|   | *subsumed into Spike above |   |   |   |   |
| 7.91% | Since 6/19/10 |   | | | |
TODAY'S NEW TRADES
We had a rash of sell signals on Thursday.  I'm still of the opinion that we are at a trading top -- and all new buy positions (long positions) are suspect for the moment.
"Spike" is one of our most proven trading systems.  Three buy signals today are all suspect.  I'm still not a real believer in our M2F Diff ASP 2+ trading system (it has tested well -- but it is giving a lot of 'long' signals when I expect sell and shortsell signals) -- perhaps it is correct; and I am wrong.  If more buying comes in, and the top proves illusory, then M2F Diff ASP 2+ will prove itself to me.  Short positions make sense here.  The one long I'm interested in is probably Honda Motors. 
FRI 9/24/10

 

 

 

 

ISSUES

TRADING SYSTEM

PRICE

SIGNAL
ADBE, Adobe Systems.  You'd think 20% loss in one trading day would be enough for Adobe -- especially since it has a pretty big gap it needs to close.  M5 3 Average +3 Trading System says it is going lower.  M2F ASP DIFF LT2 is also giving a shortsell signal for Adobe today.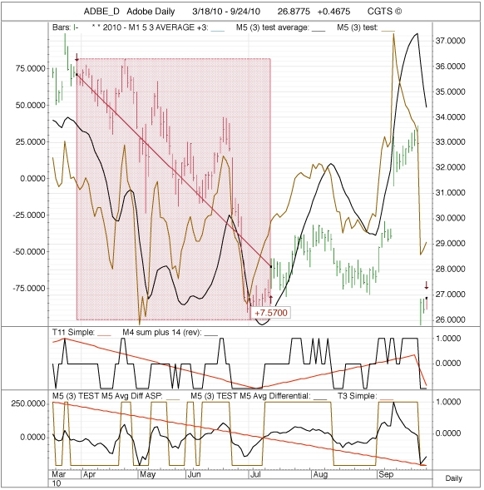 AOB, American Oriental Bioengineering.  Trading System: M5 3 Ave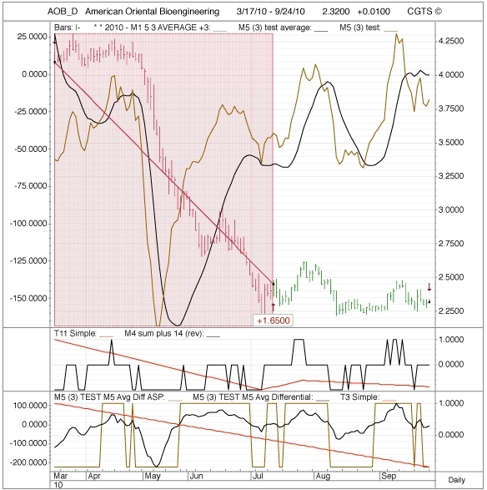 AMTD, Ameritrade - M2F ALT M4 2 Trading System: shortsell.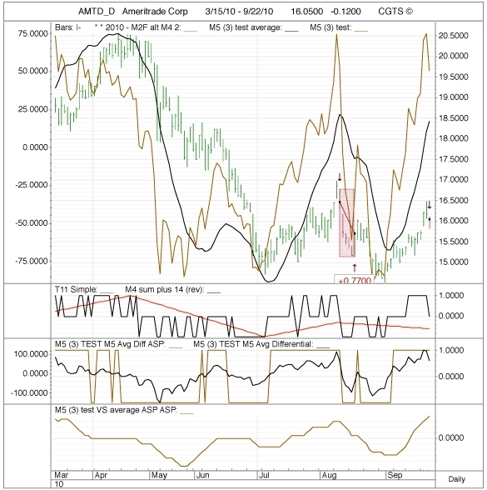 ANV, Allied Nevada Gold - M5 3 ASP ALT LT2a Trading System: Sell.  Take profits.  It's a bit dangerous to sell gold stocks at the moment; but this is the signal we are getting with this trading system.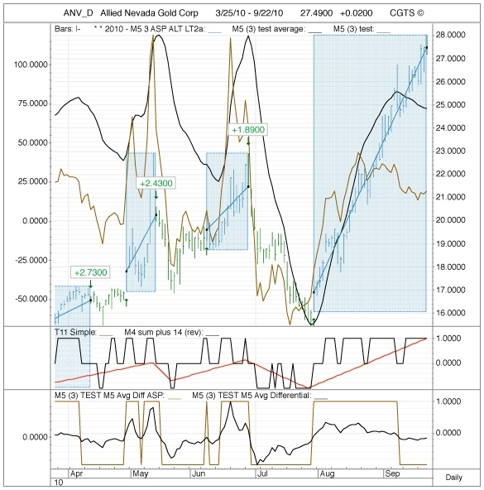 AOB, American Oriental Bioengineering - M5 3 ASP ALT LT2a Trading System: shortsell.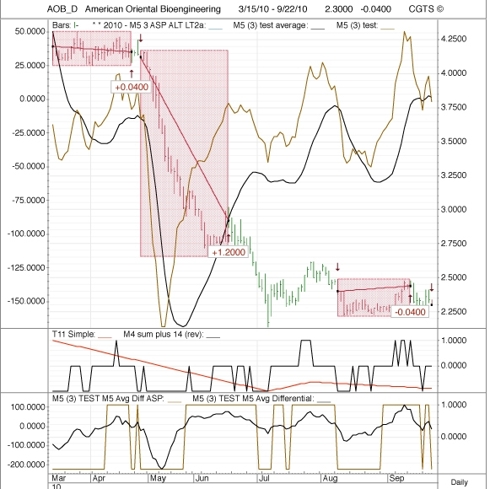 ARE, Alexandria Real Estate Equities ETF.  Spike Trading System: buy.  This one doesn't look right.  No confirmation from the momentum indicators below.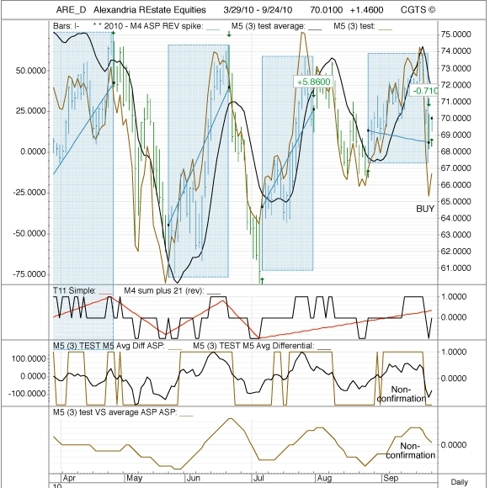 BYD, Boyd Gaming.  Trading Ssytem: M5 3 ASP ALT LT2a: shortsell.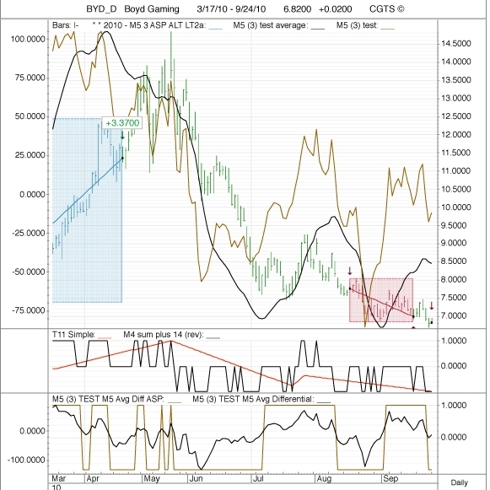 CCU, Compania Cerveceria SA.  Trading System: Spike: buy signal.  We have two buy signals on this one today.  But this looks like a top to me.  We're going to watch this one a little bit longer before committing.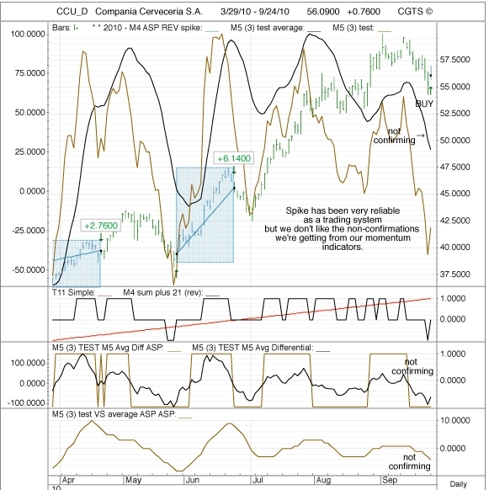 CPA, Copa Holdings SA.  Trading System M5 3 ASP ALT LT2a: cover shortsale position.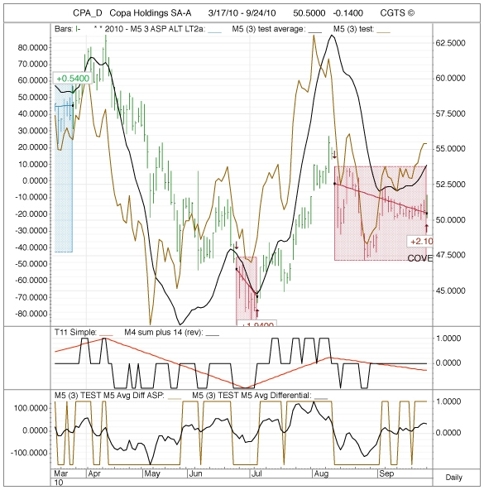 HK, Petrohawn Energy.  M5 3 ASP ALT LT 2a Trading System: shorsell signal.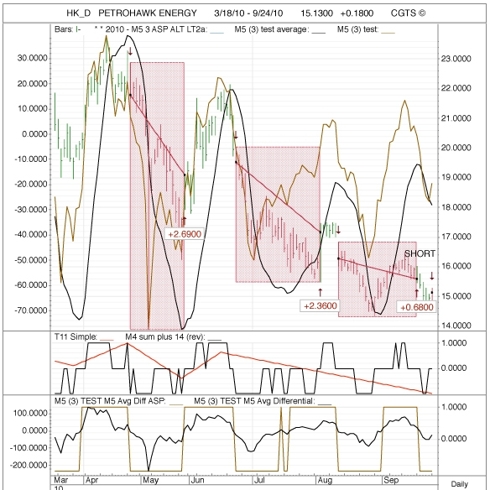 HMC, Honda Motor Company.  M5/M5 Average What 2? Trading System: buy.  Recovery from stiff selling has been good.  Base has been built for next move up.  It won't go up if the markets collapse.  But I like the way HMC looks.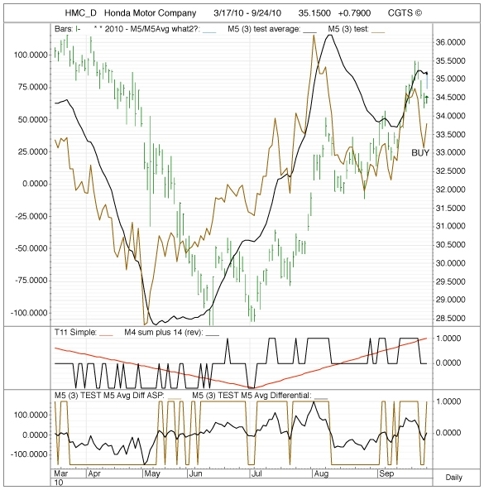 POT, Potash.  What do we do with this guy.  It's already had its move, as BHP has pushed it up into the clouds.  Can there be a white knight in the picture, someone willing to move in and complete with BHP's take-over price?  Not so sure.  This buy signal is suggesting that however.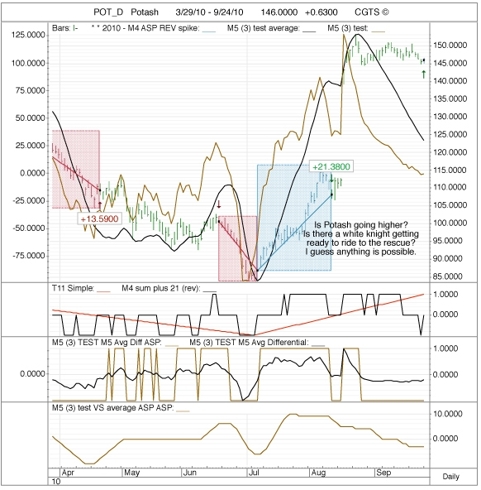 CURRENCY CORNER
What's going on in our "Currency Corner"?
We're buying INRRUB, Indian Rupee/Russian Ruble.  Trading System M4 Reverse #3: buy signal.  Note this system gives several chances to get into a trade, or add to a trade, as the trade proceeds.  New long position after taking profits two days ago.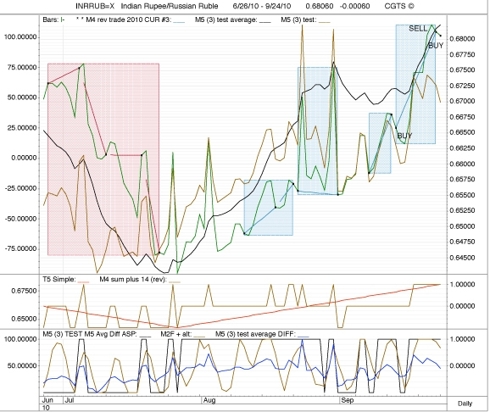 JPYRUB, Japanese Yen/Russian Ruble.  M4 Reverse #3 Trading System: buy signal.  Add to our current long position.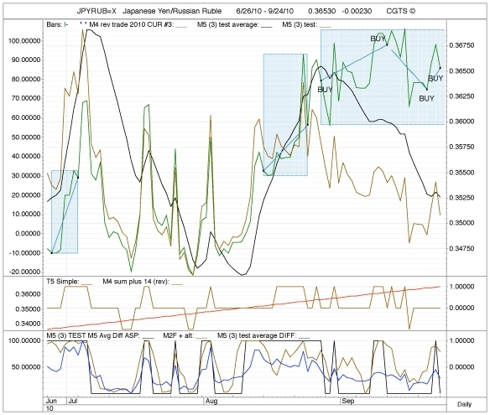 RUBCHF, Russian Ruble/Swiss Franc.  M4 Reverse #3 Trading System: cover.  We added to this position twice after the first short.  Closing position now with a nice gain.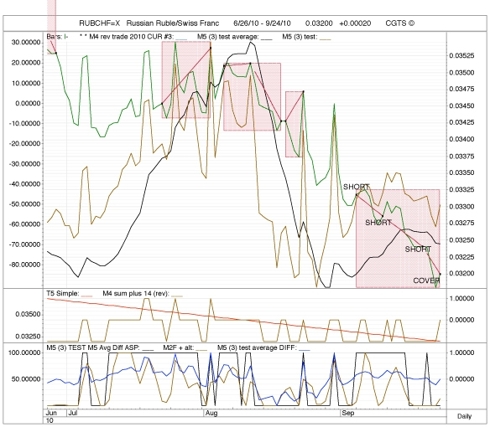 NZDJPY, New Zealand Dollar/Japanese Yen.  Spike Trading System: sell signal. Take profits.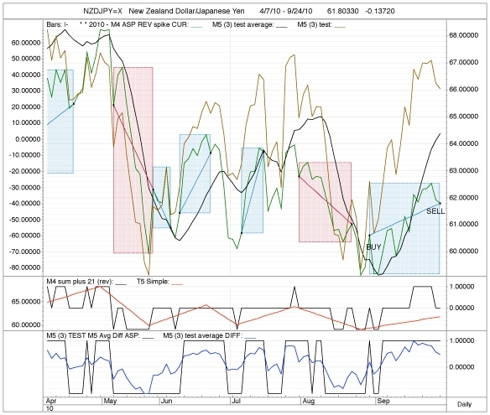 USDTHB, USDollar/Thai Baht.  M4 Reverse #3 Trading System: cover signal.  We added to our short position once after our initial short.  Now closing positon.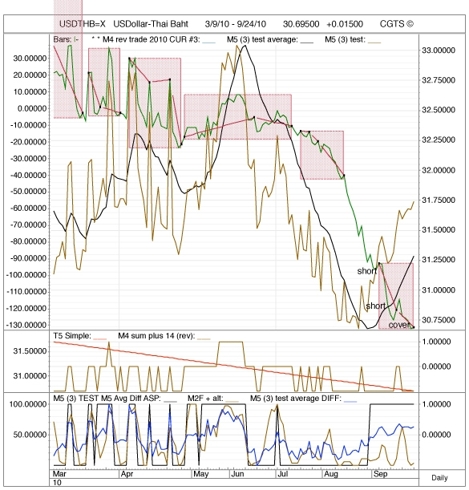 JPYINR, Japanese Yen/Indian Rupee.  Spike Trading System: cover signal.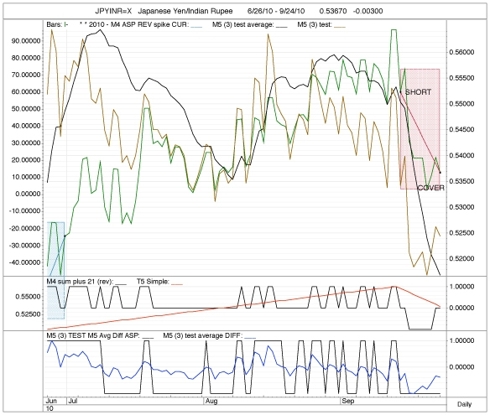 More information on the CGTS systems can be found at:
http://home.mindspring.com/~mclark7/CGTS09.htm
MICHAEL J CLARK
Clark's Gate Timing System
Hanoi, Vietnam
84 4 221 92210
Disclosure:
NO POSITIONS TO DECLARE.
Disclosure:
No positions to disclose.
Disclosure:
No positions to disclose.