CLARK'S GATE TIMING SYSTEM
  FOR: 29 SEPTEMBER 2010, WEDNESDAY
CGTS VIEW:


European indexes seem to be getting ready to give back some gains.  The news in Europe is returning to a focus on peripheral European countries -- Ireland, Greece, Portugal, Spain -- and their slide into monetary oblivion.
In addition, strikes and protests are gaining speed against spending cuts that would be the first concerted effort on the globe in decades to cut government debt -- demosntrators gathered in Brussels today, the heart of the European Union, as well as Spain and Ireland -- with many labor unions joining in to protest cuts that they feel unfairly penalize the people at the bottom of the social pyramid for problems created by incautious or greedy bankers -- rightly so.
Higher taxes on the wealth could also help cut debt -- but we do not see much currency in this idea.  Social unrest might slow attempts by governments in Spain and perhaps even Ireland to continue with working- and non-working lower class austerity plans -- and this could lead to even more difficulty for these countries to borrow money to finance their governmental activities.
It is not clear that austerity programs are working in Europe.  In Spain and Ireland, austerity measures have been joined by weaker economies -- in fact, the austerity measures have perhaps weakened the economies -- so that these countries are losing on both ends: austerity for the lower classes, contraction for everyone.  This is not the combination that Europe needs to avoid a debt castrophe.  Growth obviously does not come with austerity alone.  Growth comes from the slow and painful unwinding of debt.  It took the globe more than 20 years to become full frozen with debt -- it will take about as long for the globe to unload debt and return to a place where growth is even possible.
Anger is growing throughout Europe.  A growing class-conscious polarization is evident in the strikes and the demonstrations, which will only become more intense and more wide-spread.
INDEX PICTURES
European indexes are set to retreat.
FCHI, CAC French Index.  Struggling to move sideways.  Decline should begin in earnest today or tomorrow.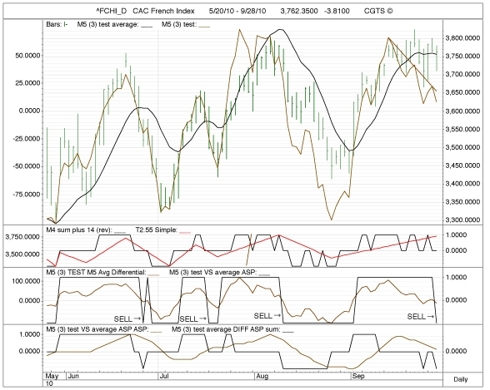 FTSE, England.  Similar picture; pausing at the top of the arc.  Gravity should begin to pull prices down very soon.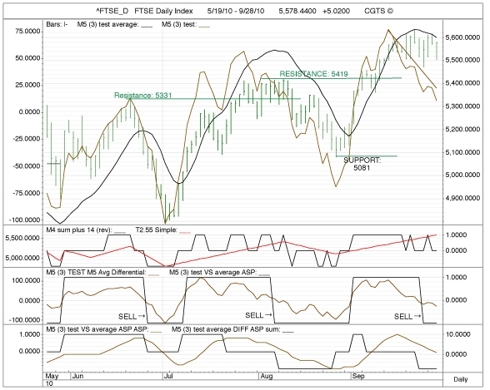 GDAXI, German DAX Index.  These charts make us wonder about the real possibility of diversification in stocks.  One market moves; most markets move.  Europe tends to lead American markets; America leads Asia.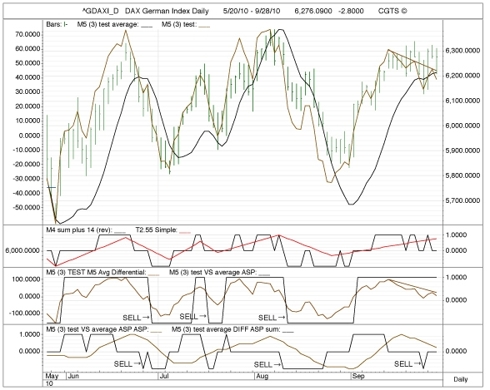 SMSI, Madrid Index.  Getting ready to topple.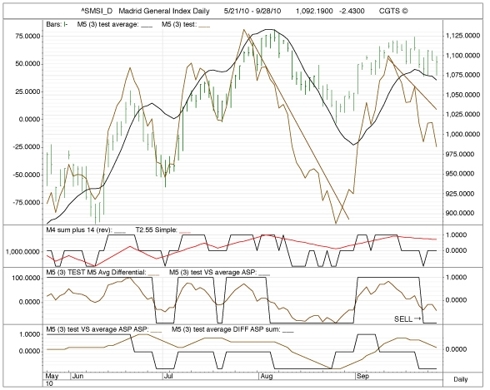 SSMI, Swiss Index.  Has already started to crumple.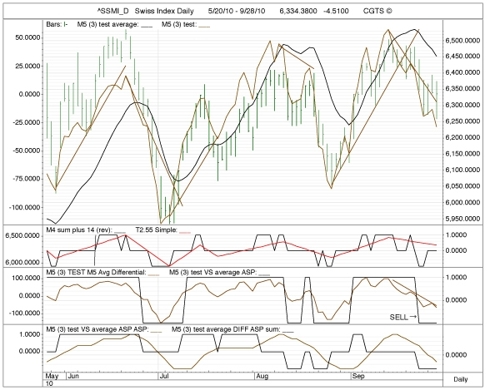 Recently, a rally in stocks has proceeded hand-in-hand with a US Treasury Bond sell off and a sell-off of the US Dollar.  The TBond sell-off is over.  TYX shows the 30-Year TBond Yield, which goes up when the TBond falls.  Short TYS: TBonds are ready to roar again.  Which probably means more bad economic news and more trouble in Europe with currency and debt-relation insolvencies becoming apparent again.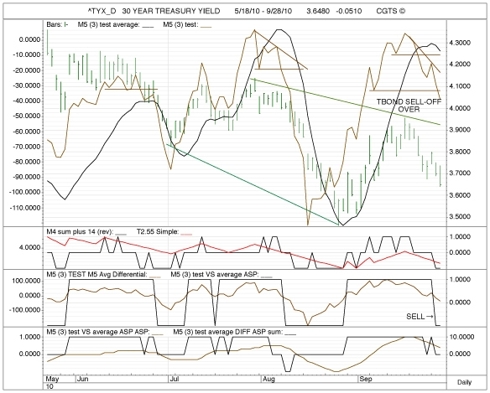 The missing link in a stock market collapse is a rally in the US Dollar.  And this rally seems pretty far away at the moment.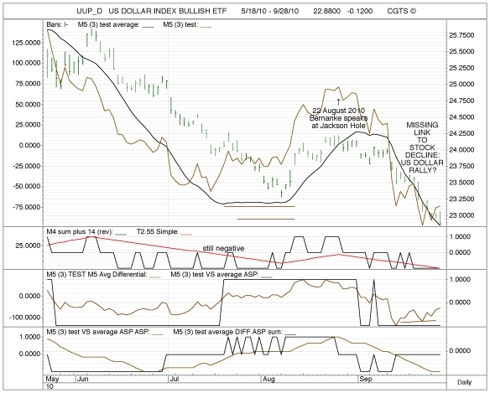 The US Dollar is trying to find a foothold to rally against the Euro -- but it will probably take more Euro crisies to make that happen.  Afterall, the Chief of US Economic Policy -- the Chair of the Fed -- how is that even possible? -- is committed to the destruction of the US Dollar.  Every time he speaks, the Dollar falls.  He has essentially guaranteed the rich and powerful in America that they can count on him and his word that the dollar will never go up again....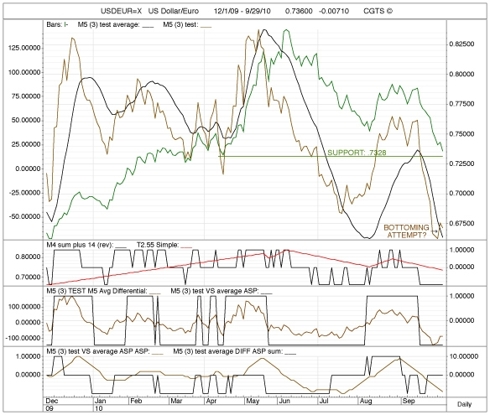 The Dollar looks likes it is trying to bottom against the Canadian Dollar.  But it looks really feeble against almost all other currencies -- and why wouldn't it.  The Fed's policy is to create Dollar weakness.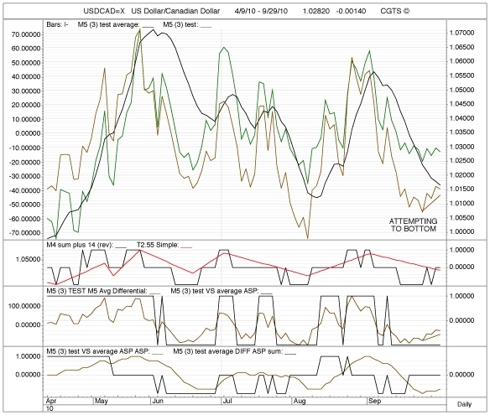 How does the VIX look?  The CBOE Volatility Index is an anti-stock indicator.  When the VIX rises, stocks tend to fall.  Well, the VIX looks to be in position to try to rise again, in fact.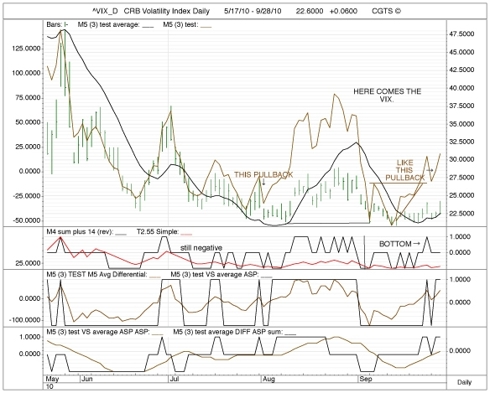 And, if there wasn't enough confusion in the markets, two more charts showing sell signals for gold stocks: HUI and XAU.  Mind you, we are NOT negative on gold or gold stocks here.  As long as Ben is in control, gold-related issues have to keep doing well.  Gold will be strong until roughly 2019; and then it will be time to short the hell out of gold.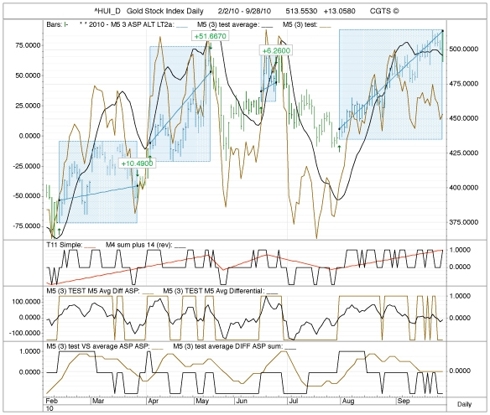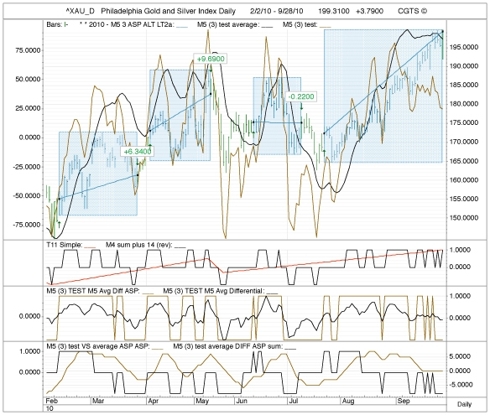 CGTS PORTFOLIO
We haven't shown our CGTS Portfolio for some time.  This shows the 9-10 Trading Systems we are working with, and how they have performed since 6/19/10.  ST = Short-Term Trading Systems (3 such systems).  The other trading systems are more intermediate- and long-term.  We invest $10,000 per trade.  We will update this once a week.
| | | | | | |
| --- | --- | --- | --- | --- | --- |
|   | DAILY PORTFOLIO |   |   | Active | Active |
| % Gain | 9/24/10 |   | Profit | Trades | Cost |
| 10.81% | | | | | |
| 49.33% | |   | | | |
| 7.49% | | | | | |
| 1.62% | |   | | | |
| 0.77% | |   | | | |
| 0.44% | | | | | |
| 4.47% | |   | | | |
| 3.52% | |   | | | |
| 13.35% | |   | | | |
| 8.46% | |   | | | |
| 19.02% | | • | | | |
| 6.18% | |   | | | |
| 5.24% | | | | | |
| 9.16% | | • | | | |
| 149.74% | M4 ASP REV TR * |   | | | |
| 3.36% | CURRENCY |   | | | |
|   | *subsumed into Spike above |   |   |   |   |
| 7.91% | Since 6/19/10 |   | | | |
TODAY'S NEW TRADES
AAPL, Apple Computer.  M2F ALT M4 2 Trading System: sell.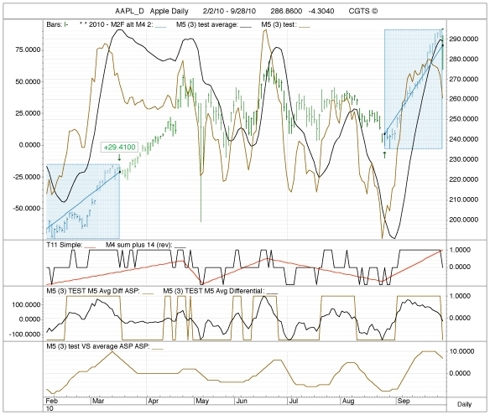 BWLD, Buffalo Wings.  M5 3 vs Average Diff 2 Trading System: buy.  This system tends to catch issues during their weakness (sometimes before their decline) -- but its track record is pretty good.  Looking at this chart, it's too early to buy this one.  We have a falling M5 3 (brown line, Pane One); and a falling M5 3 Average (black line): this is usually too early to buy.  Wait until M5 3 Average is nestling down with M5 3 in a peaceful valley.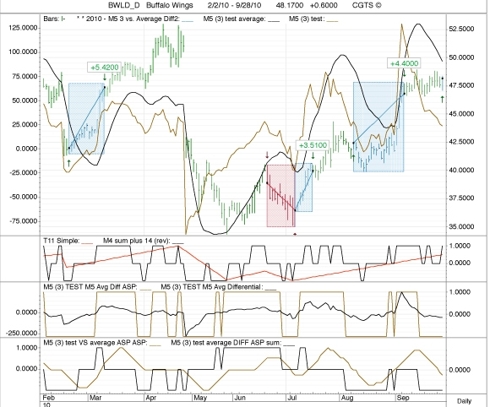 CYB, Chinese Yuan ETF.  M2F ALT M4 2 Trading System: shortsell.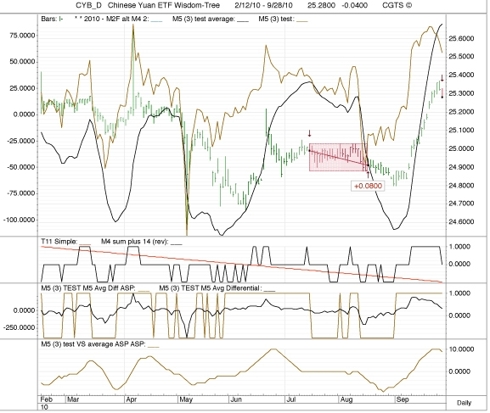 EMC Corp.  M2F ALT M4 2 Trading System: sell (take profits).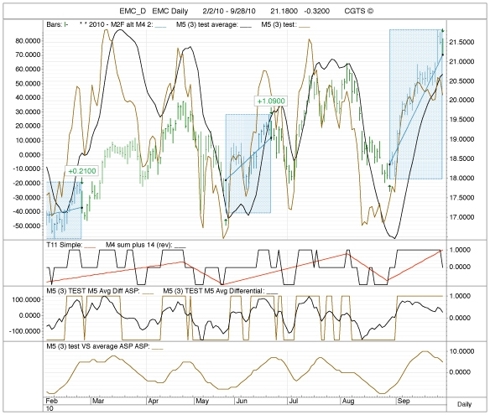 FXY, Japanese Yen ETF.  M5 3 ASP ALT LT2a Trading System: buy.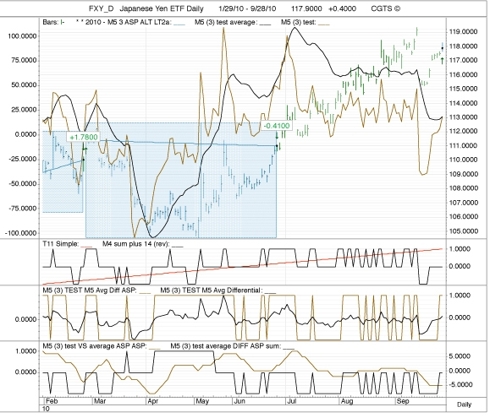 IGT, International Gaming Technology.  Spike Trading System: cover shortsale.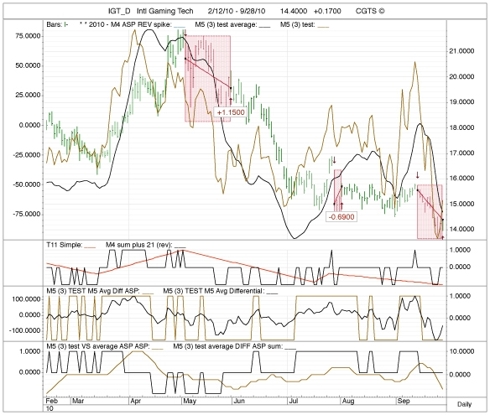 KGLR, Kinggold Jewelry.  M2F ALT M4 2 Trading System: cover shortsale.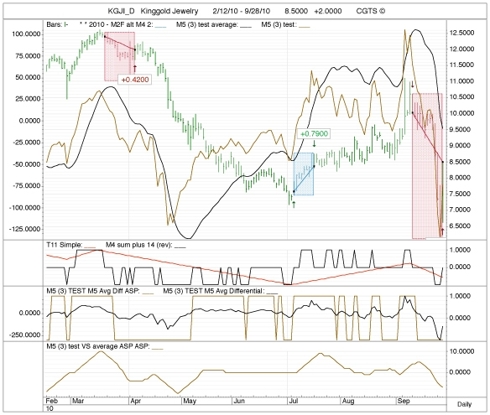 Ready for some speculation -- use expendable money for this trade.  LODE.OB, Comstock/Goldspring Mining.   M5 3 vs Average Diff 2 Trading System: buy.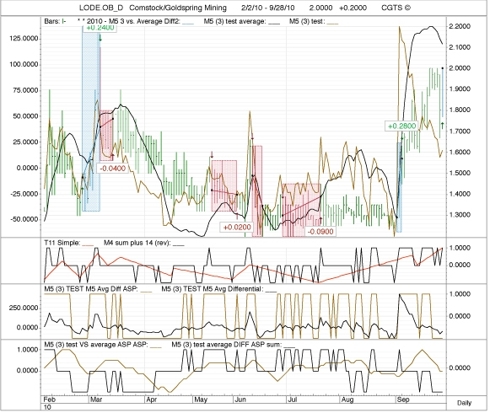 NXG, Northgate Minerals.  M53 vs Average Diff 2 Trading System: buy.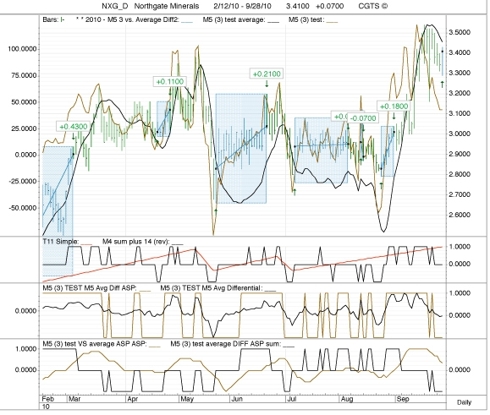 SSRI, Silver Standard Resources.  M5 3 vs Average Diff 2 Trading System: buy.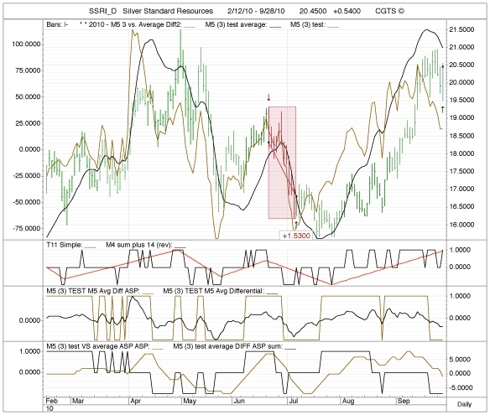 NEW OPEN TRADING SIGNALS FOR WEDNESDAY, 9/29/10.
TUESDAY
NEW OPEN POSITIONS
 
28-Sep
 
 
 
Issue
Trading System
Close
Position
CYB
SPIKE
25.28
Short
BWLD
M5 VS AVG DIFF2
48.17
Long
LODE.OB
M5 VS AVG DIFF2
2
Long
SSRI
M5 VS AVG DIFF2
20.45
Long
NXG
M5 VS AVG DIFF2
3.41
Long
CYB
M2F ALT M4 2
25.28
short
FXY
M5 3 ASP ALT LT2
117.9
long
More information on the CGTS systems can be found at:
http://home.mindspring.com/~mclark7/CGTS09.htm
MICHAEL J CLARK
Clark's Gate Timing System
Hanoi, Vietnam
84 4 221 92210
.
Disclosure:
No positons to disclose.