I often hear discussions about Morgan Stanley and Goldman Sachs and how they are both in a sweet spot right now. It goes something like this - less competition, best trading environment ever, loans are all marked down, etc... Golman Sachs came out on Tuesday and confirmed everything people were thinking. However, I think the market is telling you something a little different. Take a look at the chart below comparing the recent performance of both.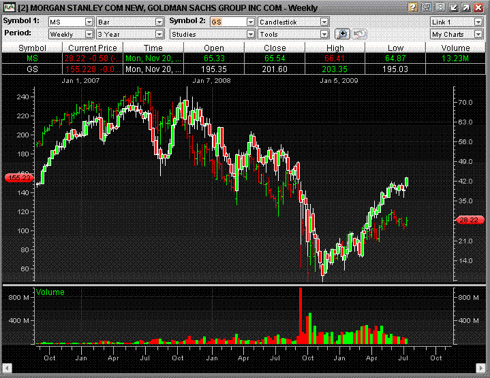 It looks like the market is saying Morgan is not in Goldman's class. I am not going to pretend to understand why this could be, but I think it sets up an interesting trade. As there may be a disconnect between perception and reality, there might be an opportunity to play MS to the downside heading into earnings. Below is the chart of MS on its own.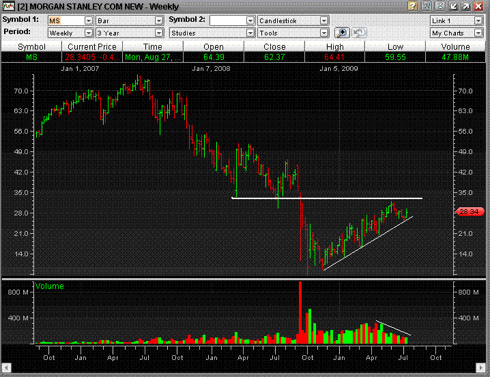 There is clear resistance at $32 which gives you a nice stop to short into recent strength. There is also a well defined uptrend line that could provide an entry point if broken. Then of course, there is the pairs trade by buying GS and selling MS. However, I'd be less willing to put on that trade because GS looks like it could come in as well here.
Earnings for Morgan are scheduled on July 22nd, so there is some time to determine if the recent strength has some legs. But given the action today and the past few weeks, I think the upside is limited which gives traders a nice risk/reward set up to go short.
As for me, I am going to stock with my Amazon short. It has failed to break out to the upside while other beta stocks like RIMM and BIDU have seen follow through from yesterday. But MS is certainly on my radar for the week ahead.