Yes it's still there...I've driven by often just to make sure. I'm referring to (NASDAQ:DRWI) DragonWave Inc. HQ in Ottawa Canada.
There were times when I expected to see no lights in their office, given the cash burn rate and no real customer orders. It seemed like a never ending decline in cash, stock price and optimism for a good long stretch.
That feeling your car is going to run out of gas and knowing just a buck or two, would get you to the next station! You know the excellent kind of sigh, pulling the trigger of the gas nozzle to fill your tank, smiling inside "Dam tow truck would have cost me at least a tank of gas, just to fill my tank with gas"
The recent needle on the "Dragonometer" as I like to call it, is also looking like we can get a few more miles out of it these day's. My dial is set around $3, but this of course depends on who's driving and who's paying for the gas.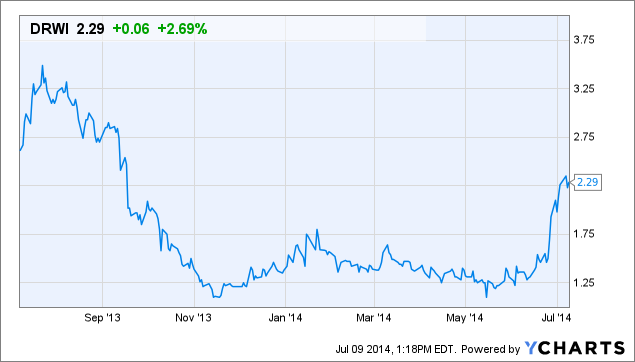 My first experience with (DRWI) or (DWI.TO) on my side of the boarder, from May-July 2013, it was fairly positive (BT$2.27-SD$3.20) Been following it since then and took a recent position at $1.54 after the Reliance-Jio India Deal. There are plenty of participants these days as there looks to be good news on the (HORIZON+)..That being said, my finger is on the sell button this week as earnings are due out today, Wednesday July 9th after market close.
Although the MA's 50,100,200 seem to be in definite (HARMONY+) and a (PACKET) of market signals abound, Management has a way of crashing the earnings party all to commonly.
Sleep with one eye open. After all, were are dealing with a Dragon!
Disclosure: The author is long DRWI, DDD, CSCO.