with the assistance of Renzie Doem Agutaya
We also believe there is an attractive coal investment possibility in the Philippines, and that is discussed below.
Semirara Mining Corporation (PSE: SCC)
As Table 1 indicates, coal provides 16% of the Philippines energy fuels, with 81% coming from imports. The government wants to reduce this dependency on imports.
Table 1. – Energy Supply, the Philippines, 2008
Source: International Energy Agency
As Table 1 indicates the Philippines imports 50% of its energy fuels, with coal and oil dominant.
Coal consumption in the Philippines has steadily been rising with not enough local production to meet its demand as evidenced by the following data: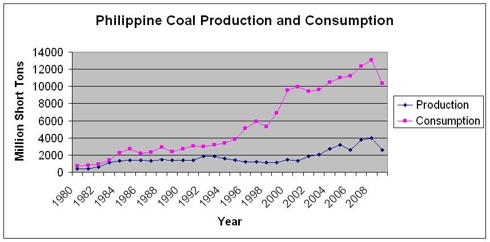 Source: US Department of Energy Database
From 1995 on, the surge in coal consumption was fueled by the growing number of coal-fired power plants. Coal-fired power plants contributed 34% of the country's electricity capacity in 2009, up from only 8% in 1995.

[1]

 
TheSemirara Mining Corporation (PSE: SCC) provides more than 90% of the local coal.

[2]

 SCC, incorporated in 1980, generates 98% of its revenues through the production of sub-bituminous coal. In the past, these revenues came from only one customer, the National Power Corporation (NYSE:NPC) Calaca power plants.
The company's market widened since it started working on the quality of its coal; SCC started washing 25% of its coal production since 1999. As a result, the demand for its coal includes other power plants and the cement industry. Because of widening markets, SCC's sales to NPC fell to only 40% of its revenues in 2009.

[3]

Early that year, the company announced plans to export 2.5 million tons of coal to India, China, and Hong Kong. This means 50% of its total coal production was for export, up from only 30% in 2008. As a result, its earnings increased by 127% from P 796 Million in 2008 to P 1.8 Billion in 2009.
At the end of 2009, SCC bought its major customer, the NPC-owned Calaca power plant. That provided SCC with a position in the growing power generation industry and another source for revenue growth. In of 2010, power generation contributed additional P 8.655 billion revenues.
As effectively a coal monopoly and a position in the power generation industry, the company's income doubled in 2010, from P 1.8 billion in 2009 to P 3.9 billion in 2010.
Looking Ahead – Coal Pollution
Coal mining "pollutes" the land. Coal burning pollutes the air. The government has some anti-pollution safeguards, but its heavy reliance on coal and its desire to be energy self-sufficient limits the pressure put on local producers. According to SCC's filings, the company spent P23.6 Million for environmental compliance from 2001 - 2006. The company has established a P 600,000 environmental monitoring fund and an environmental guarantee fund of P1.6 Million
Any company wanting to mine coal in the Philippines must get an Environmental Compliance Certificate (NYSE:ECC) from the Department of Environment and Natural Resources (OTCPK:DENR). The ECC certifies that the project under consideration will not bring about an unacceptable environmental impact. According to SCC's 2009 annual report, its ECC has been amended, allowing an increase in its annual coal production to 8 million MT. In 2010, SCC produced 6.9 million MT of coal, up from 4.7 MT in 2009.
Looking Ahead – Continued Growth?
When contacted, SCC did not provide figures on future growth, but did say they expect a further increase in both local and foreign demand. In both 2009 and 2010, the company made large investments in mining equipment (both excavators and dump trucks).
Table 2 provides financial data on SCC. The data reflect its rapid earnings growth, and a growing P/E ratio. As a near monopoly, SCC appears to be a pretty safe investment.
Table 2. – SCC Financial Results

Investing in the Philippines
There are several good online brokers in the Philippines. Mr. Agutaya has used
www.BPItrade.com
. He has also heard good feedback on
www.citiseconline.com
. In addition, one can use either firstmetrosec.com.ph or rcbcsec.com. Both are subsidiaries of large Philippine banks. rcbsec.com charges the lowest commission - 0.25%. The others charge 0.30%.
Neither of us is licensed to sell equities. Neither of us owns SCC.
---
---
Disclosure:
I have no positions in any stocks mentioned, and no plans to initiate any positions within the next 72 hours.