The markets continued higher today on thin trading as the S&P 500 is looking to have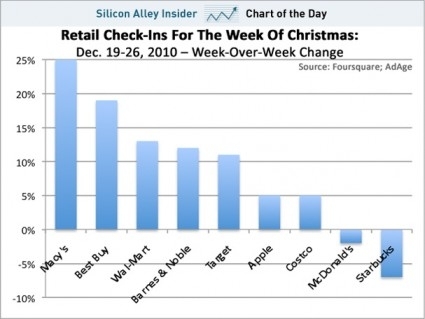 its best December in two decades. There was no tremendous news that moved the markets. Rather, thin trading tends to harken momentum that is hard to overcome, and the market has continued to register positive momentum. Investors have continued to see positive data throughout December, which has allowed them to believe that next year's prospects should be strong. The dollar's decline helped the markets, but its decline is most likely due to positive movement on stocks.
The Dow finished up (). The Nasdaq finished up (). The S&P 500 finished up (). Gold finished (). Silver finished ().
On the economics front, there was no major data still out. Tomorrow, the market will get a bevy of data, however, from the pending home sales to crude oil inventories to jobless claims to the Chicago PMI. All pieces of data should have a major influence on the market. It will be interesting to see if disappointing news will be viewed as a buying opportunity or the bad
news will hurt the markets significantly with a lot of overvalued and toppy equities.
In other company news, Facebook may have to debut its first IPO after SEC investigates its private trading and the shadow market that surrounds it. BJ's Wholesale (BJ) was up big today after news that the company may get a buyout bid from Leonard Green & Partners. Sears Holding (NASDAQ:SHLD) announced that they will be launching an on-demand video service that they hope can rival Netflix. It sent shares up more than 6%.
The Oxen Group performed well on the day. We exited three positions (2 positive, 1 negative) and positioned ourselves into another position. We were able to make a quick 3.5% on our recommendation of Rightnow Tech (NASDAQ:RNOW). After a large drop yesterday on a single trade, the stock was well undervalued. The company got an upgrade in addition to help their cause from Piper Jaffray. We were able to recommend entry at 21.99 and saw shares soar to 21.77 before exiting. We made another quick 3% with Bank of Ireland (NYSE:IRE) as the stock went from 2.52 to 2.58 during the trading day per our recommendation. We lost 3%, however, on Ultrashort Proshares Real Estate ETF (NYSEARCA:SRS) as the ETF continued to fell.
Additionally, The Oxen Group launched its brand new Longterm Ratings Portfolio. The Portfolio is modeled off the Longterm Ratings that cover a number of companies. This portfolio has recommended positions in thirteen equities on a longterm outlook. Some of the companies involved include Baidu, shorting Green Mountain Coffee Roasters, Dean Foods, and Trina Solar. The Portfolio is the third for The Oxen Group, which also has a short-term Buy Pick portfolio and Short Portfolio.
Moving into tomorrow, we are holding positions in a Short Sale in SINA Corp. (NASDAQ:SINA) that was entered at an average position of 70.42. This stock has been a narrow trading range that has not allowed for much movement. We are holding a mid-term position in GFI Group (NYSE:GFIG) as well with an entry at 4.60, looking for a 3% gain before exit.
My take is that we have a big day coming into tomorrow. Bad news would tell a lot, while good news should continue a run up. If we receive bad news, it will be interesting to see how the market reacts. If we have a sharp decline without much bottoming intraday, that would be a bearish signal. My guess is that a 1% movement down will only create buying opportunities that will be quickly covered back up. We will see...
Disclosure:
I have no positions in any stocks mentioned, and no plans to initiate any positions within the next 72 hours.