Today, in the second part of this four part investigation into the IMF and third world nations, I will discuss more of the problems with the IMF and also take a look at the question of sovereignty and blame attached to third world nations, themselves…
Blame is often attached to the authoritative, liberal-backed IMF and World Bank due to their large involvement in the issue. York Bradshaw and Jie Huang, in 
Intensifying Global Dependency: Foreign Debt, Structural Adjustment, and Third World Underdevelopment, 
explain the major criticism that the IMF is facing further, stating that the IMF requires:
That indebted countries…implement structural adjustment policies to save money and facilitate exports, thereby increasing debt repayment. (Yet) these policies force devaluation of currency, wage freezes, increased
privatization, removal of tariffs and other 'protectionist' measures, and reduced government spending and employment…the IMF admits that these measures create temporary hardship, it asserts that the debt crisis warrants such 'shock treatments.'
Third world nations comment that these SAPs are detrimental to their economic capabilities because they increase inflation often leading to hyperinflation, reduce purchasing power, harm economic development, and reduce government spending on necessary programs, such as, education, government subsidies, and other programs that can help improve quality of life.

 
Interest payments on loans are such a high percentage of GDP that nations put most of their governmental revenue towards interest payments and cannot transfer these funds to needed governmental policies.
Additionally, most of these nations only have income from their exported commodities, since their citizens have little to no money to pay any taxes. One major SAP policy the IMF implements is that these nations focus their economy and attention to driving up commodity exports.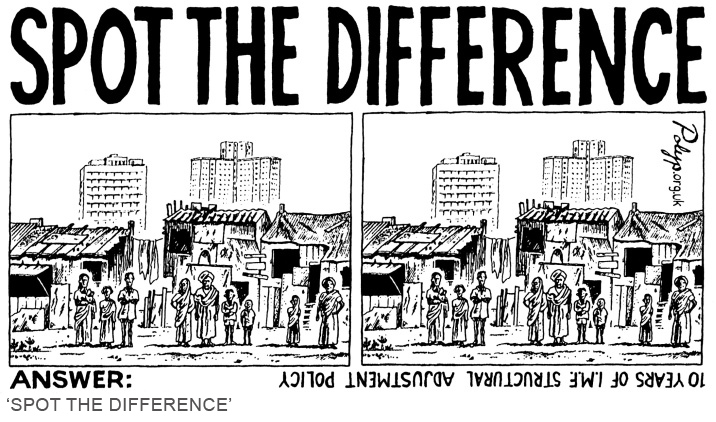 Nations complain, however, that this policy greatly reduces the value of these goods, causing their price to fall and income to decline. As Michael Chossudovsky writes in his article, 
Writing Off Third World Debt, 
the "IMF supports a policy of increasing third world countries' main exports, which only serves to over increase supply of commodities and thus weakens the prices of them…making these countries poorer in process."

 
Chossudovsky is not off the mark.
The experience of developing countries that have undertaken Fund support adjustment programs ha(ve) not generally been satisfactory. The Fund approach to adjustment has had severe economic costs for many of these countries in terms of declines in the levels of output and growth rates, reductions in employment and adverse effects on income distribution. A typical Fund program prescribes measures that require excessive compression of domestic demand, cuts in real wages, and reductions in government expenditures; these are frequently accompanied by sharp exchange rate depreciations and import liberalization measures, without due regard to their potentially disruptive effects on domestic economy.
What about these nations themselves? They are responsible for continually taking loans and taking initial loans that have led to this point, are not they? As William Easterly comments in 
Writing Off Third World Debt
, the IMF blame game is not the whole story. Easterly writes, "poor people don't owe foreign debt – their governments do. Poor nations suffer poverty not because of high debt burdens but because spend thrift governments constantly 
seek to redistribute the existing economic pie to privileged political elites rather than try to make the pie grow larger through sound economic policies."
As he continues, the Kenya government, which is a debt-burdened nation with $6.8 billion of external debt,

 
as able to find enough money to fund a lavish international airport, the Eldoret International Airport, in the President's home region.
 The practice of "misusing" (building lavish homes and unneeded arms developments when severe unemployment, malnutrition, and food crises exist) what little government revenues there are is something that Easterly and other nation critics argue is too rampant. As one World Bank study uncovered, "only two out of 25 debt relief recipients will have satisfactory capacity to track where government spending goes within a year."
The malpractices of these nations comes from lack of education about economics, an uneducated and non-knowledgeable population, and poor precedents. This reasoning is why the IMF continued to support the SAPs and "shock treatments" that their policies delivered to nations. Loan money is often funneled into the wrong channels that do not promote economic growth or quality of life improvements. The argument, therefore, for the IMF is that the problem is at the state level and that international organizations are attempting to bring the proper changes to these places to promote growth strategies.
Good Investing,
David Ristau
Disclosure:
none