The Age of Turbulence:

Plea for a New World Economic Order.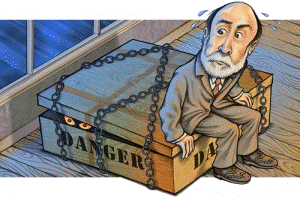 Preparing for The Crash, The Age of Turbulence.
Wednesday 29th,2009.
"

Prediction is very difficult, especially about the future.

"
Niels Bohr Danish physicist (1885 - 1962)
Executive Summary:
The market Crash comes with low long-term yields, a deeply inverted yield curve and very low risk spreads. Hence before of the Crash we must have necessarily a bout of high level of Irrational Exuberance and global euphoria [Confer Chapter III. Greenspan Conundrum and Bernanke Global Saving Glut. Paragraph 3: Bubbles & Bursts. Chapter II. The Liquidity Trap: A Theoretical Curiosity. Paragraph 2: The Economic Conditions That Precede a Liquidity Traps.] No macro economic figure and no measure of risk can help us foresee the crash. Because of the fantastic amount of liquidity in the system, I expect the inflation of the Mother of the Bubbles. 
What I call the strategy is long Stocks,  Treasuries, Minerals and spread Treasuries/Corporate Bonds. 
What I call minerals are Crude Oil, Base Metals and Precious Metals.
I am long the strategy for 25% of my allowance on any time TYX< 46.00. I am stopping the strategy for TYX> 46.30.
I short Minerals when TYX> 46.30
In order to measure the exhuberance of the Market is is imporatnt to follow the spread Treasuries/Corporate Bonds.
I increase the invested % of my allowance according to individual Market key points.
Stocks:
SP500 Cash and Stocks: Stop Loss:  972.40.
Short-Term Key Points:  940.16    946.2    956.23    966.26    969.36    972.46    982.49    992.52    998.56
Bonds:
Key Points: 34.92    35.99    37.93    38.08    39.65    40.93    41.56    42.64   43.64    43.72    44.06    44.65    44.8    45.04    45.14    45.48    46.02    46.11    46.56    47.64.
Stop Loss: 46.30 
Oil Future:
Key Points: 65.52    66.48    67.74    68.8    68.99    69.18    69.18    70.53    74.7    76.28
Stop Loss:  65.48
Yesterday I Have reentered the Strategy at the opening of Markets and  TYX = 45.85.  I made money on TBonds, a little money on Spread Corporate/Treasuries, made a little money on Stocks and took a beating on Minerals. This is the advantage of being diversified in 4 Markets and starting with a small position and increasing the position as the Market confirms my trend.
I expect a short fall of TYX when the 5 Years Treasury notes results are published at 13:00.
I time the crash with the yield on USTBonds getting at 3.5605%.
The crash will be later then I previously anticipated. However I expect that timing it will be easier.
In case of change in the Strategy, I will twit:
All of This Stays True Until the Poor Becomes Richer Relatively to the Rich.

It Will be Proved by The Crash.
My Political Orientation According to Nolan Chart Survey! As Liberal as John Maynard Keynes!
As Libertarian as Friedrich August von Hayek!


Extreme Economic Conditions Call for Radical Solutions.
The Provocative & Controversial Innovation
Since John Maynard Keynes and Friedrich August von Hayek.
© 1994-1995 Shalom P. Hamou.