The Age of Turbulence:

Plea for a New World Economic Order.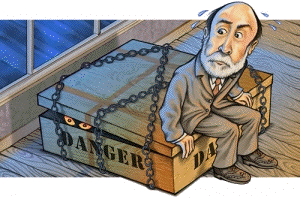 What do we do After The Crash?

I have proved mathematically in my Tract that a wave of Irrational Exhuberance: The Mother of the Asset Price Bubble will be followed by a Keynes' Liquidity Trap, a Crash and a (real) Great Depression (see my InstaBlog).

Based on my Model I have designed a strategy in order to profit from both the Irrational Exuberance and The Great Depression: Preparing for The Crash, The Age of Turbulence.

A turbulence in fluid mechanic is a chaotic state of a liquid.

It Owns Most of the Proprieties of The Liquidity Trap, Origin of The Crash.

That strategy has been very popular with the readers of Seeking Alpha and wit the Market.

My model shows that there is no possibility to get out of the Depression on the short run.

We are making a lot of money, still we need an economy. Everyone does in order to make a decent living.

I have hence devised a plausible alternative solution to the Depression and a way to implement it:

In order to participate you need to Act Now!

What do we do After The Crash?

Disclosure: Long Minerals Treasuries Corporate Bonds and Stocks.