Able and Honest Management
I recently wrote about National Beverage Corp (FIZZ) valuation focusing on FIZZ's key metrics against other beverage companies.  While an understanding of financial performance and valuation is critical to successful investing, you must also be well acquainted with the business model and the people running the business to be a successful investor.
Those who follow Warren Buffett may be familiar with the idea of investing in businesses run by "able, and honest management."  How exactly do you know if the management running the company is able and honest?  These are somewhat intangible qualities.  They are qualifications, not quantifications.
I suppose one way you might assess ability is simply to look at outcomes. If the company you invest in consistently performs, then you might conclude the management is able.  But, is it ability or is it luck? 
And what about honesty?  Can you trust the numbers?  Enron ran for many years showing great performance.  Bernie Madoff promised and delivered steady returns, year after year.  Too bad that the numbers were all fake, that it was all a fraud.  Honesty matters.
Proxy
This is where you can glean insights from the proxy statement and combine it with your financial analysis for a fuller understanding of your investment.
Let's take a look at FIZZ proxy (found as SEC form 14A).  Few things stood out to me.
First, from the quantitative analysis in the article I referenced, I can ascertain that the management is doing good things.
Honesty
Unless you happen to know the management personally and have a history with them, it'll be impossible to tell if they are honest.  And even if you've interacted with someone, how do you really tell what's in his or her heart?
Instead, let's look at the next best thing.  Incentives.  Look at the ownership of the National Beverage Corporation.

Source: Company 2017 Proxy
The disclosure of principal shareholders shows that Nick Caporella owns 73.5% of the company, inclusive of the ownership through IBS Partners Ltd.
Basically, what we are looking at here is a business built and run by the entrepreneur.  If you're worried about something like corporate asset misappropriation, or stealing, then it would be like your right hand stealing and giving it to your left hand.  At the end of the day, it's still yours!
It's in the Family
Now, a sole proprietorship-like business or a family business has its own set of issues.  But, family businesses have some nice features.  These include:
Long-term view of the business
Reduced principal-agency issue, the incentives are better aligned
Lower shareholder turnover
Why do I say FIZZ is a family business?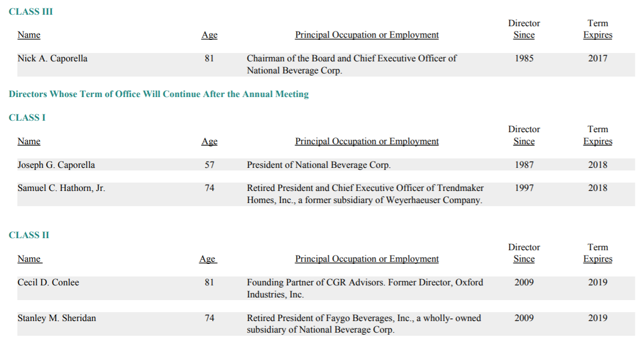 Source: Company 2017 proxy
Look at the list of the directors up for vote.  Nick Caporella is 81 (82 today) is the majority shareholder.  Joseph Caporella, age 57, is the president of the company.  Another director, Stanley Sheridan, is a retired president of Faygo Beverages, a wholly-owned sub of FIZZ.  While the disclosure indicates that Mr. Sheridan qualifies as an independent director, I am skeptical given his past history with the company.  He's an old pal for sure.
If it begins to look like the directors are family and friends of the founder, then you'd be right.  What about independence?  In our day and age, we are used to public companies run by independent directors and management representing shareholders.  We expect the board to be diverse and competent, and also independent.  But, not so if you run a family business.

Source: Company proxy
While key FIZZ committees are run by majority independent directors, as I highlighted above, this is a pretty tightly-knit group.  And given their age, I bet they have a history together.  Maybe they vacation together, or hang out regularly over golf, or even drink whiskey at night together while writing earnings releases.
But, as I said before, given the majority control by Caporella, I'm not worried about the honesty piece.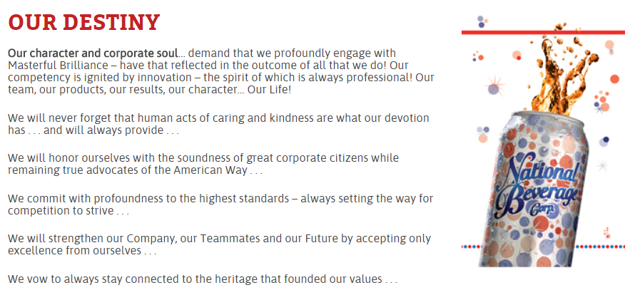 Source: Company website. 
Words like "destiny" and "corporate soul" are an interesting and unusual presence among public companies.  It's perhaps a reflection of the concentrated ownership and reflect the owner's values.
My Take and Your Call
Still, as an investor, you have to come to terms with this.  Are you okay buying a piece of a business majority controlled by one individual, a family business for all intents and purposes?
You are not in the family.  You're an investor.  Your call.
As for my take, I found the simplicity of the ownership structure refreshing.  There's no complicated compensation formula to decipher, while cynically noting how the executives are trying to game the thing to get their millions.  If the directors are a bit old, I take comfort in their long years of experience.  They seem to be young spirits, having fun while working.  And I wouldn't mind owning a piece of just that kind of a business.
Disclosure: I/we have no positions in any stocks mentioned, and no plans to initiate any positions within the next 72 hours.
I wrote this article myself, and it expresses my own opinions. I am not receiving compensation for it. I have no business relationship with any company whose stock is mentioned in this article.