Is Under Armour overvalued relative to its growth prospects?
We love Under Armour. We think it is a fantastic company with some highly marketable athletes promoting high quality products at a time where there is evidence of an accelerated global adoption of the athleisure trend.
But, is the Company overvalued? We believe, that trading at a PE (NYSE:TTM) of 107.78, the growth UA would need to produce over the next five years to produce good to great shareholder returns is not quite achievable.
Time To Fall In Line With Its Peers
Our thesis is built on the premise that we believe the time has come for UA to start to fall in line with its peers, most notably NKE, and in five years believe the market will expect the company to be trading at a Price to Earnings ratio of approximately 33.
The current consensus is for UA to grow EPS at a rate of 23.4% per year for the next five years. Should this be the case, and that the PE Ratio drops to 33 as we predict, the outlook would be as follows: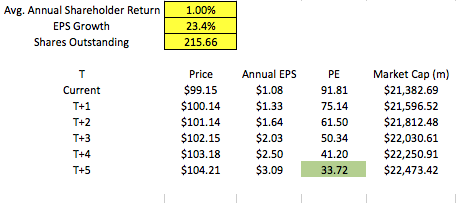 For us, under the terms of our thesis, in order for UA to be fairly priced, and achieve an average shareholder return of 5% per year over the next five years, we posit that the Company needs to be growing their EPS by approximately 29% per year. Only then would we look at going long with UA. Were they to achieve this then the outlook could look like this: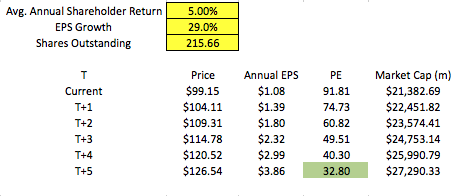 Unfortunately, we think this growth is out of reach for the Company. Sure, we see great opportunity in the Asia market, but we don't believe there is enough there to achieve 29% annual EPS growth. Additionally, with a sustainable growth rate (ROE x (1 - dividend-payout ratio)) of 15%, there would potentially be substantial financial strain on the company to grow at any rate higher than this, let alone almost twice the SGR.
The worst case scenario, the Company only being able to achieve 15% annual EPS growth over the next five years (in line with the SGR), we would envisage the outlook to look a lot like this: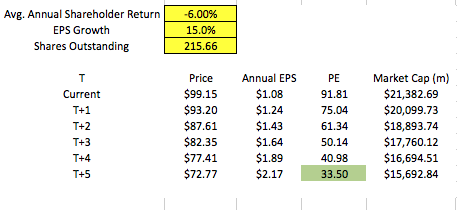 Thursday's Earnings
Before the market opens on Thursday UA will announce their third quarter earnings. The Wall Street consensus is for EPS of $0.44 and revenue of $1.173 BN. These earnings may just give us an indication as to whether 29% EPS growth is an achievable feat or merely a pipe dream.
Disclosure: I/we have no positions in any stocks mentioned, and no plans to initiate any positions within the next 72 hours.