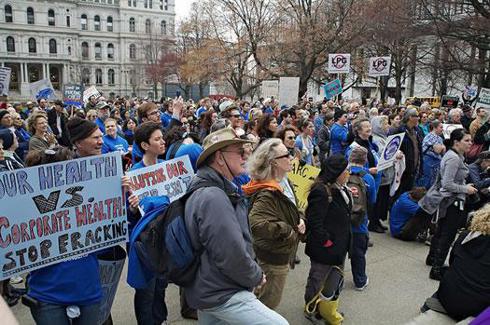 Angry protestors are demanding the government end the allegedly unsafe practice of hydraulic fracturing, coined "fracking." The fracking controversy forced the Obama administration to take executive action in mid April 2012. In a effort to quiet the clamoring activist and restore community confidence, President Obama issued an executive order "supporting the safe and responsible development of unconventional natural gas." With the stroke of a pen the "Fracking Committee" was born.
For those unfamiliar with fracking, fracking is the controversial drilling process in which toxic chemicals, sand and water are pumped into a horizontally drilled well under very high pressure, up to 13,000 psi, creating fractures or fissures in the rock formations to release natural gas. Critics say the process is poisoning our drinking water by allowing the migration of toxic chemicals into the water table and water aquifer along with methane gas. Other environmental concerns include the unsafe processing of millions of gallons of toxic fracking fluid and methane gas freely escaping into the air. The mere suggestion that deadly carcinogens are contaminating our drinking water is terrifying.
On Wednesday April 18, 2012 the EPA issued new rules that are essentially a first step at reeling in the unbridled fracking practice that has been flying under the radar. The EPA says the new rules will reduce smog and protect the community from toxic pollutants that can cause cancer. Companies have until 2015 to fully comply, although some states already require compliance. In the interim, the EPA is requiring drillers to burn off the escaping natural gas.
Natural gas futures and other funds like (NYSEARCA:UNG), (NYSEARCA:BOIL) (NYSEARCA:GAZ) have been heavily shorted as the virtually unregulated drillers scrambled to drill and frack the pristine countryside. However, with new regulatory measures, reduced production, shutting in natural gas, rig closings, and the birth of the Fracking Committee, the long awaited bottom in natural gas is near, if not in place. The recent rise in natural gas prices coincides with the EPA issuing new rules and the President's executive order that resulted in the creation of the Fracking Committee.
Understanding The Controversy
It has been said "the first casualty of war is the truth," and the fracking controversy is replete with misleading information and propaganda. Each camp accuses the other of gross exaggerations, and there is neither time nor space here to ascertain the complete truth. But perhaps the following information will cause you to dig deeper and discover the truth.

When Hollywood actor Mark Ruffalo appeared on Countdown with Keith Olbermann to discuss fracking, Ruffalo launched a brutal verbal assault against the natural gas drillers:
This is an industry that is the dirtiest, slimiest, most arrogant, and negligent that you can imagine," Ruffalo says.
The anti-fracking movement has been pleading with the EPA to intervene and crack down on fracking pollution. Ruffalo, a passionate political activist, is an outspoken advocate for "Green Party" ideology and the anti-fracking movement. Ruffalo, speaking with Marc Malkin of E! Online stated:
"We gotta end fracking," he told me at The Avengers premiere. "Water is our most precious commodity to all life and there's a finite amount of it. And this process, along with tar sands extraction and mountain top removal, destroys water."
It is also being reported that Ruffalo was placed on the US Terror Advisory List after promoting the "Gasland" documentary that allegedly exposes the serious dangers of fracking.
Another disturbing charge surrounding the natural gas drillers is their exemption from the Safe Drinking Water Act, Clean Water Act, and Clean Air Act. "Clean Water Action," a million member organization fighting to protect America's waters for 40 years writes:
The federal Energy Policy Act of 2005 contained a provision that has come to be known as the "Halliburton Loophole," an exemption for gas drilling and extraction from requirements in the underground injection control (UIC) program of the Safe Drinking Water Act (SDWA). Other exemptions are also present in the Clean Air Act and Clean Water Act.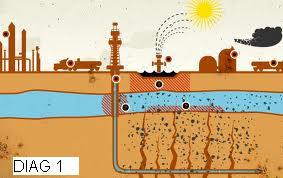 The campaign to end fracking gained momentum after "Gasland," a documentary film directed by Josh Fox, aired on PBS in March 2010. The film purports to chronicle the shocking truth of environmental damage being done to our land, water, air, farm animals, and general health by the greedy gas and oil companies that employ fracking. Gas and oil producers such as Exxon Mobil (XOM), Conoco Philips (COP), and Chesapeake Entergy (NYSE:CHK) use fracking to retrieve natural gas trapped deep beneath the earth's surface. Diagram 1 depicts methane gas and toxic water contaminating the drinking water as the fracturing cracks penetrate the water table. The natural gas drillers argue that these types of characterizations are inaccurate and misrepresent fracking effects.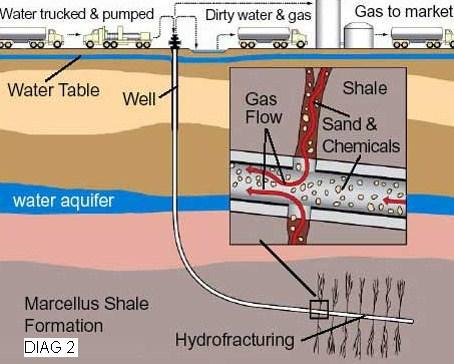 The natural gas drillers insist that fracking is not a new innovation. They assert that technique has been used for over 40 years and is safe. Diagram 2 depicts a gas well being fracked, and unlike diagram 1 the fissures formed by fracking are safely contained in the shale formation far from the water aquifer and water table. The illustration is intended to clearly demonstrate that there is no possible way our water system could be poisoned by fracking. It appears very clear in diagram 2 that fracking is a safe practice, while diagram 1 alarmingly demonstrates it is clearly unsafe.
Gasland The Movie

If you haven't seen the award winning documentary film "Gasland" you may be tempted to view this picture of water bursting into flames as an illusion - it's not. It is an indisputable fact that the gas coming out the faucet is bursting into flames, but the companies doing the drilling adamantly dispute that it is a result of fracking. They deny any liability or responsibility for the presence of gas in the faucet water, even though it was not present in the homeowner's well water prior to the fracking.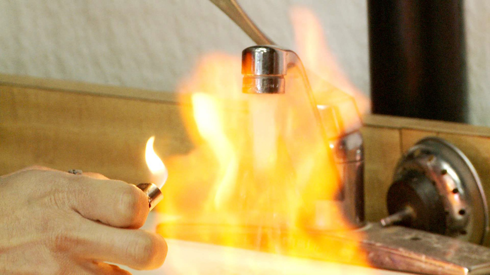 The information and evidence presented in this film raises enough questions about the dangers of fracking that any reasonably minded person will feel compelled to explore the validity of theses allegations. One cannot summarily dismiss these facts as false. Fracking may be an inexpensive way to produce cheap natural gas, but in time may prove to be more costly to our health and environment.
Natural gas drillers are well aware that production cost will rise as regulatory rules increase. We would be naive to assume that industry representatives would be forthcoming with any incriminating information. On the contrary, it serves their interest to lobby against any action that would increase production cost, and deny any responsibility for any alleged pollution. But then I am reminded that "those who do not learn from history are doomed to repeat it."
It wasn't long ago when the CEO's of America's largest tobacco firms brazenly told congress that they believed "nicotine is not addictive." Once again we find the same kind of mentality saying fracking is safe, new regulations are unnecessary, and there are no harmful effects to our environment or community. And perhaps you may remember the Erin Brockovich story, a law clerk that assembled enough evidence of contaminated ground water with Hexavalent Chromium, a carcinogen, and forced Pacific Gas & Electric (NYSE:PCG) to settle the case out of court, but only after many people grew sick and others died.
Gasland Press Reviews
"One of the most effective and expressive environmental films of recent years." - Variety
"On the want-to-see- scale, GASLAND tops the list." - Washington Post
"Riveting" - LA Weekly
"GASLAND just might be the best film of the year." - The Huffington Post
"Over the past 8 days I was lucky enough to view 40 films... The most important film I saw was the documentary GASLAND... This examination of air quality and more specifically drinking water under attack from NYC to Ft. Worth was very eye opening." - USA TODAY
"GASLAND is well done. It holds people's attention. And it could block our industry." - Oil and Gas Journal President of the Natural Gas Supply Association.
View the Gasland trailer.
It may be that a moratorium is needed on this new horizontal fracking technique until we know for certain the extent of pollution caused by fracking.
Disclosure: I am long BOIL.