Credit offering: two products left unsold, but not a cause for concern
The percentage of unsold corporate bonds fell considerably in 2017 but last week, two products—5-year POSCO Daewoo and 2-year Doosan Heavy Industries—were left unsold due to insufficient demand.
Even so, we see no reason to be overly concerned about a potential drop in credit investment demand. Interest rates continued to rise for two weeks from end-June to early July but credit investments steadily increased. It is our belief that favorable sentiment over carry investments will keep intact investor appetite for the credit market. Now that large securities firms are allowed to draw a bill to the public, there are also expectations that demand will pick up further. However, this week should see comparatively unsound or unfavored companies' bond offerings, thus more products will likely be offered at higher rates than their market interest rates.
Meanwhile, demand for A-rated companies remains strong. Hyundai Development Company enjoyed strong cash inflows as its earnings, financials and rating improved on the back of an increase in housing pre-sales. SeAH Besteel and Haitai Confectionery & Food also managed to be issued at rates lower than their market interest rates.
Despite worries, spread tightening
Although financial bonds continue to be issued at rates higher than their market interest rates, the credit market remained strong, albeit by a narrow margin. Despite the ECB tapering issue, the market was steadier than expected and continued carry investments helped tighten the credit spread.
On the other hand, financial and non-bank financial bond spread widened slightly. We believe this has to do with the continued issuances of financial bonds at rates higher than their market interest rates, which worked to deteriorate sentiment over not only financial bonds but non-bank financial bonds as well. With the government slated to release measures to curb household debts in August, loan demand is picking up pace. Also, despite the implementation of a stricter LCR in July, banks are trying to improve their LCR ratios, driving them to make bond offerings at higher rates than the market. However, we do not believe this is sustainable and expect the burden of financial bonds issuances to dissipate gradually.
We expect the credit market spread to continue to tighten at a moderate pace for a while until it sees a couple of negative events such as potential fund outflows at end-September or an announcement of balance sheet runoff at the September FOMC meeting. Given the spread levels, the investment value of AA- rated bonds could surge.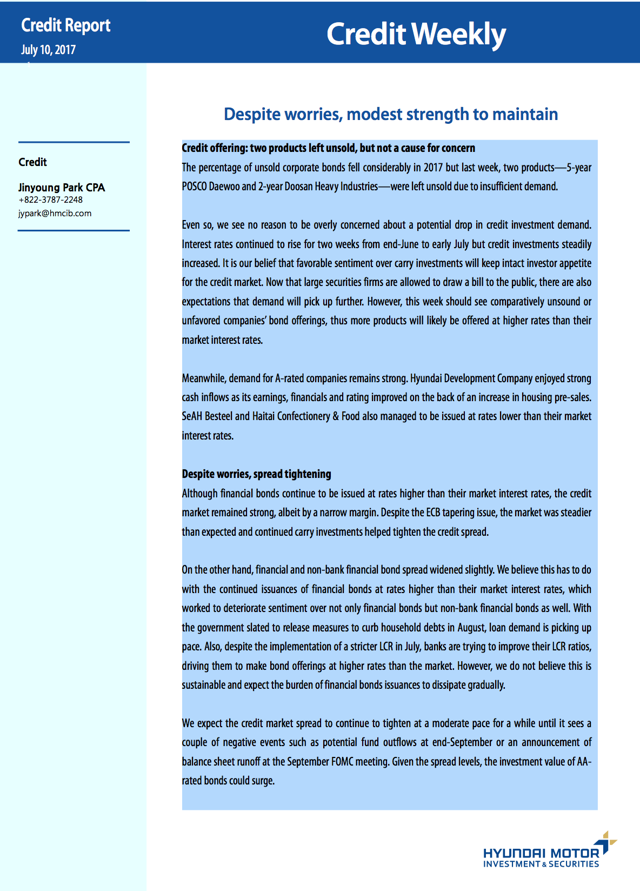 Disclosure: I/we have no positions in any stocks mentioned, and no plans to initiate any positions within the next 72 hours.