Refining margins rebounding; higher propane price may lead to naphtha spread recovery
Refining margins are rebounding. In particular, the previously weak gasoline margin is widening. Current forecasts call for increasing margins thanks to US refiners' regular maintenance, and even considering seasonality, US refiners' utilizations are far lower than in the past. Furthermore, gasoline inventory has turned downward, due mainly to US refiners' continued gasoline production cuts, in addition to declining US refining utilizations. Instead of gasoline, US refiners beefed up the production of middle distillates but their inventories remain low. In all, we expect refining margins to continue to expand for the foreseeable future.


Propane merits our special attention. The price of US propane has turned around. Price volatility remains high but we believe the price has bottomed out given the stabilizing US propane inventory. Besides, Aramco's recent hike of Asian propane CP (cost price) by USD50/tonne to USD490/tonne should boost propane prices further. We believe higher propane prices will naphtha prices recover. Propane prices rise in the winter on strong seasonality, driving NCCs (naptha cracking centers)  to opt for naphtha instead. Since 2H18 however, propane prices have collapsed, and NCCs' naphtha demand faltered as a result, which led to naphtha price weakness. As such, propane price hikes should help the naphtha spread to recover going forward, and affect gasoline prices.


Meanwhile, middle distillate margins remain strong. Inventories in the US and Europe are stable, and demand is likely to pick up further as the International Maritime Organization's (IMO's) 2020 sulfur cap comes into effect in 2H19. A further increase in middle distillate margins could accelerate the recovery of refining margins for Korean refiners, since kerosene and diesel represent over 50% of their refining earnings.
Chemical spreads partly improve but ethylene's temporary price rise comes to an end; PE and MEG spreads low vs. strong PX spread; US propylene price falls sharply while caustic soda price rebounds
The price of ethylene fell by USD60/tonne week-on-week (NYSE:WOW) last week, despite naphtha price increases. We believe the rising ethylene prices have come to an end, because Polyethylene (NYSE:PE) and monoethylene glycol (NYSE:MEG) prices did not show a meaningful rebound.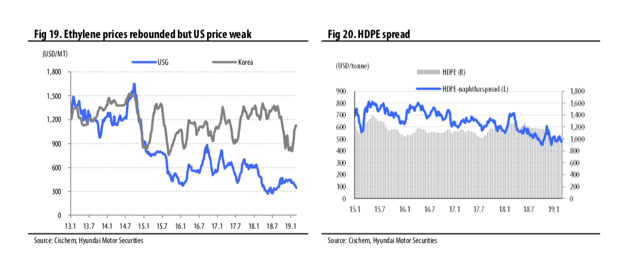 Synthetic resin: PE prices rose but naphtha prices rose as well, keeping the spread improvement to a minimum. We especially note the weakness of the polypropylene (PP) spread. The PP spread slightly improved WoW last week but narrowed by USD30/tonne compared with two weeks earlier. The US propylene price sharply fell, making it USD130/tonne cheaper vs. Asian propane prices. The price of PP in the US, which used to trade at a premium of up to USD400/tonne over Asian PP prices, has now come down close to Asian PP prices. With propylene prices expected to remain weak as its US inventory hit a three-year high, a rise in PP prices appears unlikely. Coupled with Aramco's CP increase, this could weigh on product prices at Asian propane dehydrogenation (NYSE:PDH) players. The narrowing PP spread is also an unfavorable factor for NCCs. Meanwhile, the acrylonitrile butadiene styrene (NYSE:ABS) spread has recovered from the end of last year. Polyvinyl chloride (PVC) inventory remains low.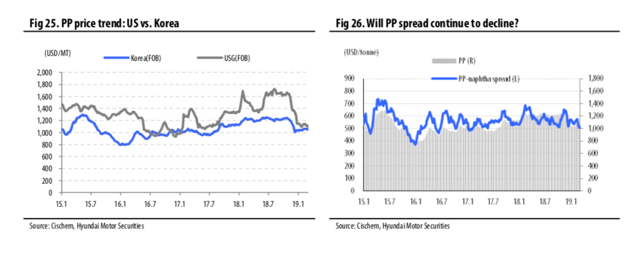 Chemical fiber: The paraxylene (PX) spread remains strong. We believe the spread will remain over USD500/tonne given tight supply in 1H19. In contrast, the MEG spread is still weak. The MEG spread improved by USD26/tonne WoW last week but we do not see it as a sustainable trend in the mid to long term considering its high inventory level and increasing capacity.
Others: The caustic soda spread is rebounding, from the bottom of USD296/tonne seen recently to USD356/tonne. We believe the caustic soda spread will remain strong for the time being as the BIS certification issue is expected to be resolved in March.

Refiners offer a great entry point amid PX strength and stronger refining margins; for chemicals, we like LG Chem, Hanwha Chem, Kumho Petro, and Lotte Fine Chemical
We expect negative sentiment on refining stocks to dissipate, considering the recovery of refining margins, rising oil prices, and the strong PX spread. The IMO's 2020 sulfur cap regulation is an ongoing issue but will likely be implemented. We continue to recommend bargain-hunting refining shares. Meanwhile, chemical companies need to reduce exposure to PE, MEG and PP. Because of oversupply, we do not expect the PE/MEG/PP chains to rebound any time soon. We continue to present LG Chem (OTCPK:LGCLF) as our chemical sector top pick and Hanwha Chemical (OTC:HNWFF), Kumho Petrochemical, and Lotte Fine Chemical as our stocks of interest. LG Chem, as the world's biggest ABS producer, is set to enjoy a rebound of chemical earnings on the back of a recent ABS spread recovery. As for Hanwha Chemical, recovering PVC and caustic soda prices as well as its photovoltaic business will contribute to earnings growth. Kumho should benefit from favorable BPA market conditions. Its synthetic rubber business has bottomed out and an increased capacity for NB latex should help boost earnings.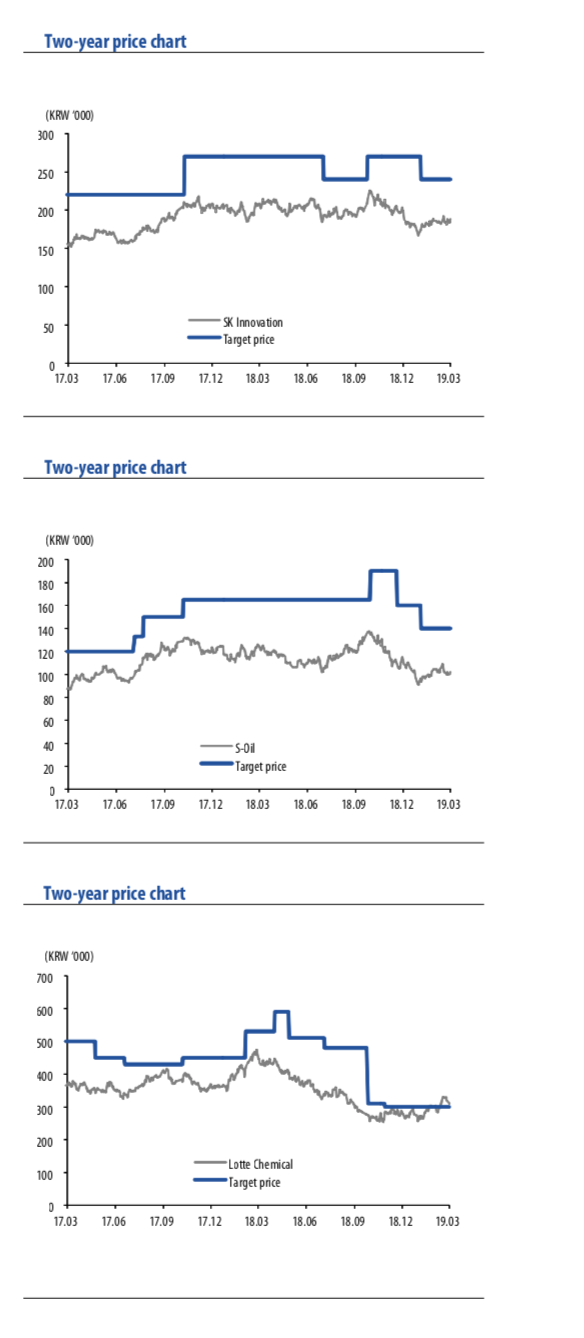 Disclosure: I/we have no positions in any stocks mentioned, and no plans to initiate any positions within the next 72 hours.
Additional disclosure: Hyundai Motor Company is a passive shareholder in our bank.