Risk Assessment Chowder Portfolio Part 3 Of 4
Portfolio risk analysis of Seeking Alpha author "Chowder"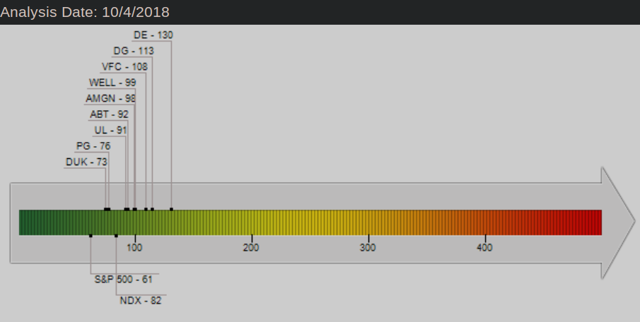 Part 3 of Chowder Portfolio Risk Assessment - 3/4 Positions
$PG $WELL $DUK $AMGN $DE $UL $ABT $DG $VFC
Estimated risk potential loss in an extreme market condition change:
Equity, Interest rate, Currency, and Commodity.
Find other Risk Assessments
seekingalpha.com/...
( Source: https://www.riskmetrics.com )
Part 1 - OVERWEIGHT Positions - seekingalpha.com/...
Part 2 - FULL Positions - seekingalpha.com/...
Part 3 - 3/4 Positions - You are here
Part 4 - 1/2 Positions - Coming Soon
Percent of Portfolio
$PG 2.10%
$WELL 2.10%
$DUK 2.00%
$AMGN 1.80%
$DE 1.60%
$UL 1.60%
$ABT 1.50%
$DG 1.50%
$VFC 1.50%
#RiskAssessment
#B8NewsWire
#Chowder
Disclosure: I am/we are long PG WELL DUK AMGN DE UL ABT DG VFC.
Additional disclosure: Informational purposes only, not intended as investing advice. I have positions in all stocks mentioned.
I am also a time traveler and have a time machine.
En garde world!