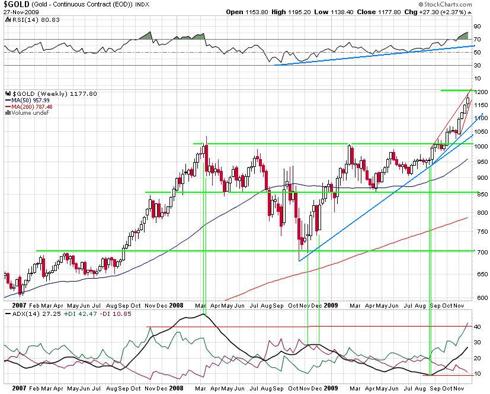 Gold managed to close higher for 4-th straight week just shy of $1200 mark.
ADX shows a solid strength in the move and trendlines support the assumption we are seeing the acceleration phase that will most likely result in a blow off top. I believe going with the trend is the best solution however I'm looking for early signs of topping. The sharp drop from 1194 to 1140 on Thursday, when Dubai news hit the market, in my opinion reveals the vulnerability of this relentless rise.
Already 15.5% above the previous top (1033) - Gold will have to deal with the psychological 1200 level. My first working scenario is a trend continuation. if next week we see aclose above 1200 I'd bet that we will witness even stronger buying frenzy and the acceleration might easily help the precious metal tp climb till 1220-30.
The other assumption would be that we don't touch 1200 and go straight down to 1145-25. While the RSI has been climbing steadily for the last 5 months we can see the indicator is topping and the ADX also adds similar implications as the +DI component already advanced to a new high. Fundamental themes and news flow will dominate next week as global markets will have to digest the Dubai status. That means more uncertainty and probably a lot more volatility. The Average True Range is rising which would be an early indicator for a possible start of the distribution phase characterized by high volatility and wide range trading until the distribution of the inventories is finished and the new trend ill begin.
 
More on:
http://constellation1976.blogspot.com/