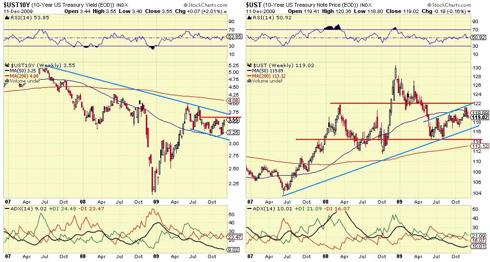 Here is previous week's reversal call:

http://constellation1976.blogspot.com/2009/12/10-year-us-treasury-price-yield.html


Both Price and Yield of the 10-Year US Treasury Notes reversed their intermediate trends right at the 50-Week MAs.
As seen on the chart both are inside trend channels and bounced off the Trendlines and the prevailing scenario is they will break in the direction of the Longer term trend.
Yields closed last week at 3.55 High. There is Resistance levels confluence around 3.60 -3.75 and the break of that area will set target at the 200-Week MA at 4.08.
Bond prices reversed and closed for 2-nd week below the reversing 50-Week MA and bounced off the Trend channel top to lead its way into the projected 117 channel bottom. Breaking that support leads us at the Support confluence of Long term 114.50 Resistance/Support; the June - July Lows and also the 200-Week MA coming at 113.12 right now.
ADX trend strength has been at its lowest levels in the last 3 years and that would suggest we might be right before a trend acceleration once the course has been set. The recent USD appreciation along with latest positive US economic data signals a change in recent correlations and a turn back into more classic relationship: buying the currency of those going out of the recession first.

charts and analysis:
http://constellation1976.blogspot.com/