Why did Deckers Stock Crash?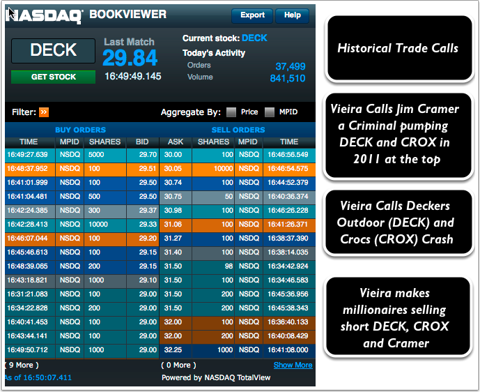 NOTE: LINKS DISABLED, ONLY AVAILABLE IN COMPANY BLOG
Why did Deckers Stock Crash? Unless you are a retard or mentally disabled fan of the Motley Fool (an American newsletter and website for mentally disabled investors) believing in Fools explanation given here for the collapse in Crocs (NASDAQ:CROX) and Deckers (NASDAQ:DECK), the real reason behind the crash was given in our blog a long time ago.
Vieira, world best stock trader is behind Crocs (CROX) and Deckers (DECK) stock crashes. Obviously, he was counting with mentally disabled Motley Fools and Cramer on the wrong side of the trade.
We also believe Vieira offered the receipt to make millions in profits urging investors to trade against Cody Willard scam in Fusion (NYSE:FIO).
Read Vieira comments:
It is beyond my comprehension why investors follow the advise of criminals and crooks, Wall Street analysts, Cramer, Motley Fool, Zacks Investment Research, Cody Willard scam and SeekingAlpha authors.

Quite frankly, I do not have any problems with it. I really enjoy spanking them! Hail to the idiots!

Vieira
I recommend the reading of Is Vieira Advising Google and Apple Insiders? No computer, no other living soul has proven to be the Best Stock Market Trading System than Vieira. The truth is that Vieira was the only trader in the world reversing one of the most powerful trends in a stock called Chipotle.