Vieira's Monster Beverage Short Shines Against Goldman
NOTE: Links disabled except in company blog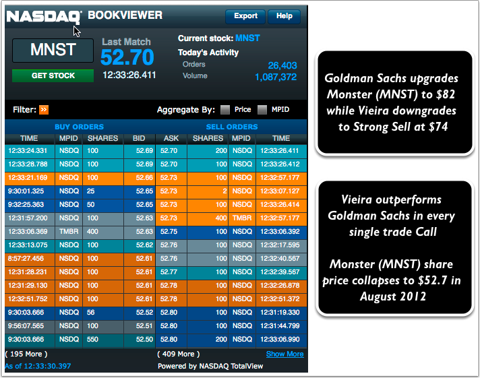 Vieira's Monster Beverage (NASDAQ:MNST) Short Shines Against Goldman. Vieira downgrades shares of Monster Beverage Corporation (MNST) to Strong Sell at $74, while Goldman Sachs (NYSE:GS) was upgrading the stock
Shares of Monster Beverage (MNST) collapsed to $52.7 in August 2012 confirming Vieira Monster (MNST) Short Shines Against Goldman.
Vieira comments on Goldman performance
Goldman team has proven to be one of the best contrarian stock market indicators. They consistently pump stocks at the very top. Bear in mind the life time opportunities to sell short Facebook (NASDAQ:FB) at $38 or Zynga (NASDAQ:ZNGA) at $14 against Goldman bullish calls. These are just a few examples.
Learn more about Vieira's Greatest Track Record Ever in Netflix or Greatest Trades Ever: Chipotle Mexican Grill Earnings Call