Beyond Trading: Perfect Trade Calls
Note: Links disabled. Available in company blog only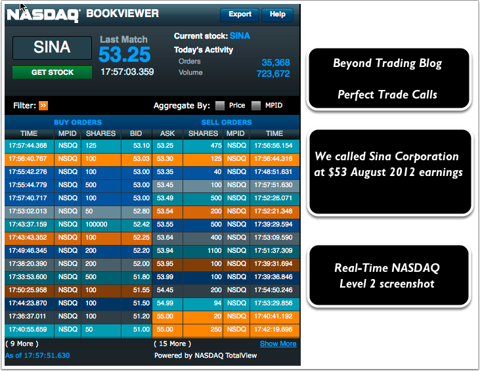 Beyond Trading Blog: Perfect Trade Calls. Sina Corporation (NASDAQ:SINA) announced earnings. Vieira informed us to expect $53+ on earnings, announced here in the blog "Sina Earnings Preview".
Holy Molly! That's precisely the price you have after-hours. Perfect Trade Calls continue with Mr. Vieira help, world best stock trader.
Recently, we helped readers of this blog to make a large profit selling short LinkedIn $110 to $102. Congratulations to everyone!
Are you following Vieira's opinion? He has the best stock track record in the world. He has never missed one single call in Sina!
This is simple! We ask. Vieira delivers! Fools make it complicated.
Will he ever miss one? well...I had faith but I quit betting against him a long time ago. You know....I like money, but I still have that reminiscence once in awhile, however by the time he misses one...I AM RICH! WHO CARES?
Learn about Vieira Best Trader in the World Trading Facebook (NASDAQ:FB)
Learn about Greatest Trades Ever: World Best Stock Track Record Trading Priceline