On 20 June 2012 we told you it was a great time to buy stocks.
We put our neck on the line by suggesting you look at five beaten-down Aussie blue-chips.
Not everyone appreciated our advice. Some said we were mad telling investors to look at those stocks when the financial world was falling apart.
Now, as those stocks have gained 43.7%, 63.9%, 78.2%, 50.4%, and 38.2% respectively, many folks have changed their mind. They now want to read more ideas on how to take advantage of this crazy market.
So we've knocked around a few possibilities with our publisher for the best way to get those ideas to you. We think you'll like it. Stay tuned for more details in the coming days. Until then…
Here's a novelty: bad news on the US jobs front last Friday saw the US stock market fall. That's not how it has often worked in recent years.
Much of the time the market has seen bad news as good news. Why? Because investors have figured out that the worse the news, the more likely the US Federal Reserve will print money, which will be good news for stocks.
But the good news/bad news angle can only get you so far. Ask Japanese investors. They've seen more than 20 years of money printing and the market is no higher today than it was in 1986: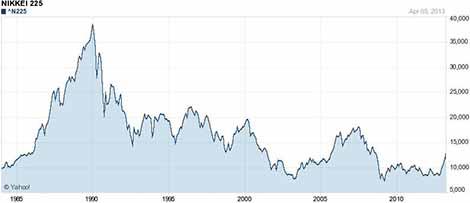 Source: Yahoo! Finance
That said, the market has surged to trade at a level last seen in 2008. That makes the current level a five-year high. And what was the catalyst for the rally? That's right, Bank of Japan money printing.
A Surprising Fact About Japanese Stocks
That's the thing. It's easy to point to Japan and say money printing doesn't work. Look at the chart; that's proof.
However, look at the chart again, especially the past six months. That shows you, regardless of the effectiveness of the policy on the broader economy, the fact is that it can have a positive impact on stock prices.
We've seen similar comments about the effectiveness of money printing on the US economy. The unemployment rate is still high, more people than ever are on food stamps, and US public sector debt is at record levels.... Read more