So what's wrong with Mazor Robotics?
Nothing, just current market climate and timing more than anything. Coming into 2018, MZOR was hot just like everything else, and it tumbled in February, along with everything else. Mid February, when the tumble seemed to bottom out, they reported, beat, and proclaimed what's been discussed here in this thread.
Stock didn't really move much as a market recovery was in progress, but once things seemed "clear" in early March, it took off (as did other companies/sectors). Like, way off. Everyone here was expecting something close to $70 because of management's commentary and 2018 "transitional" outlook (also assuming the market stabilized and we went back to a 2017 type investing environment). When it surprised, crossed $70 and just kept going, there was some massive profit taking, and rightfully so with all the volatility up until then. Around that same time, we got the tariff news, so it rode that momentum down below its 50 DMA and a resistance around $64.
It finally consolidated around the $60 mark, which was still below its 50 DMA, but had nowhere to really go without any substantial news and/or overall market sentiment increasing. As April dragged on, earnings started up and the tariff issue still lingered. Financials started reporting and it wasn't as great as everyone wanted. Mr. Market wasn't sure if we were really going to have a proper recovery, especially with a potential trade war lingering, so sentiment stayed muted and dropped more.
MZOR isn't a sexy name like Amazon or Netflix, so any sector wide downturn will bring it down and once something starts breaking certain price points, it just goes until it finds a bottom. So down it went, and there is no news to speak of, or heavy trading volume, that could have stopped it along the way. It's finally found some legs again at this $54 level and it hasn't broken its 200 DMA, which is really good or else this would be a completely different conversation.
As each month ends, investors try and time their profit taking to maximize their results for that month. MZOR closed almost neutral and it's now risen and closed up 6/8 days in May. Earnings are all coming in strong and market sentiment is stabilizing and rising up slowly. China tariffs are neutral, but moving forward with some minor, positive sentiment. The Iran deal news is being digested and a company like Apple, that has so much influence on tech and market sentiment, crushed and surprised and is hitting a new market cap. For the sake of investor psychology, that's a great thing.
I like MZOR a lot and there is nothing they're doing that warrants them being oversold down below $60 and into mid-October 2017 levels. I think $60 is a fair value for the stock to build off of, and as such added to my position today at the open because I think it's stabilized and going to move positively as their EC is on Monday. Trading volume looks good and rising slightly. Short volume in April is at normal, average levels seen on a yearly basis. It's not high by any means, but not significantly lower than normal.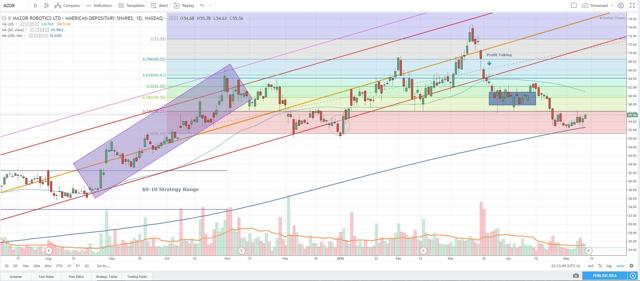 I've charted MZOR and published it over on Trading View. It's approaching a resistance level at $56, which I'm just now realizing it hit after hours, HA. It feels like people are waking back up to it again, so I see us being back in the $56-60 range soon (which is where it should be any ways to begin with, minus news and market sentiment). If the EC is great, and I'm not going to pretend that I know if it will or won't, I think you'll see a price jump up towards $62 and possibly hitting that nice $64 level again and hanging out there for a while. It'll be back above its 50 DMA and "stable" once again so that it can grow back towards the $70 range the rest of the year.
If you like to speculate some along with standard analysis, there was a great little news blurb on MZOR published today showing that it really is as amazing as the industry and others here have said: http://bit.ly/2rzXJzs