Author's note: Unfortunately, this article (as multiple others I've authored on Tesla) was rejected by editors, due to "not being well-sourced" and "being a recap and not forward looking". Hopefully you, the reader, will still find it of interest. If you enjoy, feel free to follow me on Twitter, where I intend to continue covering the latest Tesla news.
As 2018 opens, the Tesla (TSLA) story hinges on the successful production of its new sedan, the Model 3. With production targets being pushed back multiple times and a cash burn of $8000/minute, Tesla has put a lot of chips on its Model 3 bet; if the Model 3 ramp is a failure, Tesla's only recourse will be another equity or debt sale, which is particularly concerning considering its last debt sale is already trading substantially under par.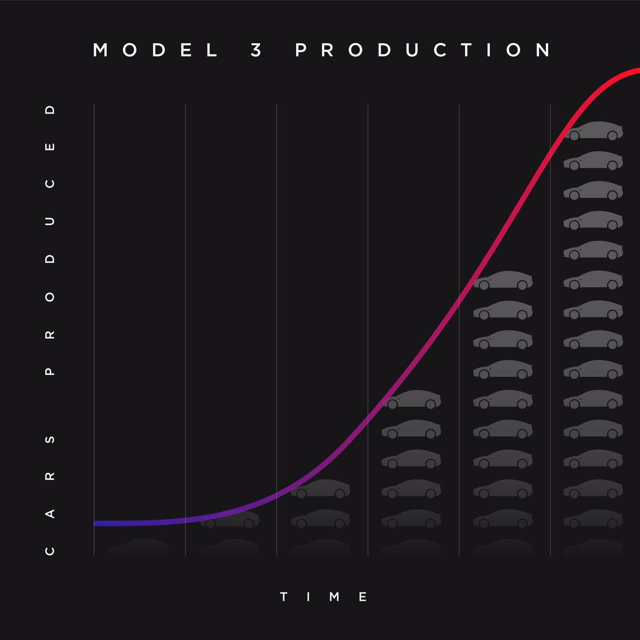 To successfully ramp Model 3 production, Tesla must bring together a number of outside suppliers. Its ability (and failure) to do so has already had drastic negative consequences for Model 3 production; there are now signs that Tesla is again experiencing problems with its suppliers.
Previous supplier fiascoes were not rare...or benign.
Tesla, in its 15 years as an automaker, has experienced multiple problems with suppliers of parts for its automobiles. Of course, as a young automaker Tesla had difficulty signing suppliers to contracts, which makes sense considering the inherent risk that an upstart manufacturer would be able to uphold their contractual purchasing agreement. As Tesla has grown, its ability to sign suppliers to delivery contracts has certainly improved, but its ability to sustain healthy relationships with those suppliers (and work through snafus in tandem in a capital efficient way) has been severely lacking. Tesla has encountered numerous problems with its suppliers, and its responses have created colossal wastes of capital...and time. For instance:
Seat production. Starting in 2012, Tesla began having multiple difficulties with its seats in Model S (and later Model X) vehicles supplied by Futuris. Instead of working with Futuris to negotiate better materials, improved craftsmanship/engineering, or reduced cost, Tesla instead decided to in-source production of those seats for all new models. This has created further headaches for Tesla; despite its ability to completely control seat production, no fewer than four recalls have been made for seats in Tesla vehicles.
Autonomous camera and vision technology. Prior to September 2016, Tesla utilized Mobileye (now a subsidiary of Intel) as a supplier of its autonomous driving technology. However, the two companies began an acrimonious public split after Mobileye accused Tesla of "pushing the envelope in terms of safety"; Tesla countered that, essentially, Mobileye had caught wind of Tesla's development of its own vision system, and that Mobileye was demanding that development stop (as well as increased payments). Following the split, Tesla "upgraded" its vehicles' cameras and autopilot system to "AP2.0". Although controversial, it is generally accepted that AP2.0 (the Tesla version) is still not as stable or consistent as AP1.0 (the Mobileye version), despite the doubtless huge R&D expense to develop the system. 
Gigafactory battery production. Tesla's "Gigafactory" has been consistently touted as a huge strategic advantage for the company in lowering its battery pack pricing and thus making EVs more economical. However, the Gigafactory relies on a number of partners and suppliers to design and implement various parts of the line. Importantly, Tesla's major miss in expected Model 3 delays in the 3rd quarter of 2017 was attributed to problems with battery module production at the gigafactory, again due to a problem with a supplier. Instead of working with the supplier to redesign or otherwise fix the system, Tesla instead took over that facet of the line itself, including a total redesign of the system. 
It bares noting that these failures of Tesla to manage its relationships with suppliers have had serious consequences for its automobiles' reliability, technological advantages, and perceived quality. More importantly for investors, it has also already significantly hampered Model 3 production, as the Gigafactory mishaps were blamed for the substantial Q3 Model 3 deliveries miss.
Tesla is again experiencing a supplier issue, this time with the material it uses on its headliners

As 'mass-market' Model 3 deliveries begin to pick up, the vehicles are delivered under intense scrutiny for classic Tesla manufacturing defects, such
as problems with panel gaps, paint defects, and other minor damage. From most reports, the Model 3 seems to be holding up rather well compared to the early launches of the Model S and Model X in these respects. However, over the past week a scandal has emerged for Tesla, wherein customers of the premium upgrade package (PUP) Model 3s were receiving substituted textile materials for the advertised Alcantara in the headliners of the 
vehicle. Although most of the headliner was replaced with a different "premium textile", Alcantara portions remained in the sun visor and other areas, a jarring contrast between two different texture-types (one suede-like, the other a more classic woven look) shown below. (credit @worstofthymes)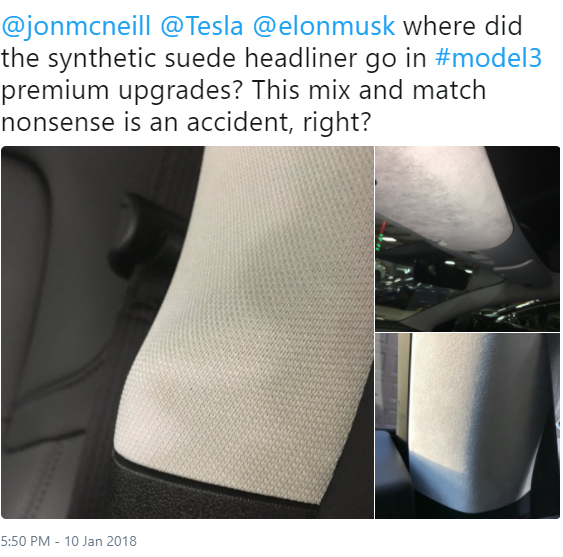 Importantly, this change in material was made without forewarning to customers picking up their Model 3, and is directly in contrast to promotional material depicting the higher quality suede material and not the lesser-quality woven fabric. 
So, why the change? According to official Tesla communications, this switch "has always been planned" after the first few thousand vehicles. However, other reports indicate that the supplier of Alcantara cut the relationship after two thousand vehicles were delivered. This second explanation seems much more plausible: the haphazard look of a car containing two different styles of textile would never be intentionally planned, and the marketing material showed pictures of the premium upgrade package using suede material (not woven fabric). Furthermore, it would be quite odd to make a not-insignificant change in manufacturing process while the ramp is still getting the bugs worked out. Finally, the optics of making a "different" Model 3 for Tesla employees (those who received the lion's share of the first few thousand Model 3s produced) with superior materials are horrible. For all of these reasons, it seems highly likely that the supplier of the suede headliner was the one that made the decision, and not Tesla. 
What does this imply for the Model 3 ramp?

As a standalone event, "Headliner-Gate" is admittedly minor: some customers will probably refuse delivery, demand a discount or rebate, or ask that their reservation be downgraded from a PUP to a "standard" interior package due to the lesser quality of the new textile, along with a hit to Tesla's reputation. What this does indicate, however, is that Tesla's quarrels with its suppliers are having very real consequences on both its ability to ramp production of the Model 3 and its reputation as an auto manufacturer. That suppliers are becoming disenchanted enough with Tesla's operations to break their contracts (with whatever penalties that entails) is certainly concerning for the likelihood of a smooth Model 3 production ramp, which has already seen its production milestones pushed back multiple times. As seen earlier, these problems can range from annoying (seat recalls) to catastrophic (Gigafactory production problems). At any other point in Tesla's history, its relationships with suppliers would not be nearly as important; now, however, Tesla is in the unenviable position of burning on the order of $1.5B per quarter, and has little margin for error. With working capital of only $600M as of the end of Q3'17, Tesla is already in a precarious position. Any hiccup with suppliers now could have drastic consequences for Tesla's ability to ramp the production of the Model 3 and rationalize the hundreds of millions it is burning per quarter, ultimately impacting Tesla's solvency. Bulls and bears alike agree: Tesla's Model 3 will make (or break) the company. A problem with its suppliers doesn't help Tesla's case.
Disclosure: I am/we are short TSLA.