A month ago, we predicted a drop in the S&P 500 to the level of 1300 by the end of May. Figure 1 shows the predicted behavior in April and May 2012, with the predicted segment shown by red line. We expected that the path observed in the previous rally would be repeated with the bottom points coinciding. Now the prediction has realized and the expected level has been reached. (There is some room for a slight fall.)
We also suggested buying the index when it is 1300. It's done by now. We are waiting the level 1500 in October 2013 to sell.
We also expect oil price to drop further and to force deflation by the end of 2012.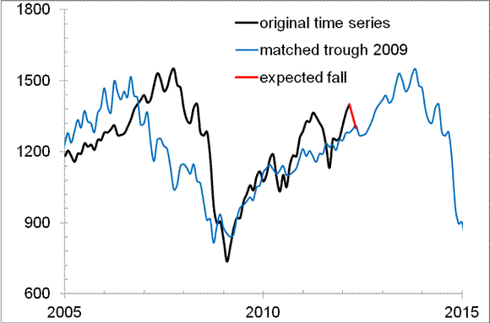 Figure 1. The original S&P 500 curve (black line) and that shifted forward to match the 2009 trough (blue line). Red line - expected fall in the S&P 500: from 1400 in March to 1300 in May. It's been realized by now.
Disclosure: I am long SPY.