The Changes Taking Place with Apple (AAPL
Outside of the impact the election has had on the markets since President Obama was declared the winner of last Tuesday's presidential race, Apple has, no doubt, been the biggest story.
Since last week, it has dropped from $584 down to the current price of $541, and remember, this was a stock that back in September, was breaking through $700 per share.
Apple's Sell-Off
One of the most impressive things about Apple's decline to date has been how well it has led the 8-day exponential moving average, without so much of a break.
However, if this stock fails to hold the $522 price level, I believe Apple's share price is really going to fall through the floor. Not all at once, but eventually, it will likely test that $420 support level (the nearest one in site after $522), which is also home to one major unfilled gap up.
If that' happens you are talking about a major sell-off from it's highs of $705. In fact it would be a $285 sell-off in all.
Another sign of concern for me in this stock is the increasing volume throughout the downturn. Typically when we've seen sell-offs in Apple in the past, it has been because retailers were getting skittish and selling their shares to the funds. This time, it isn't just the retailers but the funds too, that are selling - the likes of which hasn't been seen since 2008.
Now, on the weekly chart, Apple has dropped eight straight weeks. That is hard to do... in fact it's VERY hard. The 50-week moving average which has provided lots of support in the past, has failed to hold price. The last time Apple was trading below this moving average was in 2009. So yes, there is a shift in sentiment for this stock.
But with that said, I can see this stock moving higher in the very near-term, simply as a dead-cat bounce move. On the weekly and daily time frames, Apple is oversold. As I just mentioned, a stock that has dropped eight straight weeks, also inclines itself to some short-term buying. When that happens, I don't think that suddenly, perception of this stock will have changed.
I know that I'm going to get some irritated Apple investors - and that's ok. I could be wrong, and have been many times in the past, but I can only trade off of what I know, and Apple is violating every stronghold technically, and once it gets below $522, I believe there will be an additional wave of buyers running for the exits.
There are also fundamental reasons I believe this
Granted, those who say I am wrong will point at the company fundamentals, and yes, I agree, they are very strong. Last I checked they were sitting on $100+ billion dollars. But seriously, what are they doing with it to provide any value to their shareholders, besides stuffing it underneath their mattress for the past few years?
You also have the unveiling of the iPad mini which is fine and all, but is Apple's long-term growth plans involve providing new iPad sizes in 1-inch increments, hoping their loyal followers buy each and every one?
I think Apple is an unbelievable company and will continue to be through my life-time, but there is some transition going on with this stock, of course with its leadership of late, and honestly, competitors are wising up. Microsoft (NASDAQ:MSFT) is making a huge push to steal market share from Apple and who knows, maybe this surface tablet they have might actually be worth buying over the traditional iPad. I can say I'm intrigued by it!
Apple has achieve a deity-like status among investors, and often times when that happens, complacency sets in and a lot of investors will never recognize the change the stock is undergoing before its too late.
Here's the Apple chart and how far it could drop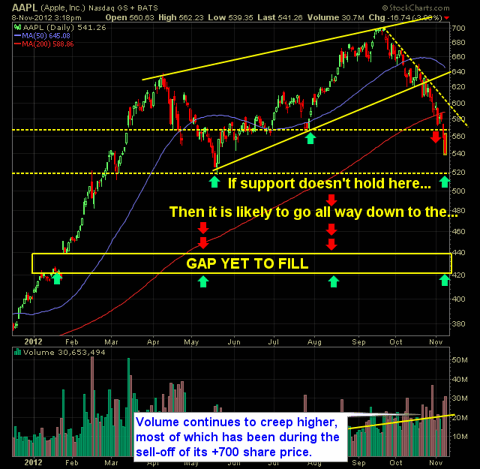 Disclosure: I have no positions in any stocks mentioned, and no plans to initiate any positions within the next 72 hours. I wrote this article myself, and it expresses my own opinions. I am not receiving compensation for it. I have no business relationship with any company whose stock is mentioned in this article.