As noted in my Profile, my most basic investment strategy is to buy income generating securities and to use the cash flow generated by those securities to buy more of the same.
By refusing to draw money out of the brokerage accounts to pay expenses until recently, now retired at 63+, the reinvestment of that cash flow into other income generating securities compounds over a long period of time.
I call this strategy a "turtle" approach to investing. I am not swinging for the fences with my investments, nor am I taking risks that are routine for many individual investors. I control risks through a variety of strategies.
One way to control risks is simply to limit my monetary exposure to a particular security. I have a maximum cap exposure to the securities issued by one company, which would include securities throughout the capital structure from common stock to senior secured bonds. Over time, that limit has been raised as my portfolio grew in value.
I will lower that limit based on an assessment of potential rewards and risks. One aspect of turtle investing is that I tend to look down for potholes before gazing up at the sky, dreaming about the untold riches about to be bestowed on me by buying some stock.
I am going to discuss in this Instablog a recent small purchase of ARCC to highlight that risk/reward balancing process.
I will follow a similar format that is used in my blog.
I was going to publish this discussion in my weekly blog, but Google deleted it before publication, requiring me to write it again: Stocks, Bonds & Politics: Weekly Post Was Deleted by Google: I Will Not Write It Again/ Sold: 100 TDIV at $25.63 and 100 HBAN at $9.53/Bought 50 ARCC at $15.41 and 300 ACG at $7.53/Bought 50 BRG at $11.98-Roth IRA
1. Bought 50 ARCC at $15.415 (see Disclaimer):
Snapshot of Trade:

Company Description: Ares Capital is an externally managed business development corporation (abbreviated hereafter to BDC). I have a negative view of externally managed BDCs, viewing the compensation paid to the external managers to be way out of line with performance.
ARCC Profile page at Reuters
ARCC Key Developments at Reuters
BDC Primer Published by the BDC Reporter
Constant Stream of Share Issuances: One known risk associated with BDCs is their need to raise capital by selling more stock. The announcement of a share offering will frequently drive the price down, sometimes moving from a premium price to net asset value per share to a discount.
A BDC, like a REIT, is required to pay out at least 90% of its net income to shareholders and will avoid double taxation on the income so distributed as dividends. That requirement and the avoidance of taxation at the corporate level, create a greater than normal dividend yield than investors will receive from regular "C" corporations; who will generally have much lower payouts and will have to pay taxes on the income distributed to their shareholders that will also reduce the amount available to be paid.
The problem is that there is no free lunch. Money is flying out the door in dividends and is not being retained to grow the business.
In July 2014, ARCC sold 15.525M common shares at $16.63 to the underwriters (page 77, 10-Q)
ARCC sold common shares last December at an offering price of $17.47 to the underwriters. 2013 10-K at page F-85; Ares Capital Corporation Prices Public Offering
ARES sold 19.1M shares back in April 2013 at $17.43. In 2012, the company sold 25.875M share at $16.55 and another 16.422M shares at $15.41 in January 2012 (page F-74, 10-k)
I took a snapshot summarizing the equity offerings made in 2012 and 2013:
Click to Enlarge: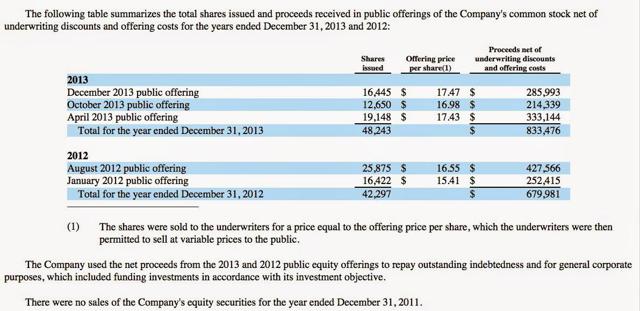 Historical Net Asset Values Per Share:
For the externally managed BDCs who were in existence prior to the Near Depression, ARES has held up much better than most.
Historical Net Asset Values Per Share Taken from SEC Form 10-Qs:
6/30/14: $16.52
6/30/13: $16.21
6/30/11: $15.28
6/30/10: $14.43
6/30/09: $11.21
6/30/07: $15.84
6/30/05: $15.10
The share price was over $20 in 2007 and traded near $3 in early March 2009. ARCC Interactive Chart That highlights the recession risk issue.
The smashing of the share price during the recent Near Depression is something for any conservative investor to take into account.
Dividends: The current regular quarterly dividend is $.38 per share. The company did pay a special dividend in December 2012 and 2013 of $.05 per share. Dividends
The quarterly dividend rate was cut in 2009 from $.42 to $.35 per share. It may be awhile before the regular rate matches the 2009 first quarter payment of $.42 per share. I would anticipate dividend cuts and slashes among BDCs during a recession.
Prior Trades: My highest cost shares are owned in another ROTH IRA: Bought 70 ARCC at $17.24-REGULAR IRA (April 2013) Whenever I can sell that lot profitably, I will do it.
I also own 50 in a taxable account. Bought: 50 of the BDC ARCC at $16.17 in taxable account (January 2011 Post)
So far, with a little patience, I have managed to escape with profits after harvesting some dividends.
The first link below is what I would characterize as an optimal result for an externally managed BDC. I held the stock for over 2 years and exited with a decent percentage gain too. The share profit and the dividends together resulted in a total gain of $241.07 on a total cost of $822 or 29.38% in about 27 months (1.088% per month or about 13.06% per annum)
Item # 1 Sold 50 ARCC at $18.02 (5/6/13 Post)(snapshot of profit $71.97)-Item # 3 Bought: BDC ARCC at at $16.3 (January 2011)
SOLD 100 ARCC at $17.54-IRAs in Two 50 Share Lots (September 2012)-Added 50 ARCC at $16.9-Regular IRA (May 2011) and Item # 3 Bought 50 ARCC at $16.51 Roth IRA (March 2011) (total profit=$53.07-no snapshots)
Item # 5 Sold 50 ARCC at $17.7 (May 2011)-Item # 3 Bought: 50 ARCC at 16.89 Main Taxable Account (December 2010)(profit $24.81; no snapshot)
Related Trades: I have also bought and sold a senior ARCC exchange traded bond: Bought: 50 ARY at $24.2; Added 50 ARY @ $23.75-Sold 100 ARY @ 24.6
Recent Earnings Report: The last reported net asset value per share was $16.52 as of 6/30/14, page 2 10-Q (debt listed at page 73). A list of investments can be found in that 10-Q filing starting at page 5.
ARCC missed expectations in its last earnings report and that miss resulted in a persistent price decline that accelerated recently as BDCs corrected as a group.
The overpaid Masters of Universe will need to do better in the coming quarters. Total operating expenses rose 19.69% Y-O-Y ($130.013M vs. $108.627M). Net investment income, however, declined by 1.7%. Loans on non accrual status represented 1.9% of total loans.
One know risk of a BDC is that their loans are made mostly to risky private company borrowers, usually unseasoned, new companies or older ones that have fallen on hard times. The borrowers are having to pay the BDC a high interest rate that would be consistent with a deep junk rating, though the loans made to the private firms are not rated by Moody's or S & P.
When a recession roles around, the underwriting standards used by the BDC will be put to the test. Defaults will accelerate, and could easily result in a significant loss in net asset value per share and a dividend cut (see my NAV history for AINV, another externally managed BDC, shown below)
For the 2014 second quarter, ARCC reported core E.P.S. of $.34 and net investment income of $.31. SEC Filed Press Release The estimate was for core E.P.S. of $.37. The number of portfolio companies stood at 202. The weighted average yield on total investments at fair value was 9%. The weighted average yield on debt investments at fair value was at 10%.
Rationale: As always, the idea is to collect a year or more of dividends paid by a BDC and then escape somehow without losing money on the shares. It is not helpful to be paid a 11% dividend and to lose 10% on the shares.
With the recent slide in the share price, the dividend yield rose some. At a total cost per share of $15.41, and assuming a continuation of the current quarterly dividend $.38 per share, the yield is about 9.86%.
ARCC has been trading above its net asset value until the recent slide. The purchase at $15.41 represented about a 6.72% discount to its last reported net asset value per share of $16.52.
ARCC may be the best externally managed BDC.
Risks: The company describes the myriad risks incident to its business starting at page 29 of its 2013 Annual Report, 10-K The risk summary ends at page 52. Again, I will emphasize the "conflicts of interest" discussion starting at pages 38-40.
It is my view that externally managed BDCs exist primarily to enrich their managers. The dividend is the carrot that attracts individual investors. A high dividend does not mean that the stock is a good investment.
Externally managed BDCs suffer from a variety of problems that are related to the compensation arrangements paid to the managers which include a base management fee (applied to total assets including those acquired with debt) plus an incentive fee that is exceedingly generous. The incentive is to increase assets through a constant flow of stock offerings, irrespective of whether that is in the interest of existing shareholders and even if the price to the underwriters is below net asset value per share.
The general tendency of externally managed BDCs is to erode their net asset value per share over time.
Since the market price will generally hug net asset value per share for externally managed BDCs, there is almost an inevitable built in mechanism that results in either share price stagnation or an elevator perpetually moving to the ground floor (though occasionally it may go up a floor before going back down again).
ARES has done better than many externally managed BDCs, with its current net asset value be above where it was in 2005.
This is what the external managers at the externally managed AINV have accomplished since 2005:
Sources SEC 10-Q Filings for Apollo Investment (NASDAQ:AINV)
Net Asset Value Per Share:
6/30/14: $8.74
6/30/13: $8.16
6/30/12: $8.3
6/30/10: $9.51
6/30/09: $10.15
6/30/08: $15.93 Form 10-Q
6/30/07: $19.09 Form 10-Q
I recently sold out of my AINV IRA position: Sold 155+ AINV at $8.81 (9/20/14 Post)
Last Friday, I purchased 50 of those shares back at $7.94, which will be discussed in about 2 weeks in my weekly blog. That recent history highlights the trading strategy.
Recognizing that the managers have conflicts and that the downside pressure to the share price over time, made worse by recessions and/or ill advised risk taking that would not occur without the compensation arrangement, I do not view BDCs as suitable for long term holds, and I would certainly not want to own any of them when there is a recession on the horizon.
Assessment of Potential Risks/Rewards: Given the high income generation, I will not ignore externally managed BDCs, but I will recognize their risks in designing a trading strategy for them.
My first assessment of the risks is that capital appreciation is hard to realize without some kind of trading strategy.
Given the risks inherent in the loans made to private companies, there is a significant risk for dividend cuts and net asset value destruction during recessions.
It is also noteworthy that BDCs can become volatile in price to the downside, as shown by what has happened recently to them. The market catches the sniffles and the BDCs catch a cold. The closing price on 9/11/14 was $16.67, and the price hit an intra-day low at $14.68 on 10/15/14, representing a 11.84% decline in about a month.
Taking into account the risks and many drawbacks, my trading strategy is to buy externally managed BDCs only in small increments (usually 50 share lots), when the price declines below net asset value per share and to consider selling the shares after harvesting several dividends (preferably more than a year's worth) when the market price exceeds net asset value by 5%, which I recently did for positions in PNNT and NMFC. The general idea is to realize a total return slightly in excess of the dividend yield at my cost.
One trading strategy is to have lower entry points for additional small lot buys. When and if the price recovers sufficiently to sell the highest cost lot profitably, then I will consider doing so while keeping the lower cost lots. I may then average down again when and if the share price falls below the average cost per share of the remaining lot(s). Then the highest cost lot remaining would be sold using FIFO accounting when I can profitably do so. Getting out a profit is much easier said than done.
Based on operating performance and other issues, I may lower the sell target to net asset value, which I have done for PSEC. For that one, I sold most of my shares slightly above the last reported net asset value per share, keeping only 74 shares with an approximate total cost per share of $9.46.

I have frequently expressed reservations about PSEC here at SA: southgent1951's Comments on PSEC: Prospect Capital Corporation | Seeking Alpha
It would be fair to say that I am not a fan. And I particularly dislike the stock offerings sold at below net asset value per share which appear to be continuing: Seeking Alpha
Future Buys/Sells: I am more likely to pare my existing position than to buy more shares. I would consider, however, buying another 50 share lot at below $15 in a taxable account where I currently own only 100 shares, provided the net asset value per share does not decrease in subsequent earnings reports. I am at my risk limit already in the retirement accounts.
ARCC closed at $15.91 last Friday (10/17/14)
Disclosure: The author is long ARCC.
Additional disclosure: Disclaimer: I am not a financial advisor but simply an individual investor who has been managing my own money since I was a teenager. In this post, I am acting solely as a financial journalist focusing on my own investments. The information contained in this post is not intended to be a complete description or summary of all available data relevant to making an investment decision. Instead, I am merely expressing some of the reasons underlying the purchase or sell of securities. Nothing in this post is intended to constitute investment or legal advice or a recommendation to buy or to sell. All investors need to perform their own due diligence before making any financial decision which requires at a minimum reading original source material available at the SEC and elsewhere. Each investor needs to assess a potential investment taking into account their personal risk tolerances, goals and situational risks. I can only make that kind of assessment for myself and family members.