I will frequently use baskets when buying stocks. I may have anywhere from 20 to 50 stocks in a basket.
The Lottery Ticket Basket Strategy has what I call a Gateway Post that explains the strategy and also contains links to both my profitable trades and those that are less than optimal.
Stocks, Bonds & Politics: Lottery Ticket Strategy: New Gateway Post
The long time readers of my blog already know the origins and risk limitations of this strategy. I will give a brief synopsis, and brevity is not one of my known positive attributes.
I will then discuss this last LT purchase which will be included in my monthly update which is published on the last Monday of each month. I only update three basket strategies on a regular basis.
Last Update: Stocks, Bonds & Politics: Update for Lottery Ticket, REIT and Regional Bank Basket Strategies (9/29/14 Post)(realized net gain for the Lottery Ticket Basket through the date of that post: $14,140.68).
When I update that basket, I will mention two recent realized losses that will bring that total down some.
Origins of the LT Basket Strategy:
After Tennessee started its lottery, I purchased about $200 worth of powerball tickets without winning a dime. One day, I thought that I hit pay dirt when I matched the powerball number and two others. And I went to claim my prize, thinking about that new car that I would buy with my winnings, and the clerk said "here is your $7".
Well, as you can imagine, I said to myself that I may be able to improve my winning percentages by taking that powerball money and buying lottery tickets on the stock exchange. So the lottery ticket strategy was born in 2009.
I would look for issues that had been beaten down severely, limit my exposure to no more than $300 per stock (plus any prior net gains), manage the risk of this asset class by harvesting some gains and losses, and allowing a few to run. Duality of Long Term Risks/Stocks Under $5: Per Se Lottery Tickets
High Risk Falling Knives:
The Lottery Ticket Basket Strategy uses a deep contrarian value strategy, appropriately characterized as catching a "falling knife". A common criteria for the stocks contained in this basket is a smashed stock price at the time of purchase and an ugly looking chart, though I may occasionally buy one who does not fit those common criteria. Any technical analyst would most likely have a sell rating on the stock.
See 2004 Study by the Brandes Institute: "Falling Knives Around the World"
When a security is purchased under this strategy, it will be viewed as high risk at the time of purchase. The main rule for this strategy is that the total exposure to the security has to be kept under $300, plus any prior net profits realized or distributions received from that security. That limit serves to turn this strategy into a low risk one for me. Risk is further reduced now by keeping the maximum exposure to all Lottery Ticket purchases to an amount less than my prior realized gains. I will keep a running total in this Post of my prior gains and current exposure.
Selection Criteria:
Selections are made primarily on statistical criteria including price to book, price to sales, forward P/E, cash per share and/or free cash flow. I spend anywhere from thirty minutes to an hour researching a potential purchase prior to purchase.
For many selections, I may be pessimistic about the firm's future, but not as pessimistic as the market. I will also occasionally see a ray of light at the end of a dark tunnel. Since I expect failures, which are inevitable and unavoidable in this kind of approach, I limit my exposure to $300 per stock plus any prior trading profits.
Besides the price being pummeled, I am also looking, for the most part, for stocks where both the price to sales and price to book ratios are below 1. Sometimes I will look for names with a price less than $10, a relatively low debt burden, and at least one or two dollars per share in cash. I will use that type of screen for companies that may be able to survive long enough to right the ship. Some of those basic screens are discussed in this 2009 Post: How to Find Stocks Masquerading as Lottery Tickets I will generally use the Premium Screener at Morningstar available to subscribers or the free screener at Yahoo Finance. That later one allows me to enter cash per share as one of the search criteria. I will no longer consider a small cap Chinese company appearing on one of this screens. I just took a loss on my last one of those.
Purpose: There are three purposes.
(1) The name of the strategy aptly describes the risk. It is somewhat analogous in many cases to playing a hand of blackjack for the purchase amount knowing that the card count favors the house. It is a form of entertainment and an alternative to a casino visit.
(2) Based on the results to date, this strategy is far more likely to produce positive results even with the Left Brain's skill at the tables.
(3) The primary purpose of the LT strategy is to entertain Right Brain, let it swing for the fences with up to $300, and to keep the Nit Wit from interfering with Left Brain's management of Headknocker's portfolio. Headknocker is the Boss of Everything Here at HQ. BlackJack and Stock Investing: Lessons Learned & Applied (My 3/15/09 Post)
Article on Right Brain-Left Brain
Your Money and Your Brain: How the New Science of Neuroeconomics Can Help Make You Rich by Jason Zweig
Jill Bolt Taylor's Book: My Stroke of Insight: A Brain Scientist's Personal Journey
Left Brain & Right Brain Decision Making (My 1/9/09 Post)
Investing process with a story illustration (My 1/9/09 Post)
The strategy is managed by Right Brain. RB's motto is "don't sweat the details". The last known picture of the RB was taken in 1951, within three months of birth: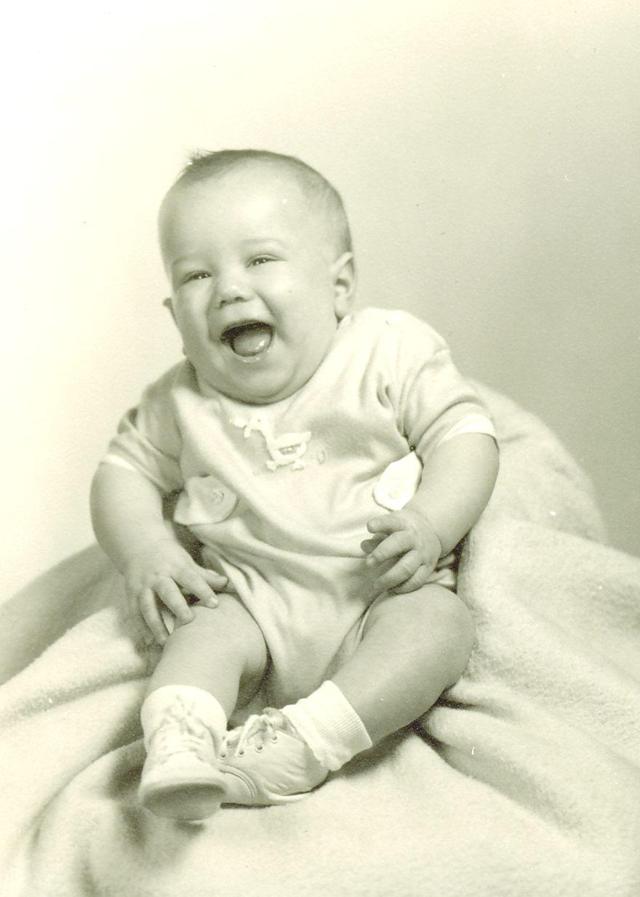 What on earth is that goofball so happy? He has no money to invest in a market that is about to produce 14+% annualized total returns after inflation over the next 14 years.
Left Brain gained control over the operation within a few months thereafter, and its essence was captured in this 1969 photo: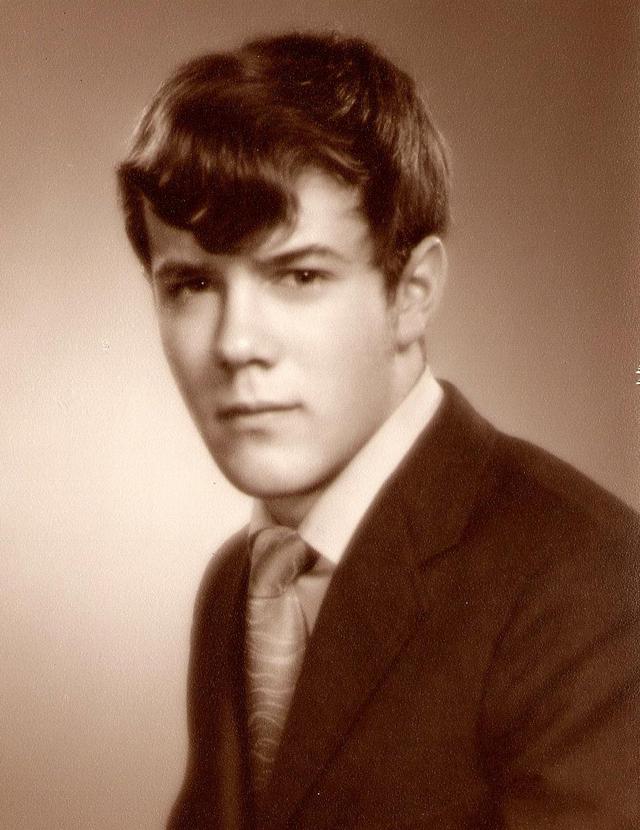 That is more nuanced picture of Left Brain than the one taken in 1961, shown below, made shortly after eating a baseball and spitting it out along with these words, "that is what I do those girlie men Right Brains and their poetry"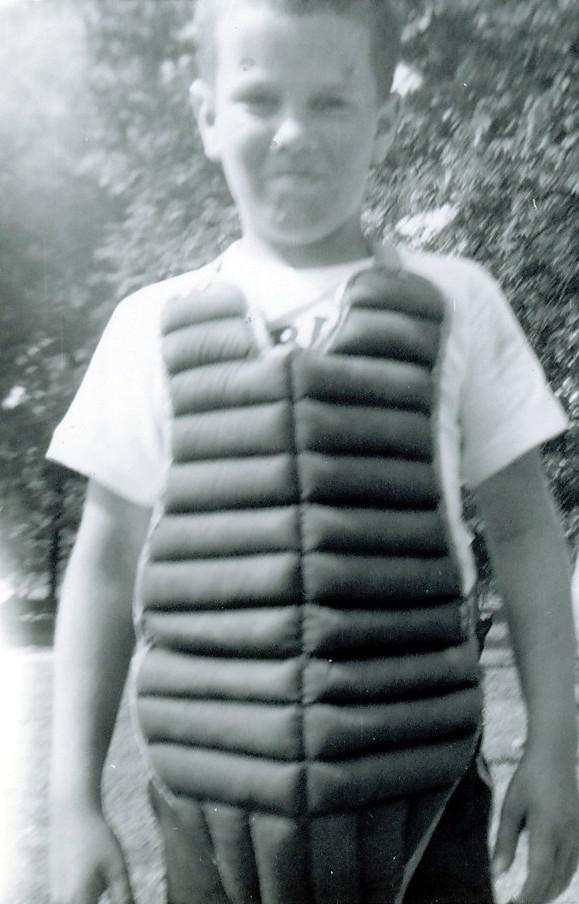 This version of Left Brain scared the living daylights out of Right Brain. He was just getting himself in the right mood for the game later that afternoon, hoping that there would be several collisions at home plate-never dropped the ball after one of those; the jaws of life could not pry it out of his hand.
That is enough introduction to the Lottery Ticket Strategy and the staff here at HQ's Trading Desk in the SUV Capital of the World. If I have another discussion here of a LT buy, I will simply refer back to this introductory post.
Bought 40 CORR at $7 (see Disclaimer):
Snapshot of Trade:

CorEnergy Infrastructure Trust (CORR) is a micro cap REIT that used to be a BDC. It is externally managed by the Corridor InfraTrust Management LLC (an affiliate of Tortoise Capital Advisors LLC) pursuant to a compensation scheme described at page 20 of the last filed 10-Q. That is always viewed as a major negative and is one of the reasons for the Lotto characterization. Third party management is not unusual for small REITs in their formative years.
CorEnergy Infrastructure Profile Page at Reuters
CorEnergy Infrastructure Key Developments Page at Reuters
Company Website
Midstream_Business_Article About CORR.pdf (August 2014)(A KeyBank analyst notes that CORR may add another deal or two before year end, but will "likely" need to raise financing with an equity raise)
I am going to have a more detailed discussion than normal for a LT purchase.
Prior to 2013, the company was focused on acquiring securities of privately-held and publicly-traded companies in the U.S. energy infrastructure sector. With the transformation from a BDC to a REIT, the securities portfolio represented only 8% of the assets as of 6/30/14.
The market cap at a $7 price is approximately $220M.
Last 10-Q Filing Q/E 6/30/14 (total assets shown at $327.826+M vs. total liabilities of $79.653M+, including long term debt of $65.296+M)
This REIT owns infrastructure assets, and that is unusual.
One subsidiary owns a gathering, storage and pipeline facilities with associated real property rights in the Pinedale Anticline in Wyoming. The property is leased to Ultra Petroleum under a long term triple net lease with a minimum rental of $20M during the initial term, and the rent is increased by the CPI up to 2% per year. That lease includes 150 miles of pipelines with 107 "receipt points" and four above ground central gathering facilities. Prudential Insurance is a limited partner in that subsidiary L.P. with a 18.95% economic interest after funding part of the purchase. (page 14)
This facility was purchased from Ultra Petroleum for $205M in cash, plus $23.5M in equity securities owned by CORR. CorEnergy's contribution was financed in part by a stock offering in December 2012. Final Prospectus Supplement (public offering price $6, net to company before their expenses $5.661; risk factors discussed at page 11). The remainder of CORR's interest was financed with cash on hand and the sale of approximately $26.5 in publicly traded MLP securities. With the exercise of the over-allotment option, CORR sold 14.95M shares at $6.
Another leased property is owned by another subsidiary, a terminal facility in Portland consisting of a rail and marine facility situated on a 39 acre site adjacent to the Willamette Rive in Portland, Oregon. This site has 84 storage tanks with a total capacity of 1,500,000 million barrels. The property is leased to Arc Terminals under a triple net lease agreement. CorEnergy bought this facility for $40M in cash raised by selling 7.475M shares last January at $6.5 per share. Prospectus; SEC Filed Press Release Over-Allotment Exercise by the Underwriters for 975,000; Press Release Initial Offering of 6M Share
So the issuance of stock to fund acquisitions is another negative. The company is just in the initial stages of acquiring property.
Another subsidiary is a wholly-owned REIT called Mowood LLC, a holding company for the "Omega Pipeline Company, LLC ("Omega"). Omega is a natural gas service provider located primarily on the Fort Leonard Wood military post in south-central Missouri. Omega has a long-term contract with the Department of Defense, which is currently subject to renewal in 2015, to provide natural gas and gas distribution" So that is yet another loose end.
Omega Pipeline, LLC: Website
Another property is known as the Eastern Interconnect Project. This facility consists primarily of 216 miles of 345 kilovolt transmission lines and related towers, converters and other grid components. Transmission lines are used to transport electricity over long distances from the generation units to a substation that steps the voltage down for ultimate delivery to retail customers. These assets are leased to Public Service of New Mexico under a triple net lease agreement. This lease expires in April 2015, and that explains another reason for the LT classification. PNM could renew the lease, buy the assets, or find a new lessee for the facilities. That statement in made in CORR's last 10-Q filing, but other material seems to suggest that PNM is going to acquire that asset for 7.7M. EIP_AssetFactSheet.pdf; SEC Filed Press Release Dated 11/2/12 (company was then called Tortoise Capital Resources) The CEO made this comment in the preceding linked Press Release: "As expected with the risk profile of this type of asset, the return on this transaction will be at the low end of our targeted range."
This snapshot explains some of the issues in more detail:

Another subsidiary has made an initial loan of $4.3M to an outfit called Black Bison Water Services and has recently loaned a total of $15.3M (secured financing, recently amended), with an initial base rate of 12 percent. Under a recent amendment, the base rate escalates at 2% of the base rate per annum. Then, starting in April 2015, a variable interest rate is paid based on the water treated by the borrower. There is a warrant given to CORR to buy up to 15% of the equity. That is more like a BDC kind of deal. Black Bison is apparently engaged in providing water sourcing, water disposal, water treating and recycling for the oil and natural gas industries. That just looks risky, but I really have no way to render a judgment on what may happen.
Another reason for the Lotto characterization is the long term chart which does not look very good. My purchase was also made after the stock had broken below its 200 day SMA line. There was also about a 33% plunge that commenced on November 6, 2012. CORR Interactive Chart; CORR Historical Prices When I see that kind of action, I want to know why, and I really can not say with for certain. The only news was the announcement on the agreement with PNM on 11/2/12, where the company admitted that return was "at the low end of our targeted range". I believe, more probable than not, that the decline was a delayed reaction to that announcement.
The risks described starting at page 10 of the 2013 Annual Report are another reason for the Lotto characterization: CORR-2013.12.31-10K Those risks are abundant and even include whether the property owned by the company will pass IRS scrutiny for ownership by a REIT. I can not read that risk section and commit more than $300 to this purchase.
The company reported 2nd quarter revenues of $9M and AFFO per share of $.14. The company paid out a $.13 per share quarterly dividend, yet another reason for the LOTTO selection, i.e., a high AFFO payout ratio. The company did reiterate guidance that it will pay out no less than $.52 per share annually. SEC Filed Press Release
Q2 2014 Results - Earnings Call Transcript | Seeking Alpha
CorEnergy recently sold its interest in VantaCore Partners LP for $13.6M in cash, of which $2.9M is being held in escrow.
I am not sure that I would count on that $.13 per share quarterly dividend. Distribution History
Assuming it continues, which I would not assume, the dividend yield is about 7.42% at a total cost of $7 per share. The company also interested me some which is the reason for buying a small number of shares.
For the reasons given, it does not qualify for a larger purchase under Left Brain's risk/reward guidelines however, and consequently is not part of the Equity REIT Basket: Stocks, Bonds & Politics: Gateway Post: Equity REIT Common and Preferred Stock Basket Depending on subsequent developments, the risk/reward balance could tilt toward a larger investment and inclusion in the REIT basket.