I own Bridge Bancorp (NASDAQ:BDGE) as part of my regional bank basket strategy. The underlying rationale for that strategy is explained in an earlier SA Instablog involving an odd lot purchase of Old National Bancorp (NYSE:ONB) shares. Regional Bank Basket Strategy: Added 50 ONB At $12.45 - South Gent | Seeking Alpha
I am not in the market to acquire more BDGE shares at the current price based primarily on the current valuation. The consensus E.P.S. estimate for 2015 is $1.92: BDGE Analyst Estimates Based on that estimate and a $24 market price, the forward P/E is reasonable at 12.5, but I would want to see BDGE actually make progress next year to hitting that bogey before buying more shares that would raise my current average cost per share.
When using a sector basket strategy, I am going own a large number of stocks, varying usually from 20 to 40, and no single position will consequently be very large. I will generally have a cap of around $5,000 for each stock in the basket.
Company Description: Bridge Bancorp is a bank holding company that owns the Bridgehampton National Bank (hereinafter "BNB") that was established in 1910.
BNB has approximately $2.2 billion in assets and has 27 retail branch locations in Suffolk and Southern Nassau Counties, Long Island. Bridge Bancorp (under heading "About Bridge Bancorp, Inc.")
The company has a map at its website showing the branch locations: Bridgehampton National Bank (BNB) Locations
When I first looked at the branch locations a few years ago, I thought that the bank could be an acquisition target for a larger bank desiring to expand into Long Island. I would not invest in the shares based on that possibility, however.
I will look at a small bank's headquarters to make sure that it is not ostentatious. The BDGE headquarters looks nice and is not in that category: 2200 Montauk Hwy - Google Maps
Existing Position: I took a snapshot of my current position earlier in the day:

I have quit for now reinvesting the dividend. My total average cost per share is $19.05.
Item # 1 BOUGHT 50 BDGE AT $18 (October 2011);Item # 4 Bought Back 50 BDGE at $19.65 (August 2012)
Prior Trades: I sold my highest cost shares in two small trades: Item # 4 Pared BDGE Selling Highest Cost 56 Shares at $24.71(12/10/13 Post)(gain snapshot=$200.65)-Item # 5 Added 50 BDGE at $20.76 (August 2013 Post); Item # 3 Sold 50 BDGE at $23.5 (7/3/12 Post)-Bought 50 BDGE at $23.11 (1/20/11 Post)
The shares were swinging up and down, based on no rationale reason that I could ascertain. I used the spikes to sell and the downdrafts to buy. BDGE Interactive Chart
That is what I would generally call swing trading based on an unexplained volatility in the share price:
Closing Prices in 2012:
5/23/12: $19.55
6/29/12: $23.59
8/2/12: $19.66
9/26/12: $24.54
I was also attempting to lower my average cost per share which in turn improves my dividend yield.
By selecting the highest cost lots to sell, I will generally incur lower taxes by selecting the highest cost lot. The after tax number will be negatively impacted, however, when the highest cost lot has been owned for less than a year and consequently does not qualify for the long term capital gains tax rate.
Dividend History: The current quarterly dividend is $.23 per share. That penny rate has been in effect since the 2005 second quarter. While it is a positive that BDGE did not cut the dividend during the recent Near Depression, I would classify that dividend history as a negative due to its lack of growth. Dividends
At my current total cost per share ($19.05, see above snapshot), my dividend yield is a respectable 4.83%. That is one reason to hold the stock, provided I maintain a favorable opinion about this bank.
I noted in a 2012 post that Bridge was then offering a 5% discount in its DRIP plan that I was able to secure through Fidelity's participation in the Depository Trust DRIP program:
Continuation of Discussions Re: Broker Price Differences For Reinvested Dividends
Third Quarter Earnings Report: The reason for discussing this bank now is to highlight the positive features of the third quarter earnings report.
In my regional bank strategy, I place an emphasis on acquiring shares in banks whose managers have proven their prudence. I can acquire that information from a variety of financial metrics, including the loan loss and charge off ratios.
The St. Louis Federal Reserve provides investors with the average numbers for all banks:
Charge-Off Rate On All Loans, All Commercial Banks St. Louis Fed
Nonperforming Loans (past due 90+ days plus nonaccrual) to Total Loans for all U.S. BanksSt. Louis Fed (hereinafter NPL ratio)
I can also go back in history and see how the bank performed during the Near Depression.
Bridge Bancorp reported third quarter net income of $4.9 million or $.42 per share, in line with the consensus estimate, and up from $3.1 million or $.34 per share earned for the 2013 third quarter. The 2013 third quarter included $.03 per share in acquisition expenses related to BDGE's acquisition of FNBNY Bancorp.
The 2014 third quarter also includes an additional 1.9 million common shares sold by BDGE back in October 2013. The public offering price of those shares was 20.75, with net proceeds to BDGE before its expenses and after the underwriter's discount of $19.60875.
The following snapshot includes loan loss ratios for the quarters ending 9/30/14, 12/31/13 and 9/30/13 moving from left to right:

The NPL and NPA ratios shown in the first two columns are really low and moving down, two important points.
The last column is the "coverage ratio", a larger number is preferable for a new investor since it provides more of a cushion for future allowances against loan losses. At a coverage ratio 763%, BDGE has a large cushion for loss absorption based on its current non-performing loans.
For the quarter, net charge offs were just $.2 million.
In the following columns, the data compares 9/30/14 with 9/30/13:

One of the headwinds for regional banks is net interest margin compression. Their deposit costs have already repriced at abnormally low rates. The Federal Reserve's abnormal monetary policies restrain lending rates. BDGE's net interest margin expanded some.
The efficiency ratio is one of the ratios where lower is better and BDGE managed to lower that number Y-O-Y which is another positive.
The return on average "core" assets increased Y-O-Y to .89% from .77%. While that is a positive trend, I would still like to see a number over 1%.
The core return on stockholder's equity was reported at 10.82%, up Y-O-Y from 10.66%.
The capital ratios are okay in my opinion as of 9/30/14: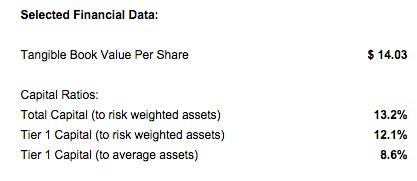 New FDIC Capital Ratios Under Basel III: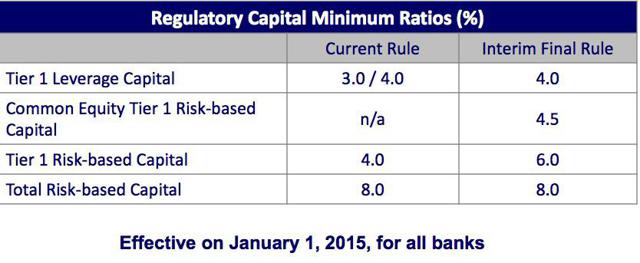 When I first invested in this micro cap bank holding company, I checked to see how the bank performed during 2008-2010, a period marked by a large number of bank failures. I already mentioned above that BDGE did not cut the dividend which is a positive compared to many.
Did the bank remain profitable during that period and how much did the NPL ratio expand? That historical information will provide me with some information to judge bank loan standards.
I can find that kind of information quickly in a 10-K filing. The 2012 Annual Report will generally have the relevant past historical information.
I see that information at page of the 2012 Annual Report.
E.P.S.
2007: $1.36
2008: $1.42
2009: $1.41
2010: $1.45
Unlike a large number of U.S. banks BDGE remained profitable during the most recent banking collapse. I view that as a material piece of information.
After looking at this 3rd quarter report, I see nothing that would change my overall favorable opinion of this bank. So, I will hold my shares.
Disclosure: The author is long BDGE.
Additional disclosure: Disclaimer: I am not a financial advisor but simply an individual investor who has been managing my own money since I was a teenager. In this post, I am acting solely as a financial journalist focusing on my own investments. The information contained in this post is not intended to be a complete description or summary of all available data relevant to making an investment decision. Instead, I am merely expressing some of the reasons underlying the purchase or sell of securities. Nothing in this post is intended to constitute investment or legal advice or a recommendation to buy or to sell. All investors need to perform their own due diligence before making any financial decision which requires at a minimum reading original source material available at the SEC and elsewhere. Each investor needs to assess a potential investment taking into account their personal risk tolerances, goals and situational risks. I can only make that kind of assessment for myself and family members.