This is the third SA Instablog installment discussing a stock that I currently own that was purchased pursuant to a dividend growth strategy.
Links to previous installments:
Added To Nestle (OTCPK:NSRGY) At $68.8 - South Gent | Seeking Alpha
Dividend Growth Strategy: Added 30 UL At $39.25 Roth IRA - South Gent | Seeking Alpha
Novartis was also bought pursuant to a dividend growth strategy.
Before discussing the Novartis earnings report released this morning, I will outline how I approach selecting dividend growth stocks.
Income Alternatives: Senior Bond or Common Stock:
I invest in securities throughout the capital structure on a worldwide basis. Novartis and Nestle are Swiss companies. My investments include securities higher up in the capital structure, including equity preferred stocks and bonds.
When selecting either a bond or a stock as an income option, I want to know generally how a fixed coupon bond yield issued by a specific company compares to it's common stock dividend yield. The fixed coupon bond yield may even be lower than the current stock yield, given the abnormally low bond yields for investment grade credits or somewhat higher depending on the company.
Once I determine that the fixed coupon yield exceeds the current common stock dividend yield, I then want to estimate how long it would take for the dividend yield to exceed the bond yield based on the historical dividend growth rate. The future estimate may be off some without impacting the result favoring the purchase of the stock rather than the bond.
In a March 2010 post, I gave an example of this analysis, comparing the yield of a Johnson and Johnson (NYSE:JNJ) fixed coupon bond with its current and anticipated dividend yield. Item # 6 Common Stock Dividend Growth vs. Long Term Investment Grade Bonds
When I made this calculation in 2010, JNJ's stock had just closed at $65.11 and was yielding at that price 3% based on the $.49 per share quarterly dividend rate. I noted that JNJ normally raised its dividend in the second quarter. I then went back in JNJ's history to formulate a reasonable estimate for future dividend growth based on the historical pattern.
JNJ had paid out in annual dividends the following amounts:
2009: $1.93 per share
2003: $ .925 per share
1998: $ .49 per share
Source: Johnson & Johnson - Investor Relations - Dividend History for ticker JNJ
At the time, the pattern looked like a doubling of the dividend in about 6 years. I gave myself some leeway and predicted a doubling in 6 or 7 years.
If that rate of growth continued for the next 6 years, I could buy JNJ at $65.11 and possibly have around a $3.86 annual dividend per share by 2016 or 2017, resulting in a 6% dividend yield at my constant total cost number.
I could buy instead a JNJ senior unsecured bond to generate income. I went to the FINRA website, typed the JNJ symbol in the search box and was delivered to this page: FINRA JNJ Page That page continues information about the stock. Since I am looking for JNJ bonds, I clicked the bond tab which took me to JNJ's bond page. At the time, I chose the 2029 JNJ senior unsecured bond for comparison purposes:
Bonds Detail: JNJ 6.95% Maturing 2029-Cusip 478160AJ3
The bond was selling at a premium price to its par value back in March 2010. I noted a closing price of 123.566 which produced a current yield of 5.45% and a yield to maturity of 4.41%. The YTM was lower than the current yield due to the premium price.
I predicted then that the stock would produce a higher yield than the current yield of that bond by 2016-2017. Thereafter, the yield differential in favor of the stock would increase.
I consequently concluded that I would prefer buying the stock rather than that 2029 bond for income generation, even though the bond had a more secure income stream. While I would rate the chance of a JNJ dividend cut to be remote, there was a zero percent chance that JNJ could cut the fixed coupon rate of a senior bond.
How did my prediction pan out. JNJ's annual dividend rate for 2014 was $2.76. I do not think the company will be at $3.86 run rate after its either its annual 2016 or 2017 dividend rate increase. Still, even though I will likely be off in my estimate, the current yield at a $65.11 cost is about 4.24%, which is approaching the 2010 YTM number for the 2029 bond.
The bond would have been a good investment too. A purchase of that bond would have produced more current income and would have generated a capital return. Yesterday's closing price was $141.75.
I did not calculate total returns since March 2010, which probably favored JNJ's common stock that closed yesterday at $104.07, up about 59.84%, whereas the bond increased in price by a respectable 14.72%.
The metrics for my dividend growth are similar to other investors.
Dividend Growth Criteria:
I outlined them in a 2010 post:
1. I want the current yield to exceed 3% as a starting point. My preference would be over 3 1/2%. Many candidates for this category will not increase to over 3 1/2%, except during a bear market, so the opportunity has to be seized even when the investor is nervous and everyone else appears to be selling, easier said than done.
2. There must be a long history of dividend growth, but it does not have to be an uninterrupted one. However, there can be no dividend cuts within say 20 years, which is the data series that I normally examine, so most banks are now eliminated as candidates for this strategy. I will simply give more weight to those companies with a long history of raising the dividend every year over those that have increased the dividend every year most of the time, occasionally just maintaining an existing dividend during a recession.
3. I pay a great deal of attention to the historic rate of dividend growth. How quickly does the company double the dividend. I would prefer a company who historically doubles the dividend in 6 or 7 years compared to one on a ten or 12 year schedule. So even if the company is raising the dividend every year, I want to know the rate of growth.
The longrundata website provides dividend growth rate calculations over 5, 10, and 25 years. Calculator I see why my JNJ estimate will be off using that calculator. The annualized growth rate has slowed to 7.61% over the past five years compared to 10.84% over the past ten.
4. I would look for a relatively constant payout ratio to net income, preferably 50% or lower. This would establish that the dividend is not in danger of being cut and is supported generally by earnings growth. When the payout ratio starts to rise above 50%, then I would normally expect a slowdown in the future rate of growth compared to the past when the company had a lower than 50% payout ratio. One of my dividend growth stocks, Sysco (NYSE:SYY), was bought in March 2009 and its growth rate has slowed to a crawl after that purchase. SYY Dividend History
The company will often provide its dividend payout ratios at its website, usually on the dividend history page. Yahoo Finance will show that ratio on its "Key Statistics" page. That page for JNJ currently shows a 45% ratio, while KO (also owned) has a 66% payout ratio.
All of my brokers provide S & P company reports, which also contains historical payout ratio information. I view that information as relevant, since I do not want to see the ratio going up incrementally over 50%. That suggests to me that earnings are not keeping pace with dividend growth and something will have to give.
5. Then there would be a potpourri of other factors, such as profit margins, debt to equity, etc. Some may think too much about too many things, a problem that Old Geezers no longer have.
This brings me to Novartis as one of my dividend growth stock selections.
Company Description: Novartis AG ADS (NYSE:NVS) is one of the world's largest pharmaceutical companies and the largest ranked by sales. Bloomberg The company is based in Switzerland. NVS is an ADS: Novartis American Depository Shares (NYSE:ADS)
Dividends will be subject to Switzerland's withholding tax.
1 ADS=1 Ordinary Share
The ordinary shares are priced in Swiss Francs. NOVN.VX
USD/CHF Currency Conversion Chart
CHF/USD Currency Conversion Chart
The price for the NYSE listed ADS shares will reflect the value of the ordinary shares priced in Swiss Frances converted into USDs.
Novartis AG (NVS) Profile Page at Reuters
Novartis AG (NVS) Key Developments Page
WebPage: Novartis
The company receive 3 FDA Breakthrough Therapy designations in 2013. One of those compounds, RLX030 is for acute heart failure and was shown to improve symptoms and mortality. If approved, Novartis claims that this compound will be the "significant treatment advance for AHF patients in 20 years" (earnings release for third quarter)
One of those mew cancer drugs, a compound known as CTL019 and CART-19, cleared malignant cells in 19 of 22 children patients suffering from acute lymphoblastic leukemia, the most common form of cancer for children, though five of the 19 later relapsed. In chronic lymphocytic leukemia, a large market for the drug, the therapy resulted in a 47% remission rate. Bloomberg
Another compound, LBH589, significantly extended the time period without disease progression for multiple myeloma in a Phase III trial. Novartis data in The Lancet Oncology show LBH589 offers 4-month increase in median PFS for patients with multiple myeloma
While many investors applaud the divestment of consumer products divisions, I would prefer buying a company like JNJ who bought PFE's consumer product division than PFE who sold it. Novartis has a large consumer product division, Novartis OTC (Over-the-Counter), and a bustling generic drug business. Sandoz Generic Pharmaceuticals Division of Novartis
Novartis owns a 33+% stake in Roche. The CEO said today that NVS does not need those funds tied up in that stake: "They're earning a decent return, we're not in any hurry. At the same time it is a financial investment with somewhat of a strategic element to it."
Recent Developments: A new study confirmed that an experimental Novartis drug represents "one of the biggest potential advances against heart failures in more than a decade". CBS News This news was released after the close on Saturday 8/30/14. Novartis' new heart failure medicine LCZ696 cut cardiovascular deaths by 20% vs. ACE-inhibitor in landmark PARADIGM-HF trial
Novartis entered into an agreement to sell its animal health unit to Eli Lilly for $5.4B. That deal is expected to close in the 2015 first quarter.
NVS agreed to buy Glaxo's cancer unit for $14.5 billion, plus up to another $1.5B based on hitting development milestones, while selling to Glaxo its vaccine business (excluding influenza vaccines) for $7.1 billion. Novartis announces portfolio transformation, focusing company on leading businesses with innovation power and global scale: Pharmaceuticals, Eye Care and Generics
NVS announced a few days ago that it would sell its influenza vaccine business to CSL Limited for $275 million. Novartis announces divestiture of influenza vaccines business to CSL for USD 275 million
Other recent news items are summarized in this NVS press releases:
Novartis announces FDA Advisory Committee unanimously recommends approval of AIN457 (secukinumab) for patients with moderate-to-severe plaque psoriasis
Patients lived average of 18 months without cancer progressing when taking Novartis' Zykadia(NYSE:TM) as their first ALK inhibitor for ALK+ NSCLC
Recent Add: My last add was a 50 share purchase last December. Item # 1 Bought: 50 NVS at $76.72 (12/23/13 Post)
Dividends and Dividend Growth: Like many companies, NVS provides a nice graph showing its historical dividend rates. Since Novartis is a Swiss company, the dividend will be paid in Swiss Francs (hereinafter "CHF") after subtracting a 15% withholding tax and then converted into USDs for the NVS shares.
The following tracks the dividend payments in CHFs: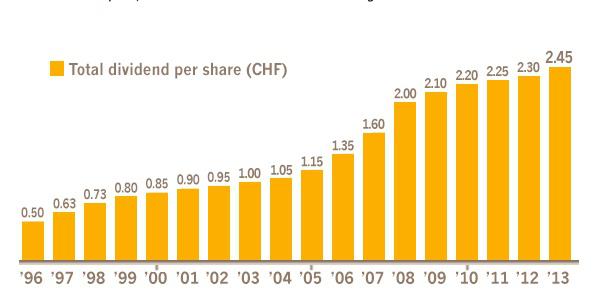 I like that chart.
NVS pays an annual dividend. The CHF2.45 per share shown for 2013 was actually paid in 2014.
One Swiss Franc will buy more than 1 USD. As I noted when discussing a Nestle purchase here, the Swiss National Bank has been engaged in a Jihad against its national currency since the 2011 summer, using a quantitative easing type program to drive down successfully the value of the Swiss France. Added To Nestle (OTCPK:NSRGY) At $68.8 - South Gent | Seeking Alpha
I calculated the 2014 CHF dividend converted into $2.76 per NVS share before the 15% Swiss withholding tax and an ADR fee of less than $1.
Third Quarter Earnings Report:
Earlier today, Novartis reported that it 2014 third quarter core income increased to USD$3.346 billion or $1.37 per share, up from USD$1.24 per share in the 2013 third quarter. The consensus forecast was for $1.32 per share.
Snapshot of Key Financial Metrics:

Sales in emerging markets grew by 13%, led by China (+23%), Brazil (+24%) and Russia (+18%).
NVS has a category that it calls "Key Growth Products" and separately reports the revenue growth for those products: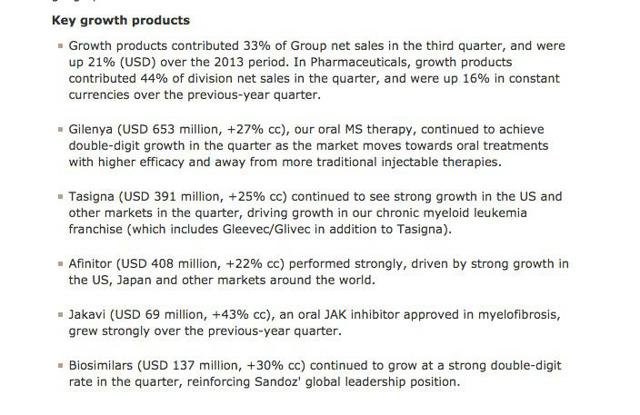 Q3 2014 Results - Earnings Call Transcript | Seeking Alpha
I am currently full with my NVS stock position. After reviewing this report, I intend to hold my shares rather than harvesting a profit.
Disclosure: The author is long NVS.
Additional disclosure: Disclaimer: I am not a financial advisor but simply an individual investor who has been managing my own money since I was a teenager. In this post, I am acting solely as a financial journalist focusing on my own investments. The information contained in this post is not intended to be a complete description or summary of all available data relevant to making an investment decision. Instead, I am merely expressing some of the reasons underlying the purchase or sell of securities. Nothing in this post is intended to constitute investment or legal advice or a recommendation to buy or to sell. All investors need to perform their own due diligence before making any financial decision which requires at a minimum reading original source material available at the SEC and elsewhere. Each investor needs to assess a potential investment taking into account their personal risk tolerances, goals and situational risks. I can only make that kind of assessment for myself and family members.