Snapshot of Trade:

Closing Price Date of Trade: BANC: $11.77 -0.08 (-0.68%)
Company Description: Banc of California claims to be the tenth largest lender in California with over $4 billion in assets and more than 80 banking locations. The bank has 18 locations in Southern California. The remaining locations are apparently production offices located in California, Arizona, Oregon, Virginia, North Carolina, Colorado, Indiana and Maryland.
Map of Branch Locations: Banc of California
During 2013, the bank purchased real property located at 1588 South Coast Drive, Costa Mesa, CA. for approximately $40 million. After renovation, that property will be used as BANC's main office. 1588 S Coast Dr - Google Maps
Last April, Banc of California announced an agreement to acquire 20 Popular Community Bank branches located in California.
General Locations of Popular Branches:

About 37% of the acquired deposits are from Latino community members. BANC's CEO claimed that the acquisition would be 20% accretive to earnings in the first year and have a "tangible book value payback period of less than one year". Banc of California to Acquire Popular Community Bank's California Branch Network
Banc of California recently received regulatory approval to acquire those branches and expects the transaction to close on 11/7/14.
The bank is funding that purchase in part by selling 5,187,954 million shares at $9.78 to entities managed by Patriot Financial Partners, L.P. and Oaktree Capital Management. Patriot is apparently buying another 824,000 shares at $11.55.The company expect to receive, net of offering expenses, $52M.
Back in May, Banc of California raised funds to fund the Popular branch acquisitions by selling 5,150,000 common shares at $9.78 and 1,200,000 "tangible equity units" at $50 each. Those units consist of a prepaid purchase contract an a junior subordinated amortizing note. The prepaid stock purchase contract will be settled on 5/15/17 for between 4.4456 and 5.1124 common shares. The notes make a 8% cash payment and has an initial principal amount of $10.6+ per amortizing note. Prospectus
Loan Composition as of 9/30/14: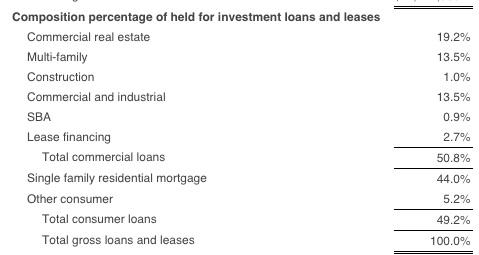 SEC Filed Investor Presentation May 2014
Current Earnings Estimates: The consensus E.P.S. for 2014 is $.78 and $1.19 for 2014. Eight analysts contributes to those estimates. The high E.P.S. estimate for 2015 is $1.25, with the low at $1.10. BANC Analyst Estimates At a total cost of $11.7 per share, the P/E is about 9.83 based on that 2015 consensus $1.19 E.P.S. estimate.
Dividends: BANC is currently paying a $.12 per share quarterly dividend. BANC Dividend Date & History
The quarterly dividend was raised in several increments from the $.05 per share paid in 2003 first quarter. The high point was hit in the 2008 4th quarter when the bank paid $.185 per share. The rate was then cut to $.10 for one quarter and was then reduced further to $.05, where it stayed until the 2010 4th quarter when it was raised back to $.10.
I do not view that dividend history positively. If I had to muster something positive to say, it would be something like I have seen a lot worse.
Chart: At the time of my purchase, the shares were sitting on the 50 day SMA line and were slightly below the 200 day SMA line. A two year chart shows a lot of up and down chop: BANC Interactive Stock Chart
The common shares closed at $15.54 on 7/30/13, BANC Historical Prices. Thereafter, the shares were moving into a pattern of lower highs and lower lows until hitting a bottom at $9.93 last May.
The all time high was over $30 per share back in 2006.
Prior and Related Trades: I bailed on BANC shares after a poor earnings report that was accompanied by the CFO's resignation. Banc of California Reports 2013 Third Quarter Financial Results
My reaction was simply to "shoot first and ask questions later".
Item # 6 Sold: 50 BANC at $13.5 (11/12/13 Post) (profit snapshot=$95.98)-Bought 50 BANC at $11.3 (February 2013 Post)
At the same time, I sold 50 shares of a BANC equity preferred stock Item # 6 Sold: 50 BANCP at $26.12 (11/12/13 Post)-Item # 2 Bought 50 BANCP at $25.19 (9/28/13 Post)(symbol later changed to BANCPRC)
An equity preferred stock, issued by a bank holding company, is particularly sensitive to credit risk concerns. That security pays non-cumulative and qualified dividends at the fixed coupon rate of 8% on a $25 par value. The issuer has the option to call on or after 9/15/2018: Prospectus (issuer then known at First PacTrust Bancorp)
Quote: Banc of California Preferred Seires C (NYSE:BANC.PC). At Fidelity, the symbol is now BANCPRC.
I decided to keep 150 shares of the BANC senior exchange traded bond, the most senior security in the capital structure.
I still own 150 shares of a senior unsecured BANC bond that is traded in the stock market under the symbol BOCA.
Quote: Banc of California Inc. Senior Notes (BOCA)
See generally: Exchange Traded Bonds: New Gateway Post
This senior bond makes quarterly interest payments at a 7.5% per annum rate on a $25 par value. If not redeemed early by the issuer, the bond will mature on 4/15/2020. The issuer has the option to redeem at par value, plus accrued interest, on or after 5/15/2015.
When I purchased shares, the symbol was BANCL. Item # 2 Added 100 BANCL at $25.1 (10/14/2013 Post); Item # 6 Bought Roth IRA: 50 BANCL at $25.20 (12/6/12 Post)
Prospectus for 2020 Exchange Traded Bond
Recent Earnings Report: Banc of California reported third quarter net income available to common shareholders of $10.3M or $.31 per share, up from a net loss of $9.5M or ($.53) per share in the 2013 third quarter. It was that 2013 third quarter report that triggered my sell orders for both the common and equity preferred shares.
NPA Ratio: .86%
Charge Offs: $.2 million
Return on Average Tangible Equity: 13.23%
Tangible Common Equity Per Common Stock: $11.34
Tangible Common Equity Per Common Stock and Shares Issuable Under Purchase Contracts: $9.89
The efficiency ratio is way too high in my opinion at 82.1%. The net interest margin and return on average assets are okay: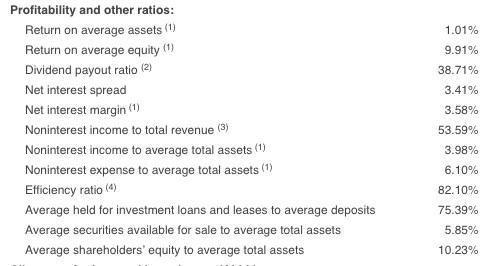 The capital ratios are good as of 9/30/14: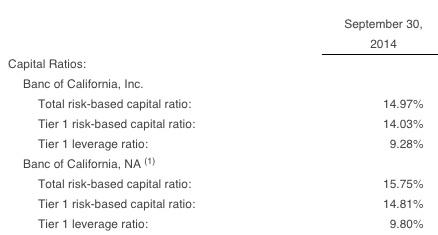 However, the company estimate that the tier 1 leverage ratio would be a pro-forma 8% after the Popular branch acquisition.
2014 Second Quarter Earnings Release: Banc of California Reports Second Quarter Results
Rationale: This is my second foray in this stock. The general theme is that I see seeds for a turnaround that simply did not sprout when I last bought the stock.
I decided to give it another try based on the recent earnings report and the pending acquisition of 20 California branches from Banco Popular.
The analysts seem optimistic predicting a Y-O-Y growth in E.P.S. of about 52.6%, as noted above in the earnings estimate section. The 9.83 multiple at the $11.7 is certainly reasonable, provided of course the 2014 consensus estimate of $1.19 per share proves prescient. I will believe when I see it unfolding before me.
Assuming a continuation of the current $.12 quarterly dividend, the yield is about 4.1% at a total cost of $11 which is respectable particularly in the current abnormally low interest rate environment.
Risks: The bank describes risks incident to its operations starting at page 30 of its 2013 Annual Report: Form 10-K
As shown at page 48 of that report, the bank has fluctuated between annual losses and profits from 2009 through 2013:
Diluted E.P.S. Gain (Loss)
2013: ($.14)
2012: $.4
2011: ($.31)
2010: $.37
2009: ($.48)
The results are not surprising given the concentration in home loans.
I put a snapshot of the loan concentration at the start of this post to highlight the potential risks. The California market does seem to have substantial boom and bust cycles.
The annual diluted E.P.S. topped out at $1.16 in 2004, which is not uncommon for those regional banks focused on home mortgage lending. 2008 Form 10-K at page 33 By 2007, the E.P.S. number had already fallen $.7 by 2007.
While understandable, there is still nothing positive that I can say about this bank's earnings history between 2006 and 2013. This stock simply does not fit, at least at the moment-into my criteria for selecting regional bank stocks. It is an outlier.
The question now is whether better and more consistent earnings are in the future. I suspect that may be the case, but I am sufficiently unsure of that future prediction to limit my exposure to just a 100 share lot.
BANC has reported an E.P.S. of $.64 per share for the first nine months of 2014 compared to a loss of ($.32) per share during the first nine months of 2013.
Future Buys/Sells: Until I see consistent earnings growth, I will limit my position to 100 shares. I may sell again at the first sign of trouble.
Disclosure: The author is long BANC.
Additional disclosure: I am also long BOCA, the Banc of California senior exchange traded note. Disclaimer: I am not a financial advisor but simply an individual investor who has been managing my own money since I was a teenager. In this post, I am acting solely as a financial journalist focusing on my own investments. The information contained in this post is not intended to be a complete description or summary of all available data relevant to making an investment decision. Instead, I am merely expressing some of the reasons underlying the purchase or sell of securities. Nothing in this post is intended to constitute investment or legal advice or a recommendation to buy or to sell. All investors need to perform their own due diligence before making any financial decision which requires at a minimum reading original source material available at the SEC and elsewhere. Each investor needs to assess a potential investment taking into account their personal risk tolerances, goals and situational risks. I can only make that kind of assessment for myself and family members.