This is an excerpt from a post published earlier today: Stocks, Bonds & Politics: Bought Back 100 ORKLY at 7.285-Flyer's Basket/Added 100 PNNT at $10.47
The Flyer's Basket Strategy is a high risk classification. It is a contrarian strategy that focuses on stocks that have already suffered a significant share price decline. My monetary exposure is limited to no more than $1,000 in this basket, which is consistent with buying a security that is in the falling knife mode. With that limited exposure, I can afford to be patient for a long time, when and if necessary. Patience has not been easy for me to practice as an investor since I started to invest back in the late 1960s.
Bought 100 ORKLY at $7.285 ($500 to $1,000 Flyer's Basket Strategy)(see Disclaimer):
Snapshot of Trade: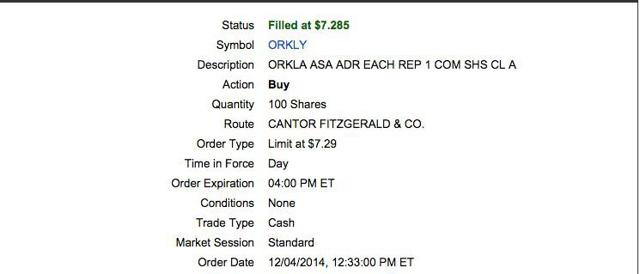 1 ADR Share=1 Ordinary Share
The ADR shares are traded on the U.S. pink sheet exchange. ORKLY Orkla ASA
When the symbol ends in a "Y", rather than an "F", the investor is buying an American Depository Receipt rather than the ordinary shares.
The ordinary shares trade on the Oslo Stock exchange in Norway. Those shares are priced in Norwegian Krone (hereinafter "NOK"). Those shares closed on the day of my purchase at NOK 51.60 -0.40 (-0.77%).

Bloomberg Page for ORK:NO (Oslo Stock Exchange)
Security Description: Orkla ASA ADS (OTCPK:ORKLY) is a conglomerate based in Norway that owns outright or has an interest in a hodgepodge of unrelated businesses. The company is making slow progress in jettisoning, or forming joint ventures for, businesses unrelated to consumer products.
Its most important core business is branded consumer products which "consists of a portfolio of well-known brands . . . that hold mainly No. 1 and No. 2 positions in their categories". About Orkla The primary geographic area for those positions would be in Orkla's home markets of Norway, Sweden, Denmark, Finland and the Baltics, but the company claims to have "good positions in certain product categories in India, the Czech Republic, Austria and Russia".
Consumer products:
Orkla Foods is the most important business with 2013 operating revenues of NOK 9.797 billion. This business is "concentrated" in Orkla's "own strong brands, which largely hold no.1 and no. 2 positions in their home markets"
The Orkla Confectionery and Snacks business reported 2013 revenues of NOK 4.784B. These products are sold in the Nordic and Baltic regions.
The primary service ares for the Orkla Home and Personal products businesses is the Nordic region. The products include detergents, toothbrushes, personal care products, dietary supplements and health products, underwear, socks, painting tools and cleaning products, etc. This grouping of consumer products generated NOK 4.77B in revenues in 2013.
Orkla has a 42.5% interest in Jotun, referred to by Orkla as one of the "world's leading manufacturers of paints, coatings and powder coatings with 58 subsidiaries, four joint ventures and severn associated Companies. Page 23-2013 Annual Report
Jotun Website
The company also owns the Sarpsfoss hydroelectric power plant and has a 85% stake in the hydroelectric facility AS Saudefaldene's. That hydro plant has normal production volume of 2.4TWh. The hydro business reported EBITA of NOK 46M in the third quarter.
Orkla formed a 50/50 joint venture with Norsk Hydro known as Sapa that is the "world's leading aluminum solutions provider" Sapa-Orkla Investments The asset contributions made by Orkla to this JV were greater than Norsk Hydro, so Orkla received NOK 1.8 billion in compensation for this difference.
The company also owns real estate and various investments. Orkla Financial Investments
The company is in the process of divesting Graenges, a maker of roiled aluminum for the heat exchanger industry. Orkla sold a 60% stake in Graenges in an IPO raising Swedish Krona 3.22B. SEK/USD Interactive Chart
Closing Price Day of Trade: GRNG.ST: SEK47.50 -0.50 (-1.04%)
Largest shareholders-Gränges (Orkla shown as owning 23,138,286 shares valued at SEK 1,099,068,585 or about USD146,610,896 on the 12/4/14 exchange rate)
I was glad to see that Orkla sold Orkla Confectionary Brands Russia since I last looked at the company. For most companies, it is best just to stay away from place like Venezuela and Russia.
The FPA Crescent mutual fund, managed by Steve Romick, owned over 23 million ordinary shares as of 6/30/14: Semi-Annual Report at page 14
In the October 2013 Art of Successful Investing conference, hosted by Barron's, Orkla was mentioned as a value stock by Oscar Schafer who believes that the shares "could be worth NOK75 to NOK 80." The shares were then trading a USD equivalent of NOK 45 or $7.63. Schafer references the ongoing efforts to improve profit margins and to the Chairman's 20% stake in the company.
There are SeekingAlpha articles discussing this company. One was published last November and another, more comprehensive one, in June 2013.
Prior Trade: Item # 4 Sold 100 ORKLY at $9 (9/6/14 Post)(snapshot: total return $164.16)-Item # 2 Bought 100 ORKLY at $7.61 (1/13/14 Post)
I also view it as a victory when I profitably exit a position and then buy back the shares at a lower price than the previous purchase.
Chart: The charts for both the ordinary shares priced in NOKs, ORK.OL, and the ORKLY chart provide no solace for a buyer. The ordinary shares have performed better than the USD priced ORKLY due to the weakness in the NOK that flows through into the pricing of ORKLY.
On the day of my purchase, Yahoo Finance had the ORKLY's 200 day SMA line at $8.58 and the 50 day SMA line at $8.01 with the stock in a clear downtrend. So, once again, I am catching a falling knife in the Flyer's Basket risk category.
Dividends: The dividend history can be found at Orkla's website. Dividends are generally paid annually, but there was a special dividend of 5 NOKs per share for the 2010 accounting year. The last payment, which I received for the prior 100 share lot owned, was NOK 2.5 per share which translated into $41.68 for 100 ORKLY shares (250 NOKs).
2014 Annual Dividend on 100 ORKLY Shares: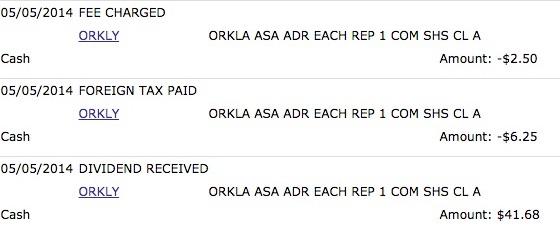 Norway's withholding tax was 15% of the total dividend amount ($41.68) before the annual ADR fee charged by the ADR custodian, generally somewhere in the 1 to 3 cent per share range. I was charged 2.5 cents per share or $2.5 for 100 shares which came out of the total dividend paid by Orkla.
I will not own a foreign security in an IRA when a foreign withholding tax is taken from the distribution. When the distribution is paid into a retirement account, it is not recoverable.
If 250 NOKs were paid as the annual dividend next dividend next year, and the currency conversion was then the same as on 12/4/14, then the USD value would be $35.40, in effect a dividend cut for the owner of ORKLY compared to the 2014 payment, even though the payment in NOKs was assumed to be same.
If I further assume in this hypothetical that the total cost for 100 shares was $729, then the dividend yield with all of those assumptions would be about 4.86% before Norway's withholding tax and the annual ADR custodian fee. That yield would go up or down depending on the exchange rate at the time of conversion from NOKs to USDs.
Recent Earnings Report: The market was disappointed with this report. This report is discussed in a Reuters article that noted that third quarter EBITDA was reported at NOK860M, slightly below the consensus forecast of NOK873M. The shares fell 6% in response to this report. The primary problem was a decline in revenues and EBITA from Orkla Foods.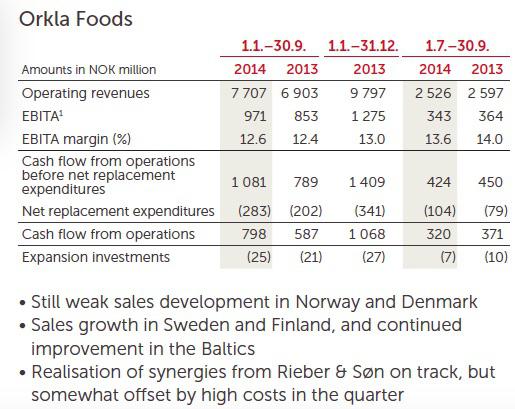 At the time of that earnings release, $1 equaled $6.7172 NOKs.
2013 Third Quarter Presentation
Q3 2014 Results - Earnings Call Transcript | Seeking Alpha
Rational: The dividend will provide some support to the share price at current levels.
The dividend is paid in Krone which will be converted into USDs for the ADS shares. The value of that dividend to an owner of the ADS shares will be impacted by the conversion rate on that applicable date. The dividend is paid annually.
There is some potential here for a turnaround based on the ongoing restructuring and refocusing efforts.
There are assets that can be readily sold to expand the consumer products businesses.
As noted below, currency risk is material, but currency conversion is both a potential risk and benefit. The NOKs value in USDs has already depreciated to the March 2009 lows:
Long Term NOK/USD Chart: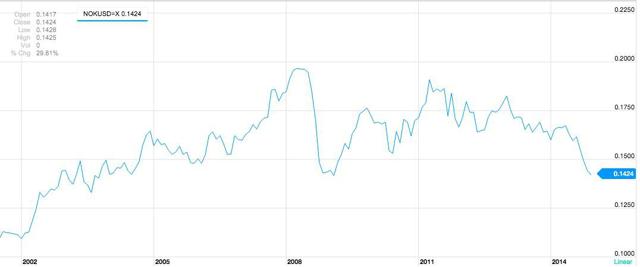 The USD priced shares will outperform the ordinary shares when and if the NOK rises in value against the USD.
Risks: With any foreign stock, currency risk is important. If the Krone fell in value against the USD after my purchase, that decline will flow through to the ADS price.
The Norwegian Krone is widely view as a commodity currency due to the importance of oil revenues in Norway's economy. CNBC; Bloomberg The recent slide in oil has caused a significant slide in the value of NOK against the USD. NOK/USD Interactive Chart (13 year low). On May 9, 2014, 1 NOK would buy about $.1696 and that conversion rate has declined to $.1415 on 12/4/14 or about a 16.57% decline. That decline flows through into the pricing of the the USD priced ORKLY.
Over the past year, the currency conversion decline in the NOK's value has caused the USD priced ORKLY shares to underperform the NOK price ordinary shares by over 12% through 12/4/14.
Orkla's operations in Russia appear to be a problem for the company.
The restructuring, downsizing and refocusing efforts may not produce the hoped for results.
I am not expressing much confidence in Orkla's future by classifying the investment as part of the Flyer's basket strategy which limits my total exposure to $500 to $1,000.
Future Buys and Sells: I am not likely to buy more unless I see significant improvements in revenues and profits. I do not have a price target for selling the shares. As noted above, the stock appears to be undervalued but is undergoing a restructuring process that creates valuation problems. Recent earnings reports have also been disappointing. I am basically nibbling at the shares before it becomes apparent whether or not the company can grow its remaining businesses at a higher than currently anticipated rate.
Closing Prices 12/5/14:
NOK/USD= .1397 -0.0003 (-0.18%)
Disclosure: The author is long ORKLY.
Additional disclosure: Disclaimer: I am not a financial advisor but simply an individual investor who has been managing my own money since I was a teenager. In this post, I am acting solely as a financial journalist focusing on my own investments. The information contained in this post is not intended to be a complete description or summary of all available data relevant to making an investment decision. Instead, I am merely expressing some of the reasons underlying the purchase or sell of securities. Nothing in this post is intended to constitute investment or legal advice or a recommendation to buy or to sell. All investors need to perform their own due diligence before making any financial decision which requires at a minimum reading original source material available at the SEC and elsewhere. Each investor needs to assess a potential investment taking into account their personal risk tolerances, goals and situational risks. I can only make that kind of assessment for myself and family members.