This is an excerpt from a blog published earlier today: Averaged Down-Bought 50 GSPRC at $19.63/High Risk Junk Bond Strategy: Bought 2 Northern Oil & Gas 8% Senior Unsecured Bonds Maturing 2020 at 73.9
I have a diversified and balanced worldwide portfolio. Within my portfolio design, I will have a weighting in long term investment grade bonds, where I am primarily addressing the possibility of a Japan economic scenario occurring in the U.S.
When low inflation alternates with persistent periods of deflation, long term, high quality bonds is one of the best investment options. I do not believe that the Japan scenario is likely for the U.S., where inflation has been the norm since the Great Depression.Consumer Price Index, 1913- | Federal Reserve Bank of Minneapolis; Consumer Price Index for All Urban Consumers: All Items-St. Louis Fed
I do view the odds of the Japan scenario as increasing, as inflation expectations in the U.S., as reflected in ten break-even spreads of the 5 and 10 year TIPs, continue to decline and deflationary forces continue to build. Those deflationary forces include the decline in commodity prices, a worldwide labor surplus, and the deleveraging process.
The break-even spread is the annual average increase in CPI necessary for the TIP buyer to break-even with the buyer of a non-inflation protected security, and represents the market's forecast for the average rate of inflation for a particular period of time.
As of 12/19/14, the average annual CPI forecast over the next five years is an anemic 1.27%, and that estimated rate was over 2.3% in February 2013: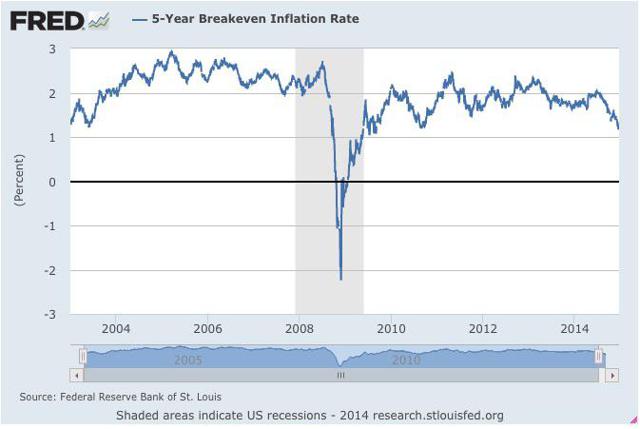 5-Year Breakeven Inflation Rate-St. Louis Fed
10-year Breakeven Inflation Rate-St. Louis Fed
Inflation and inflation expectations are declining without question, but the market frequently assumes that current conditions will last indefinitely into the future.
The more rational long term prediction for the U.S., based on our history since the early 1900s, is for an average annual 3% inflation rate, with a depression causing temporary deflationary conditions and unsound fiscal and/or monetary policies contributing to periodic bouts of problematic inflation.
The security that I am about to discuss addresses the unexpected problematic inflation scenario and the deflation/low inflation scenario in one security.
Averaged Down: Bought 50 GSPRC at $19.63 (see Disclaimer): My prior purchase was at $19.95, so this is an insignificant price change for an average down.
Snapshot of Trade: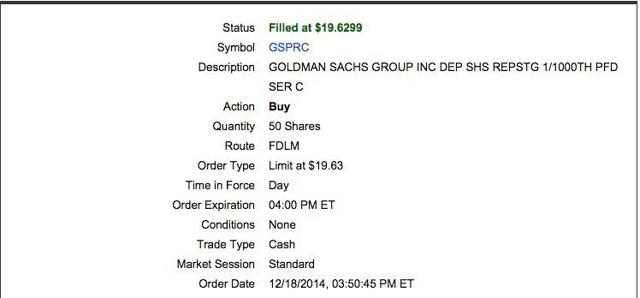 Security Description: The Goldman Sachs Group Preferred Series C (NYSE:GS.PC) is an equity preferred stock issued by the Goldman Sachs Group Inc. (NYSE:GS) that pays non-cumulative and qualified dividends at the greater of 4% or .75% above the 3 month Libor rate on a $25 par value. This security will be senior only to common stock.
The minimum coupon provides a measure of deflation/low inflation protection while the spread to the 3 month Libor rate addresses the problematic inflation scenario.
This security falls under my classification of floating rate equity preferred stocks. I discuss their advantages and many disadvantages in this Gateway Post: Stocks, Bonds & Politics: Advantages and Disadvantages of Equity Preferred Floating Rate Securities That post also contains snapshots of my profits and losses greater than $30. The current total net profit stands at $11,752.05. My largest unrealized gain is in SANPRB, an equity preferred floating rate stock issued by Santander Finance that pays the greater of 4% or .52 above the 3 month Libor rate.
Historical 3 month Libor Rates: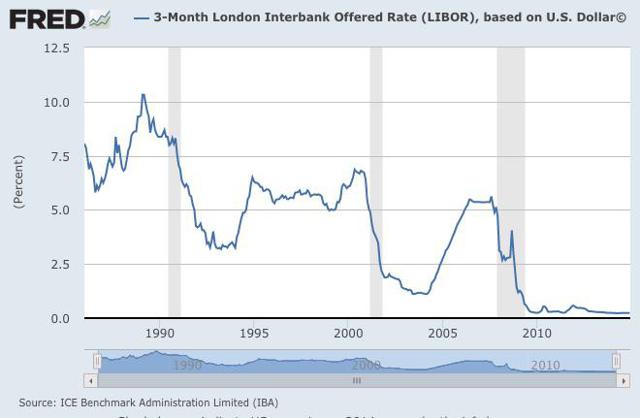 3-Month London Interbank Offered Rate (LIBOR)
An increase in the GSPRC coupon above the 4% minimum will not occur until the 3 month Libor rate exceeds 3.25% during the relevant computation period.
It would not be reasonable at this time to predict a coupon increase for several years. That probability is one disadvantage for this security compared to a fixed rate coupon from the same issuer.
Comparison to a Fixed Coupon GS Preferred Stock: For example, Goldman Sachs does have a 6.2% fixed coupon preferred that is functionally equivalent with GSPRC except for the coupon. GSPRB Prospectus Both are non-cumulative, potentially perpetual equity preferred stocks with $25 par values, and are in pari passu with one another in the capital structure.
The Goldman Sachs Group Inc. Series B preferred stock closed at $25.1 on 12/19/14, which gave that security about a 6.17% current yield, slightly below the coupon amount due to the premium price above the $25 par value.
GSPRC closed at $19.53 on 12/19/14, which is equivalent to about a 5.12%. In both calculations, I am not factoring in the impact of a brokerage commission.
The investor has to accept a slightly lower yield now in exchange for the interest rate and inflation protection contained in the float provision. That differential in current yields, which was about 1.05%, is similar to an insurance policy. The investor is in effect paying a current price for a type of insurance against an unexpected rise in short term rates caused by a FED response to problematic increases in both current and anticipated inflation. Unlike the fixed rate coupon, the floater will increase the coupon rate after the float provision is activated by a sufficient increase in the 3 month Libor rate.
Just for illustration purposes, I am assuming that the 3 month Libor rate was 6% during the relevant computation period. With the .75% spread, the coupon would become 6.75%, higher than the 6.25% of the fixed rate preferred GSPRB. More importantly, the yield at a constant total cost per share of $19.53 would increase to 8.64%. At a 4% 3 month Libor rate, the yield would increase from 5.12% to 6.08%.
List of Goldman Sachs Preferred Stocks
There is one other pure fixed coupon preferred, GSPRL, which has a 5.95% fixed rate coupon.
There are currently 3 fixed-to-floating rate GS preferred stocks. I view that type of security as a gimmick. I discuss my reasoning in Item # 1 Bought 100 VRP at $24.89.
I have bought and sold one of them. (see discussion in Item # 4 Bought: 50 GSPRJ AT $22.78)
Crossover Point in Yield-4.07% 3 Month Libor Rate: So the crossover point, where the current yields for GSPRB and GSPRC become similar, based on the differential in their constant cost per share numbers, is around a 4.07% 3 month Libor rate (4.07% + .75%=4.82% coupon x. $25 par value=$1.205 per share annual dividend divided by $19.53 total cost per share=6.17%)
As the Libor increases over 4.07%, the differential in favor of GSPRC will increase.
Stopper Clause: The stopper clause is the legal mechanism that assures the preferred stock owner that their dividend will be paid in full for as long as a cash dividend is paid on the common shares. As soon as that common share cash dividend is eliminated, however, there is no remaining legal impediment to prevent the elimination of the non-cumulative preferred dividend.
The prospectus does contain a standard "stopper" provision that would prevent Goldman Sachs from paying a cash dividend to the common shareholders and eliminating its non-cumulative preferred stock dividends. (see pages S-12 to S-13). Once the common dividend is eliminated, there would be nothing legally that could stop GS from eliminating the GSPRC dividend.

However, as a practical matter, it would be unwise for Goldman Sachs to eliminate the preferred stock dividends to preserve capital. If you were an institutional client, what kind of message would such an elimination send to you?
For an investment bank, dependent on customer confidence in its financial viability, the only practical course would be to pay the preferred stock dividend until the company does a Lehman Brothers. A failure to pay prior to a bankruptcy filing could easily cause that result.
Prior Trades: Bought: 50 GSPRC at $19.95 (11/6/13 Post)
Related Preferred Stock Trades: I currently own 150 GSPRD, a functionally equivalent floating rate preferred stock. Snapshots of gains from trading GS floating rate preferred stocks can be found in the Gateway post for this topic. The largest realized gain to date was just $257.24 from a 100 share lot of GSPRD. The other gains have been in the $40 to $100 range. Until I have a better feel as to the timing of a coupon increase, I am in a trading mode for the equity preferred floaters except for my SANPRB shares due to their low cost basis.
Recent Earnings Report: For the 2014 third quarter, GS reported net earnings of $2.24B or $4.57 per diluted share, up from $2.88 in the 2013 third quarter. SEC Filed Press Release
Rationale: The main advantages of this type of security are as follows: (1) the security pays qualified dividends and (2) provides a measure of deflation/low inflation and problematic inflation in the same security. The deflation/low inflation scenario is addressed by the minimum coupon, while the protection for problematic inflation involves the LIBOR float activation. By buying at a discount to par value, I juice the yield in both scenarios.
At a total cost of $19.63, the minimum yield will be about 5.01%. There is no maximum coupon. If the coupon becomes too high for GS due an increase in the LIBOR rate, then the security can be called at the $25 par value, which will generate a decent percentage profit, plus the accrued dividend at the time of any such redemption.
The discount to par value has a built in profit potential when and if a scenario arises that would cause GS to redeem at par value. That potential does not exist with the fixed coupon preferred GSPRB which is currently selling at a premium to par value.
I currently have no concerns about GS paying the preferred stock dividend. It is paying a common stock dividend which would have to be eliminated before GS could eliminate its non-cumulative preferred stock dividends.
Goldman Sachs Group Dividend Date & History
Risks:
(1) Highly Volatile/Heightened Risk/Non-Cumulative: I started to invest in some of these securities during the Near Depression when they could be purchased at greater than 50% discounts to their $25 par values. The downside risk is zero as shown by what happened to those unfortunate souls who owned LEHPRG, a Lehman equity preferred floater, that is now worthless of course.
An equity preferred stock is only superior to common stock. It will be junior in the capital structure to all bonds. Given that low priority, the non-cumulative dividends paid by many of them, and the highly leveraged balance sheets of financial institutions issuing them, there will be no recovery in a bankruptcy for an owner of an equity preferred stock. Investors realize that would be the likely outcome and will behave irrationally when there is a whiff of a possible financial collapse. (a 75% chance of bankruptcy priced into the preferred stock when a rational number would be less than 10%).
BAC equity preferred stocks, for example, could have been bought for less than $10 even in 2009. I bought ZBPRA, a Zions equity preferred floater for $7.8. None of those equity preferred floaters missed a dividend payment.
In the October 2008 to March 2009 period, GSPRC pierced at times the $10 price level. GS.PC Stock Chart A long term chart highlights the risk. Over the past two years, this preferred stock has traded mostly in the $20 to $24 range, with occasional breaks to $18 and crosses over $24. The last rally over $24 peaked at $24.97 in May 2013.
Periodically, these stocks will hit an air pocket and just fall as if a bankruptcy filing was imminent. I am just use to it.
I discuss an example from August 2011: Item # 1 Fear and Enhanced Volatility in Certain Classes of Income Securities
The low coupon floating rate preferred stocks declined broadly when interest rates rose starting in May 2013. Short term rates remained anchored near zero and inflation expectations were trending down. Under those circumstances, the was no anticipation of a coupon increase and other credit instruments become more competitive in their yields.
2. No Coupon Bump Likely for Several Years: The likely continuation of ZIRP into 2015, and the probable slow pace of the subsequent tightening cycle after ZIRP's end, will combine to keep the 4% minimum coupon as the applicable rate for several years. It would take a rise in the 3 month LIBOR rate to over 3.25% during the relevant computation period to trigger any increase in the coupon. I do not currently see that happening before 2017. However, investors may be too sanguine now about future inflation prospects.
3. Zero Value in a Bankruptcy: If GS goes bankrupt, I will not be asking anyone why my equity preferred stocks are now worthless pieces of paper.
Future Buys and Sells: Most likely, I am full owning 250 shares of a GS preferred stock. If I get a pop in either GSPRC or GSPRD, I will consider lightening up some.
SeekingAlpha does not have symbols for preferred stocks. I currently own the following floating rate equity preferred stocks that pay the greater of a minimum coupon or a spread over the 3 month Libor rate: GSPRC, GSPRD, HUSIPRG, SANPRB, and MSPRA. I discussed a recent purchase of MSPRA in a SA Instablog: Equity Preferred Floating Rate Stocks: Added To MSPRA At $19.87 - South Gent | Seeking Alpha I have bought and no longer own several others. I also own SCEDN that is currently paying a 1.45% spread over the 30 year treasury bond. Prospectus Supplement; BOUGHT 50 SCEDN AT $84 (10/13/09 Post)
Disclaimer: I am not a financial advisor but simply an individual investor who has been managing my own money since I was a teenager. In this post, I am acting solely as a financial journalist focusing on my own investments. The information contained in this post is not intended to be a complete description or summary of all available data relevant to making an investment decision. Instead, I am merely expressing some of the reasons underlying the purchase or sell of securities. Nothing in this post is intended to constitute investment or legal advice or a recommendation to buy or to sell. All investors need to perform their own due diligence before making any financial decision which requires at a minimum reading original source material available at the SEC and elsewhere. Each investor needs to assess a potential investment taking into account their personal risk tolerances, goals and situational risks. I can only make that kind of assessment for myself and family members.