This is an excerpt from a blog published earlier today: Bought Back 100 NRBAY at $11.56/Extreme High Risk Junk Bond Strategy: Bought 1 Petroquest Energy 10% Senior Unsecured Bond at $91.638 Maturing 9/1/17
Bought Back 100 NRBAY at $11.56 (see Disclaimer):
Snapshot of Trade: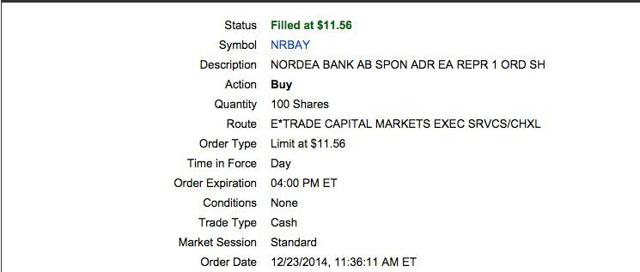 Currency Conversion: Nordea's ordinary shares are priced in Swedish Krone. The ADR's are available on the pink sheet exchange in the U.S. where shares are purchased in USDs. NRBAY Nordea Bank AB
1 ADR=1 Ordinary Share
To know whether the ADR shares are being priced correctly, I need to know the closing price on the Stockholm exchange and then convert that price from Swedish Krone into U.S. Dollars:
I did a currency conversion based on the ordinary shares priced in Swedish Krona. The shares closed at SEK90.6, but were trading slightly lower when I made my purchase.
NDA:Stockholm-Nordea Bank AB - Bloomberg

I set my limit price slightly below the then existing USD equivalent for the ordinary shares priced in SEKs.
Prior Trade:

Item # 6 Sold 100 NRBAY at $11.265 (2/6/13 Post)-Item # 2 BOUGHT 100 of the ADR NRBAY at $9.36 (10/10/12 Post)
I regretted selling those shares, particularly since they continued to rise after I exited the position, topping out near $15 last June: NRBAY Interactive Stock Chart
Company Description: Nordea Bank is the largest financial services group in Northern Europe operating through approximately 800 branches primarily in Denmark, Finland, Norway, and Sweden. Some branches are in Russia, the three Baltic countries.
Nordea is currently rated Aa3 by Moody's and AA- by S & P. Ratings | Nordea.com
Company Website: Nordea
At the time of my purchase, the P/E at the SEK90.6 price, based on estimated 2014 earnings, was 11.32 with a P/B ratio of 1.29. (Bloomberg Page for SEK Priced Shares)
I took a snapshot of the income and balance sheet items comparing 2013 with 2012: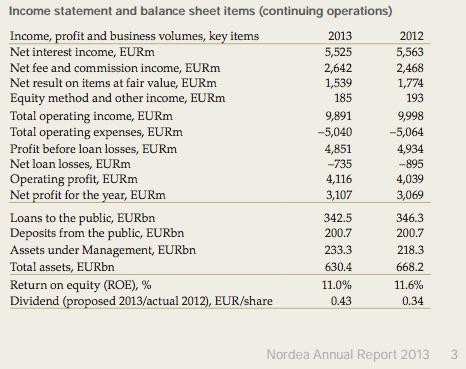 The return on equity numbers remained over 8% during the recent Near Depression:

Page 2 Nordea 2013 Annual Report
Last Earnings Report: This snapshot contains the basic financial metrics: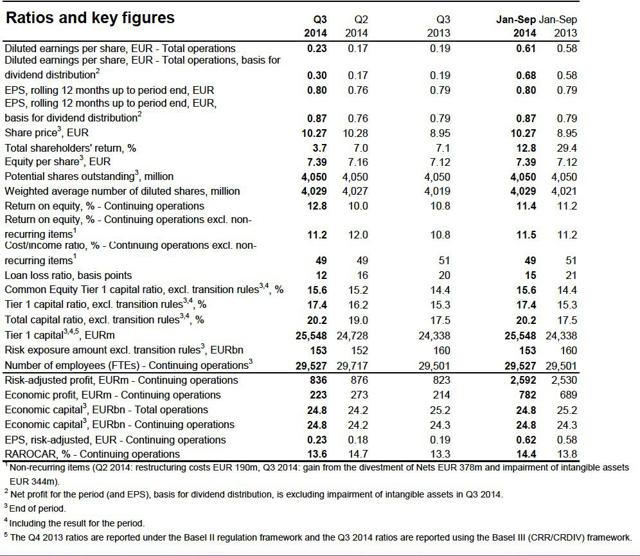 Third Quarter Results 2014 | Nordea
Earnings per share, ex items, increased to €.30 from €.19 in the 2013 third quarter and to €.68 from €.58 for the ninth month period ending 9/30/14. The capital ratios are good in my opinion. The Nordea efficiency ratio, defined as costs to income excluding extraordinary items, is shown at 49%. That would be significantly lower than big U.S. banks and consequently much better.
Loan losses declined to €112M or .12% of total loans and have been trending down: Page 12, Media analyst presentation Q314.pdf
Tier 1 Capital Ratio Chart: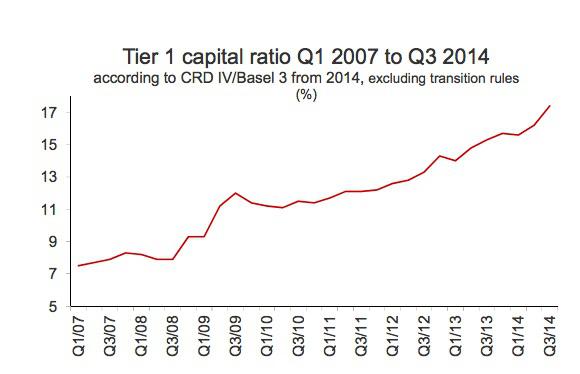 Compare to ROE Averages for U.S. Banks: Statistic; Return on Average Equity for all U.S. Banks-St. Louis Fed
Dividends: The current dividend policy is to pay out more than 40% of the net profit for each year. That policy will result in some variation in the dividend rate. The dividend is paid annually. The last ex dividend date was March 21, 2014.
The dividend paid in 2014 was for 2013 and amounted to SEK3.84, up from SEK2.93 for 2012 and SEK2.32 for 2011. Dividend | Nordea.com There was a lower than normal payout ratio in 2008 with a SEK2.17 dividend, down from SEK4.7 for 2007.
The dividend for the ADR will depend on the exchange rate at the time of conversion. If the dividend for 2014 was SEK4, and that amount was converted at the same exchange rate as prevailing on 12/23/14, the USD equivalent would be about $.5135 per ADR share or a 4.44% dividend yield at a total cost of $11.56 per share.
I can not compute the dividend yield until Nordea declares the dividend for 2015 early next year and then I would need to have the conversion rate too.
If I went to a high point in the SEKs value against the USD, say April 26, 2011, 4SEKs would be worth about $.6563 and then the dividend yield would be higher at about 5.68%.
The SEK is already near a the 5 year low set around 5/30/10. SEK/USD Interactive Chart
If I took the exchange rate for 5/25/10, which looks like the low point over the past 5 years just eyeballing the five year chart, a 4SEK per share dividend payment would buy $.505, which would be a slight dividend cut through currency exchange from the exchange rate on 12/23/14.
I go through this exercise to demonstrate that the price of the ADR and the value of the dividend are both impacted by the currency exchange factor.
Rationale and Risks: Nordea appears to me, sitting at a desk in Tennessee, to be one of the best European banks, probably the best large bank in Europe. Notwithstanding stagnation in its primary markets, Nordea is still generating good numbers. There is also decent dividend support and the valuation is reasonable at slightly over 11 times 2014 estimated earnings.
Economic conditions in Nordea's home markets are stagnating. It remains to be seen whether those Nordic countries will tip over into recessionary conditions. Economic downturns are unfavorable for banks which is an obvious point.
The currency conversion issue has been a major negative recently for owners of the Nordea ADR priced in USDs as reflected in the chart below.
Comparison Chart: This is a one year comparison chart featuring the ordinary shares priced in SEKs (blue line) and the ADR priced in USDs (brown line). When looking at this chart, I see a significant price divergence, starting in the 2014 summer, that would be caused by the SEK losing value against the USD.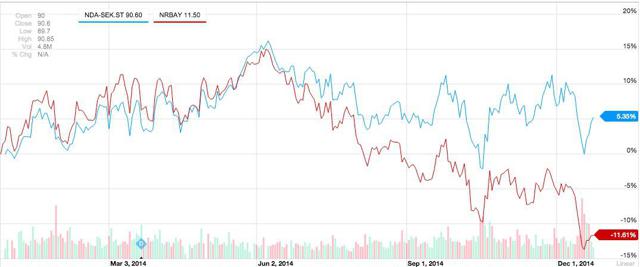 NDA-SEK.ST Interactive Stock Chart
SEK/USD Interactive Stock Chart
The USD may continue its parabolic upside move which would be bad news for me now as an owner of NRBAY.
I am willing to accept the currency risk. I prefer to buy a foreign security when my USDs are strong relative to the ordinary shares foreign currency. And, it is a bonus from my viewpoint when I have the tailwind of the strong currency and a decline in the ordinary shares for non-fundamental reasons. The ordinary shares have declined almost 10% since 6/9/14: NDA-SEK.ST Interactive Stock Chart
An investor needs to understand the currency risk thoroughly before an intelligent decision can be made on whether to accept or reject that risk. The risk can be a benefit too when the SEK rises in value against the USD after my purchase. If the SEK gains in value at the same time as a rise in the ordinary shares price in SEKs, then an owner of NRBAY will outperform the owner of the ordinary shares priced in SEKs. The worst possible scenario, the infamous double whammy, is a continued decline in the foreign currency occurring with a decline in the ordinary shares priced in SEKs.