This is an excerpt from a blog published earlier today: LINN Energy 2020 Senior Unsecured Bond/CHN Year End Dividend Received/Bought 100 of the ETF GYLD at $23.84/Sold Highest Cost NBB at 21.1 Roth IRA/Sold Highest Cost 150 FBF at $22.42 Roth IRA
I have also published an update to my regional bank basket:Regional Bank Basket Update as of 1/2/15
Bought 100 GYLD at $23.84 (see Disclaimer): This ETF is bought primarily for income generation and diversification.
Snapshot of Trade: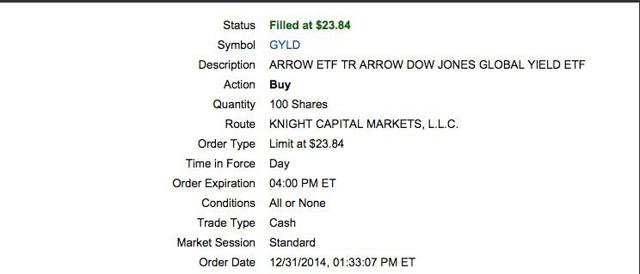 Security Description: The Arrow Dow Jones Global Yield ETF (NYSEARCA:GYLD) attempts to track, before fees and expenses, the Dow Jones Global Composite Yield Index.
That index is comprised of multi-asset classes across five global yield categories, as noted in the snapshot below.
Allocation and Yield Information as of 12/30/14:

The corporate and sovereign debt sub-indexes are rebalanced and reconstituted quarterly. The equity, real estate and energy sub-indexes are rebalanced and reconstituted annually in December. Each sub index has 30 securities. The combination of the 5 sub-indexes results in the underlying index to normally have 150 securities. Prospectus at page 8
The global sovereign debt exposure is in what I would call riskier sovereigns, either on a credit or currency risk basis or both. That can be observed by reviewing the list of holdings which includes debt issued by Turkey, Venezuela, South Africa, Panama, Hungary, and Columbia.
Those sovereigns at least pay more than the developed nations, whose ten year bonds are making a run toward zero.
Sovereign 10 Year Bond Yields as of 1/2/15:
Austria .657%
Belgium .768%
France .78%
Germany .50%
Japan .33%
Spain 1.52%
U.K. 1.72%
Global Government Bonds-WSJ.com
GYLD 2014 Monthly Dividend Payments: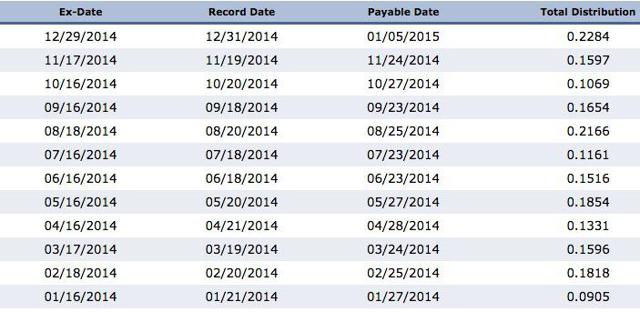 I took a snapshot of some holdings with the weightings as of 12/30/14:
Holdings (equity=57.88%/fixed income 42.13% as of 12/30/14)
This sample list of GYLD's holdings points to the currency risk inherent in this ETF and explains part of the recent swoon in the share price.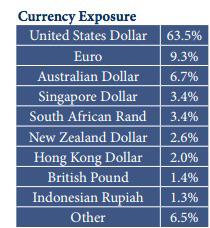 Fact Sheet Data as of 9/30/14.pdf
The expense ratio is too high at .75%, which I view negatively for this kind of ETF.
Semi-Annual Report Period Ending July 31, 2014.pdf
The USD is showing no signs of becoming fatigued as a result of its steep climb up. The following charts highlight the declines in the currency referenced first against the USD.
EUR/USD Interactive Chart (Euro)
AUD/USD Interactive Chart (Australian Dollar)
GBP/USD Interactive Chart (British Pound)
ZAR/USD Interactive Chart (South Africa Rand)
NZD/USD Interactive Chart (New Zealand Dollar)
TRY/USD Interactive Chart (Turkish Lira)
An article published at the WSJ noted that the USD just hit an 11 year high against a basket of 16 foreign currencies.
The fund also had a significant exposure to MLP E & P companies. In that semi-annual report, the fund shows a 11.8% weighting in "oil and gas" securities that include several MLP E & P companies (e.g. BreitBurn Energy Partners, Legacy Reserves, Linn Energy, and Memorial Production Partners). Those securities have already been crushed in price and may have recovery potential later in 2015.
The MLP E & P companies rallied some last Friday after both LINN Energy and Breitburn Energy Partners cut their distributions and 2015 CapEx budgets.
As of 12/30/14, the weighting in Linn and BreitBurn common units was just .25% and .22% respectively. In other words, a lot of the damage to net asset value occurred after I sold GYLD at over $28 per share and prior to buying back a 100 share lot at less than $24 .
GYLD Page at Morningstar
Prior Trades: I have two prior round trips.

Item # 4 Sold 100 GYLD at $28.32 (8/9/14 Post)(total return +323.22 or 12.1%)-Item # 2 Bought 50 of the ETF GYLD at $27.03 (1/30/13 Post) and Item # 4 Added 50 GYLD at $26.73 (3/27/13 Post)

Item # 6 Sold 50 GYLD at $28.09-Roth IRA (7/19/14 Post)(total return +$154.9)-Item # 2 Bought 50 of the ETF GYLD at $27.13 Roth IRA (1/30/13 Post)
Total Realized Gains: $179.58
Total Return: $657.7
Dividends as a % of Total Return=72.7%
Generally, a total return based 70% to 80% on dividends with the remainder in share capital gains is viewed as optimal for this kind of security, with a hoped for annualized total return of 10% before taxes and inflation.
Rationale and Risks: I view this ETF to be a potential total return vehicle. Most of an acceptable return can be generated by the dividend.
As with any investment generating a 7.5%+% or higher yield, there are risks that are illustrated by this ETF's recent performance:
I also achieve diversification with this type of ETF. Except for several U.S. REITs owned by GYLD, there is no overlap with my individual security holdings. My current equity REIT holdings can be found here.
GYLD Interactive Stock Chart (shares closed at $23.04 on 12/15/14 and at $28.34 on 7/24/14)
I can only manage those risks by limiting my exposure and trading the security to harvest capital gains in addition to income generation. That is easier said than done. I have been successful so far in managing the GYLD risk, but it remains to be seen whether my latest re-entry will result in positive total return in excess of the dividend or some lower amount.
GYLD would be successful from my perspective with a $1 per share net profit on the shares after collecting 12 monthly dividends. So add about $16 to a $100, and I would need to sell GYLD at $1.16 per share higher than $23.84 or $25. That would work out to be close to a 11.7+% total return, with the exact return depending on the dividends paid during 2015. I just used the sponsor's 7.51% SEC yield based on the 1/2/15 closing price which was higher than my purchase price, to arrive at a ballpark number.
The sponsor describes the "principal investment risks" starting at page 3 of the Prospectus.
Currency risk and the decline in MLP E & P companies have contributed to the $4.48 per share decline (-28.16%), since I sold shares a few months ago at $28.32. Needless to say, that kind of share decline can wipe out several years of dividends.
The 10 year treasury closed at 2.12% yield on 1/2/15. At that rate, money takes about 33.04 years to double before taxes and inflation. Estimate Compound Interest
Inflation is running low now, but the average historical rate is close to 3%. For most people, there are considerable long term risks in generating a compounded 2% return on investments. Except for the super rich, that kind of compounded rate of return will simply be substantially insufficient to meet the investor's needs, ranging from sending children to college or paying for expenses after retirement.
A 7.5% annualized total return is okay, but is hardly close to shooting the lights out. At that rate, money doubles in about 9.58 years before inflation and taxes.
My general goal is to grow my pile in excess of 10% per year. Some years will be substantially higher than 10%, even over 30% on occasion, and much lower on occasion too. At 11%, money doubles in 6.64 years. That will be an acceptable long term compounded rate of return for most folks who are not frivolous spenders and who start investing early enough to give the pile time to grow at a decent compounded rate.
I did a calculation, where I started with $10,000 and added only $100 per month. I assumed an 11% rate, 40 years to grow and compounding once a year. The end result was $1,348.199.95. Compound Interest Calculator | Investor.gov At a 2% rate, I ended up with $94,562.78.
Future Buys: I will consider buying back the 50 shares sold in the Roth IRA at $28.09 when and if the price falls below $24.
I do not have a price target. Generally, I am satisfied with this kind of investment when I can generate a 10% annualized total return.
Closing Price 1/2/15: GYLD: $24.08 +0.21 (+0.88%)
Disclosure: The author is long GYLD.
Additional disclosure: Disclaimer: I am not a financial advisor but simply an individual investor who has been managing my own money since I was a teenager. In this post, I am acting solely as a financial journalist focusing on my own investments. The information contained in this post is not intended to be a complete description or summary of all available data relevant to making an investment decision. Instead, I am merely expressing some of the reasons underlying the purchase or sell of securities. Nothing in this post is intended to constitute investment or legal advice or a recommendation to buy or to sell. All investors need to perform their own due diligence before making any financial decision which requires at a minimum reading original source material available at the SEC and elsewhere. Each investor needs to assess a potential investment taking into account their personal risk tolerances, goals and situational risks. I can only make that kind of assessment for myself and family members.