This is an excerpt from a blog published earlier today: Stocks, Bonds & Politics: Added 300 of the Bond CEF ACG at $7.5-Roth IRA/Added 100 of the Stock ETF EWS at $12.8/Bought 50 BMLPRJ at $20.25
In this post, I will only be discussing the purchase of the leveraged bond closed end fund known as the AllianceBernstein Income Fund (NYSE:ACG).
When designing a portfolio, I have to recognize that mere mortals can not predict the future, but only assign possibilities and probabilities to a variety of different and frequently contradictory scenarios. The only possible course is to gather as much past and current data as possible and to evaluate it intelligently and without pre-existing biases. Then, just give it your best shot.
The purchase of 300 ACG shares is tailored for what I call the Japan Scenario, a persistent long term period of economic stagnation accompanied by alternating periods of mild deflation and abnormally low inflation. I am assigning a low possibility to this scenario developing in the U.S.
There are only a few investment categories that will work in the Japan Scenario.
The most likely beneficiary would be high quality bonds with long maturities.
Another may be an industry sector that has some pricing power during that period. I would focus on consumer staples, who would also have lower commodity costs, and the healthcare sector particularly pharmaceutical companies who are able to discover and bring to market blockbuster drugs.
It would also be important to avoid debt, which could easily become increasingly difficult to service, as incomes stagnant or decline and financial crises and recessions become more frequent and probably deeper.
Since 1955, there was only one year when the government reported a deflation number and that was in 2009. Consumer Price Index, 1913- | Federal Reserve Bank of Minneapolis Even in that year, CPI decreased only .4%.
The problem since the Great Depression has not been deflation, but bouts of problematic inflation. It is really hard to look at a long term CPI chart and develop a need to start breathing into a paper bag worrying about deflation.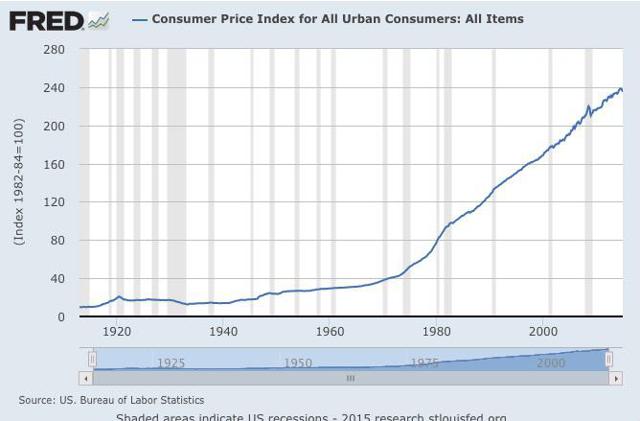 Consumer Price Index for All Urban Consumers 1913-St. Louis Fed
The recent substantial drop in crude oil prices was sufficient to tip Europe into a .2% Y-O-Y deflation number and to reduce the Y-O-Y CPI to just +.8, though core CPI rose 1.6%. Consumer Price Index Summary
On a non-seasonally adjusted annual basis for the U.S., food prices rose 3.4%; the cost of shelter increased 2.9%; the rent index rose 3.4%; the medical care index accelerated at 3% and the food category that includes meat, poultry, fish and eggs rose 9.2% (veal and beef rose 18.7%). My Blue Cross insurance premium rose 18%. I am curious why so many are seeing deflation everywhere based on these numbers, taking into proper context the strong and probably temporary downward pressure resulting from the dramatic decline in crude oil prices and the continued improvement in the U.S. job market and real GDP growth.
The deflationary pressures due to a deep recession caused by a financial crisis, which came close to a worldwide Depression, are understandable. A recovery from such events takes longer than from garden variety recessions, as noted in the research of Reinhart and Rogoff.
New home construction, which was at the epicenter of the recent financial crisis, is understandably slow to regain its sea legs and has not contributed to a recovery as in the past.
The Stock Jocks do not see deflation becoming rooted in either the U.S. or Europe.
The herd opinion among bond investors is that the Japan Scenario is a done deal for Europe and highly likely long term for the U.S.
As I have said in the past, bond investors have difficulty seeing beyond the tips of their noses. Those investors were predicting problematic inflation for decades in the 1980s when it was obviously irrational to do so. That can be seen simply by comparing the annual inflation numbers starting in 1982 with the 30 year treasury yield.
The yield now is close to 2.44%, which is consistent only with a long term low inflation/mild deflation economic scenario. Daily Treasury Yield Curve Rates
In 1983-1984, with inflation falling into the low single digits in a clearly successful effort by the FED to slay the problematic inflation demon, bond investors were pricing a 30 year treasury as high as 13.8%. What was the real rate of return in reality over the next 30 years?
30-Year Treasury Constant Maturity Rate-St. Louis Fed
It was just bizarre. Why anyone places faith in these long term forecasts embodied in bond prices is difficult to explain in anything resembling a rational manner.
It is just a fact that long term bond prices were mis-priced for over a decade back in the 1980s due to the inability of bond investors to even evaluate sensibly current data that would have pointed them in the opposite direction.
The stock investors came to the correct conclusion in August 1982 that problematic inflation was not in the future, and that realization started an 18 year romp in the stock market with some drama along the way. The annualized total return for the S & P 500, adjusted for inflation, was 15.506% from July 1982 through March 2000. S&P 500 Return Calculator
What do stock investors see now? There is some chutzpah involved when I go into a mind reading mode, but I have a long standing opinion on this subject.
A condition precedent to a long term secular stock bull market is persistent and long term low inflation, similar to the numbers reported between 1949 to 1966.
It is important to be not too hot or too cold.
If the U.S. started growing at a 5% real GDP rate, the Fed would eventually strangle the economy. Long term and persistent deflation is probably as bad or worse than problematic inflation that was the underlying cause of a horrific bear market in stocks and bonds for 18 years (1966 to 1982), my formative years as an investor.
But, maybe the bond investors have got it right now, so I will play along with a small part of my portfolio. Many claim that they are smarter than stock investors. They did after all give us the "innovative" products like CDOs Squared that nearly precipitated another Great Depression and something called the gaussian copola function, a brilliant formula that just about sank Wall Street and appropriately labeled a recipe for disaster. The fact that none of it had even a modicum of common sense attached to it, and all of its was divorced from reality, were after all just picayune points made by the hoi polloi.
That brings me to ACG.
Bought 300 ACG at $7.5-Roth IRA (see Disclaimer): This purchase brings me up to 600 shares.
Snapshot of Trade:

Security Description The AllianceBernstein Income Fund (ACG) is a leveraged closed end bond fund that is weighted in investment grade rated bonds, and has close to a 60% portfolio weighting in U.S. treasuries as noted below. This fund also has a significant weighting in junk rated bonds.
Sponsor's Website: AllianceBernstein Income Fund, Inc.
The sponsor claims that the effective duration was 5.65 years as of 12/31/14.
The general rule of thumb is that the securities owned by a bond fund with a 5.65 year duration will decline 5.65% for each 1% rise in interest rates.
Bond Fund Duration: Vanguard Publication
Interest Rate Risk and Bonds: FINRA Publication
A 2% rise in interest rates would offset approximately 2 years of dividend payments. Interest rate risk is material.
Data on Date of Trade 1/15/15:
Closing Net Asset Value Per Share: $8.46
Closing Market Price: $7.49
Discount: -11.47%
Average Discounts:
1 Year: -10.68%
3 Year: -10.4%
5 Year: - 9.87
Sourced: CEFConnect Page for ACG
Last SEC Filed N-Q: AllianceBernstein Income Fund (holdings as of 9/30/14; cost of investments=$2.912+B with a market value of $2.995+B)
The largest weighting will be in U.S. Treasury securities:
The unrealized gain in the fund's U.S. treasury holdings represented about 48% of the total unrealized gains as of 9/30/14.
Credit Quality as of 12/31/14: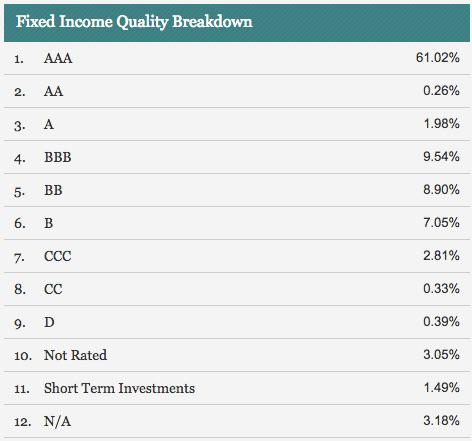 While the fund in weighted in "AAA" due to the treasury holdings, there is a significant exposure to junk rated securities that provide more yield but also exposes the fund to credit risks.
The fund also assumes some foreign currency risks with foreign bonds priced in local currencies.
Leverage is high at 36.68% as of 12/31/14. The fund does not specifically state whether or not its duration number is adjusted for leverage which increases duration.
When looking at those historical average discount numbers, the only conclusion to draw is that this fund sells at a persistent discount close to 10%. This pricing may of course change. A continued consistent trend removes the potential of a market price gain due to a significant narrowing of the discount after purchase.
A common trading technique is to buy a closed end fund when it is selling at a substantially larger discount than the historical averages for the past 1, 3 and 5 years and then to consider selling or paring the position when the discount narrows to the historical range. Hopefully, the net asset value per share has also materially increased adjusted for the dividend payments. In that kind of optimal scenario, the investor makes money in three ways: (1) the narrowing of the discount to net asset value after purchase; (2) dividend payments; and (3) an increase in net asset value per share which hopefully will be reflected entirely in the market price.
Last SEC Filed Shareholder Report: AllianceBernstein Income Fund (semi-annual for the period ending 6/30/14)
Last Monthly Update: AllianceBernstein Income Fund Releases Monthly Portfolio Update
ACG is rated 1 star by Morningstar even though the analyst refers to the fund as a "solid core option".
The expense ratio is .63% according to Morningstar.
Prior Trades: I purchased another 300 share a few weeks ago: Bought 300 ACG at $7.53 (10/17/14 Post)
Item # 6 Sold 150 ACG at $7.54-Regular IRA (1/28/14 Post)(profit snapshot= $68.83)-Item # 2 Bought 150 ACG-$6.975-Regular IRA (10/9/13 Post)
Item # 3 Sold 400 ACG at $8.44 (8/21/12 Post)(profit snapshot=+$85.62)-Bought 400 of the Bond CEF ACG at $8.19 (5/31/13 Post);
Item # 1 Sold 400 ACG at $8.122 (12/2/2011)(snapshot of profit +$59.28)-Item # 4 Added 200 of the Bond CEF ACG at $7.98 (10/4/11 Post) and Item # 4 Bought 200 ACG at $7.85 (8/8/11 Post);
Item # 3 Sold 300 of the Bond CEF ACG at 7.82 (5/26/11 Post) (snapshot profit=$41.65-preceding linked post)-Item # 3 Bought 300 of the Bond CEF ACG at $7.63 (4/11/11 Post)
Item # 4 Sold 200 ACG $8.45-Roth IRA (8/26/10 Post)(profit snapshot $104.27)-Bought 200 ACG at $7.85 (5/6/10 Post)
Sold 200 ACG at $8.35 (8/17/10 Post)(Snapshot of profit $58.27)-Added 200 ACG at 7.98 (5/6/10 Post)
Total Trading Profits: $417.92
Distributions: The fund is currently paying a monthly dividend of $.03455 per share. AllianceBernstein Income Fund, Inc. Monthly And Special Distributions There was a slight addition to the December distribution that brought the total up to $.03679 per share.
ALLIANCEBERNSTEIN INCOME FUND INC (ACG) Dividend History
Assuming a continuation of that rate, which is in no way assured, the dividend yield would be about 5.53% at a $7.5 total cost per share.
ACG cut its monthly dividend rate to .0346 from $.04 effective for the August 2013 distribution.
There was apparently a significant capital gain distribution of $.5687 per share in December 2012.
Provided a fund desires to avoid supporting a dividend with a return of capital, it is to be expected that a bond fund will cut its dividend during a prolonged period of declining interest rates. As vintage bonds mature or redeemed by the issuer before maturity, the reinvestment opportunities will generally have lower coupons, possibly even with the assumption of more credit risk, and new bond purchases will consequently produce lower amounts of income.
Rationale: With this type of purchase, I am playing what I call the Japan Scenario, which the Bond Ghouls view as certain for Europe and highly probable for the U.S. The current bond yields in Europe, with the 10 year bonds of several countries priced below 1% and at least 3 below .5%, would be irrational unless investors believed that Europe will be facing a long period of stagnation burdened by periodic bouts of deflation possibly alternating with periods of abnormally low inflation. Global Government Bonds-WSJ.com
Current 10 year yields below .5% include the following:
Netherlands 10 Yr Bond - Bloomberg
Switzerland 10 Year Note Generic Yield- Bloomberg
The Swiss 10 year government is below a zero yield.
Just stunning in the future economic assumptions underlying those yields.
The bond investors in the U.S. are not as pessimistic but are moving in that direction in what appears in an inexorable march to a 1% ten year treasury yield.
I am not about to lend the U.S. government money for 10 years at 1.8%. I am barely able to tolerate ACG's yield of 5.5% even with its large exposure to U.S. treasuries and consequently fitting somewhat into a portfolio design for the Japan Scenario.
The 30 year U.S. treasury hit an all time low last week.
Risks: Personally, I think the Bond Ghouls have lost their marbles.
Sure, deflation is likely for several months in Europe.
A forecast of a persistent Japan Scenario taking root is not supported by the current evidence.
Europe slipped into a mild Y-O-Y deflation number last December after the huge decline in crude prices.
The strength of the Euro until recently has contributed to deflationary pressures, but that issue is no longer applicable. There is always a time lag for exports to perk up after a currency devaluation.
When crude prices bottom and start to tick up, inflationary pressures will ensue due to the higher price and the slide in the EUR/USD conversion rate.
And, it is important to recognize that it will not take much of an uptick in inflation and inflation expectations for the current low intermediate and long term yields to look ridiculous.
So, while the Bond Ghouls are pessimistic now, and recognizing that it usually takes them a long time to recognize their severe shortcomings as forecasters even after being confronted with years of data inconsistent with their future forecasts, the risk is still to the downside for leveraged bond funds, particularly when the FED starts to raise the federal funds rate that will increase their borrowing costs.
But, just in case the bond investors are become prescient in their long term predictions, I will play along with them some in my security selections.
As I have noted in earlier commentary, stock investors recognized quickly in August 1982 that the Federal Reserve had strangled problematic inflation out of the system. It took bond investors over a decade to quit mis-pricing inflation in 10 to 30 year bond yields. That fact can be easily confirmed by comparing the actual inflation rates starting in 1983 and the yields for 10 and 30 year treasury bonds. The real rate of returns were extremely high to the persistent mis-pricing due to a continuous erroneous inflation forecast which was being contradicted by an array of current factual information including the CPI reports and productivity gains due to technological advancements and other innovations.
The sponsor discusses risks starting at page 4 of its last SEC filed shareholder report. AllianceBernstein Income Fund, Inc.
Future Buys and Sells: I am in a trading mode for this leveraged, low yielding bond CEF, as shown by my trades noted above.
I am more likely to sell the 300 shares bought in the taxable account first. The non-qualified dividends paid by ACG become tax free when that fund is owned in the Roth.
Disclosure: The author is long ACG.
Additional disclosure: Disclaimer: I am not a financial advisor but simply an individual investor who has been managing my own money since I was a teenager. In this post, I am acting solely as a financial journalist focusing on my own investments. The information contained in this post is not intended to be a complete description or summary of all available data relevant to making an investment decision. Instead, I am merely expressing some of the reasons underlying the purchase or sell of securities. Nothing in this post is intended to constitute investment or legal advice or a recommendation to buy or to sell. All investors need to perform their own due diligence before making any financial decision which requires at a minimum reading original source material available at the SEC and elsewhere. Each investor needs to assess a potential investment taking into account their personal risk tolerances, goals and situational risks. I can only make that kind of assessment for myself and family members.