Normally, I will discuss regional bank earnings reports when updating my regional bank basket. Regional Bank Basket Update as of 1/2/15
I have started featuring a brief discussion in SA Instablogs whenever I view the report as noteworthy and I have not previously discussed the bank here.
Washington Trust Bancorp (NASDAQ:WASH) is a bank holding company headquartered in Rhode Island. Through its subsidiary, the Washington Trust Company, the bank has branches located in Rhode Island, Connecticut, and Massachusetts.
Branch Office Locations
Washington Trust did not reduce its dividend during the recent Near Depression period. The pace of dividend raises did slow down starting in 2008 and continued through 2010, but has picked up speed since 2010: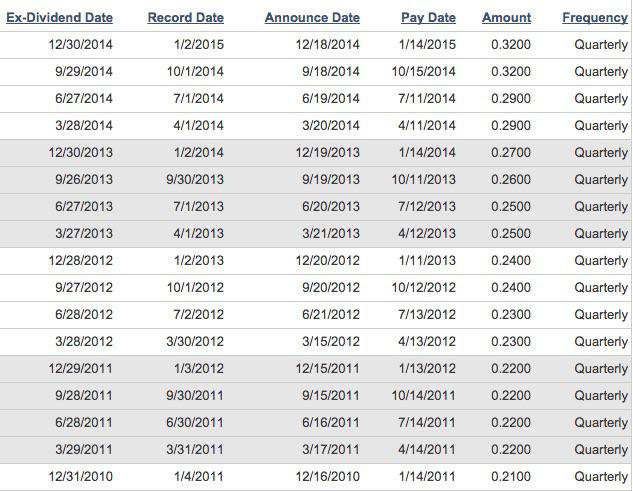 Investor Relations - Washington Trust Bancorp, Inc.
I initially bought 100 shares in my regional bank basket back in January 2010:
BItem # 3 Bought 100 WASH at $15.26 (1/14/2010)
While that was a good buy, I elected to harvest a profit by selling 50 shares
Item # 2 Sold 50 of 100 WASH at $22.44 (1/5/11 Post)(profit snapshot=$347.03)
I call that kind of trade Left Brain tunnel vision, and here is why. I took a snapshot of the remaining 50 share position a few minutes before posting this blog:

The dividend yield at my constant total cost per share is now 8.34%.
No one would argue that selling 50 shares at $22.44 turned out to be one of my periodic boneheaded decisions, as even experienced and knowledgeable investors are subject to an abundant supply of what I call error creep. Stocks, Bonds & Politics: ERROR CREEP and the INVESTING PROCESS
After the bell yesterday, Washington Trust reported 4th quarter net income of $11.2M or 66 cents per share, up from 58 cents in the 2013 4th quarter.
When looking at regional bank stocks, I focus on a number of key metrics.
For example, I want to see the return on assets greater than 1% and a return on equity greater than 10%. I also want to see capital ratios well in excess of the minimum FDIC requirements. I took a snapshot of WASH's numbers for the last quarter: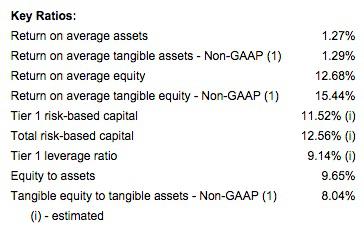 Return on Average Equity for all U.S. Banks
Return on Average Equity for all U.S. Banks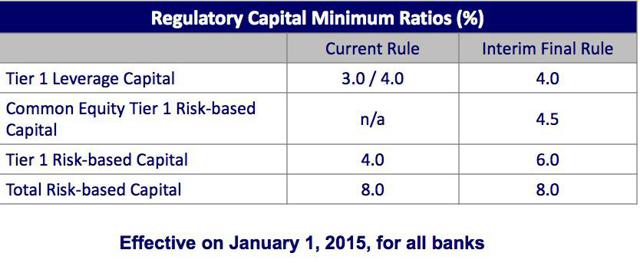 Some of my recently purchased Nordic banks have superior capital ratios. Nordea Bank: Bought 100 At $11.56 - Nordea Bank AB ADR (OTCMKTS:NRBAY) | Seeking Alpha; Bought: 50 Swedbank at $23.25
I also want to see non-performing loans to total loan ratio (NPL ratio) at less than 1%. The same would be true for the NPA ratio. I also want to see the coverage ratio (allowance for loan losses to non-performing loans) generally around 100% or higher. WASH has good asset quality ratios, with a 175.75% coverage ratio: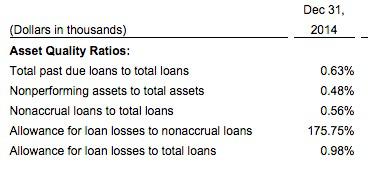 Nonperforming Loans (past due 90+ days plus nonaccrual) to Total Loans for all U.S. Banks
Charge-Off Rate On All Loans, All Commercial Banks
Other important metrics for me include the dividend history and the dividend yield at my initial total cost. I prefer to start with a 3% or greater yield and then to have that yield grow over time through dividend raises.
In my regional bank basket updates, I provide the dividend yields at my cost when the yield exceeds 5%:
Dividend Yields 5% or higher: Based on Total Cost
NYCB: 8.44%
WASH: 8.34%
UBSI: 7.66%
FNLC: 5.38%
CBU: 5.15%
TRST: 5.1%
CCNE: 5.%
Since that last update, I have liquidated TRST: Sold 315+ TRST at $6.92
WASH will soon overtake NYCB whose dividend will not be raised for the foreseeable future.
Since I like to look down for potholes when making an investment, I am particularly concerned how a bank weathered the last financial crisis.
Many of them did not make it and were seized by the FDIC, never a good option for the common shareholders.
A large number of them slashed their dividend rates, frequently to just 1 cent per quarter, and incurred huge losses.
Many of those banks sold boatloads of a stock at early 1990 prices too, diluting their long term shareholders. I am not partial to any of the foregoing, just a confession that I want to make here.
WASH performed well doing the 2008-2010 period. I mentioned above that it did not cut its dividend. WASH refused to apply for TARP funds, another feather in its cap. SEC Filed Press Release I favor banks that told the government to go jump in the lake, we don't need or want your money.
I will also invariably look at the bank's operating performance during the Near Depression period, and that data can easily be accessed easily from a 10-K filing. I usually will go back to the 2012 Annual Report: WASH 10K 2012.12.31 The following snapshot captures WASH's outstanding performance compared to most other banks during that period and its aftermath: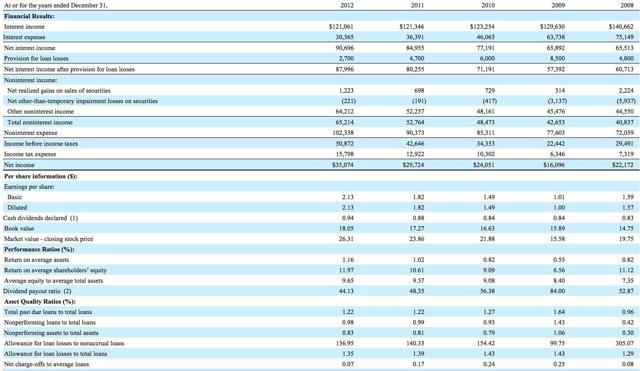 Disclosure: The author is long WASH.
Additional disclosure: Disclaimer: I am not a financial advisor but simply an individual investor who has been managing my own money since I was a teenager. In this post, I am acting solely as a financial journalist focusing on my own investments. The information contained in this post is not intended to be a complete description or summary of all available data relevant to making an investment decision. Instead, I am merely expressing some of the reasons underlying the purchase or sell of securities. Nothing in this post is intended to constitute investment or legal advice or a recommendation to buy or to sell. All investors need to perform their own due diligence before making any financial decision which requires at a minimum reading original source material available at the SEC and elsewhere. Each investor needs to assess a potential investment taking into account their personal risk tolerances, goals and situational risks. I can only make that kind of assessment for myself and family members.