I am not going to be following my usual format in this post. There are an abundance of articles here at Seeking Alpha discussing GE's businesses, future prospects, past foibles and recent earnings reports.
Instead, I am going to discuss GE primarily in the context of risk management and the general criteria that I will use frequently in making investment decisions. I will be exploring my three plus decades as an on and off again GE investor.
GE is one of the large U.S. multinationals that I have bought and sold over the past three decades or so.
My current position was acquired in a taxable account starting shortly before Lehman's failure with a large number of odd lot buys immediately after the carnage set in thereafter.
Snapshot of Current Position in Taxable Account (2/3/15):

At the current time, I will not invest more than $10,000 out-of-pocket in the securities issued by one company. That is just one of many risk mitigation rules that I regularly employ, and I am a stickler about all of them. I am no longer in the capital accumulation phase and capital preservation is a primary goal now. If I make a mistake on a company, then I do not want to take a material hit. The end result of that risk limitation is a highly diversified portfolio of income generating stocks and bonds.
The cost of the GE shares is shown in that snapshot as $10,700, with an average cost per share of $20.13. That cost includes reinvested dividends. My actual out-of-pocket cost number permitted the purchase of an additional 30 shares, and to stay under the limit. I just bought those shares in a Roth IRA.

If I sell some shares in the taxable or increase my exposure limit, I will consider buying more shares in the Roth IRA.
I have been following GE since the 1970s. Throughout the 1970s and into the early 1980s, I did not see any reason to buy shares. The company seemed like a tired conglomerate that was going nowhere. Maybe that judgment was unfair, and it was made at the time by a young man who was working 60 to 80 hours a week, with little time for stock research.
There was then a long term bear market in bonds and stocks, mostly caused by problematic inflation, with the stock bear market lasting roughly from 1/1/1966 through the mid-August 1982.
Starting with January 1966 and ending with July 1982, the annualized total return for the S & P 500, with dividends reinvested and adjusted for inflation, was -1.813%. S&P 500 Return Calculator
I viewed that period as more difficult than 2000 to 2009 since it was really hard to find investments that would produce positive real rates of return. Bonds were in a bear market too.
Given the conditions, it was hard for most stocks, outside of gold mining and energy producers after OPEC's oil embargo and price increase, to gain in real terms given the high inflation numbers: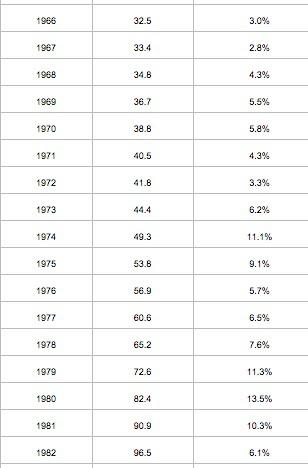 Consumer Price Index, 1913- | Federal Reserve Bank of Minneapolis
It felt worse than those numbers.
In 1982, the average 30 year mortgage rate was 16.04% with 2.2 points thrown in for good measure Primary Mortgage Market Survey Archives - 30 Year Fixed Rate Mortgages - Freddie Mac That is the year that I built my house, where I still reside. I had no choice but to pay cash for everything since taking out a mortgage at that rate was a non starter. Consequently, I had less money to invest in the bull market after I opened a Schwab account in July 1982 sensing the good times were about to roll.
When Jack Welch became CEO in 1981 and given the transformations that he was making, I started to invest. I no longer have access to those accounts and can not make snapshots of the trades here.
While the company was steadily growing earnings and the dividend through the 1980s and 1990s, and the stock was an outstanding performer in that long term bull market, investors lost all pricing discipline in the late 1990s. Valuations hit asinine levels even for blue chips and levels that were bizarre for boatloads of the 4 letter stocks.
After a superb run from August 1982 through 1994, going from around $2 to $8 split adjusted, the stock then went into a parabola rising from $8 to a high of $59.88 in October 2000. At $59.88 per share, the stock was selling at 34.61 times the current estimated 2015 consensus E.P.S. estimate of $1.73. I hope that no one wants to argue the merits of that 2000 price. Describing it as nutty does not do it justice.
My last purchase was made at about half that October 2000 high and at a far more reasonable P/E of 13.79 based on that 2015 E.P.S. estimate.
To sum up this section, when prices get way out of kilter as reflected by the late 1990s, then serious consideration needs to be given to eliminating or at least seriously paring a position in even a large blue chip company. At a minimum, it would take at least a 50% haircut in price to bring GE into the upper end of a sane fair value range. And, that is exactly what happened to GE's stock in 2000-2002.
While some dividend growth investors would disagree with selling into the madness prevailing in 1999-2000, it seemed like a sensible thing for me to do at the time. It is best not to think too much sometimes. Valuations were without question off the charts absurd. Why not sell 200 GE and then use the proceeds to buy 400 GE when the price returned to something close to a rational level, which had to happen sooner rather than later. The dividend stream from 400 shares would after all be larger than with a 200 share lot.
At some point in the 2002 to 2007 period, I became aware of the problems that Jack Welch had left his successor Jeff Immelt who became CEO three days before 9/11. There were a number of serious problems that had been allowed to fester including the unrestrained growth of GE Capital and the massive inflation of GE's earnings due to under reserving in its reinsurance business as noted in a 2005 Barron's front page cover article titled "Jack's Magic". The under reserving was highlighted when GE unloaded that business and had to add $3.4B in reserves as part of the deal. Then, without commenting on the validity of the charges, the SEC filed a 36 page Complaint against GE alleging book cooking under Jack. Floyd Norris wrote a column about that episode in the NYT, titled High and Low Finance - Inside G.E., a Little Bit of Enron.
So I was being bombarded by a lot of negative news about GE after Immelt's succession.
I would take a position from time to time, but it was mostly a trade. In 2007, I started to become unnerved by what was happening in the mortgage market starting no later than February 2007. Many investors who lived through that period may not remember now, but there was a constant flow of negative news items involving defaults in Alt-A and subprime loans (e.g. 2/21/2007 Bloomberg Article) And I received what I call a Trigger Event sell signal in August 2007 generated by my Vix Asset Allocation Model; VIX Chart from 2007: Alerts and Triggers Major Disruption of Cyclical Stable Bull VIX Pattern So I dumped several individual stocks, all stock ETFs and most stock mutual funds, as noted in my blog.
It was not hard to pick GE as one of the individual stocks that needed dumping, given the bloated GE Capital who seemed to have the pedal to the medal with warnings signals popping up all over the place. The Masters of Disaster in large financial institutions really do not know what they are doing, allow greed to cloud whatever good judgment that may exist, and generally lack a modicum of common sense, a point that was driven home in the NYT's 2008 series called The Reckoning.
The position in GE was eliminated again in April and June 2007:

I went into a trading mode after the formation of the Unstable VIX Pattern in August 2007, attempting to keep my head above water through short term flips.
I made the mistake of using GE as one of the stocks that I would trade.
I successfully made one flip:

Encouraged by that success, and the decline in the VIX (trades were being timed off that movement), I tried again and found myself averaging down at prices above the current market price. This was a mistake and constituted a failure to heed my own warning sirens about GE Capital and the potentially devastating financial events that were clearly unfolding and known by me.

The foregoing was clearly the result of what I call error creep. It is similar to the warnings that I gave about the credibility of ARCP's management here at SA, and then failed to sell the stock before the accounting scandal hit (e.g. my comments to this May 2014 Seeking Alpha article, including my exchange with SA commenter Gratian). In the case of GE, I knew that those purchases, particularly at the prices shown above, disregarded the warning signals that were obvious then.
When the price crashed after Lehman's failure I started to buy small lots with cash flow generated by dividends and interest. My total cost for those shares is slightly over $15. I took a snapshot of those post Lehman collapse purchases and posted it in my blog. I also discussed each of those trades in the blog.
Stocks, Bonds & Politics: ADDED 30 GE at 19.95 with Cash Flow/Snapshots of GE and Intel Purchases with Cash Flow (4/25/11 Post)
The buying in October 2008 through part of 2011, when I quit, made sense given the prices. I did not have much doubt that GE would survive and prosper once the world recovered from the latest fiasco. Those purchases were rational and defensible; whereas the 2008 purchases before Lehman's collapse made near $30 were just plain stupid.
So, in effect, I made a series of bad decisions and then good decisions and everything looks okay now. I just need to get rid of those high cost shares at some point and run with the low cost purchases, which is my plan first enunciated in a 2012 blog post.
I will just end with some general thoughts.
I am more impressed with Immelt than with Jack Welch. After reviewing events that started to trickle out after 2000, discussed above, I started to classify Welch as overrated and someone who looked good due in large part to the strong tailwinds at his back starting in 1982. That is just my opinion.
I believe that the new GE, as currently configured, will do well enough to satisfy me at least over the next decade or two. The dividend yield is good at my current total cost per share and is growing.
The future is unknowable, but my best guess now is that the next 20 years will be much better for GE's stockholders than the past 15. Of course, it was not the stock's fault that investors drove it up to $59 in 2000.
I like the renewed focus on industrial products with high margins. GE's gas turbines fit nicely into what I see as a long term super cycle for natural gas fueled baseload generation. The Natural Gas Super Cycle
I agree with the disposition of several low margin businesses like the recent disposition of its appliance business to Electrolux.
I am not going to start wringing my hands and breathing into a paper bag about the temporary decline in GE's oil service business. GE Energy
Nor am I going to pay much attention to the impact of currency exchanges on reported earnings and revenues. GE is not bringing that money back to the U.S. It is a pretend accounting exchange. I am interested in foreign earnings and revenues in constant currencies. I would just recommend looking at the wild swings in the Euro/USD exchange rates, for example, as a justification for putting that kind of issue on a back burner. EUR/USD Chart
Crude oil has a bad habit of tanking every few years, and I do not see any reason now why crude will remain at low levels for a significant amount of time.
I disdain dividend cuts, but I at least understand why GE needed to reduce the dividend. I would have preferred to see a smaller dividend cut or at least some significant reduction in executive pay and perks at the same time GE slashed the dividend from $.31 per share to $.1, effective for the 2009 second quarter. General Electric Dividend History The quarterly dividend was raised late last year from $.22 to $.23 per share.
It will take several more years for the rate to work its way back to the pre-slash level.
While I am going to assign blame to any particular individual, that dividend slash will be a black mark on GE for the remainder of my life.
I hope that the managers of this company now and in the future realize that another dividend cut will not be tolerated by a large number of investors unless there is another 1929 to 1940 Great Depression.
The purpose of this post was simply to explain my history with this stock, how I reached buy and sell decisions for better or worse, and my relatively upbeat views about this company's future.
Disclosure: The author is long GE.
Additional disclosure: Additional disclosure: Disclaimer: I am not a financial advisor but simply an individual investor who has been managing my own money since I was a teenager. In this post, I am acting solely as a financial journalist focusing on my own investments. The information contained in this post is not intended to be a complete description or summary of all available data relevant to making an investment decision. Instead, I am merely expressing some of the reasons underlying the purchase or sell of securities. Nothing in this post is intended to constitute investment or legal advice or a recommendation to buy or to sell. All investors need to perform their own due diligence before making any financial decision which requires at a minimum reading original source material available at the SEC and elsewhere. Each investor needs to assess a potential investment taking into account their personal risk tolerances, goals and situational risks. I can only make that kind of assessment for myself and family members.