This is an excerpt from a blog published earlier today: Stocks, Bonds & Politics: Pared Interest Rate Risk: Sold 300 JTP at $8.55, 50 CORPRA at $26.25, 100 NBB at $21.25 (Roth IRA), 50 EMQ $25.61 and Bought 2 Vanguard Natural Resources 7.875% Senior Unsecured Bond Maturing April 2020 at $86.59
I will have another blog post discussing recent non-fixed income transactions tomorrow.
This post is not concerned with the common units or whether the owners of those units will or will not suffer a distribution cut. That subject is discussed in other SA articles: Seeking Alpha Perhaps the most comprehensive of those articles was written by Casey Hoerth titled "Vanguard Natural Resources' Shaky Distribution" A lot depends on what happens with energy prices when VNR's hedges decline after this year. The bond owners would not want to see a common unit distribution funded in part by debt, particularly if the funding comes from the senior secured bank credit facility. I did note that Barclays recently cut the common units to equal weight.
I will be discussing in this post the yields of Vanguard's cumulative equity preferred stocks in relation to the senior unsecured bond that I bought last week.
The other trades discussed in the blog involve a slight reduction in interest rate risk after reading the latest employment report from the BLS.
Let's just step back for a minute and quit obsessing about deflation enveloping the world and sending the U.S. into the next Great Depression. After all, there has only been one year of deflation since 1955 and that was understandable. The nation had a -.4 rate for one year as a result of the most severe economic downturn since the Great Depression. Consumer Price Index, 1913- | Federal Reserve Bank of Minneapolis
Chart 1913 to Date: Consumer Price Index for All Urban Consumers
Instead of breathing into a paper bag worrying about deflation, particularly since I was investing at a time when U.S. inflation was soaring back in the 1970s and have seen the inflation monster rear its head many times when deflation was always a no show, I asked myself a question.
Is a zero percent Federal Funds rate and a thirty year treasury bond at a record low consistent with a 5.7% unemployment rate, the recent trends in employment growth, the capacity utilization recovery, the real GDP growth of 5% in the third quarter, a first estimate of 2.6% for the 2014 4th quarter with PCE rising 4.3%, and a temporary decline in inflation caused by a precipitous drop in a commodity's price. I know that my BlueCross health insurance premium went up 18% for this year already. Even the government's annual inflation numbers for 2014 showed a + 3.4% increase in food prices; a 2.4% increase in medical service costs, a 2.9% increase in shelter expenses, and a 4.8% increase in medical commodities. The BLS called the rise in food prices "a substantial increase" over the 1.1% rate for 2013.
I have increased my odds that intermediate and longer term interest rates will increase at a faster and more significant pace than the market currently anticipates.
The ten year treasury yield started last week at 1.68% and ended at 1.95%. Daily Treasury Yield Curve Rates I started to have flashbacks to what happened between May 2013 through December 2013 when the ten year treasury rose from a 1.66% yield to 3.04% by year end. That kind of rate spike, which is merely a move from one extremely low rate to an abnormally low rate by historical standards, caused significant losses in leveraged closed end bond and preferred stock funds, equity preferred stocks, and exchange traded bonds.
Many investors called that rate spike in 2013 a taper temper tantrum. I called it as part of the rate normalization process. I was far more surprised by the significant move down in rates during 2014 than the rate spike in 2013.
There are many reasons for my opinion about probable and possible rate scenarios. Ultimately, no human really knows what inflation and interest rates will be in the coming years. I will admit that I do not know and will simply play alternate scenarios and weight my portfolio based on a constant assessment of the odds, much like a bookie does for an upcoming sports event.
I consequently reduced my duration interest risks by selling two leveraged CEFs who also face a potential squeeze resulting from an increase in their borrowing costs, one equity preferred stock, and one long term exchange traded first lien bond.
I discuss those securities in my blog. I describe there, not here, their duration and interest rate risks. If a reader disagrees with my concern about rates rising, and many do for good reasons, those type of securities may be of some interest.
In the place of those income generating securities, I am accepting more credit risk by buying junk E & P bonds that have short durations and maturity dates within 5 years. That negates the interest rate risk issue substantially while increasing the overall credit risk.
Bought 2 Vanguard Natural Resources 7.875% Senior Unsecured Bond at 86.59 Maturing 4/1/2020 (see Disclaimer):
Snapshot of Trade:

Order Details:

The order details shows that the bond has junk ratings. The current ratings are B3 from Moody's and B from S & P.
I had to pay the seller of those two bonds accrued interest in the amount of $56.44. I will receive that amount back when Vanguard Resources makes the next semi-annual payment on 4/1/2000. The broker will include the entire semi-annual interest payment in my 1099 for this tax year, which then requires a tax accounting adjustment to reflect that I did not in fact receive $56.44 of that payment.
Many individual investors prefer buying exchange traded bonds that can be bought just like a stock due to par values generally being $25 or less, the ease of transacting in small lots, and the avoidance of an accrued interest payment to the seller. I discuss the categories of exchange traded bonds in an old post titled Exchange Traded Bonds: New Gateway Post. One category of those bonds, which I call Trust Certificates, has now been reduced to a few fixed coupon securities due to redemptions, but was a niche exchange traded bond category that provided easy and significant profits for those willing to buy in 2008-2009 due to the market's substantial and frequently bizarre mispricing of those securities.
Current Yield: 9.09% ($7.875 ÷ 86.59=9.09+%; cost is not adjusted up for the $4 commission)
Yield To Maturity: 11.329% (assumes VNR pays par value at maturity)
Security Description: This security is a $1,000 par value senior unsecured note issued by the MLP Vanguard Natural Resources (NYSE:VNR).
All of the factual statements made in that previous sentence are material.
A senior bond is going to be senior to all other securities in the capital structure other than a senior secured bond or bank loan for the collateral covered by the lien interest.
It is very important to me that this bond is senior in the capital structure to the equity preferred stocks issued by Vanguard.
Vanguard Resources has three equity preferred stocks outstanding.
Vanguard Natural Resources LLC Series A (VNRAP)
Vanguard Natural Resources LLC 7.625% Cumulative Preferred Series B (VNRBP)
Vanguard Natural Resources LLC 7.75% Series C (VNRCP)
I find it odd that those potentially perpetual preferred stocks have lower current yields than the senior unsecured bond. This is a summary of the current yields based on last Friday's closing prices as calculated by Marketwatch:
Series A 8.12%
Series B 8.79%
Series C 8.92%
As I sometimes have to say, to each their own. It is impossible for me to comprehend the pricing of those equity preferred stocks in relation to a senior unsecured bonds whose interest payments can not be deferred and have a superior claim to income, cash and assets both before and during a BK.
The preferred dividends are cumulative and have to be paid in full as long as VNR pays a cash distribution to the common shareholders (standard preferred dividend stopper clause). A preferred stock stopper clause can be found in the Series A Prospectus at page S-22
Once no cash is paid to the common unit owners, and any other remaining terms in the stopper clause are obeyed, VNR can defer the preferred stock dividends.
The MLP structure is a major negative for a bond owner, since capital is not being retained to grow the business, pay down debt or used as a significant rainy day fund. Money is flying out the door to the common unit owners leaving a minimal capital cushion for the bond owners.
Interest payments are paid semi-annually at the fixed coupon rate of 7.875% per annum.
Unless redeemed early, the bond matures on 4/1/2020.
Vanguard would have to pay 103.94 or $1,039.4 per $1,000 per value bond for an optional redemption after 4/1/2016, plus accrued interest to the redemption date. That premium is reduced to 101.97 for a redemption between 4/1/2017 and 4/1/18. Only par value plus accrued interest has to be paid thereafter for an optional redemption (page S-94). If energy prices and rates are favorable at some point before maturity, Vanguard could rationally exercise the call right to refinance this bond, even if the rate was only slightly lower, just to extend the maturity by several years.
There is also a change in control provision that is described starting at page S-94 of the Prospectus.
Common Unit Quote: Vanguard Natural Resources LLC
The FINRA page for this bond contains material information about it, including the trades and a chart showing the price history. This bond was trading at over $108 back in July 2014. When the crude oil price started to crater, so did the value of this bond. The percentage decline for the bond was substantially less than the 50%+ decline in the WTI crude price. There was only a brief period when the bond's price declined below 80 before quickly recovering to mostly a range bound trade between $85 and $90.
The closing trade last Friday (2/6/15) was at $87.96, slightly above my trade price earlier last week.
Another SA Contributor, Downtown Investment Advisor who is a registered investment advisor, recommended that investors "consider" purchasing this bond after doing their own due diligence. Seeking Alpha His reasons include the following: Vanguard lives within its means, has "good" hedges in 2015, and debt service is not an issue with crude in a sustained $40 price environment. There is uncertainty, however, as hedges roll off in 2016 and thereafter.
As noted in the following section, the market has a different view of risk based on the current pricing.
That observation does not mean that bond investors are correctly measuring the risks of any of these bonds. I am simply drawing a conclusion about the market's current risk assessments drawn from price and yields.
Market Disagreement With Bond Ratings: The current and YTM yields of this bond are not consistent with other B3 rated bonds. The Vanguard 2020 bond yield is more consistent with bonds rated CCC- to CCC+ under some distress. The pricing of this 2020 Vanguard bond by bond investors reflects a current opinion that this bond is significantly riskier than the average B3 rated bond.
I did a search at FINRA of B rated bonds maturing in 2020 and come up with the following bonds that illustrate this differential, with YTM's based on last Friday's closing prices. I searched only for B3 rated bonds and found a good size sample with companies whose names started with an "A". I also provide the S & P rating in parenthesis.
Acadia Healthcare 6.125%: 5.572% (B3, B-)
Accuride 9.5%: 5.811% (B3, B-)
Air Canada 8.75%: 5.786% (B3)
Alcatel-Lucent 8.875%: 4.51% (B3, B)
America Builders and Contractors Supply 5.65%: 5.22% (B3, B)
Amsurg 5.625%: 4.68% (B3, B-)
Aramark 5.75%: 4.368% (B3, BB)
The average yield range would probably be in the 5% to 6% range. There are some bonds perceived to be higher risk in the 7% to 9% range. An Ancestry.com, for example, had a 8.22% YTM, and the Canadian power producer Atlantic Power has a B3 rated 2020 with a 7.515% yield. I am familiar with both of those two companies. I am surprised that the Atlantic Power bond is priced to yield so much less than the Vanguard 2020.
It would be my opinion that the yields on those B3 rated bonds are grossly inadequate for their credit risks. Junk bond credit risk is substantially being underpriced now.
Last Earnings Report: I just took a snapshot of the recent numbers: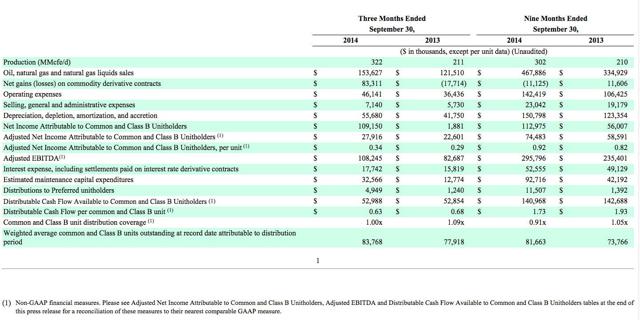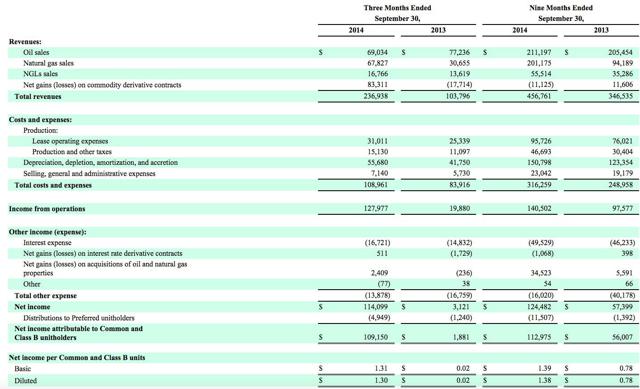 Page 3 VNR 2014 Q3 10-Q
In terms of distributable cash flow, the company reported $53M or $.63 per common unit.
As of 9/30/14, VNR had outstanding $550M of the 2020 senior unsecured note and a $1.375B draw on its senior secured credit facility. In a worse case scenario, the size of that draw will be material in a recovery scenario for the senior unsecured bonds.
The company describes its hedges between pages 13-15 and 42-45. I do not trade in the options or futures markets, and at best a limited understanding of VNR's hedging.
I simply have to accept what the company says about those hedges:
2015
Oil 70% hedged at $91.95
Gas 81% hedged at $4.32
2016:
Oil 31% at $90.6
Gas 62% at $4.37
2017:
Gas 36% at $4.21
Natural gas liquids, which account for 12-13% of revenues are hedged only at 6% this year.
Page 4 Earnings Call Transcript | Seeking Alpha
Rationale: I am balancing risks with potential rewards.
With a bond, I can measure the reward precisely. If Vanguard survives to make all interest payments and pays off the principal amount at maturity on 4/1/2020, and I then own this bond, I know exactly to the penny my reward.
Interest Payments: $731.06
04/1/2015: $22.31
10/1/2015: $78.75
2016: $157.5
2017: $157.5
2018: $157.5
2019: $157.5
4/1/2020: $78.75
Profit On Bond: $264.20
Cost $1,731.8 + $4 commission=$1,735.8
Principal at Maturity: $2,000
Total Return: $995.26
Total Percentage Cumulative Return Based on Total Cost = 57.33725%
The return numbers would have to be adjusted when and if Vanguard elects to redeem early.
I can not measure the downside risk in the same way since I would have to know now the unknowable including the recovery value in a bankruptcy. S & P and other rating services make estimates of a recovery value, but those estimates could be way off depending on the then existing circumstances during and at the conclusion of the BK process. One of the main unknowables is the amount of senior secured loans taken out as a firm slides into a BK filing and then the amount of secured DIP financing taken out before the firm emerges out of a BK, both taken in conjunction with the then existing asset values.
In general, I would assume a recovery in the 25% to 50% range, based on par value, which assumes a variety of economic scenarios which then may not exist, including a higher price for crude compared to now and no major increase in lien debt compared to the value of the assets. Another general rule of thumb is that the common and equity preferred stock owners will receive zilch in a bankruptcy. If I owned one of Vanguard's preferred stocks, and the firm filed for bankruptcy, I would most likely not expect to recover a penny.
Risks: I have summarized several risks in prior sections. Ultimately the risks are dependent on future unknowable events. The risks will increase or decrease based on future energy prices, hedging, drilling costs, production rates and many other material variables.
The risks now are far less for Vanguard survival's than for a firm that is more heavily leveraged with less hedge protection.
With a recovery in crude prices to over $80, and then steadying, I would reasonably anticipate that this bond will again trade over par value. A slide from the current prices to below $40 will likely increase the downside pricing pressure.
Since I can at best just make an informed guess about material factors impacting Vanguard and this bond over the next five years, I can really only control my risks by limiting my exposure at the front end after making a decision that the yield and potential profit at maturity (or an early redemption) are worth the risks as I judge them now.
Risks relating to the bond are described starting at page S-15 of the Prospectus. Risks relating to VNR's operations are described starting at page S-21 and in the last VNR Annual Report starting at page 24, 10-k.
Future Buys/Sells: I am in a trading mode for junk E & P bond buys. I have already flipped three of them. After selling 2 Linn 2020 bonds, I did buy those back recently after a decline took the price below my last entry point. Bought Back The Linn Energy 8.625% Senior Unsecured Bond Maturing In 2020 - Linn Energy, LLC (NASDAQ:LINE) | Seeking Alpha
Additional disclosure: Disclaimer: I am not a financial advisor but simply an individual investor who has been managing my own money since I was a teenager. In this post, I am acting solely as a financial journalist focusing on my own investments. The information contained in this post is not intended to be a complete description or summary of all available data relevant to making an investment decision. Instead, I am merely expressing some of the reasons underlying the purchase or sell of securities. Nothing in this post is intended to constitute investment or legal advice or a recommendation to buy or to sell. All investors need to perform their own due diligence before making any financial decision which requires at a minimum reading original source material available at the SEC and elsewhere. Each investor needs to assess a potential investment taking into account their personal risk tolerances, goals and situational risks. I can only make that kind of assessment for myself and family members.