This is an excerpt from a blog published earlier today: Stocks, Bonds & Politics: Continued Paring Interest Rate Risk: Sold 100 of the ETF GYLD at $25.49/Bought 50 Shares of Svenska Handelsbanken (OTCPK:SVNLY) at $23.65/Tiptoed Back into the Exchange Traded Synthetic Floater GYB
I also recently published an update of my Lottery Ticket Basket Strategy: Stocks, Bonds & Politics: Update for Lottery Ticket Basket Strategy as of 2/20/15/Bought Back as Lottos: 50 GST at $2.53 and 50 TTI at $4.94 I view that basket strategy as an alternative to a casino visit. I have a $300 limit on each purchase but have managed to harvest a net realized gain of $14,789.62 since 2009. (snapshots at Lottery Ticket Strategy: New Gateway Post)
Over the past few weeks, I have been touring the world looking for dividend paying stocks whose value, expressed in USDs, has substantially declined due to the parabolic rise in the USD. The rise in the USD can be seen by looking at a one year Bloomberg Dollar Spot Index chart which has risen from 1005 (7/10/14) to 1169 (2/10/15). That index tracks the USDs value against 10 major foreign currencies, weighted 31.58% in the Euro, 18.75 in the Japanese Yen, 11.5% in the Canadian Dollar, etc. Bloomberg Currency Indexes
I am most interested in foreign stocks whose ordinary shares are priced in Swedish Krona, Norway's Krone, Australian and Canadian Dollars. The government debt for all of those nations is rated AAA. Credit Ratings by Country
For the most part, I am not converting my USDs into a foreign local currency in order to buy stocks. Instead, I am buying those stocks, primarily as American Depository Receipts, on U.S. stock exchanges using USDs and paying my broker the standard U.S. stock commission rates.
The brokerage commissions are higher for international trading, and I would have to pay a 1% currency conversion fee to acquire the foreign currency necessary to complete purchases on the foreign stock exchanges. Some brokers may have lower fees and commissions than Fidelity, the firm that I use for foreign trading. To date, Toronto is the only foreign exchange where I will make trades, and I have acquired a CAD stash for that purpose.
After buying several Nordic based companies a few weeks ago, I returned to Sweden whose currency, the Swedish Krona, has lost almost 25% of it value against the USD over the past year.
Sweden's GDP has increased at a 2.57% annualized rate from 1995 to 2014: Sweden's GDP Sweden's 10 YR government bond, rated AAA, had a current yield of .64% as of last Friday. Unemployment stood at 8.4% in January 2015: Statistiska centralbyrån Population was at 9.747+M as of 12/31/14.The Swedish central bank has recently initiated negative short term interest rates and a QE program. Sveriges Riksbank
I have discussed here recently the purchase of two other Nordic companies:
Nordea Bank: Bought 100 NRBAY At $11.56 - South Gent | Seeking Alpha
Bought Svenska Cellulosa (OTCPK:SVCBY)-A Swedish Personal Care And Tissue Company - South Gent | Seeking Alpha
I am chopping my potential position into small buys, which is a standard trading strategy for me given the low commission rates. I will frequently start a position with just a 50 or 100 share position and then average down with similar sized lots until I reach a full position which may take years. I may also sell my highest cost lot whenever there is a pop in price and then acquire the lot back whenever it would reduce my average cost per share. In that way, I am playing the natural volatility of most stocks, attempting to harvest some profits and dividends and to lower my average cost per share over time.
When describing what I do in SA post, I will unfortunately receive a snide and critical remark in a comment that contains nothing of substantive value and only provides information about the personality of the person taking the time to leave such a comment.
In these posts, I am only describing what I am doing and providing some reasons underlying my investment decisions. Others will need to make their own decisions after performing due diligence and taking into consideration their personal situational risk profiles and tolerances. I am not in the asset growth stage, but in the capital preservation and income generation phase of my investing life which largely explains my cautious approach with small lot trades.
I do not know whether the USD will continue to gain strength or by how much. For me, that kind of future prediction falls into the unknowable category.
I only know that many foreign currencies are now trading near 10 year lows against the USD, and that fact alone tilts the currency risk/reward balance more into my favor when using a strong currency to buy an asset priced in a weak one.
I am doing now something that I always try to do. Use my USDs to step up foreign stock purchases when the USD has gained substantially in value.
Stocks, Bonds & Politics: Strong U.S. Dollar + Weak Market=Time to Start Looking Overseas (6/1/2010 Post)
Stocks, Bonds & Politics: International Trading and Currency Risks (7/11/2010 Post)
Bought 50 SVNLY at $23.65 (see Disclaimer):
Snapshot of Trade: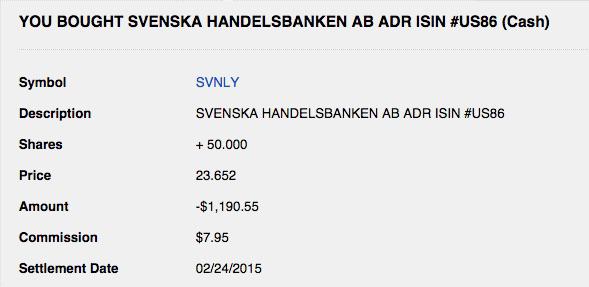 Company Description: Svenska Handelsbanken AB ADS (OTCPK:SVNLY) is a large European bank based in Sweden with operations throughout the Nordic region and in Great Britain. Based on a 2013 analysis by Bloomberg, Handelsbanken was rated the strongest bank in Europe and the eleventh worldwide. Toronto Dominion, another recent purchase, was ranked at #8.
As of 12/31/14, this bank had 832 branches located in the following countries:
Sweden: 463
U.K: 178
Denmark: 57
Norway: 51
Finland: 46
Netherlands 20
Other: 17
When announcing 4th quarter results, the Board proposed a 3 for 1 stock split subject to shareholder approval. The Board further proposed an annual dividend of Swedish Krone (hereinafter SEK) 12.5 per share and a special dividend of SEK 5 per share.
Operating profit for 2014 was up 6% to 19,212 million SEKs. Profit after tax was also up 6% to SEK15,184M.
I translated the 2014 after tax SEK profit into USDs as of 12/31/14:

2014 Profit after Tax=$2.0399+B
Return on equity was 13.4% for the year. For comparison, the average ROE for U.S. banks was 8.91% for the 2014 4th quarter: Return on Average Equity for all U.S. Banks-St. Louis Fed
Earnings per share increased 6% to SEK 23.89 compared to 2013.
Investor Relations: Handelsbanken
February 2015 Investor Presentation .pdf
Link to a positive Seeking Alpha article on Handelsbanken published last January. I will not be repeating the factual statements about this bank made in that article.
Share Description: I bought the ADR shares traded on the pink sheet exchange using USDs. Svenska Handelsbanken (OTCPK:SVNLY)
Ordinary Share Quotes:
Marketwatch: Svenska Handelsbanken Series A Stock Price Today (SHBA:STO)
Bloomberg: Svenska Handelsbanken AB
On the date of my trade, the ordinary shares had closed at SEK 399, up .4 or .1%.
I converted that closing price into USDs:

1 ADR = .5 Ordinary Shares
I consequently needed to divide the $47.3672 number shown in the preceding snapshot by two, which gave me $23.686 for the ADR share.
Currency Risk and Opportunity:
This is a ten year SEK/USD chart, which shows the SEK is near a ten year low vs. the USD.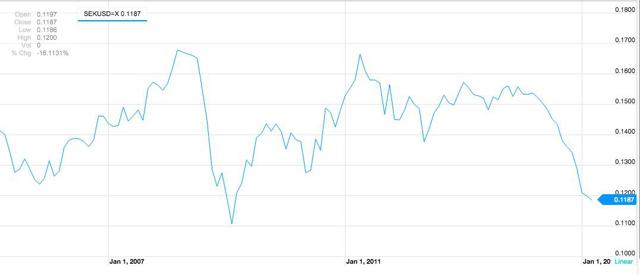 The following one year chart highlights the negative currency impact on the USD priced ADR that has declined close to 5% even as the ordinary shares have risen close to 20%.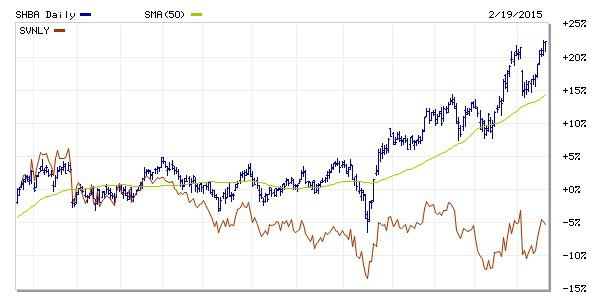 That substantial differential in performance highlights both the risks and potential benefits that are inherent whenever a U.S. investor buys a foreign stock. Currency risk is not avoided by buying a USD priced ADR. The ADR price will reflect the ordinary share price in the local currency (SEKs for this stock) converted into USDs. After an investor purchases an ADR, the general rule is a rise in the foreign currency against the USD is a positive event, which results in a higher dividend yield and a better performance for the ADR compared to the ordinary shares, while a decline in the foreign currency is a negative event for the same reasons.
There are also other currency issues that are more indirect, such as the impact on earnings, revenues and overall competitiveness due to currency movements which can impact the ordinary share price and consequently the ADR price. An example occurred in mid-January when the Swiss National Bank ended its €1.2 peg. The Swiss Franc rose in value against both the Euro and the USD, making Swiss ADRs rise in price and increasing the value of their dividends paid in CHFs when converted into USDs. However, the rise in the CHF also caused the Swiss stock market to fall precipitously for a variety of reasons, including the impact of a higher CHF on earnings and revenues. The net impact was slightly positive for the U.S.D. priced Swiss ADRs. Long term, I see that currency impact on earnings and revenues diminishing, except for a few Swiss firms that mostly manufacture in Switzerland and export their product into weaker currency nations.
Dividends: In my years of research, Handelsbanken is the only major company where I have not been able to find historical dividend information at the company's website. I found that omission by the bank to be extremely annoying and inexcusable.
I found some annual dividend information at Morningstar for the U.S. traded ordinary shares: (SVNLF) A symbol ending in "F" denotes ordinary shares. ADR shares have "Y" as the last letter.
SEKs Ordinary Shares
2010 8
2011 9
2012 9.75
2013 10.75
2014 16.5 (SEK 5 Special)
2015 17.5 (SEK 5 Special)
For U.S. citizens, it is my understanding that Sweden will withhold 15% under its tax treaty with the U.S. Article 10; Treaty Rates | Deloitte International Tax Source. I will not buy any foreign dividend paying stock in an IRA where a tax is collected, since there is no way to recover that tax through a foreign tax credit, as explained in this Schwab publication.
Recent Earnings Report:
The following table contains relevant data. As noted earlier, the capital ratios are superior, with a 2014 year end Tier 1 ratio of 20.4%. The 2014 return on equity of 13.4% (13.3% from continuing operations) is superior to U.S. banks of a similar size.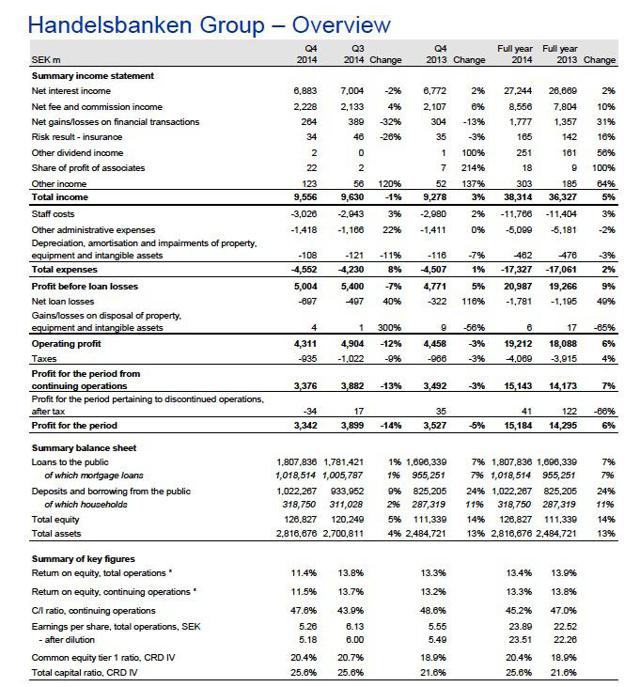 The bank explained the earnings drop off in 4th quarter compared to the 3rd to "seasonal effects and increasing loan losses".
For 2014, loans losses to total loans was .1% and impaired loans was at .25%:

Highlights 2014 Annual Report/pdf
Rationale: I try to keep this relatively simple for my own sake. Sometimes, it pays just to reduce these investment decisions to a few, easily understandable core reasons.
1. This bank appears to be rock solid.
2. The dividend provides some support to the current stock price and has been increased in recent years.
3. The ADR share price has been negatively impacted by over 20% due to the SEK's decline in value against the USD. That fact removes the currency risk that is already reflected in the ADR price.
4. Recent periods of USD strength have been relatively short lived, as shown in the currency charts, including this ten year chart of the EUR/USD: EUR/USD Chart If the SEK/USD returned to its 4/10/14 value as of .1543, and the ordinary shares remained at SEK 399, the ADR would rise to about $30.77 or 30.13%, just on the currency conversion. The annual dividend would also become more valuable at an exchange rate for the SEK higher than the one prevailing at the time of my purchase.

1ADR = .5 Ordinary Shares
Risks: The abnormal interest rate environment is squeezing bank net interest margin's throughout the developed world.
Currency risk is major as highlighted above. And, without question, there are a lot of games being played now by central banks that are substantially impacting currency exchange rates. Who really knows when continuous central bank manipulations will end?
The bank summarizes risks started at page 50 of its Annual Report linked above.
Disclosure: The author is long SVNLY.
Additional disclosure: Disclaimer: I am not a financial advisor but simply an individual investor who has been managing my own money since I was a teenager. In this post, I am acting solely as a financial journalist focusing on my own investments. The information contained in this post is not intended to be a complete description or summary of all available data relevant to making an investment decision. Instead, I am merely expressing some of the reasons underlying the purchase or sell of securities. Nothing in this post is intended to constitute investment or legal advice or a recommendation to buy or to sell. All investors need to perform their own due diligence before making any financial decision which requires at a minimum reading original source material available at the SEC and elsewhere. Each investor needs to assess a potential investment taking into account their personal risk tolerances, goals and situational risks. I can only make that kind of assessment for myself and family members.