The China Fund is a closed end fund that invests in companies with "significant assets, investments, production activities, trading or other business interests in China, or which derive a significant part of their revenue from China". The China Fund, Inc. - Home That broad mandate allows the funds to buys stocks in companies whose headquarters are located in Taiwan and Hong Kong in addition to mainland China.
The China Fund is currently rated 4 stars by Morningstar.
I bought 100 shares in a Roth IRA for the reasons discussed below.
Snapshot of Trade-100 Shares at $18.94:

I took the following snapshot of some relevant data from the sponsor's January 2015 report to shareholders that has been filed with the SEC: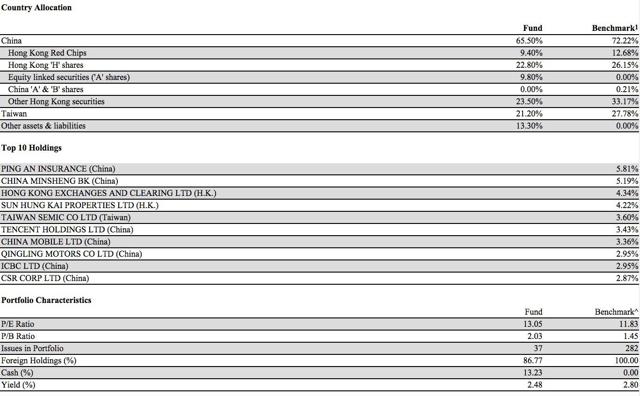 Yes, I know about China's problems. It is just my opinion that many investors are more focused on near term problems rather than the long term potential throughout Asia.
I am going to depart from my usual format and first discuss some of the risks that are readily apparent when investing in China.
I discussed many of those actual and potential problems when I added 50 CHN shares back in December 2014, shortly after the shares went ex dividend for the 4th consecutive annual dividend distribution of $3 per share or higher. Item # 2 Added 50 CHN at $17.79 (December 31/2014 Post)
Most of those distributions were classified as long term capital gains, but that only lessens the tax bite: The China Fund, Inc.-Distribution history I took a snapshot of the 2014 dividend, paid in early January 2015 in this post. I only owned 124+ shares on the ex dividend date. I received $468.8 that was used to buy 26.004 shares at $18.02+ per share. My average cost per share was then $20.06, which results in a small share loss based on today's closing price of $18.99, but the total return with those dividends would be well into the positive column.
I will drag and drop some of the risk discussion from my most recent blog discussion and then add to it.
China has its problems that are generally well known. Growth is slowing. Growth after the Near Depression was financed in large part by massive increases in debt that funded large construction projects that were a serious misallocation of capital. I am referring to the ghost cities, bridges to nowhere, shopping centers with no stores, etc.
Manufacturing has been hurt, as shown in the recent PMI numbers published by Markit due in large part to the economic slowdowns in Europe and other areas which are hopefully starting to bottom and to contribute to worldwide GDP growth. The Markit February manufacturing PMI did improve for the first time in 4 months, barely moving into expansion territory with a 50.7 reading.
The Markit press releases for all geographic regions can be found at Markit Economics-Press releases.
China Service's PMI numbers for China are holding up slightly better than the manufacturing PMI numbers, and services are growing in importance.
China's GDP growth rate has been slowing, and some pundits do not believe the numbers anyway. The perpetual naysayer, who goes by the pseudonym Tyler Durbin, is one of those skeptics. Other observers who do not perpetually view the glass as full of radioactive sewage find the GDP numbers consistent with an array of non-Chinese sourced data. Federal Reserve Bank San Francisco An alternative method to measure GDP developed by outsiders, known as the China Activity Proxy, suggests growth closer to 5.7% in 2014 rather than the reported 7.4%. One thing is for certain, measuring GDP in a large and complex economy, even with the best of intentions, results in an estimate rather than an accurate number within a tenth of a percent.
China Consumer Price Index (NYSEARCA:CPI) has been trending down, along with GDP growth, which may cause the government to take actions to devalue the yuan. A decline in the Yuan's value against the USD will flow through into securities whose price is denominated in that currency when owned by a fund priced in USDs such as the China Fund.
The Yuan has declined some against the USD starting late last year: CNYUSD Currency Quote The HKD peg has been steady. HKDUSD Currency Quote
Short-sellers, like James Chanos, have a lot of negatives that wish to emphasize.
Some of the other problems are discussed in the following articles:
The Economist; Forbes; Barron's; Fortune; Sidney Morning Herald; CBS News (story on the ghost cities)
As noted in those articles, large amounts of debt have been accumulated over the past seven years or so building infrastructure projects that would not have been built in a free market economy, at least anywhere near the scale that has taken place in China. The law of large numbers means that the use of more debt to finance growth has diminishing returns. Given the size of China's economy now, a billion dollar infrastructure program is not going to move the needle.
There is considerable country risk. I view that risk as far less than in places like Russia or Venezuela, but the country risk is still significant and noteworthy. I don't believe that companies have anywhere near the legal protection that would be viewed as normal in the U.S. with an independent judiciary.
So what is the good news?
I will start by noting that CHN is a closed end fund, and the shares were selling at a discount to net asset value per share when I purchased this last lot.
On the day of my purchase, the fund's net asset value was reported to be $21.39, creating at that time a discount to net asset value of -11.22%.
Sourced: CEFConnect
CEFConnect is an excellent source of data on closed end funds. I clicked the performance tab and noted that the fund has had a 12.83% total annualized return over the past ten years through 3/2/15 based on net asset value per share. The performance numbers in 2008 highlight a risk-down 48.29%.
The total annualized return for the S & P 500 ETF SPY was 7.91% over the same period. While the past is not necessarily prologue, that outperformance is noteworthy IMHO.
CHN has also outperformed over that ten year period some CHINA ETFs (PGJ and FXI) as well as another China CEF, the Templeton Dragon Fund (NYSE:TDF).
Until last year, the Shanghai Composite had drastically underperformed the S & P 500. I drew this chart, starting in March 2009, that compares the performance of the Shanghai Composite (blue line) with the S & P 500: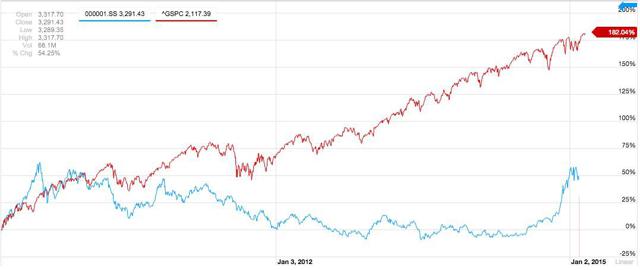 In the first snapshot above, the fund claims that the P/E of its holdings was 13.05 in January. That is certainly much lower than the current P/E for U.S. stock indexes.
The main reason for buying this fund is an opinion about the future. You either believe or do not believe. Most of the growth over the coming decades will originate in the Asia-Pacific region outside of Japan. Middle class consumers in those emerging markets are increasing in a parabolic fashion.
Ernst and Young Estimate: (by 2020, 600M middle class consumers in China)
China, India To Lead World By 2050, Says PwC
This kind of long term trend is not without bumps.
The U.S. certainly had a number of major bumps over the past century, and there are many reasons to be concerned about the next 30 years. Empires have declined by trying to do too much, and none of them have learned that lesson from history. The U.S. government debt has now accelerated to over $18 trillion dollars. In 1979, the total federal government debt accumulated since the nation's conception was less than $1 trillion. Government - The Debt to the Penny and Who Holds It
Lastly, I bought these shares in a Roth IRA because the fund has been terribly tax inefficient. In my taxable account, I have now received four consecutive annual distributions of $3 or higher per share.
If I see another one of those coming down, I may elect to pare my taxable account position before the ex dividend date and transition the position entirely to the Roth IRA.
I do not increase my wealth through large fund distributions paid into a taxable account. The net asset value per share is adjusted by the dividend amount, and I am no better off after receiving the dividend than prior to the ex dividend date.
I do have a tax liability, however, that diminishes the dividend's real value.
The shares purchased with a reinvested dividend will have to increase in value by the amount of the tax paid for me to just to breakeven, more or less and without making the complex adjustment for dividends paid on the reinvested dividends. That can work out in a long term bull market where the fund's net asset value per share is in a long upward trend. It is not going to work out in the long term secular bear market.
Hopefully, no one needs to be reminded of those nasty long term events. I started to invest in one that lasted 16 years (1966 to 1982). In those cases, it is likely that many of the reinvested dividends will lose their original before tax value.
The S & P 500 had a total annualized return, adjusted for inflation, of -1.813% between January 1966 through July 1982. S&P 500 Return Calculator Just for emphasis, I would note again that is per year with dividends reinvested.
Disclosure: The author is long CHN.
Additional disclosure: Disclaimer: I am not a financial advisor but simply an individual investor who has been managing my own money since I was a teenager. In this post, I am acting solely as a financial journalist focusing on my own investments. The information contained in this post is not intended to be a complete description or summary of all available data relevant to making an investment decision. Instead, I am merely expressing some of the reasons underlying the purchase or sell of securities. Nothing in this post is intended to constitute investment or legal advice or a recommendation to buy or to sell. All investors need to perform their own due diligence before making any financial decision which requires at a minimum reading original source material available at the SEC and elsewhere. Each investor needs to assess a potential investment taking into account their personal risk tolerances, goals and situational risks. I can only make that kind of assessment for myself and family members.