The last update for this basket strategy was published in January: Update for Equity REIT Common and Preferred Basket as of 1/21/15
Normally, I update sector basket strategies in my blog within one to two months after the prior update. I decided to make an exception for this update since some SA readers are more interested in my REIT positioning than anything else that I discuss here.
In the January update, I summarized the 2014 performance numbers for this basket.
For the reasons discussed in a March 2014 post, I started a tactical allocation shift into REIT common and preferred stocks starting in September 2013. Equity REIT Common and Preferred Stock Table as of 3/5/14 This particular shift started after prices had significantly corrected in the May to September 2013 time frame. Most of my best buys were made in December 2013 that marked the high point in the correction process.
I currently view the valuations for most U.S. REITs to be stretched and unappealing. A few have corrected sufficiently in price that I may buy back some of the shares previously sold at higher prices.
Aggregate P/FFO data can be found in Lazard's monthly U.S. Real Estate Report.pdf. The chart at the bottom of page 3 shows that the aggregate P/FFO was near an all time high even after the selloff during February in response to the spike in intermediate and long term interest rates. The chart at the top of page 3 shows that equity REIT stocks were trading at a 5% premium to net asset value as of 2/28/15.
My REIT basket did outperform the Vanguard REIT ETF (NYSEARCA:VNQ) today (3/19/15):
Vanguard REIT ETF (VNQ): $84.90 Down $.04
S&P 500 Down 10.93 or .49%
iShares 20+ Year Treasury Bond ETF Down $.67 or .51%
Click to Enlarge: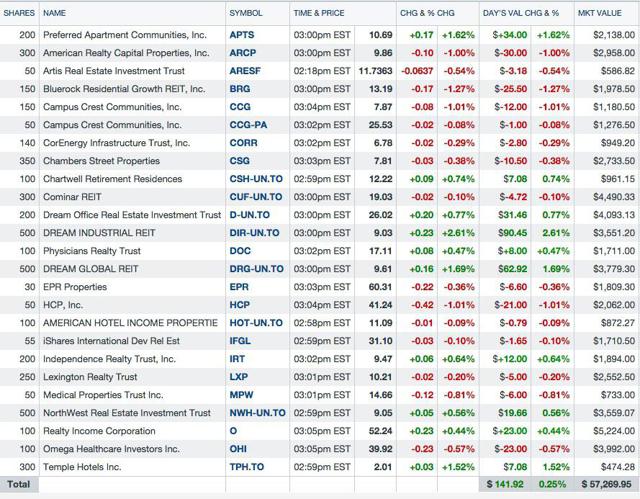 Since my last update, I have bought and sold the following:
Sold 100 SRC at $12.78 Roth IRA (1/31/15 Post)-Item # 1 Bought 100 SRC at $10.7 Roth IRA (2/25/14 Post)
Sold 54 LXP at $11.44 Vanguard Roth IRA (1/27/15 Post)-Transitioning Position to Fidelity Roth IRA
Sold 100 CSG at $8.76-Highest Cost Shares
Sold: 50 CBLPRD at $26.06 in Roth IRA
Sold: 50 FPOPRA at $26.2 in Taxable Account
Pared Interest Rate Risk by Selling in a Taxable Account 50 AMHPRA at $25.4
Pared Interest Rate Risk: Sold 50 CORPRA at $26.25 (2/7/15 Post)
Added To LXP At $9.85-Roth IRA - South Gent | Seeking Alpha
I have not yet discussed one position included in the table, a small 100 share position in the Canadian REIT Chartwell Retirement Residences which was downgraded from buy to neutral by two Canadian firms yesterday. I do not have access to their reports.
Apparently, those downgrades were in response to Chartwell announcing a definitive agreement with HCP and Brookdale Senior Living to sell its U.S. operations for U.S.$849M. It seemed that Chartwell thought that this was a good time to take those U.S. dollars and bring them back to Canada. I will discuss this purchase in my next blog post.
The emphasis this year, so far, has been to pare the basket some.
I view this basket to be a natural interest rate hedge for my regional bank basket. REIT and Regional Bank Baskets
At my age and overall financial condition, I am not trying to knock the cover off the ball. It is more like bunting for singles, fouling off ten pitches until the pitcher throws one fat one, or leaning into a pitch hoping that it will graze the jersey. I emphasize capital preservation and income generation over capital appreciation.
Having natural, income generating hedges is just one of many measures taken to control risks while generating income.
While both baskets can go up or down in tandem, they will frequently show some negative correlation when interest rates are making a meaningful move.
The regional bank basket is likely to rise during an interest rate spike period, while REITs will likely go down in price. That is what happened in 2013 when interest rates moved up, with the ten year treasury spiking from a 1.66% yield (5/1/13) to 3.04% by year end. Daily Treasury Yield Curve Rates
Conversely, REITs had an excellent 2014, as interest rates declined, whereas regional banks just chopped up and down and ended up going nowhere.
This kind of very low positive correlation or negative correlation over shorter than annual time spans is shown by the respective total returns for two sector ETFs:
Total Returns (Dividends Reinvested):
S&P Regional Banking ETF (NYSEARCA:KRE) Total Return
2013: +47.5%
2014: + 1.85%
Vanguard REIT ETF (VNQ) Total Return
2013: +2.31%
2014: +30.36%
As noted above, I started a rotation into REIT common and preferred stocks late in 2013 after their prices had declined anywhere from 10% to 25%. I pared my regional bank basket into that sector's 2013 strength.
During 2014 and into this year, I have added back to the regional bank basket and have pared my REIT basket, including the disposition of most of the REIT preferred stocks bought after significant declines in their prices. I have noted in a recent SA comment the historical volatility of REIT preferred stocks, linking several charts including this one showing the wild action in CBLPRD over the past ten years:
I also referenced several other charts highlighting what happened to REIT preferred stocks during the 2013 rate spike including the following examples:
I am an experienced warrior in the equity preferred stock space.
Snapshots of profits can be found in my Gateway Post for the REIT basket strategy: Gateway Post: Equity REIT Common and Preferred Stock Basket Strategy
It remains to be seen whether intermediate and long term rates will rise this year. I could make a cogent case for both up and down, as I did in this SA Instablog. An Analysis Of The Risk/Reward Balance For Intermediate And Long Term Treasuries - South Gent | Seeking Alpha
The bottom line is that I do not know the future and consequently own securities that will react differently under possible future scenarios. I currently believe that a rise in rates in more likely so I am slightly tilted in that direction with my weightings.
At the moment, I have three core positions in this basket, all of which were acquired in December 2013 during the rotation period:
Snapshot at Item # 6 Bought: 100 Realty Income (NYSE:O) at $36.96 (12/10/13 Post)
Snapshot at Item # 1 Bought 50 HCP (NYSE:HCP) at $36.31 (12/31/13 Post)
Snapshot at Item # 2 Bought: 100 Omega Healthcare (NYSE:OHI) at $29.85 (12/23/13 Post)
Of those three stocks, I have the most concerns about HCP due to its large exposure to HCR Manor Care.
I am considering adding Physician's Realty to that core list: Item # 2 Bought 100 DOC at $13.75 (10/11/14 Post)
I am not likely to sell a single share unless there is a fundamental deterioration in the business. I am content to own those three stocks for their income generation and dividend growth potential.
I have several positions that I categorize as "trading" core positions. In this category, I am not likely to sell an entire position. Instead, I will use the natural volatility of a stock to sell my highest cost shares after a pop and to buy back preferably when and if I can lower my average cost per share.
For example, I recently sold my highest cost 100 CSG shares at $8.76. I may now buy that lot back at $7.75 or lower.
Another example involves selling my highest cost LXP shares at $11.44 and then buying the shares back at $9.85: Added To LXP At $9.85-Roth IRA - South Gent | Seeking Alpha
I have bought and sold MPW in small lots: Sold 100 MPW at $14-Regular IRA (9/13/14 Post)-Item # 2 Bought Regular IRA-100 MPW at $12.76 (4/18/14 Post) I bought back only 50 of those shares later at $12.33 (10/14/14 Post)
My last odd buy of EPR was at $50.72 (10/14/14 Post)
The following REITs are in the trading core positions:
Chambers Street (NYSE:CSG)
EPR Properties (NYSE:EPR)
Lexington REIT (NYSE:LXP)
Medical Properties (NYSE:MPW)
All of my Canadian REITs are available for sale, and I have been trading them. I am content to sit on them too. All pay monthly distributions. All pay in Canadian Dollars and were bought on the Toronto exchange except for the USD priced ARESF.
My last two dispositions were Healthlease, which was acquired by the U.S. REIT HCN, and Artis: Sold: 300 HLP-UN:CA at C$14.17 and 300 AX-UN:CA at C$15.71 (9/26/14 Post)
All other U.S. REITs are available for sale when and if I wish to take a profit or to reduce the size of this basket due to valuation concerns. I have already reduced the size with several eliminations. I have two externally managed apartment REITs which are prime candidates for profit harvesting at some point.
Bought 50 IRT at $8.17-Roth IRA/ Bought: 100 IRT at $8.87 (1/28/14 Post)(the lower price purchase occurred after IRT announced a share offering). I bought another 50 at $8.45 in a Roth IRA (snapshot in introduction to that post).
Bought 50 BRG at $11.98-Roth IRA (10/17/14 Post); Equity REIT Basket Strategy: Added 100 Bluerock Residential Growth Shares At $12.85-Bluerock Residential Growth REIT, Inc. (NYSEMKT:BRG) | Seeking Alpha
Disclaimer: I am not a financial advisor but simply an individual investor who has been managing my own money since I was a teenager. In this post, I am acting solely as a financial journalist focusing on my own investments. The information contained in this post is not intended to be a complete description or summary of all available data relevant to making an investment decision. Instead, I am merely expressing some of the reasons underlying the purchase or sell of securities. Nothing in this post is intended to constitute investment or legal advice or a recommendation to buy or to sell. All investors need to perform their own due diligence before making any financial decision which requires at a minimum reading original source material available at the SEC and elsewhere. Each investor needs to assess a potential investment taking into account their personal risk tolerances, goals and situational risks. I can only make that kind of assessment for myself and family members.