This is an excerpt from a blog published earlier today:Stocks, Bonds & Politics: Bought Back 50 of the Synthetic Floater GYC at $21.67/Bought 50 DPG at $19.54/Averaged Down: Added 50 CIZN at $17.62/Bought 100 CSH_UN:CA at C$12.125
The Duff & Phelps Global Utility Income Fund (NYSE:DPG) has corrected in price since I eliminated my Roth IRA position and pared my taxable account position.
The net asset value per share and market price declines were partly due to a spike in interest rates starting after the 10 year treasury closed at a 1.68% yield (2/2/15). The 10 year treasury peaked near 2.25% on 3/6/15 and has since drifted back down. Daily Treasury Yield Curve Rates
The yield went down some after the Federal Reserve found a way to sound more dovish than in recent press releases, even after eliminating the word "patient" from the most recent monetary policy statement.
Federal Reserve FOMC statement--March 18, 2015
The other problem for a fund owning electric utilities involves the valuations and yields in that sector. I have recently discussed that topic here: A Word Of Caution About New Purchases In The Utility Sector - South Gent | Seeking Alpha
The strong USD and the dramatic decline in energy prices have masked a buildup of inflationary pressures elsewhere in the economy. Those parabolic spikes-energy down and the USD up-may soon reverse and provide a tailwind for inflation rather than a headwind. The FED's recent policy statement and new inflation and real GDP forecasts may have been intended, at least in part, to talk down the USD. The thrust of their releases last Wednesday seemed to be aimed at undermining the underlying justifications for the parabolic rise in the USD. The FED made it crystal clear that it was not in any hurry to raise the Federal Funds rate to .25% and was certainly not going to entertain a tightening cycle like the one between June 2004 and July 2006, when the FF rate went from 1% to 5.25%. Effective Federal Funds Rate And, the dollar bulls had more air taken out of their case with the downward revisions in inflation and real GDP growth.
The inflationary pressures, being ignored by the FED in their reluctance to move off a zero FF rate after 6+ years, are easy to spot.
Businesses are finding it increasingly difficult to find employees to fill job openings which is creating upward pressure on wages.
The NFIB's last survey showed that 29% of small businesses could not fill job openings, with the unfilled job openings near 40 year highs.
Over the past several weeks, there are been a number of news stories about retailers voluntarily hiking their wage levels.
On the day of Yellen's news conference, where she stated that "we may not see wage growth pick up", and there was no "broad" based wage pressure, the WSJ ran a story that Target was going to raise the pay for all workers to at least $9 per hour next month and to $10 next year, "as competition heats up for lower wage workers", and following quickly on the foot steps of pay raises announced by Wal-Mart and many other companies. The WSJ story was originally published last Wednesday.
The last reported median CPI was at a 2.2% annual rate or above the Fed's 2% target. Current Median CPI
The index for food costs rose 3.4% in 2014, a "substantial acceleration" compared to 2013. The medical care index rose accelerated to 3% in 2014 from 2% in 2013. The shelter index increased by the largest amount since 2007. The rent index rose 3.4% in 2014. Meat, poultry, fish, and eggs, which rose 2.9% in 2013, increased 9.2%, the largest annual increase since 2003. The index for veal and beef rose 18.7% last year, with dairy and related products rising 5.3%. Consumer Price Index News Release
What will U.S. inflation look like when crude oil returns to $80 and natural gas to $4-$5, Henry Hub Natural Gas Spot Price?
A related topic involves whether treasury yields are properly compensating investors for inflation risks: An Analysis Of The Risk/Reward Balance For Intermediate And Long Term Treasuries - South Gent | Seeking Alpha
In those posts, I discuss reasons that explain why interest rates are low as well as other material facts that suggest that bond investors are improperly pricing inflation risks in all bond yields.
It is my opinion that the FED's desire to avoid a repeat of 1937 will lead to inflation rising above the 2% level considered appropriate and risks the possibility of a clamp down that will send the economy into a recession.
However, since I know that I do not know the future, I will own securities that respond differently to a rise in interest rates. DPG is an example of a security that has "bond substitute" characteristics.
In my blog post discussing the purchase of DPG in the Roth, I also discuss buying back the exchange traded floater GYC, whose coupon will increase when the three month Libor rate exceeds 2.6%. GYC Prospectus
Bought 50 DPG at $19.54-Roth IRA (see Disclaimer):
Snapshot of Trade:

Security Description: The Duff & Phelps Global Utility Income Fund (DPG) is a leveraged closed end stock fund that invests in electric, gas and water utilities, telecommunication companies and MLPs.
DPG Page at Morningstar (currently rated 3 stars; leveraged at 22.5%; ROC support for the dividend originating mostly from ROC MLP distributions)
Data Date of Trade (5/19/15):
Closing Net Asset Value Per Share: $22.05
Closing Market Price: $19.45
Discount: -11.79%
Average Discounts:
One Year: -11.44%
Three Years: -8.9%
Sourced: CEFConnect
Last SEC Filed Shareholder Report: Duff & Phelps Global Utility Income Fund (period ending 10/31/14/cost of common stock and MLP assets at $906.535+M with the then market value at $1.175+B)
Note 8 of that shareholder report contains details about the fund's borrowing costs. For the F/Y ending in October 2014, the average daily borrowings and the weighted average interest rate were $260M and .95%. respectively. The rate was at .89% as of 10/31/14.
Sponsor's Website: Duff & Phelps Global Utility Income Fund
I took a snapshot of the top five holdings in each "utility" sector: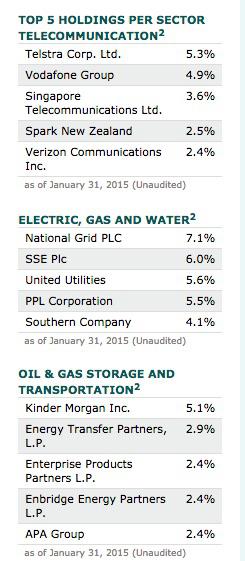 The largest weighting in the oil and gas infrastructure sector was Kinder Morgan (NYSE:KMI) at 5.1$ as of 1/31/15.
Prior Trades: I sold earlier this year 100 of the 200 DPG shares owned in a taxable account. Item # 1 Sold 100 of 200 DPG at $20.74 (2/17/15 Post)(realized gain snapshot= $200.07). I sold my highest cost shares bought at $18.58 and kept the lower cost lot purchased at $17.3.
I have several other trades in the Roth IRA: Item # 1 SOLD 50 DPG at $22.42-Roth IRA (11/2914 Post)(snapshot profit $124.99)-Item # 2 Bought Roth IRA: 50 DPG at $19.64 (10/20/14 Post); Item # 8 Sold 113+ DPG at $21.19-Roth IRA (8/19/14 Post)(snapshot of profit=$403.07; total return $662.61 or 38.15%)-Item # 3 Swap Trade Roth IRA: Sold 100 of 150 GYB at $18.03 & Bought 100 DPG at $17.31 (12/12/14 Post)
Total Realizing Share Profits (excluding dividends)= $728.13
Snapshot of Recent Roth IRA DPG History: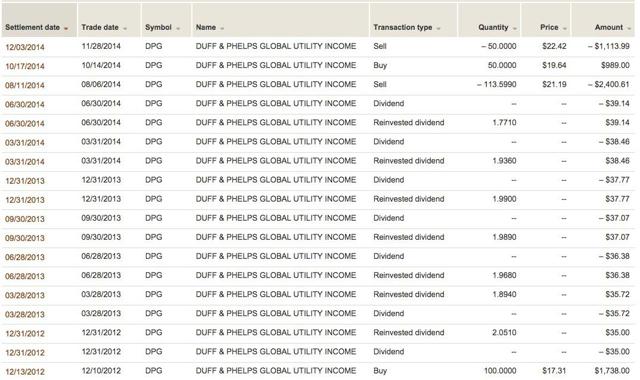 Dividend History: The fund has been paying a $.35 per share quarterly dividend since its IPO in 2011. Dividend & Distribution
Due to the ownership of MLPs, the fund's distribution has been supported by a return of capital:

Rationale: The recent corrections in the MLP, telecommunications and utility sectors have made this leveraged CEF slightly more palatable on a risk/adjusted basis. I only nibbled with a 50 share purchase, however.
Net Asset Values/Market Price:
2/3/15: $24.04/$20.95
3/11/15: $21.85/$19.38 (day prior to ex dividend date for the quarterly distribution)
Without an ex-dividend, the net asset value per share declined 9.11%.
The dividend yield is currently about 7.16% based on a total cost per share of $19.54. That income is tax free in the Roth IRA.
I have managed, so far at least, in creating decent total return numbers trading this fund.
While I view the U.S. electric utility stocks to be overvalued, and have no opinion about the foreign ones, their overall weighting in the portfolio is not large. The MLP infrastructure companies have been weak over the past several weeks due in part to fears that energy prices and/or future decreased production will adversely impact them.
U.S. crude production continues to increase even as the rig count plummets:
Weekly U.S. Field Production of Crude Oil (Thousand Barrels per Day)
North America Rig Count-BakerHughes.com
Risks: The risks are fairly typical for a leveraged closed end sector fund that buys securities worldwide. There will be some currency risks, the normal CEF risks (e.g. expansion of discount after purchase), price risk due to valuations of owned securities, interest rate risks to the prices of bond substitute securities, and the risks associated with leverage (e.g. borrowing costs, buying assets which decline in price with borrowed money adding to the woes, etc.) The sponsor discusses risks at its website and in the Prospectus starting at page 46.
As of 3/19/15, the Utilities Select Sector SPDR ETF (NYSEARCA:XLU) had a forward estimated P/E of 16.68 and a dividend yield of only 3.35%. The estimated 3 to 5 year E.P.S. growth rate was 5.64%. The P.E.G. ratio is elevated due to the low growth rate and high P/E.
This sector is vulnerable to a correction precipitated by even a modest rise in rates that diminishes the allure of a 3.32% yield and further calls into question such a high P/E for a sector growing earnings only in the low single digits.
A P.E.G. of 2 to 2.5 would be closer to a fair value range with rates rising, an estimated 3 to 5 year E.P.S. growth rate of 4% to 5%, provided the rise in rates ebbs below the average historical norms.
I go into more detail about the rationale in a recent SA Instablog: A Word Of Caution About New Purchases In The Utility Sector - South Gent | Seeking Alpha
The Vanguard Utilities ETF (NYSEARCA:VPU) has another set of data that is even more concerning than the XLU valuation information:
As of 2/28/15, this Vanguard fund owned 78 stocks, with a P/E of 18.4.8 times and a 2.5% earnings growth rate. Portfolio & Management That P/E and growth rate simply does not compute for my Left Brain who views it to be at best irrational, a description used whenever it decides to be pleasant about something viewed as nutty.
Disclaimer: I am not a financial advisor but simply an individual investor who has been managing my own money since I was a teenager. In this post, I am acting solely as a financial journalist focusing on my own investments. The information contained in this post is not intended to be a complete description or summary of all available data relevant to making an investment decision. Instead, I am merely expressing some of the reasons underlying the purchase or sell of securities. Nothing in this post is intended to constitute investment or legal advice or a recommendation to buy or to sell. All investors need to perform their own due diligence before making any financial decision which requires at a minimum reading original source material available at the SEC and elsewhere. Each investor needs to assess a potential investment taking into account their personal risk tolerances, goals and situational risks. I can only make that kind of assessment for myself and family members.
Disclosure: The author is long DPG.