Before turning to a discussion of this exchange traded bond purchase, I am going to outline the problem facing investors who use bonds in their retirement accounts.
Based on my personal financial situation, I developed my current management style for my IRA accounts several years ago. I manage my retirement accounts with a strong emphasis on income producing securities that pay non-tax favored distributions.
I am referring to those securities that pay either interest or non-qualified dividends. Those categories of distributions would be taxable at the highest marginal rate when paid into a taxable account.
These securities would include REITs, Business Development Corporations, bonds and bond funds. I discussed in a 2010 post how I use floating rate securities in that management: Item # 1 Managing Interest Rate Risk Another interest rate management technique involves lowering duration when I have rational concerns about interest rate risks increasing. FINRA Publication: "What an Interest Rate Hike Could Do to Your Bond Portfolio"
I will occasionally buy a closed end fund that has proven to be excessively tax inefficient. As an example, the China Fund was recently purchased in an IRA and discussed here at SA. That fund has paid a year end distribution of $3 per share or greater for the past 4 years. Added To China Fund - China Fund (NYSE:CHN) | Seeking Alpha
I will occasionally buy a stock that pays qualified dividends in an IRA, though the purchase will be small and the larger position will be held in a taxable account. An example would be a purchase of 30 GE shares in the Roth IRA compared to a taxable account position of 531+ shares. Bought General Electric In Roth IRA At $23.86 - General Electric Company (NYSE:GE) | Seeking Alpha Another example is a similar purchase of Unilever discussed in an Instablog here at SA: Dividend Growth Strategy: Added 30 UL At $39.25 Roth IRA - South Gent | Seeking Alpha
In prior posts and comments, I have noted my concerns about bond yields and whether investors are properly being compensated for interest and credit risk.
Treasuries do not provide me with enough yield taking into account the interest risks. An Analysis Of The Risk/Reward Balance For Intermediate And Long Term Treasuries | Seeking Alpha
The ten year treasury was yielding 1.88% on 3/24/15, Daily Treasury Yield Curve Rates.
That yield would produce a 1.42% negative real rate of return per year based on the 3.3% average U.S. inflation rate since 1914.
The real yield per year would be .11% per year, using the average annual inflation forecast over ten years embodied in the 10 year TIP pricing as of 3/24/15, the break-even spread, which I personally view as way too low.
Even if there was zero inflation over the next ten years, and the 10 year treasury yielding 1.88% was held in a Roth IRA to avoid all taxes (rather than a traditional IRA where withdrawals are taxed), it would take about 37.22 years for money to double at 1.88% with no taxes and no inflation: Estimate Compound Interest
The long term secular bond bull market started in 1982. The prior long term bond bear market started in the late 1940s and ended in 1982, as shown in a historical 10 year treasury chart. Even with very subdued inflation during the 1950s, the ten year treasury produced a -1.27 annualized real rate of return between 1950-1959.
I am not a buyer of U.S. treasuries. If an investor wants to buy them and hope for deflation enveloping the U.S. until the end of days or as a trade, then have at it. I sold my last ten year TIPs, held in a Roth IRA that were bought at auction, when the profit far exceeded the interest payments likely to be paid until maturity and the buyer received a -.89% NEGATIVE current interest rate on those bonds. Sold 3 TIP Bonds Maturing in 2019 at 120.45 (5/25/12); Chart: 10-Year Treasury Inflation-Indexed Security, Constant Maturity- St. Louis Fed
Bond bull markets start when the market is pricing bonds based on unreasonable inflation forecasts. The thirty year treasury had close to a 14% yield in 1984 when CPI had already fallen into the low single digits (CPI: 3.2% in 1983; 4.3% in 1984; 3.5% in 1985 and 1.9% in 1986)
The long term treasuries bought at 14-15%+ in 1981-1982 would end up producing an average annual real rate of return of more than 11%. Bond investors continued to misprice inflation risks in 30 year treasuries for over a decade, notwithstanding substantial confirmatory data over a long period that demonstrated the foolishness of their long term inflation forecasts.
The last long term bear market in bonds, which started in the late 1940s and lasted until 1982, commenced with the abnormally low yields prevailing as a result of the Near Depression and a period of FED manipulation of rates to abnormally low levels that has largely been forgotten by most investors. The details of that intervention are described in an article titled U.S. Monetary -Financial Policy 1945-1951.
So what to do?
Given my increasing concerns about interest rate risks, which many investors do not share, I am pairing a purchase of a long term investment grade bond with the purchase of another security whose coupon (and hopefully its price) will increase with short term rates going up.
I recently described in a SA Instablog the purchase of the Duff & Phelps Global Utility Income Fund, which will likely go down in value with a rise in interest rates, with the synthetic floater GYC, discussed at Item #1, whose coupon will start to float up after the 3 month Libor rate exceeds 2.6%. The coupon is currently the minimum rate of 3.25% on a $25 par value. GYC Prospectus
With the first mortgage bond purchase described below, I paired another exchange traded synthetic floater that I will discuss in my next blog.
I have been buying first mortgage bonds for several years now. When I first heard about the FED launching ZIRP, my first response was to go online and buy some long term CDs and the second was to buy long term exchange traded bonds including exchange traded first lien bonds.
Added 100 of ELB at $25.17-Roth IRA (see Disclaimer):
Snapshot of Trade:
Security Description: The Entergy Louisiana LLC First Mortgage Bonds 6.00% Series 2040 is an Exchange Traded first mortgage bond issued by Entergy Louisiana, a wholly owned distribution subsidiary of Entergy Corp.(NYSE:ETR).
Interest payments are made quarterly at the fixed coupon rate of 6% on a $25 par value. The note matures on 6/15/2040, so there is a ton of interest rate risk for the ELB owner.
The issuer may call the bond on or after 3/15/2015 at par value plus accrued interest. If the issuer elected to do so tomorrow, I would lose a few bucks since accrued interest would not cover my $17 premium to the $25 par value and the $7.95 commission. This bond went ex interest for its quarterly distribution on 3/11/15.
There are other Entergy Lousiana first mortgage bonds that have optional call dates in the future, but their current yields are lower.
One of those, ELA, has a 5.875% coupon, and is callable on or after 11/23/15, and consequently provides insignificant call protection compared to ELB. Yet ELA closed at $25.57 on 3/23/15 and also went ex interest on 3/11.
Other Entergy exchange traded first mortgage bonds with links to their prospectuses and quotes are as follows:
ELJ: Entergy Louisiana First Mortgage Bonds 5.25% Series due July 1 2052- Prospectus (callable on or after 7/1/17)
ELU: Entergy Louisiana LLC First Mortgage Bonds 4.7% Series due June 1, 2063- Prospectus (callable on or after 6/1/18)
A listing of bonds and preferred stocks issued by Entergy subsidiaries can be found at Entergy.
I really do want to own a bond that could at least potentially mature beyond my current life expectancy. Since I was born in 1951, I do not have a realistic option of holding ELU or ELJ to maturity.
The first mortgage attaches to substantially all of Entergy Louisiana's assets as described at page S-4.
The optional call right will take away any meaningful capital appreciation with interest rates falling since the issuer can call at $25 and refinance at a lower rate.
According to Quantumonline, this security is rated A2 by Moody's and A- by S & P. I would recommend that fixed income investors become familar with that free site, registration required: QuantumOnline.com Home Page
Entergy Louisiana-Service Area
First Lien Security Interest: The lien does not attach to cash, certain equipment, automobiles and receivables. The lien does attach to substantial assets and is consequently "safer" than an unsecured senior bond.

The bonds trade flat, meaning "purchasers will not pay, and sellers will not receive, accrued and unpaid interest on the bonds except as included in the trading price thereof." (page S-4)
Prior Trades: I currently own 50 ELB shares in another Roth IRA account: Item # 4 Roth IRA: Bought 50 ELB at $25.06 (7/27/13 Post)

Within the past several months, I have been selling potentially long term first mortgage bonds, with $25 par values, when their price exceeds $26 (or close to that price) and then buying them back when the price sinks below par or no more than $.20 over par value. I am attempting to manage interest rate risk in that fashion, as well as improving my total return.
Sold 50 EMQ at $26.01-Roth IRA-Item # 4 Bought Roth IRA: 50 EMQ at $25.11 (8/23/14 Post);
Item # 3 Sold 50 EMQ $25.61 (2/17/15 Post)-Item # 2 Bought: 50 EMQ at $24.93 (2/10/14 Post);
Item # 3 Sold 100 EFM at $25.96-Roth IRA (2/11/15 Post)-Item # 4 Bought 100 EFM at $24.88 (2/17/14 Post);
Item # 2 Roth IRA Paired Trade: Sold 50 EMQ at $26.49 and Bought 50 EFM at $24.9 (11/6/2013)-Item # 5 Roth IRA: Bought 50 EMQ at $24.83 (8/3/13 Post)
I have had a quicker trigger finger in prior years including a previous round trip in ELB, bought in a taxable account for some forgotten reason: Sold 100 ELB at $25.57-Item # 5 Added 66 ELB at $25.0-Round out a Partial Fill (4/15/14 Post) and the balance from Bought: 50 ELB at $24.44 (12/3/13 Post)
It has been awhile since these securities were priced at any meaningful discount to their $25 par values.
Recent Earnings Report: The earnings report for Entergy Louisiana is included in the 10-K filing for its parent Entergy, ETR-12/31/2014-10K. The discussion pertaining to Entergy Louisiana starts at page 350.
I took a snapshot of financial data starting in 2010 through 2014: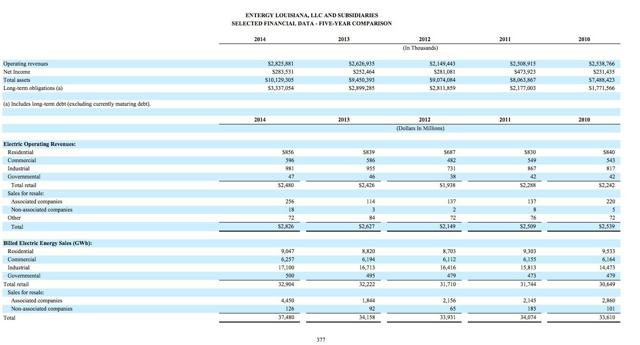 Rationale: There is really only one halfway decent reason to own this security, and that starts and ends with income generation.
The yield is tax free in the Roth IRA and becomes modestly attractive only due to that tax advantage. A 6% yield will double an investment in about 11.9 years.
In addition to the tax free income generation when owned in a Roth IRA , the purchase of ELB is a contrarian play to my own opinion that intermediate and long term rates are likely to rise sooner rather than much later.
I would note that the Cleveland FED's median CPI number rose at an annualized rate of 3% in February and is up 2.2% over the past year through February. Current Median CPI
This security closed at $26.55 on May 1, 2013, when the 10 year treasury was yielding 1.66%, just before the rapid increase in long term rates commenced in earnest. ELB Historical Prices
In September and October 2012, ELB was trading mostly over $28 per share. ELB Interactive Chart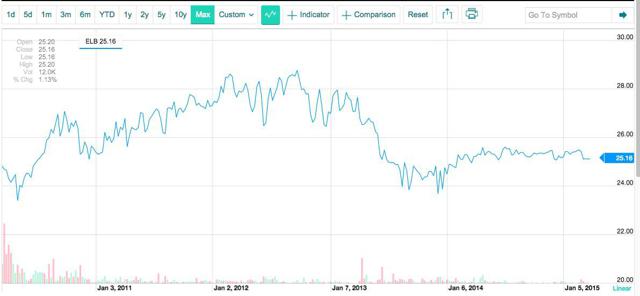 The price has come close to flatlining as the optional call date became closer.
I would not anticipate a price much over $26 now due to the issuer having the right to call at par value whenever it chooses to do so.
If the issuer does not call soon, investors may become more comfortable owning this bond. At some point thereafter, possibly the price will move up sufficiently that I will have at least the option of bailing for a small profit, as I have done in the past, in addition to receiving the interest payments.
That is what I call small ball with a capital preservation and income generation focus. Given the low yields for bonds, and the looming threat of higher rates, small ball is the only kind of ball that I will play with bonds.
Risks: Interest rate risk is probably the most significant risk. I do not want to be caught holding this bond as longer term rates spike up.
There is a slight monetary risk, amounting to a few dollars, in the event the issuer redeems fairly soon. I would prefer taking that insignificant risk with a 2040 maturity than to go even further out in maturity dates and to accept a lower yield, just for a call protection for another two or three years. If Entergy Louisiana redeems the bond, I will just find an alternative, hopefully with a better yield with the same credit quality.
The risk of lost opportunity is also present, assuming I have a deer in the headlights look when this bond suffers a material deterioration in value due to a rise in rates. That risk arises when an investor chooses to keep a bond losing in value due to a non-temporary and material rise in rates, rather than selling for a loss and then reinvesting the proceeds in a higher yielding bond. The investor in that scenario loses the opportunity to secure more income, either by holding onto the bond or by refusing to buy it in the first place.
Entergy discusses risks factors incident to its operations starting at page 274 of the 2014 Annual Report.
One of Entergy's distribution subsidiaries, Entergy New Orleans, filed for bankruptcy protection after Katrina. There is always the possibility of a black swan type event destroying the collateral. It emerged from BK in 2007.
The SA system does not recognize exchange traded bond symbols. I am obviously long ELB. I receive no compensation from SA or anyone else for Instablogs or Instablogs published as articles. I am parting with my knowledge, such as it is, free of charge to anyone who wishes to make whatever use of it they desire after doing their own comprehensive due diligence.
A failure to perform due diligence only increases what I call "error creep". Stocks, Bonds & Politics: ERROR CREEP and the INVESTING PROCESS
Disclaimer: I am not a financial advisor but simply an individual investor who has been managing my own money since I was a teenager. In this post, I am acting solely as a financial journalist focusing on my own investments. The information contained in this post is not intended to be a complete description or summary of all available data relevant to making an investment decision. Instead, I am merely expressing some of the reasons underlying the purchase or sell of securities. Nothing in this post is intended to constitute investment or legal advice or a recommendation to buy or to sell. All investors need to perform their own due diligence before making any financial decision which requires at a minimum reading original source material available at the SEC and elsewhere. Each investor needs to assess a potential investment taking into account their personal risk tolerances, goals and situational risks. I can only make that kind of assessment for myself and family members.