This is an excerpt from a blog published earlier today: Stocks, Bonds & Politics: Dividends: Roche, GE, Swedbank, Zurich Financial/SOLD 100 ARCC at $17.195/Bought 100 Canadian Utilities at C$40/Regional Bank Earnings: MBVT, NBTB, FMER, UBSI, AMNB
I am not going to be discussing here the elimination of my remaining ARES Capital (NASDAQ:ARCC) shares. I do not hold externally managed BDCs in high esteem and will trade them in an effort to secure a total return in excess of the dividend yield.
The ARCC shares were sold at a price in excess of the last reported net asset value per share.
The total annualized total return was 33.82% for shares bought on 10/13/14 and 11.36% for another 50 share lot purchased on 1/20/11. Dividends were not reinvested to buy additional shares.
For both 50 share lots, the shares were sold profitably and added to the total return generated by the dividends.
I use an online calculator to arrive at those numbers. That calculator provides results with and without dividend reinvestment. I provide snapshots at my blog.
The stock purchase discussed in this post is one made under my Canadian Dollar Investment Strategy.
The rationale underlying that strategy and similar foreign currency ones is diversification and my overall negative opinion about the USD's long term value given what I view as an inevitable fiscal train wreck lurking, more probable than not, 15 to 25 years in the future.
I am anticipating that the fiscal crisis will be preceded by an interest rate spike on a U.S. government debt pile that will be much larger than the current $18.15+ trillion (possibly in the $25 to $30T range). The end result would be in this scenario a series of failed treasury auctions with the FED buying what can not be sold. I suspect that annual interest costs on the debt will then be in the $1.5T to $2 trillion range with interest costs then being added to the existing debt burden.
Debt to the Penny (Daily History Search Application)
Government - Interest Expense on the Debt Outstanding
CBO Budget Predictions 2015 to 2035.pdf (table 4 contains benign interest rate assumptions)
In passing I would note that the CBO was predicting budget surpluses in its 1999 forecasts. Table 1 is almost funny in retrospect if it was not so sad: CBO 1999 Forecasts.pdf I had to take a snapshot of those budget surplus estimates:

Actual Surplus or Deficit [-]-St. Louis Fed
In other words, the deficits are more likely than not to be far worse than the current projections.
I am not predicting that result with anything close to 100% certainty. I am simply assigning the end game result a high probability within the next 15 to 25 years and a much lower probability prior to 15 years. That assessment of probabilities is subject to change based on subsequent events. At the moment, the assessment causes me now to diversify some of my assets into securities priced in a few foreign currencies where the government is viewed now as more responsible than our dysfunctional one.
I would add one other investment strategy approach. When the probabilities increase of the Black Swan event actually occurring, I would not want to have any debt whatsoever. I am naturally adverse to debt and have no debt now, nor will I acquire any in the future. I own everything free and clear.
Bought 100 Canadian Utilities at C$40 (NASDAQ:CA) (Canadian Dollar (NYSEARCA:CAD) Income Strategy)(see disclaimer):
Snapshot of Trade: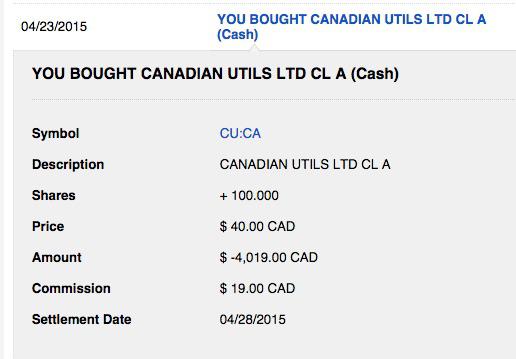 The ordinary shares can be purchased using USD on the pink sheet exchange. However, volume is very light. Canadian Utilities Ltd. (OTCPK:CDUAF) Only 976 shares traded on 4/23 versus almost 110,000 in Toronto.
On the day of my purchase, the ordinary shares priced in USD rose 1.38% to close at $32.97.
The CAD priced ordinary shares traded in Toronto closed down .1%. CU.TO Historical Prices
And what does that tell you about the exchange rates that day. Was the Canadian dollar moving up or down in value against the USD?
I took a snapshot of the currency values before a placed the trade, but deleted it. I took the following snapshot later on 4/23:

The conversion value is really important when I am buying the ADR or ordinary shares using USDs. I do not view it as important when I am using what I view as a permanent CAD position to fund a purchase in Toronto. The relevance exist only when I sell the security and the broker uses the conversion values from CADs into USDs (both purchase and sell) to calculate the profit reportable to the IRS.
I decided to use my CAD stash to buy the ordinary shares in Canada preferring to draw down my CADs rather than USDs at that moment in time. I am earning zilch on both cash amounts unless one is inclined to call a Fidelity MM rate of .01% a return and I would just as soon earn zero which is what my idle CADs throw off.
Prior Trades: None. First Purchase.
Company Description: I would describe Canadian Utilities as a diversified electric utility company with significant energy infrastructure assets.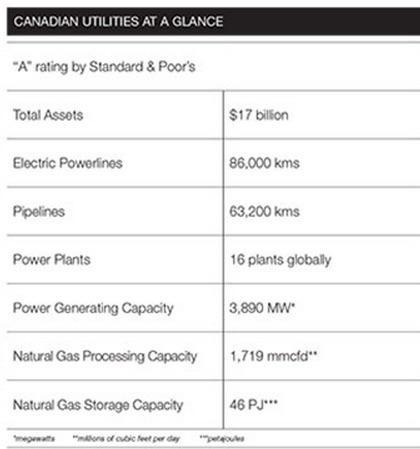 MW stands for "Megawatts", which is defined as 1 million watts or 1,000 kilowatts and is generally enough electricity to power about 600 homes.
KMS stands for Kilometers. (86,000 KMS of power lines equals 53,437.92+ Miles)
PJ = Petajoule (46 PJ=423215224.42992 hundred cubic feet of natural gas)
The company operates through a number of subsidiaries in Canada, Australia and Mexico: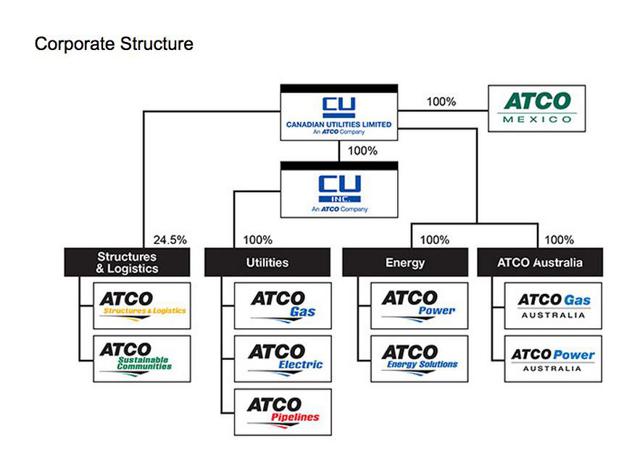 ATCO power's businesses includes the supply of electricity from natural gas, coal-fired and hydroelectric generating facilities located in Western Canada and Ontario. About 80% of the generating capacity is located in Alberta. A map of those facilities can be found in the 2014 Annual Report (page 30)
ATCO electric owns and operates electrical transmission and distribution facilities in Alberta. ATCO Pipelines operates about 4,000 KM of natural gas pipelines in Alberta.
Both of those operations have a significant exposure to an economy that is significantly dependent on oil exploration and production. There was as of 12/31/14 about 11,000 KM of transmission lines and 69,000 KM of distribution lines. Transmission lines are those large and tall structures that carry electricity at high voltages over long distances (see pictures at page 13) They are expensive too build. Power is supplied to about 224,000 customers in 245 communities.
The significant exposure to Alberta can have benefits and risks. It would be better to have that exposure through Canadian Utilities that has a diverse customer base rather than a leveraged oil sands energy company.
ATCO Australia owns 299MW of generating capacity and has 13,700 KM of natural gas distribution pipelines serving 700,000 customers.
Sourced: Corporate Structure, 2014 Annual Report and Management Discussion 2014 Annual.pdf
Company Page for Shareholders: Investors
Company Website: Welcome to Canadian Utilities Limited
The ordinary shares closed at C$40.62 last Friday. At that price and as of 4/26/15, Bloomberg shows the TTM P/E at 18.0785 and a P/E of 17.6916 based on estimated 2015 earnings. The five year dividend growth rate is shown at 8.87%. The dividend yield was then 2.91% based on a quarterly dividend of C$.295.
The company's debt is rated "A" by DBRS and S & P. Credit Ratings
Dividend History: The dividend growth has been good over the years. Before taxes and inflation, money will double in about 8.16 years at 8.87%: Estimate Compound Interest
40 Years of Growth: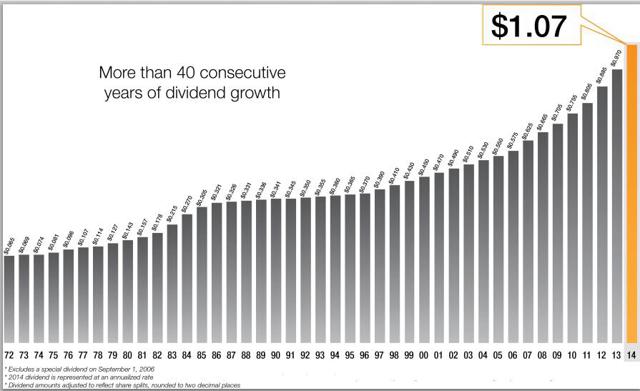 I will receive the dividend payment's in CADs. As a U.S. taxpayer, however, I have to report to the IRS in USDs and consequently I will not be taxed on the CAD amount of the dividend but its value in USDs. I will receive the CAD dividend payment after a 15% withholding tax. I am a very long term holder of CADs so I do not mind paying less tax due attributable to a decline in the CAD's value.
An owner of the USD priced ordinary shares will receive payment in U.S. dollars after conversion at the then existing exchange rate and also after a 15% withholding tax.
The owner of that security in effect receives a dividend cut when the CAD loses value and a dividend raise when the CAD rises in value using the exchange rate in existence at the time of purchase.
A far more important impact on the USD priced shares is their share value. A 20% decline in the CAD/USD from 1 to .8 will decrease the USD priced shares by 20% compared to the ordinary shares priced in CADs. A rise from .8 to 1 will cause a 25% outperformance in the USD priced shares.
Online Calculator: Percentage Increase or Decrease
The CAD/USD (1 CAD= ) was at 1.05 in July 2011, hit 1.02 in September 2012; .99 in May 2013; and declined to .78 in mid-March 2015 before rallying some. That is a bad result for an owner of a USD priced Canadian security.
The .78 rate was near a ten year low for the CAD/USD: CAD/USD Interactive Chart
Chart: I took a snapshot of a two year chart comparing the performance of the ordinary shares priced in CADs (traded in Toronto) and the ordinary shares priced in USDs (traded on the U.S. pink sheet exchange). The disparity is caused by the decline in the CAD's value against the USD.
Based on what I just said, the reader has to already know the answer to this question. Did the CAD priced shares outperform the same ordinary shares priced in USDs over the past two years?
Two Year Comparative Chart: CAD Priced CU:CA vs. USD Price CDUAF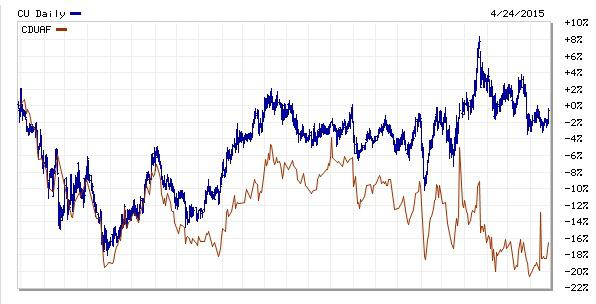 For a new buyer of the USD priced shares last Friday, the last date shown in the chart, the only certainty is that such a CDUAF buyer missed the adverse impact on price cause by the CAD's decline that is reflected in the preceding chart. The investor assumes the risk of a further decline and is likewise exposed to the potential benefit flowing from the CAD gaining strength after the purchase. Simply put, a return to parity (1CAD=$1) would cause the USD priced shares to close at $40.62 (rather than $33.33 as of 4/25/15), assuming that the CAD priced shares were then at last Friday's closing price of C$40.62. That currency gain resulting from a future hypothetical would be 21.87% with the Toronto shares remaining at the very same price.
2014 vs. 2013 Financials: E.P.S. increased 20% Y-O-Y. Dividends per share rose 10.31%.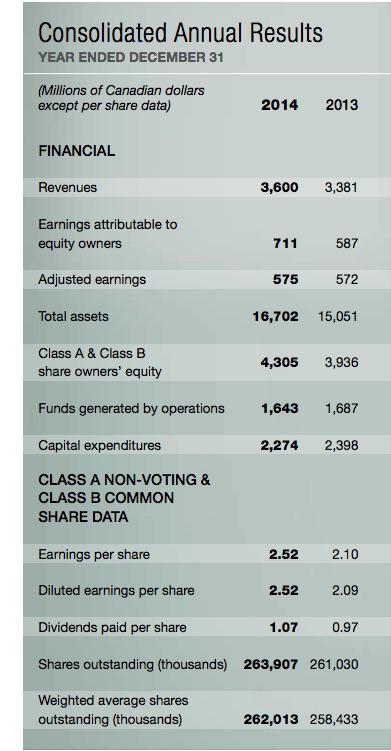 Sourced from 2014 Annual Report .pdf
The foregoing includes some extraordinary items as shown below: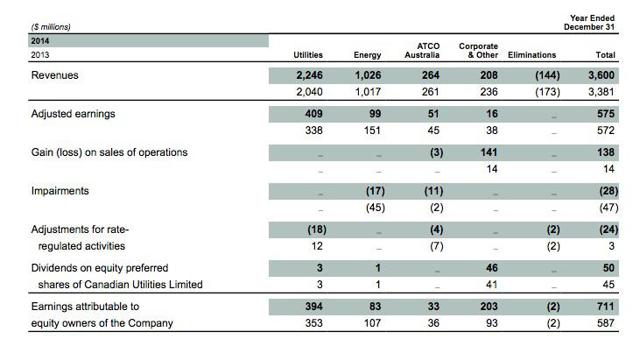 Subsequent to the original publication data of this blog, CU reported first quarter earnings that were unfavorable due primarily to an extraordinary charge and a 52% decline in the average Alberta Power Pool prices compared to the 2014 first quarter. Earnings Report
Rationale: I am going to keep this section really simple.
For a utility, the earnings and dividend growth rates have been excellent. I would emphasize the past tense used in the prior sentence.
My Canadian Dollar stash earns zero until I invest it. Being a turtle, I am only gradually putting to work CADs raised in a bout of profit taking during 2014.
The five year chart looks good to me: CU Stock Chart
Risks: I recently discussed interest rate risk as applied to utilities in this SA article: A Word Of Caution About New Purchases In The Utility Sector | Seeking Alpha
I am mindful of those risks when I elected to limit my exposure to 100 shares.
The yield based on my cost is not viewed favorably and could be looked upon with more disfavor during an interest rate spike.
The CU E.P.S. and dividend growth is better than the 2.3% earnings growth rate shown for U.S. utilities owned by the Vanguard-Utilities ETF.
I would emphasize once again the currency risk for investors who are not long term owners of Canadian Dollars.
I would note the tax risk and potential benefits, particularly for an investor like myself who is trying to increase my CAD stash over time through trading profits and dividends. I purchased CU with CADs and will receive CADs when I sell the position. My profit or loss from selling those shares will not determined based on my CAD profit or loss.
Both the purchase and sell are converted into USDs for tax reporting purposes. When the CAD falls in value after my purchase, and I have a profit realized in CADs, the profit in USDs will be lower and possibly even wiped out for tax reporting purposes.
The example that I give to highlight this tax issue is my sell of 300 ARTIS that generated a C$367 profit but only a $6+ reportable profit. The reverse can happen where the CAD gains in value after my purchase. A lower profit adjustment was made in connection with selling my Healthlease units only because I held them for a short period when the CAD was declining against the U.S.D.
Stocks, Bonds & Politics: SOLD: 300 HLP-UN:CA at C$14.17 and 300 AX-UN:CA at C$15.71 (9/26/14)(Healthlease CAD profit at C$1,244.35 vs. USD Profit of $1,123.65)
I am fine with that result. Another possibility is that my USD profit will higher than my CAD profit due to the CAD rising in value after purchase. That may be more of a risk now with the CAD rising after plummeting in value.
It is important to simply be aware of these kind of tax issues. The tax result for buying the ordinary shares priced in USDs and in CADs is basically the same for a U.S. taxpayer before taking into account differences in commission costs and currency exchange fees. If I had bought the Artis ordinary shares price in USDs rather than the ordinary shares priced in CADs, I would have had the same USD profit before those two expenses.
The usual assortment of risks incident to operations are summarized starting at page 38.
Future Buys and Sells: I am not likely to buy more. I do not have a sell target price. One purpose of the Canadian Dollar strategy is simply to generate income paid in Canadian dollars that can be aggravated with the payments made by other securities, including Canadian REITs that pay monthly, that increase my CAD position for diversification purposes. I prefer increasing the CAD stash through trading profits and income rather than converting more USDs to CADs and incurring a 1% fee.
Disclaimer: I am not a financial advisor but simply an individual investor who has been managing my own money since I was a teenager. In this post, I am acting solely as a financial journalist focusing on my own investments. The information contained in this post is not intended to be a complete description or summary of all available data relevant to making an investment decision. Instead, I am merely expressing some of the reasons underlying the purchase or sell of securities. Nothing in this post is intended to constitute investment or legal advice or a recommendation to buy or to sell. All investors need to perform their own due diligence before making any financial decision which requires at a minimum reading original source material available at the SEC and elsewhere. Each investor needs to assess a potential investment taking into account their personal risk tolerances, goals and situational risks. I can only make that kind of assessment for myself and family members.
Disclosure: The author is long CDUAF.
Additional disclosure: I bought the ordinary shares priced in CADs rather than the ordinary shares priced in USDs.