I HAVE WITHDRAWN CONSENT FOR THIS INSTABLOG TO BE PUBLISHED AS AN ARTICLE.
This will be my last post at SeekingAlpha.
I will be discussing in this post another purchase of the Banc of California's common stock.
This last purchase was made in a Roth IRA. Until recently, I have only occasionally bought common stocks that paid qualified dividends in retirement accounts. I am selectively purchasing a few now since I am becomingly increasingly sour on bonds and have lost my better quality and higher yielding bonds to redemptions giving me few desirable options 33 years into a long term secular bond bull market.
I last discussed a purchase of this common stock in an SA Instablog, and I will avoid repeating comments made there: Banc Of California: Bought 100 Shares At $11.7-South Gent | Seeking Alpha (10/31/14 Post)
I last updated my Regional Bank Basket in a SA article: Update For Regional Bank Basket Strategy As Of 4/20/15 | Seeking Alpha
Why buy regional banks? To me, that is a more important question to answer than why buy now a particular bank stock.
I will also be discussing below the paring of the BANC common stock, which has a good dividend yield, with securities higher up in the capital structure to increase my overall yield and income production.
The quarterly common dividend is currently $.12 per share or about 3.87% at a total cost of $12.4 per share.
While I have owned a BANC equity preferred stock, my current pair with the 150 share common stock position is BANC's 7.5% exchange traded senior unsecured bond that trades under the BOCA symbol. The weighting in that bond is significantly heavier on a dollar percentage basis which raises the melded yield with the stock.
A. My Regional Bank and REIT Baskets: Managing Interest Rate Risks While Generating Income
The regional basket is viewed as a natural, though imperfect, interest rate hedge for my REIT Basket Strategy last updated in a SA Instablog:
Update For Regional Bank Basket Strategy As Of 4/20/15 | Seeking Alpha
REITs have been showing a tight correlation to the movement in the 10 year treasury.
The SPDR Regional Bank ETF (NYSEARCA:KRE) had a 2013 total return of 47.34% based on net asset value.
The ten year treasury rose from 1.66% (5/2/13) to 3.04% as of 12/31/13. Most investors refer to that rise as a "taper tantrum". I label it as the first salvo in an "interest rate normalization" process, broadly defined as a return to a free market in bond pricing.
The closing price on 5/2/13 for the low cost Vanguard REIT ETF (NYSEARCA:VNQ) was $75.17. That ETF closed 2013 at $64.56.
Rates started to come back down in 2014 and REITs had a stellar year. The ETF KRE had a lot of chop and ended up going nowhere, though I did fine with my basket due to stock selections and trading. Stocks, Bonds & Politics: Regional Bank Basket Update as of 1/2/15
Without going into elaborate detail, regional banks are viewed as a beneficiary of higher rates. Consequently, those stocks may be a natural interest rate hedge for my REIT positions.
I am starting to nudge the regional bank allocation up, and will discuss other additions when I post my next update at my blog site.
REITs are viewed by many investors as "bond substitutes" and will lose some appeal to those investors when intermediate and longer term rates on competing securities move up.
Another potential adverse factor for REITs is a scenario involving a significant increase in intermediate and long term interest rates with inflation remaining subdued at historically abnormal levels.
How is that even possible?
It is probable when rates have been manipulated by central banks to abnormally low levels inconsistent with normal spreads to inflation and inflation expectations, as in the 1941 to 1951 period (10 year treasury near 2% with inflation averaging close to 6%). The central bank rate manipulation ends abruptly or gradually with market participants then resetting interest rate levels to account for inflation and inflation expectations, free from massive central bank manipulation.
It is best to come to a realization, sooner rather than latter, that a negative yield on Swiss 10 year bonds (just creeping a bit over zero late last week), or .07% on the German ten year, are not anything close to normal. Goldman disagrees and states that negative yields, where lenders pay borrowers, is the "new normal" in Europe. We shall see about that GS prediction.
The long term 10 year U.S. treasury chart sounds the same warning bell: 10-Year Treasury 1962 to Present
In the May through December 2013 period when rates increased from an extreme abnormally low level to just an abnormal one, inflation and inflation expectations trended slightly down
Break-Even Spread 10 Year TIP (Market's annual average inflation forecast over a ten year period):
5/2/13: 2.28%
12/31/13: 2.24%
Chart 10-Year Breakeven Inflation Rate-St. Louis Fed
The spike in the ten year from 1.66% to 3.04% can not be explained by a change in inflation expectations which actually drifted down a tad during that rate spike period.
If that trend continued, rent increases connected to CPI would not offset the increases in borrowing costs.
Regional banks, on the other hand, would likely see their net interest margin expand due to buying securities with higher yields in their investment portfolio and to a widening spread between the cost of funds and their loan yields.
Bank earnings and dividend growth is currently being restrained and negatively impacted by a contraction in net interest margin: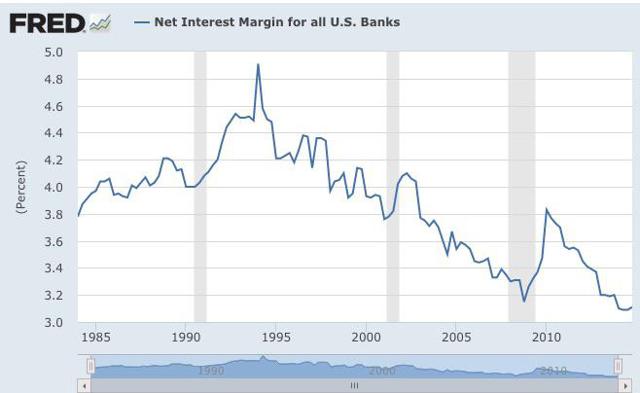 Net Interest Margin for all U.S. Banks-St. Louis Fed
There is the rub. The solution is an increase in the NIM. I can see the past in that chart. What about the future?
This NIM problem shows up in a number of other charts, including for example the weighted average loan rate for commercial and industrial loans.
The NIM is the elephant in the china closet. With non-performing loans and charge-offs back under control, the major impediment to bank stock performance now is shown by the preceding chart.
Loans and deposits are growing at a decent clip. Commercial And Industrial Loans, All Commercial Banks; FRB: G.19 Release- Consumer Credit
Charge-offs to total loans are back down to modern historical low.
Nonperforming loans to total loan has finally fallen below 2% after surging to 5.64% (2010 1st quarter)
In several recent posts and comments, I have expressed growing concerns about interest rate risks.
Pared Interest Rate Risk Exposure In Roth IRA: Sold 300 AllianceBernstein Income Fund Shares At $7.81 And 200 BlackRock Core Bond Trust Shares At $13.86 | Seeking Alpha
One of many concerns now is the surge since April 20, 2015 in German government bond yields that has had a blowback impact on U.S. treasuries.
I would simply remind everyone that the German ten year had a 4.5% yield in June 2008 and was at .07% late last month. The yield was at .37% last Friday: German Government 10Y Yield
Why worry? There was a correlation in that movement and the rise in U.S. treasury rates. Daily Treasury Yield Curve Rates
More importantly, a .37% yield for a ten year German government bond is no less crazy than a .07% based on rational estimates of future inflation rather than reality creations and assorted tall tales.
German inflation ticked up last month and has averaged 2.45% over the last 60 years.
Even with the collapse in crude last year, German inflation remained positive and was over 2% in 2012.
The regional bank basket strategy was initiated in the 2009 spring. The monetary exposure has been capped since that time at $50,000. I decided to increase that sum to $80,000 in order to improve the interest rate hedging characteristics of this basket.
The large Macro/Big Picture analysis, merely summarized generally above, provides the driving force that causes an increase in my regional bank stock exposure. That is more important issue long term than individual security selection which will also impact overall performance.
B. Valuations and Dividend Yields: As shown in my recent update, dividends paid my the banks in my basket are good.
I now have several banks that are providing yields over 5% based on my constant cost numbers. One will likely go over 10% with a dividend raise next year.
There are still banks that can be purchased at reasonable valuation levels.
The consensus E.P.S. for BANC is $1.04 this year and $1.29 next year. BANC Analyst Estimates | Banc of California, Inc
The BANC key statistics page at Yahoo shows the estimated 5 year P.E.G. at .97 with a 9.74 forward P/E based on the 2016 estimate.
C. Use of Odd-Lots: One commonly used trading technique for a basket strategy is to acquire a position gradually over time, rather than taking an entire position in one trade.
This last purchase of BANC's common shares was just a 50 share lot and was unusual for this basket in that it was an average up in price:
Snapshot of Trade:

Most of the commission was offset by placing a limit order $.11 per share below the then existing ask price. All of the commission was offset by buying $.3 below the prior day's close of $12.7: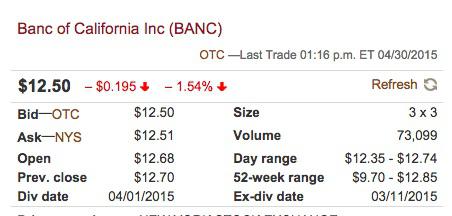 This trading strategy is of recent origin and is designed to minimize risks, while using the natural volatility of a stock to acquire lots opportunistically without exceeding the total investment limit assigned to all securities issued by each company.
It is relatively common to buy 50 or 100 shares and then to buy another 50 or 100 at a lower price, and then sell the highest cost lot profitably on a price spike. That reduces my average cost per share and consequently increases my yield, reduces my tax liability by selling the higher cost shares, and overall limits my risk due to the use of a basket strategy for an industry sector.
On a further note, I receive a large number of remarks only at SA, and a small number can even be classified as respectful, about purchasing odd lots.
The purpose of my posts here is not to convince anyone to adopt my trading strategies.
Instead, I am simply providing anyone interested the framework used by one experienced investor for making investment decisions, a time consuming and detailed filled process when done properly.
Successful investing over a lifetime is one serious issue and needs to be treated as such. I seriously doubt that the youngsters out there have fully realized yet that their skills as investors will need to be far superior to earlier generations. The financial burdens will be far worse for them compared to the baby boomers, and I am one of those.
I would add the following to that observation:
(1) it should not matter to anyone here how many shares I buy and I am not purporting to give anyone financial advice;
(2) every investor has to tailor their own investment strategy to meet their personal financial goals, risk tolerances and overall financial condition after making a fact based and rational assessment of the situational risks unique to them including substantial and likely future expenses; and
(3) commission costs per share are only one component among many that impact total return and has had a negligible impact compared to other factors for me.
I have found that security selection, unpredictable future events, and timing decisions on the sell side have far more impact on total returns than commission cost per share.
I summarize some other issues in a recent SA comment.
The recent Instablog discussing a 100 share purchase of LXP at $9.27 illustrates the technique. The prior purchase, just a 50 share lot, was made a few weeks earlier at $9.85-Roth IRA. The purchase at $9.85 replaced a slightly larger odd lot sold earlier this year at $11.44.
Am I better or worse off (1) if I had not sold the highest cost lot at $11.44 rather than using the proceeds to buy at $9.85 and (2) if I had bought 150 shares at $9.85 rather than 50 at $9.85 and 100 at $9.27. The highest total cost LXP lot is now at $10.63 which I will consider selling when and if the price spurts back over $11.
I will just refer back to this discussion when I receive a criticism on this subject matter from one of the big heavy hitters here at SA with zero to five followers.
That future approach will save me considerable time responding to many unpleasant and frequently gratuitous comments on this subject.
D. Total Out-Of-Pocket Exposure Limit For BANC Securities Based on Current Risk/Reward Analysis=$7,000
This post is not just about the common stock but the coupling of the common shares with higher yielding securities higher in the capital structure to increase income.
All of the following securities would be included in that $7,000 exposure limit.
I currently own 150 shares of BANC's exchange traded senior bond. The bank was called First PacTrust when this bond was originally issued and that is the name on the prospectus. BANC may call the bond now at its $25 par value plus accrued interest: Page S-33 of the Prospectus
Quote: Banc of California Inc. 7.5% Senior Unsecured Note Maturing 5/15/2020 (BOCA:NYSE)
My last purchase, made in the Roth IRA which is bond heavy, was at $25.20 back in December 2012 (symbol then BANCL) or close to a 7.4% yield. Money doubles in about 9.71 years at that rate. I am content to just sit on the senior bond until BANC decides to redeem it and then I will just watch it happen.
There are two currently outstanding equity preferred stocks (optional call dates are "on or after"):
BANC.PC: 8% Coupon/$25 par Value/Optional Call 9/15/2018
I sold the "C" series in 2013: Item # 6 Sold: 50 BANCP at $26.12 (11/12/13)(symbol later changed)
This preferred stock closed last Friday at $26.67. If BANC calls it on 9/15/18, and an investor had a total cost of $26.67 resulting from a purchase last Friday, the yield to maturity would not be the coupon of 8% or the yield at the $26.67 cost but the yield-to-maturity number of 6.17%.
BANC.PD: 7.375% coupon/$25 par value/Optional Call: 6/15/20
I have owned BANC's equity preferred stock, but sold it and my then existing common stock position after a disappointing earnings report released in 2013.
The coupling of BANC's senior unsecured bond and/or the equity preferred stocks or with the common stock gives me a higher melded yield.
Company Description and Recent Earnings Report:
Banc of California, Inc. is the holding company for its principal subsidiary, Banc of California N.A., that operates 100 offices including 38 branches in California.
Map of Branch Locations: Banc of California
Dallas Salazar published a Seeking Alpha article discussing this bank last month.
The recent earnings report provoked the share buy.
BANC beat the consensus estimate by 8 cents per share.
The 2015 first quarter net income was reported at $11.664 million or $.29 per diluted share, up from a $.01 per share loss in the 2014 first quarter.
The net interest margin actually increased a tad to 3.69% from 3.65% as of 12/31/14.
The asset quality numbers show improvement Y-O-Y. Nonperforming loans to total loans declined from 1.35% to 1.09%. Nonperforming assets to total assets fell .1% to .71%. That directional movement is a positive and the NPA number at .71% is good.
I prefer to see an allowance of loan losses to non-performing loans (the coverage ratio) above 100% when I purchase a stock. I do not like to see a big earnings hit down the road due to bolstering that allowance. The BANC coverage ratio is very low for banks in my basket at 68.84%. That could be trouble when and if delinquent loans accelerate into NPLs and then to charge-offs.
The net charge-off for the quarter was excellent at $.1M.
Return on average asset was .9%. I prefer to see over 1%.
Return on tangible common equity was fine at 13.5%.
The capital ratios at the operating bank level are fine: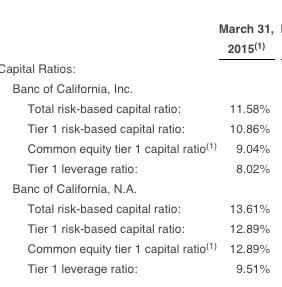 Tangible book value was reported at $10.81 per share and at $9.96 when taking into consideration "shares issued under purchase contracts" (long story on that one)
The average loan to deposit ratio was 82%, excluding loans held for sale. The bank has no internal loan exposure to the oil and gas sector.
One of the major drawbacks for this stock, other than inconsistent historical earnings, is an unacceptably high efficiency ratio. (generally defined as expenses ex interest as a percentage of adjusted operating income). The current average efficiency ratio for U.S. banks is 61.8%.
BANC's Efficiency Ratios: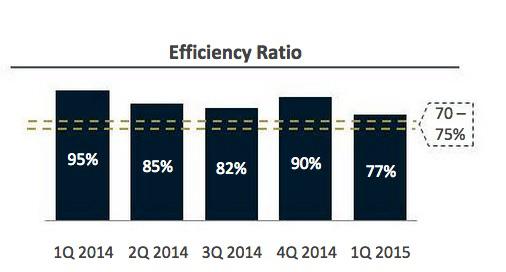 That ratio is restraining my common stock exposure at the current time. It is the worst efficiency ratio is my regional basket strategy.
I can only say that 77% is a better number than 90% in the 2014 4th quarter, and the bank is at least moving in the right direction (lower is better for this ratio)
Sourced:
Banc of California Reports First Quarter Results
4/30/15 SEC Filed Investor Presentation
Q1 2015-Earnings Call Transcript | Seeking Alpha "management continues to believe the company is positioned to deliver earnings that will meet or exceed the $1.14 per share consensus estimate for the full year 2015"
I still have some capacity left to buy BANC securities, given the $7,000 maximum exposure now allowed under my stringent risk management rules.
I will have more when and if the 150 BOCA shares are redeemed at their $25 par value.
I will just have to wait for a better price and more consistent improvements in operating performance before buying more shares.
Disclaimer: I am not a financial advisor but simply an individual investor who has been managing my own money since I was a teenager. In this post, I am acting solely as a financial journalist focusing on my own investments. The information contained in this post is not intended to be a complete description or summary of all available data relevant to making an investment decision. Instead, I am merely expressing some of the reasons underlying the purchase or sell of securities. Nothing in this post is intended to constitute investment or legal advice or a recommendation to buy or to sell. All investors need to perform their own due diligence before making any financial decision which requires at a minimum reading original source material available at the SEC and elsewhere. Each investor needs to assess a potential investment taking into account their personal risk tolerances, goals and situational risks. I can only make that kind of assessment for myself and family members.
Disclosure: The author is long BANC.
Additional disclosure: I also currently own 150 shares of BANC's senior unsecured bond that trades under the symbol BOCA.