I no longer permit SA to publish my Instablogs as articles, and that will never change.
After losing some focus since I quit writing SA Instablogs, I have decided to return for awhile to publish Instablogs focusing only on four general topics.
1. Regional Banks
2. Equity REITs
3. CEF Portfolio
4. Portfolio positioning and management
The discussions will be more general and thematic than previous blogs. In other words, details will be more suitable for the Twitter Generation who are frequent critics of my writing style.
I will not respond to any comment that is off topic. I will delete comments from the trolls. I will not be leaving comments elsewhere at SA.
In my last Instablog, published on 5/3/15, I stated that my maximum out-of-pocket monetary exposure to regional banks had just been increased from $50,000 to $80,000 in order to improve the "interest rate hedging characteristics of this basket". Added To BANC At $12.4-Regional Bank Basket Strategy - South Gent | Seeking Alpha
My last update for the regional bank basket was published here on 4/20/15. Update For Regional Bank Basket Strategy As Of 4/20/15 | Seeking Alpha The table in that post showed a monetary value then of $53,349.74 and an unrealized profit of approximately $7,909.40. The out-of-pocket exposure would consequently be in the $45,500 neighborhood.
Starting in early May, I rapidly took the exposure up to $80,000 and then quickly reduced it well below my minimum out-of-pocket exposure amount of $40,000. I did something similar when bank stocks spiked in 2013.
I harvested over $2,500 in profits since 5/3/15.
Snapshots of those trades can be found in my updated Gateway Post: REGIONAL BANK BASKET STRATEGY GATEWAY POST
Those trades brought my net gains for this basket to $20,991.04. This basket strategy went operational during the Spring of 2009.
Notwithstanding this bout of profit taking, my unrealized profit increased to almost $9,200 from $7,909 shown in my April 2015 update.
The SPDR S&P Regional Banking ETF (NYSEARCA:KRE) closed at $44.25 today, rising about 7.73% since 5/4/15. The SPDR S&P 500 ETF (NYSEARCA:SPY) rose about 1% during the same period.
The iShares U.S. Regional Banks ETF (NYSEARCA:IAT) closed today at $37.31, up 5.57% during the same period. Sponsor's Webpage (weightings: USB 18.46%, PNC 11.66%, BBT 6.89%, STI at 5.31% as of 7/16/15).
Powershares KBW Regional Banking ETF (NASDAQ:KBWR) and the First Trust ABA Community Bank Index Fund (NASDAQ:QABA) have a mid and small cap focus. Both are closer to my investment preferences in this sector than KRE and IAT.
QABA rose 9.749% during the same period. Holdings
Basket as of 7/17/15: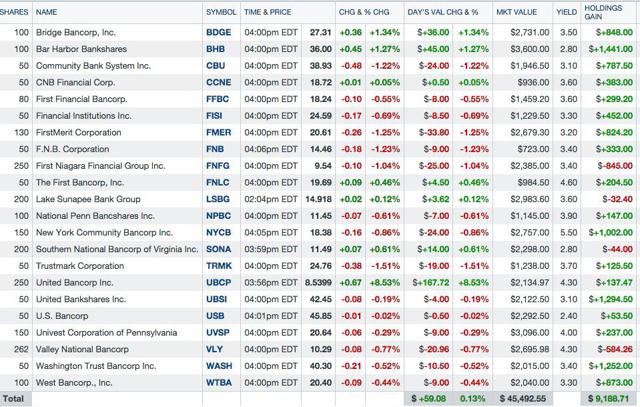 This table does not include commission costs or reinvested dividends. Snapshots of trading gains and losses will include the total cost numbers and any reinvested dividends. The yield shown in the table is based on today's closing price. With VLY and FNFG being the most notable exceptions, my yield based on my total cost numbers will be higher. Several positions have yields over 5% at my total cost and a few are over eight percent.
The underlying justifications fall into several categories:
1. Parabolic Price Spikes Shortly After Purchase: Since the mid-1980s, I have sold into price parabolas. The only question is timing. It was not difficult to figure out several decades ago that price parabolas have a tendency to collapse upon themselves.
I was early selling out of Japanese stocks around 1985, with the price parabola continuing into 1989 (probably the longest parabola in history). Yet, in retrospect, the Nikkei Index has only recently surpassed the 1985 level. NIKKEI 225: 1950-2015
Stocks of several small banks, which are not large enough to qualify as micro caps, had price parabolas in recent weeks. I eliminated two of those and pared several others by selling my highest cost shares.
The pares included UBCP and FNLC. I eliminated CIZN and BKSC.
On 3/9/15, I bought 50 shares of Citizens Holding Company (NASDAQ:CIZN) at $18.76 and sold those shares at $22.45 after receiving one quarterly dividend. The shares rose 3.25% today, closing at $20.96 which gives this bank about a $99M market cap. As with the other stocks in this category, trading is practically non-existent; and the bid/ask spread is typically large. CIZN Historical Prices | Citizens Holding Company Limit orders have to be used.
CIZN: One Year Chart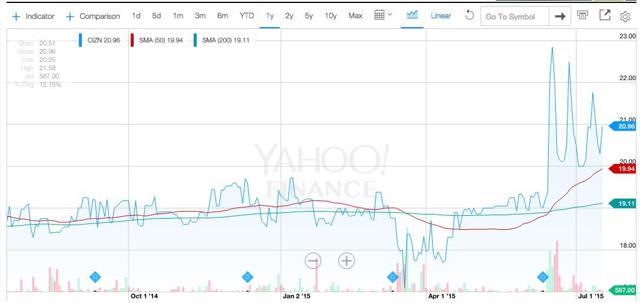 The 50 share position in Bank of South Carolina (BKSC) was sold at $17.55 (5/4/15).
Regional Bank Basket Strategy: Bought 50 Shares Of Bank Of South Carolina At $14.6 - Bank of South Carolina Corp. (NASDAQ:BKSC) | Seeking Alpha (December 2014 Post)
One Year BKSC Interactive Stock Chart
When First Bancorp (FNLC) recently spiked to a ten year high, I sold recently bought shares:
10 Year Chart: FNLC Interactive Stock Chart
1 YEAR FNLC CHART: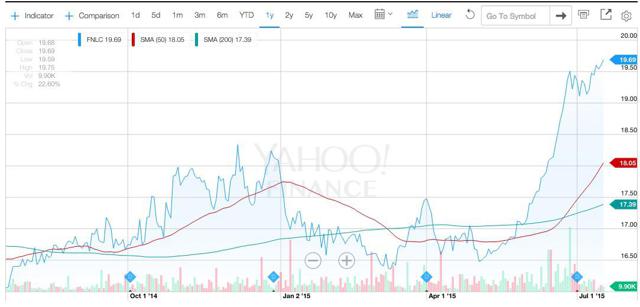 E.G.: Regional Bank Basket Strategy: Added 100 First Bancorp Shares At $16.81 - First Bancorp, Inc (ME) (NASDAQ:FNLC) | Seeking Alpha (Post Dated 2/17/15)
One of my smallest banks is United Bancorp (NASDAQ:UBCP) with a market cap of less than $40M. On 5/1/15, the stock closed at $7.73. The price had increased to $8.35 as of 6/20/15. The price then zoomed to $9.5 on 6/26, and I then sold my highest cost shares (119 in total). Yesterday, I bought back 100 shares at $8.08 which was not the best price during the day. The stock had opened at $8.4 and blew threw my limit order hitting $7.7 intraday. I bought some shares for a family member at $7.8. The stock closed today at $8.54.
Any investor trying to navigate the price variations in these micro, micro caps have to accept the volatility risk. I am use to it.
UBCP has not reported its 2nd quarter results yet.
The last quarter was fine for this bank: United Bancorp, Inc. Reports a 40% Increase in Quarterly Diluted Earnings The ROA (return on assets) and ROE (return on equity), however, are below my 1% and 10% minimums respectively, which requires me to limit my exposure to this bank and to place the stock in a trading category pending better results.
Q/E 4/30/15:

Hopefully, a rise in interest rates will improve its NIM (net interest margin) and its performance ratios.
For the April quarter, the charge-offs, coverage NPL ratios were good at .01%, 207.64%, and .39% respectively. As I have said many times, it does not help to have the NIM meaningfully increase at the same time as the bank incurs significantly more loan losses and charge-offs. The Holy Trinity is increasing NIM, more loans and low cost deposits and decreasing charge-offs and loan losses. It is the NIM which is the problem now.
Year-Over-Year Comparison:

The dividend yield is good, though the bank cut its dividend primarily in response to net interest margin compression and has raised it recently. United Bancorp, Inc. (UBCP) Dividend Date & History
One Year UBCP Chart: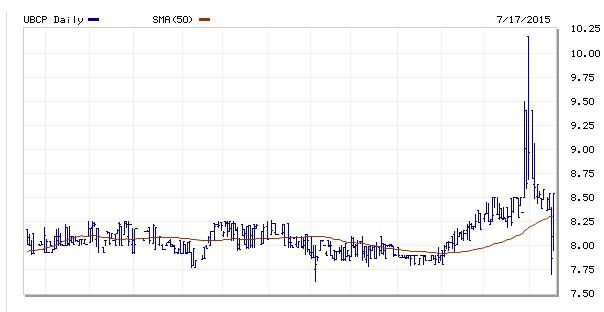 2. Normal Position Paring-Selling Highest Cost Shares: This is a strategy that uses natural price volatility to lower my average cost per share over time. I will frequently sell my highest cost positions profitably during price pops, usually after collecting several dividend payments. When properly implemented, I minimize my tax liability, lower my average cost, and harvest some dividends. This trading strategy is justified in part my investment objectives now of income generation and capital preservation. I am no longer in the asset accumulation phase.
An illustration is the recent disposition of 50 FNB shares bought at $11.25 while keeping 50 shares bought at $7.8 back in July 2010. FNB closed at $14.46 today.
Another example is keeping a 50 share lot of CCNE purchased at $11.06 and selling all of my recently purchased shares bought in the $16 to $17 range. CCNE Interactive Stock Chart The shares closed today at $18.72.
3: Selling Marginal Positions on Price Spikes That Created a Valuation Issue: One of my largest recent dollar gains was a 50 share lot of Merchants Bankshares (NASDAQ:MBVT) bought at $26.25 and sold at $33.01.

One Year Price Chart: MBVT Interactive Stock Chart
The price has declined slightly after I eliminated this position, closing today at $32.33. The TTM P/E at that price is 17.02: MBVT Key Statistics E.P.S. growth has been subpar recently for a variety of reasons. I will buy shares back when and if there is a pullback. MBVT is one of the most conservatively managed banks that I have owned, with the NPL (non-performing loans to total loans) and NPA (non-performing assets to total assets) ratios near zero.
4. An Opinion that the Market Has Become too Exuberant by NIM Expansion Possibilities: The rally in bank stocks over the past several weeks is connected to the uptick in intermediate and longer term rates. The ten year treasury has increased in yield from 2% (4/28/15) to 2.44% as of 7/10/15, drifting down thereafter to a 2.34% closing yield today: Daily Treasury Yield Curve Rates It will take a much larger rise in spreads to produce meaningful improvements in bank's NIM. I believe that will occur slowly. Many banks are still reporting declines in NIM quarter-over-quarter.
As noted many times in the past, the impact on bank earnings resulting from an increase in NIM is only one factor impacting bank earnings. I discuss several of these issues in my last Instablog discussing the BANC purchase. Added To BANC At $12.4-Regional Bank Basket Strategy - South Gent | Seeking Alpha
5: Capital Preservation Focus: I am focused on capital preservation and income generation. While I am now, and have always been a total return investor, most of my positions are on a short lease now. I will generally look for more advantageous buying opportunities with the cash raised than available to me now on a risk/reward basis. I have raised over $50,000 in cash since early May, a subject that will be discussed when I publish a post on portfolio positioning in a few weeks.
Part of that capital raise was my annual house cleaning, where I harvest gains and offset them with realized losses on my less than optimal selections. The overall net profit during that process occurring over the past two months was around $5,000, but many of my stinkers are no longer around and I have more capital to deploy when the opportunities are more favorable from a risk/benefit perspective.
Additions Since 5/3/15 That Have Not Been Sold: My IRAs have generally focused on non-tax advantaged securities. I will periodically trade small positions in stocks that pay qualified dividends. In my Roth IRA, as shown in the trading snapshots now found in my Gateway post, I flipped several 50 share positions in small bank stocks generating $347 in quickie profits plus some dividends.
One of those stocks was a 50 share purchase of Univest (NASDAQ:UVSP).
I added 100 shares of this stock in a satellite taxable account at $19.19 (5/28/15) and still own the shares held in that account. I am reinvesting the dividend. UVSP closed today at $20.64.
Keefe, Bruyette and Woods upgraded this small bank to outperform on 6/23/15, which gave the price a bump. The P/E at the $20.64 price is 12 based on the 2016 estimated earnings with a current dividend yield of about 3.88%. UVSP Key Statistics The yield at a total cost of $19.19 is about 4.17%.
Univest Corporation of Pennsylvania (UVSP) Dividend Date & History
I also moved up in market cap by initiating a starter position in U.S. Bancorp (NYSE:USB), 50 shares, shortly before the recent ex dividend date and earnings release. This purchase was based on good ROA and ROE numbers for a large bank, valuation and other good metrics including the NPL, NPA (.63%), efficiency, and charge-off ratios.
This is a link to the recently release earnings report that caused the stock price to pop:
U.S. Bancorp Reports Second Quarter 2015 Earnings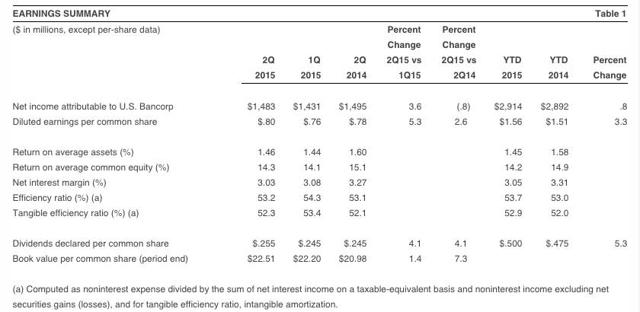 The capital ratios, while okay, are average to low compared to my small banks: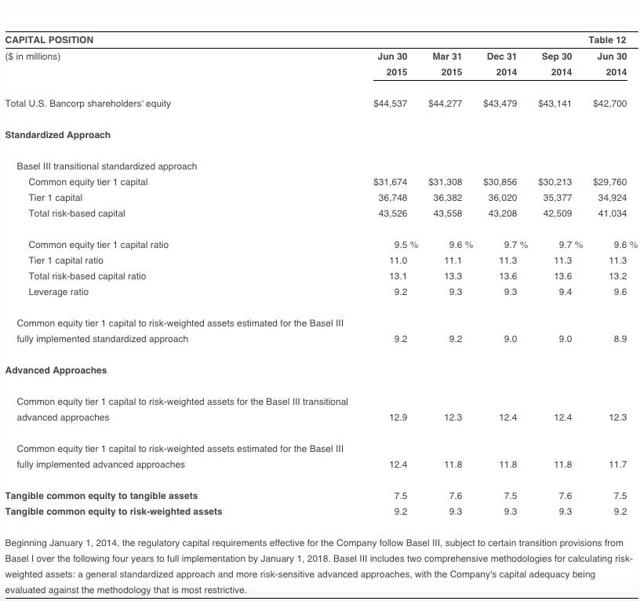 NIM remains under pressure, falling to 3.03% from 3.08% in the first quarter and 3.27% in the 2014 second quarter.
I also went way down in capitalization to buy 200 shares of both Southern National Bancorp of Virgina (NASDAQ:SONA) and Lake Sunapee Bank Group (NASDAQ:LSBG). The former is a new buy, while the later was owned previously as part of the regional bank basket when it was called New Hampshire Thrift. Bought 100 NHTB at $9.51 (January 2010).

The general theme with these purchases is that both stocks have not participated in the recent rally and have one or more other desirable characteristics along with a few undesirable ones which is generally the case for every stock.
Southern National Bancorp of Virginia Inc. Reports Earnings for the First Quarter of 2015 of $2.0 Million, Up From $1.6 Million the Prior Year, and Declares a Dividend of $.08
LSBG Key Statistics (TTM P/E 12.29)
SONA is growing while LSBG has been more of a turtle in recent years.
I was almost in shock when I saw that LSBG had raised its quarterly dividend from $.13 to $.14.
Lake Sunapee Bank Group Announces 7.7% Increase to Quarterly Dividend
New Hampshire Thrift Bancshares, Inc. Renames Itself Lake Sunapee Bank Group
New Hampshire Thrift Bancshares, Inc. Reports 2015 First Quarter Results
For the 2015 first quarter, both ROA and ROE were well below my 1% and 10% bogeys. NIM is in need of improvement too. The NPL, coverage and charge off ratios are good, currently, however.
As to SONA, it is growing its footprint and E.P.S.. I would agree with Doug Kass that the bank is in an attractive market and is a potential takeover candidate long term.
Both of these bank stocks are thinly traded with large bid/ask spreads. I used limit orders to buy near the current prices.
Disclaimer: I am not a financial advisor but simply an individual investor who has been managing my own money since I was a teenager. In this post, I am acting solely as a financial journalist focusing on my own investments. The information contained in this post is not intended to be a complete description or summary of all available data relevant to making an investment decision. Instead, I am merely expressing some of the reasons underlying the purchase or sell of securities. Nothing in this post is intended to constitute investment or legal advice or a recommendation to buy or to sell. All investors need to perform their own due diligence before making any financial decision which requires at a minimum reading original source material available at the SEC and elsewhere. Each investor needs to assess a potential investment taking into account their personal risk tolerances, goals and situational risks. I can only make that kind of assessment for myself and family members.
Disclosure: I am/we are long USB, LSBG, UBCP, UVSP, FNB, BANC, FNLC, LSBG, SONA, CCNE.