My last update for my regional bank basket was published here on 7/17/15: Update On Regional Bank Basket Strategy As Of 7/17/15 - South Gent | Seeking Alpha
Profits and dividends are being tracked in my Gateway Post for this basket: REGIONAL BANK BASKET STRATEGY GATEWAY POST
With the sell of 50 UBSI shares, described below, the net realized gain for this basket since its inception in 2009 is currently at $22,306.89. Over the life of this basket strategy, I anticipate that dividends will account for about 40% of the total return.
I trade small lots in my basket strategies. Diversification minimizes downside risks due to error creep and unanticipated and ultimately unknowable future events.
I am more interested in the overall total return of the basket rather than the performance of a particular stock.
The financial metrics viewed as important in the selection process are summarized in the preceding linked post and in my numerous blogs discussing purchases. The Gateway Post for the regional bank sector basket also has links to other posts where I discussed purchase and sell transactions.
The decline in interest rates has been a headwind for regional bank stocks since my last update. Generally, the main earnings problem now for banks is net interest margin compression: Net Interest Margin for all U.S. Banks - St. Louis Fed; Net Interest Margin Calculation
Ten Year Treasury Rate 7/17/15 to 8/7/15:
7/17/15: 2.34%
8/7/15: 2.18%
Sourced: Daily Treasury Yield Curve Rates
Looking at the decline in the 10 year treasury yield, I would expect to see a decline in regional bank ETFs during that same period.
SPDR S&P Regional Banking ETF (NYSEARCA:KRE): Historical Price Link
7/17/15 = $44.45
8/7/15= $43.57
First Trust NASDAQ ABA Community Bank ETF (NASDAQ:QABA)
7/17/15: $40.19
8/7/15: $39.5
Overall, I would have anticipated a slightly worse performance given the directional change in interest rates.
Today's closing prices show a typical positive/negative correlation pattern:
IEF: $106.43 +0.42 (+0.40%): iShares 7-10 Year Treasury Bond ETF
VNQ: $78.79 +0.29 (+0.37%): Vanguard REIT ETF
VPU: $95.27 +1.04 (+1.10%): Vanguard Utilities ETF
KRE: $43.56 -0.27 (-0.62%): SPDR S&P Regional Banking ETF
I have reviewed a large number of second quarter reports. It is clear to me that NIM continues to compress for regional banks, though the rate of compression is slowing down.
Based on current and reasonably anticipated interest rates for August and September, I would expect a slight overall NIM compression for the 2015 third quarter. I have consequently pared my regional bank exposure as noted in the last update. The rally in regional bank stocks was due in significant part to the market anticipating improvement in NIM which has yet to occur.
I have modified the table to include two regional bank ETFs that I do now currently own:
SPDR S&P Regional Banking ETF (KRE)
First Trust NASDAQ ABA Community Bank Index ETF (QABA)
Those ETFs are my benchmarks for this basket.
Regional Bank Basket as of 8/7/15: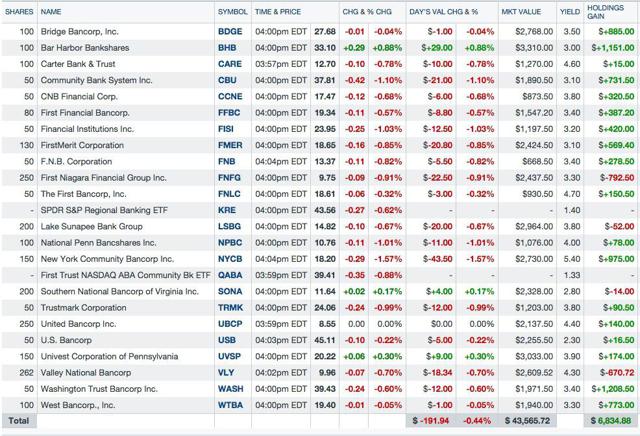 My basket slightly outperformed the regional bank ETFs QABA and KRE today by going down less. My basket is far more similar to QABA holdings than to KRE. The ideal is to go down less and up more compared to a benchmark. My basket provides a much higher current dividend yield than those ETFs, and I avoid the ETF's expense ratio deduction from net asset value.
SPDR S&P Regional Banking ETF (KRE): Yield 1.59%/.35% expense ratio
ABA Community Bank Index Fund (QABA): Yield 1.35% /Gross expense ratio at .64%, currently .05% waived
I am not tracking reinvested dividends in this table. The dividend yield is calculated by Yahoo Finance based on the closing prices today (8/7/15). My dividend yields, which are based on my constant cost number, will be different.
My minimum out-of-pocket investment for this basket is $40K. I am now below that minimum. I am currently about $7K below the minimum amount and $47K below the maximum potential amount assigned for this basket. When valuations become more appealing than now, I can swiftly increase the basket's size.
My concerns about this sector are summarized in my prior update and below to some extent.
1. Sold 50 United Bankshares (NASDAQ:UBSI) at $41.58:
Profit: $1,235.01

The total average and annualized return without dividend reinvestment was 20.81% using this Calculator
If I had reinvested the dividend, the total average annualized return would have been 23%.
Rationale: The TTM P/E is over 21 at a $41.58 price. The five analysts providing earnings estimates have a 2015 consensus E.P.S. estimate of $2 and $2.08 for 2016. UBSI Analyst Estimates That is a 4% rate of anticipated growth with a 19.88 forward P/E based on the 2016 forecast.
A forward P/E of 20 and a 4% growth rate results in a 5 forward P.E.G. ratio. Yahoo Finance had the average 5 year price to growth ratio at 5.10 as of 8/7/15 based on the closing price today of $40.06. UBSI Key Statistics
Simply put, this stock is way too expensive for me at $41.58.
For comparison purposes, Washington Trust (NASDAQ:WASH) had a forward P/E of 13.79 and a 5 year estimated P.E.G. of 2.94 as of 8/7/15 based on a closing price then of $39.43: WASH Key Statistics
A recent purchase in my regional bank basket, U.S. Bancorp (NYSE:USB), had a 12.89 forward P.E. and a five year estimated P.E.G. of 2.56 based on a closing price of $45.11 as of 8/7/15: USB Key Statistics
The recent earnings report had the following average numbers for banks in my basket:
ROE= 8.23%
NPA Ratio= 1.25%
NPL Ratio= 1.33%
Second quarter E.P.S. was $.5, a rise of 4.17% from $.48 year-over year.
The efficiency ratio at 50.53% was excellent, and the second quarter charge off ratio of .24% was good.
Charge-Off Rate On All Commercial Banks (.42% for the Q1)
The 2015 second quarter return on assets at 1.15% was above the average 1% for all U.S. banks for the 2015 first quarter: Return on Average Assets for all U.S. Banks
Tangible book value per share was reported at $13.79. The $41.58 price would be 3.02 times tangible book, which is yet another confirmation of a high price.
Another rationale was simply harvesting an excellent total return while I still had it. Item # 1 Bought 50 of UBSI at $16.56 (11/17/2009 Post)
2. Bought 100 Carter Bank & Trust at $12.55 (OTCQX:CARE)
Snapshot of Trade: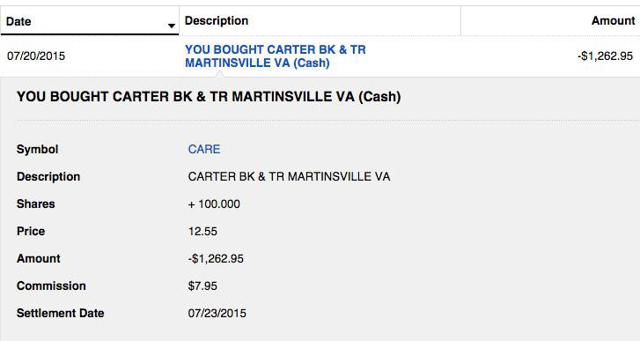 Company Description: The stock of Carter Bank & Trust (Martinsville VA) is lightly traded on the pink sheet exchange. Carter was created by the merger of 10 banks back in 2006. Carter Bank & Trust - About Us Carter operated 123 branches in Virginia and North Carolina as of 12/31/14.
Carter owns 118 branches free and clear of any encumbrances. The locations of those branches are listed at pages 16-17 of the 2014 Annual Report: 10-k.pdf
The headquarters in Martinsville is a modest building: 6 Commonwealth Blvd E - Google Maps I look at the main headquarters building because I want to see a modest structure rather than the Taj Mahal.
Carter apparently saves a few bucks by filing SEC forms like the 10-K only with the FDIC. I could not find any filings with the SEC.
The bank is currently paying a quarterly dividend of $.1 per share (page 19 10-K)
Worth Harris Carter Jr., who was 77 as of 3/16/2015, is the President and Chairman of the Board. He owns 3.235+M shares or 12.32% of the outstanding number, as of 4/30/15. Page 7 Proxy The entire Board is up in years. One Board member George Lester, was 76 and owned 4.49% of the outstanding shares. Three other directors, who are 82, 87, 90 years old, own another 4.48%. I have made that point.
I would label the 2010-2014 historical results as average for banks in my basket: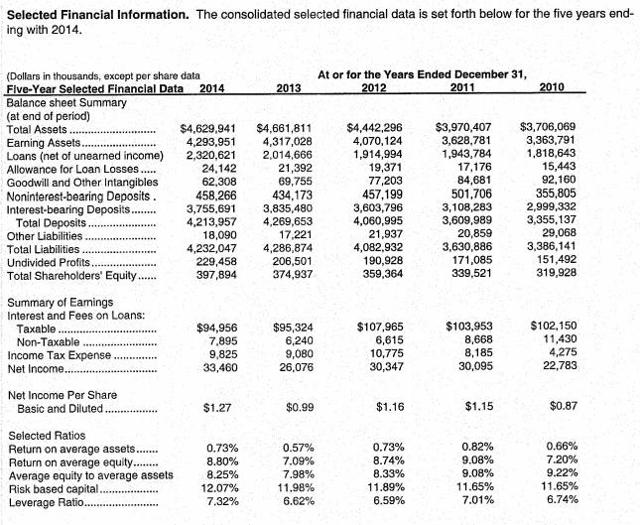 Loans are growing: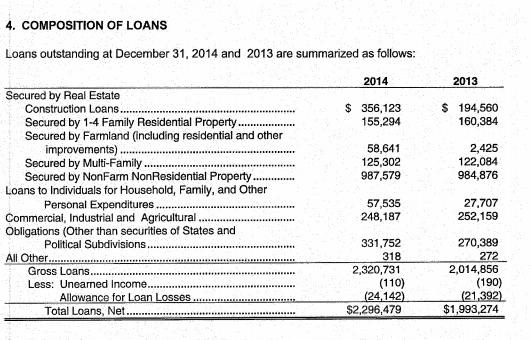 Earnings Report for the Semi-Annual Period Ending 6/30/15:
Total loans grew to $2.488B as of 6/30/15.
The loan to deposit ratio was 57% as of 6/30/15 which is, as the bank notes, "a very conservative level by today's standards". I would anticipate that those deposits are sticky too. Excluding loans to municipalities of $352M, the loan to deposit ratio would be 49% which is "an even more conservative number".
Even as loans have grown, the net loan losses for the first six months was only $38,600.
Net income for the semi-annual period ending in June was reported at $17.385M, up 8.68% over the same period in 2014.
E.P.S. was $.66 vs. $.61 for six months.
This bank does not report a lot of detail that I normally see in earnings reports.
Non-interest income as a percentage of average assets is low at .3%. The peer group which has 228 banks has an average of 1.02%. Earnings coverage to net losses was 652.21 of the second quarter. I acquired those statistics by generating a Uniform Bank Performance Report for Carter (click "generate report" tab).
CARE appears to be a very well run bank that certainly holds a firm line on operating expenses.
Bank Street Partners shows the total overhead to average assets at 1.35% (p.10). That is the lowest among Virginia banks and an investor would be hard pressed to find a bank with over 100 branches at or below level. That service calculates the efficiency ratio at 50% based on a "fully tax equivalent basis" (abbreviated to "FTE). The average for Virginia banks is 72.8%: Southeastern Publicly Traded Data 7/31/15 That firm also calculated Carter's first quarter Texas Ratio at 37.2. Texas Ratio Book 2015Q1
Carter does not provide the foregoing ratio estimates. A service can calculate the number differently to exclude amortization and other non-cash expenses and/or to make the FTE and other adjustments. Another serivce calculated Carter's 1st quarter efficiency ratio at 53.592 percent. Efficiency ratio Historical Data Both 50% or 53.592% are good numbers. That service also calculates other ratios for Carter. The NIM is very low which is a factor militating against a larger share purchase.
When the efficiency ratio is this low, that simply means that more income will fall to the bottom line for shareholders.
Total assets stood at $4.796+B as of 6/30/15. That would put Carter at #6 in Virginia.
Given the number of locations and asset size, it is surprising to me that I have never heard of this bank until I discovered it using a Morningstar screen. It is also surprising that the share volume is non-existent most of the time for a bank of Carter's size, even with the heavy insider ownership mentioned above.
Rationale: From the data, this bank can be fairly characterized as a conservatively managed institution and is reasonably priced at less than 10 times projected 2015 earnings.
The dividend yield provides some support for the stock price. At a total cost of $12.55 per share, the dividend yield is about 3.19%. The Board seems content to pay out $.10 quarterly, so I am not expecting a dividend increase. I was able to find dividend data going back to 2007, and the rate has remained at $.1 during that period. Carter Bank & Trust (OTCQX:CARE) Dividend Data Carter does not spend much money on its website.
I like the fact that the bank owns almost all of its branches free and clear of encumbrance and also owns real estate for future expansion.
Given its location and other factors, I would consider this bank to be a potential acquisition target for a bank desiring to expand its presence in both Virginia and North Carolina.
Risk factors are discussed by the bank starting at page 13 of its 2014 Annual Report.
3. Bought Back 100 National Penn Bancshares at $10.85 (NASDAQ:NPBC):
This purchase was made shortly prior to the last quarterly ex dividend date.
I had sold 100 NPBC shares a few weeks ago at $11.29 and decided to repurchase the shares after selling UBSI noted above.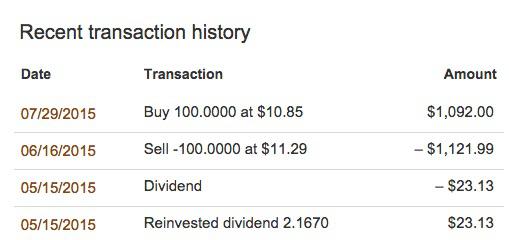 This last purchase brings me back to 200 NPBC shares bought in the open market and another 12+ shares bought with dividends.
The open market purchases were made in two fifty shares lots bought at $10.12 and $9.85.
I have not been shooting the lights out trading NPBC, harvesting a $127.83 profit so far in 2015.
The quarterly dividend rate is currently $.11 per share that was last raised from $.1 effective for the 2014 4th quarter. Stock Splits & Dividends At the current rate, the dividend yield is decent at 4.06% based on a $10.85 total cost per share.
An Inauspicious Past and Balancing Potential Risks and Rewards:
For every possible purchase, I perform a risk/benefit analysis that will govern whether I even make a purchase as well as the maximum dollar amount of the purchase.
One potential downside risk for bank investors is the existence of a bank culture that results in too many imprudent loans. I do want to own shares in a bank that turns up on the FDIC's growing failed bank list.
Non-performing loans will increase during those inevitable economic downturns, but I certainly do not want to see loan losses threaten the bank's solvency or necessitate remedial actions that have serious short and long term adverse consequences for shareholders (not management of course)
Short of a FDIC seizure, and a wipe out of the bank's equity capital, those consequences include a share price immolation, a dividend slash or elimination, and the issuance of stock at historically low prices in order to replace capital incinerated largely through imprudent and sometimes reckless actions committed by management, sometimes with Board approval such as an ill-fated and untimely acquisition.
As discussed in earlier posts, NPBC was one of the dividend slashers during the Near Depression period. The quarterly dividend topped out at $.1725 per share and was reduced in stages until hitting one cent effective for the 2009 4th quarter. The one cent payout remained in effect for seven quarters before the banks started to gradually raise it. I did not own shares until after the bank cratered in price and started to raise its dividend again. My first purchase was in 2011. Item # 1 RB Bought as LT 30 NPBC @ $7.83 (4/26/11 Post) I characterized that purchase as a Lottery Ticket at that time. The Lottery Ticket basket strategy is no longer going to be discussed here.
The future may be different from the past, but the past frequently provides important information that enables me to make more informed decisions about the present and future.
I always look at a bank's 2011 or 2012 Annual Report that has data covering the last bank meltdown period.
How did the bank perform during that last test? Did the bank crash and burn or did it navigate the crisis in good form, keeping or increasing its dividend and generating profits even in the worst year?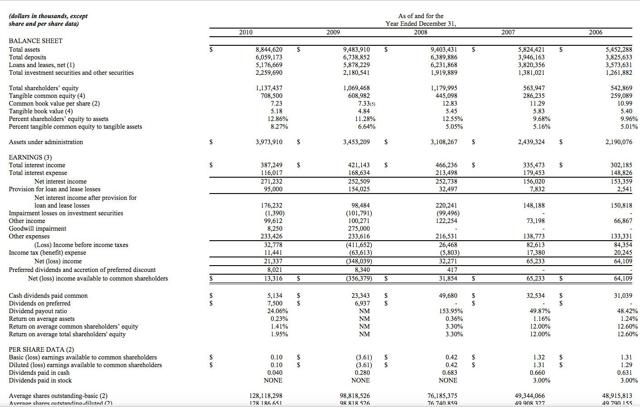 I look at that historical data simply to form an opinion about senior management based on how well the bank navigated the last economic smash down.
I do not like what I see when looking at the preceding snapshot. I would give management a borderline "C" for what is revealed in this table.
Besides the heavy $3.01 per share loss reported for 2009, the $.1 E.P.S. for 2010 was a weak rebound.
Also, and this is important, look at how the share count exploded from 48.915+M to $128.118+M during the five year period shown in that table.
That fact alone tells me that the bank had to sell boatloads of common stock to repurchase the government's preferred stock issued under the TARP program and for other reasons. Were the share offerings priced favorably for long term shareholders who had their stock crushed and their dividend reduced to a 4 cent per share annual rate? The short answer is no; and that is an obvious point when I look at a long term stock chart.
I can spend about a minute to find a stock offering prospectus to confirm what I inferred from just looking at the chart.
I quickly found a 2009 Prospectus where NPBC sold 26.7M shares at $5.25 with a greenshoe for another 4.005M shares.
Those prospectuses are generally assigned a 424B5 code number at the SEC's website. The entire over-allotment option was exercised by the underwriters. So there is 30.7+M shares sold at $5.25.
I have to go back to 1992 to find a market price that low. And, these bank officers and managers are paid a lot of money for that result. Failure and/or mediocrity are rewarded with exorbitant pay packages throughout corporate America, with exceptions of course.
Generally, banks who have serious problems during major economic downturns will frequently see 15 to 20 years of value destroyed in a matter of months.
NPBC stock was at $7 in 1995 and had risen to $21.5 in 2006.
By March 2009, the stock had crashed to $5.87 (3/5/15)
The current price is slightly below the 1993 high.
The bank did repurchase 7 million shares held by Warburg Pincus in January 2014. The price was $10.77, leaving that firm with a 13.6% at that time in NPBC: NPBC 8-K 1-28-14
However, National Penn Bancshares sold 24.8M shares to Warburg at $6.05 back in 2010. I do not need to go further on this point.
Given that history which reflects poorly on senior management and the Board of Directors IMO, I am at my out-of-pocket exposure limit with 200 shares.
On the bright side, the stock is reasonably priced at around 13.28 times estimated 2016 earnings, based on a $10.76 closing price today, and the current $.81 E.P.S. estimate. NPBC Analyst Estimates The dividend yield is good at slightly over 4%.
Snapshot of Trade:

Company Description:
Second Quarter Earnings Report:
E.P.S. was reported at $.19, flat with a year ago.
NPL Ratio: .76%
Net Interest Margin: 3.24% down from 3.43% Y-O-Y
Efficiency Ratio: 56.59%
ROA: 1.14%
ROE: 9.66%
ROTE: 13.32%
124 Branches
I just took a snapshot of the capital ratios: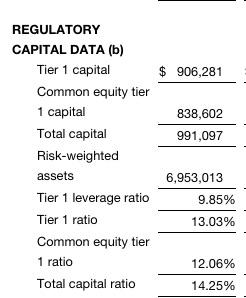 Rationale: I am nibbling here since the trend in recent years is positive. The valuation is reasonable, partly due to the past IMO, and the dividend yield is decent. The market may not give management the benefit of a doubt for years to come even with better than average results in future periods.
Without a significant acceleration in earnings growth, dividend increases will be subdued and unlikely to exceed the pre-slash quarterly rate of $.175 per share within at least five years. That penny rate would equal $.69 per share and the consensus E.P.S. estimate for 2016 is $.81. NPBC Analyst Estimates
4. Bought Back 50 of Boston Private Financial (NASDAQ:BPFH) at $12.48:
I view this bank stock to be a marginal buy.
I recently sold a 50 share lot at $13.34 (6/30/15), so I am just buying back that small lot.
This is an illustration of what I call small ball in managing a basket strategy. The previous lot was bought at $12.35 (5/10/14 Post). I mention those numbers to highlight my lack of enthusiasm for this stock, which explains the small lot purchase.
Notwithstanding the negatives, and there are several, I see sufficient reasons to maintain a small exposure.
I have sold 150 shares of BPFH's equity preferred stock.
Preferred Quote: Boston Private Financial Holdings 6.95% Non-Cumulative Perpetual Preferred Series D (NASDAQ:BPFHP); Prospectus
I thought that I still owned 50 shares but I found that some gremlin sold the last lost at $25.9 back in May.

Those shares were bought at $22 (12/10/13 Post). I will need to delete that position in my bond and equity preferred stock table. Just another illustration of an Old Geezer brain malfunction. I probably need to reduce my total holdings by a couple of hundred securities.
Snapshot of Trade: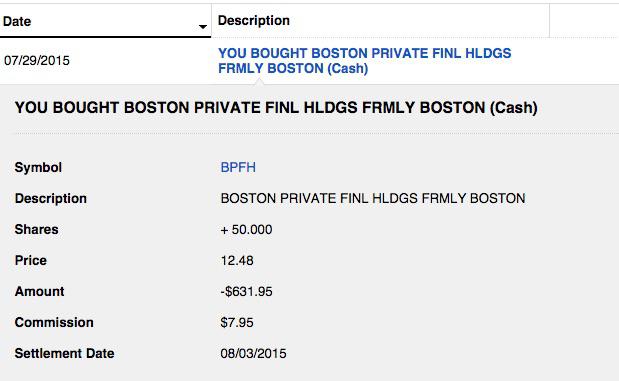 Company Description: BPFH owns Wealth Management and Private Banking affiliates with offices in Boston, New York, LA, San Francisco, San Jose, Atlanta and elsewhere. Our Profile | Boston Private Financial Holdings, Inc.
Dividends (quarterly rate slashed from $.1 to $.01 effective for the 2008 4th quarter, a major negative that reflects poorly on management and the Board)
Last Earnings Report:
Sourced: SEC Filed Press Release
Some Financial Metrics:

ROA was near the average for U.S. bank at 1.02%. Return on tangible equity was good at 14.73%. The bank had no charge-offs in the quarter and reported a net recovery.
NIM declined to 2.9% from 3.14% Y-O-Y.
Tangible book value was $5.89 per share, so the current price is close to 2x tangible book value per share. Tangible equity to tangible assets was reported at 7.17%.
This bank is a potential takeover target for an entity desiring to increase its wealth management business.
Among the negative metrics IMO, the efficiency ratio is too high at 66.99% (calculated after excluding intangible amortization); and the NIM is low at 2.9% and continuing to move down. Both the NIM trend and the amount are negatives. Assets under management decreased to $29.462+M from $30.025B as of 3/31/15.
Q2 2015 Results - Earnings Call Transcript | Seeking Alpha
Disclaimer: I am not a financial advisor but simply an individual investor who has been managing my own money since I was a teenager. In this post, I am acting solely as a financial journalist focusing on my own investments. The information contained in this post is not intended to be a complete description or summary of all available data relevant to making an investment decision. Instead, I am merely expressing some of the reasons underlying the purchase or sell of securities. Nothing in this post is intended to constitute investment or legal advice or a recommendation to buy or to sell. All investors need to perform their own due diligence before making any financial decision which requires at a minimum reading original source material available at the SEC and elsewhere. Each investor needs to assess a potential investment taking into account their personal risk tolerances, goals and situational risks. I can only make that kind of assessment for myself and family members.
Disclosure: I am/we are long BPFH, CARE, NPBC.